Are you an avocado fan? If the answer is yes, trust me – you simply have to try these vegan avocado pancakes! You will become obsessed!
If you have read my previous recipes, you may have noticed my out-in-the-open love for avocados. There are just so many reasons to love them – but more on that later. Since I would like to spread this love far and wide, today's recipe will incorporate avocados in something less common, as a way of proving how versatile this fruit can be.
Yes, I am talking about avocado pancakes! You read that right, today I am going to show you the most delicious avocado pancake recipe ever. If you haven't tried this before, I will need you to trust me on this: they are amazing! 🙂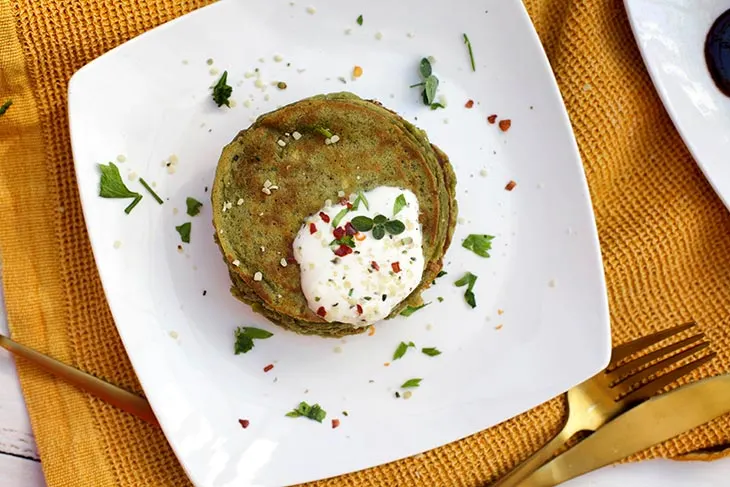 This is the perfect recipe for a morning breakfast that will get you started on your day nice and nutritious. Or you can have them as a dessert – as I am going to show you both a sweet and a savory version of the recipe.
People are usually divided in the way they eat their pancakes: some like them savory as a standing meal in itself, others prefer them sweet and they keep them as a treat. For me, pancakes are always a treat, be they sweet or savory. There is no wrong way. and there are so many ways to eat them, so many toppings available!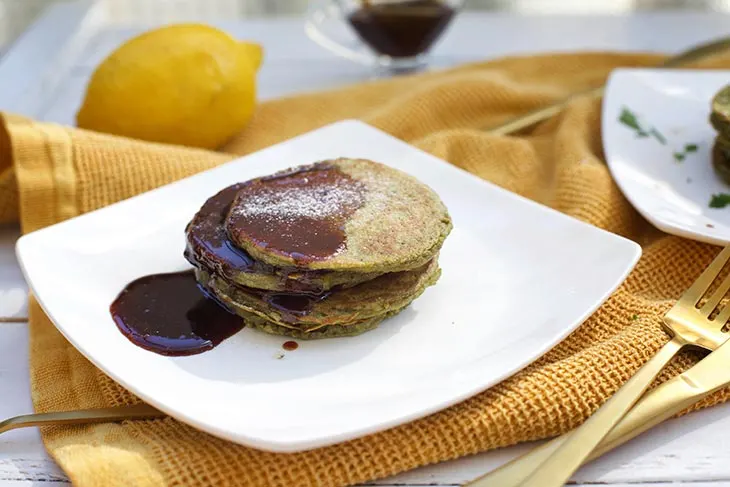 I remember when I was a kid and my mother would make pancakes, I would just eat them with plain sugar. Yes, I was one of those kids… While I wouldn't recommend this now, as we all know that we should limit our sugar intake, it's still a nice memory of my close relationship with pancakes. They simply go so well with anything, you just can't go wrong! I can't think of a fruit that doesn't go well with pancakes… and speaking of fruits that go well with pancakes, back to our avocado pancakes recipe!
You will just love the way the taste of avocado blends in with the rest of the ingredients. Some of us know avocado under the name of butter fruit – and it's easy to understand why. Its creamy texture gives it a buttery feel, so just imagine how this texture would go into our pancakes! It's so smooth and fluffy, it's like a hug for your taste buds! 🙂
Plus, you are going to eat green pancakes (literally!), all without any of that nasty food coloring. As you are probably used by now, all my recipes here are on the basis of healthy things only. And that only makes them extra tasty!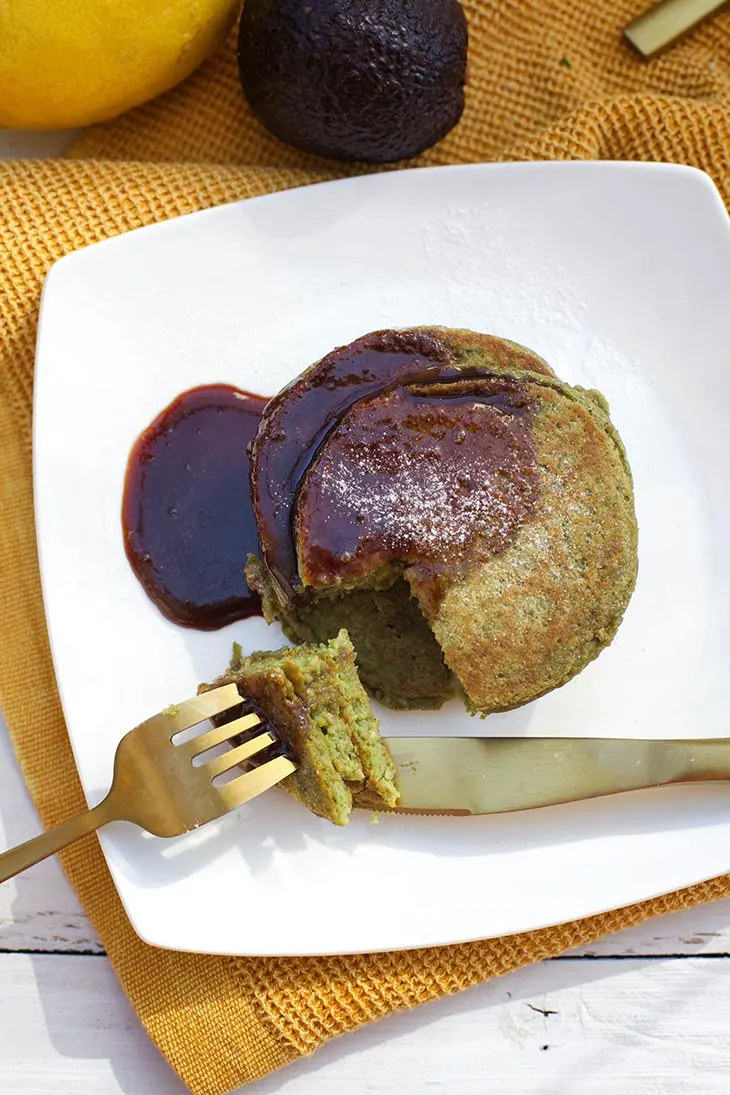 I have mentioned earlier that these pancakes are going to be so good for your breakfast, and that is because they are such a nutritious and healthy choice. Why? Because of the avocado, of course!
Avocado is a super-healthy fruit, and as I do with all my recipes, I would like to show you exactly how healthy. Here is what you can get from only 100 grams of avocado:
Vitamin K: 26% of the daily value (DV)
Folate: 20% of the DV
Vitamin C: 17% of the DV
Potassium: 14% of the DV
Vitamin B5: 14% of the DV
Vitamin B6: 13% of the DV
Vitamin E: 10% of the DV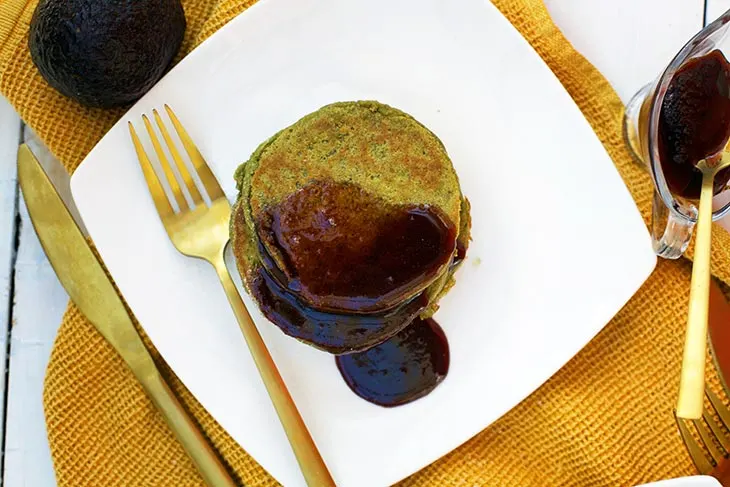 Impressive, right? And there are quite some proven benefits of avocado consumption: they help to maintain a healthy heart, they protect the health of the eyes, they help the prevention of osteoporosis, improve digestion, while also helping the natural detoxification of your organism. Quite convincing, I'd say!
And all of the above while being super delicious! This avocado pancakes recipe will give you all that while being extremely tasty at the same time. Quite a way to start the day, right? 🙂
And not only that, but it is also super easy and fast to make! So many people tell me that cooking is not for them, that they can't get it right. Well, you can't go wrong with this recipe! I always like to keep things simple, and this recipe is no exception.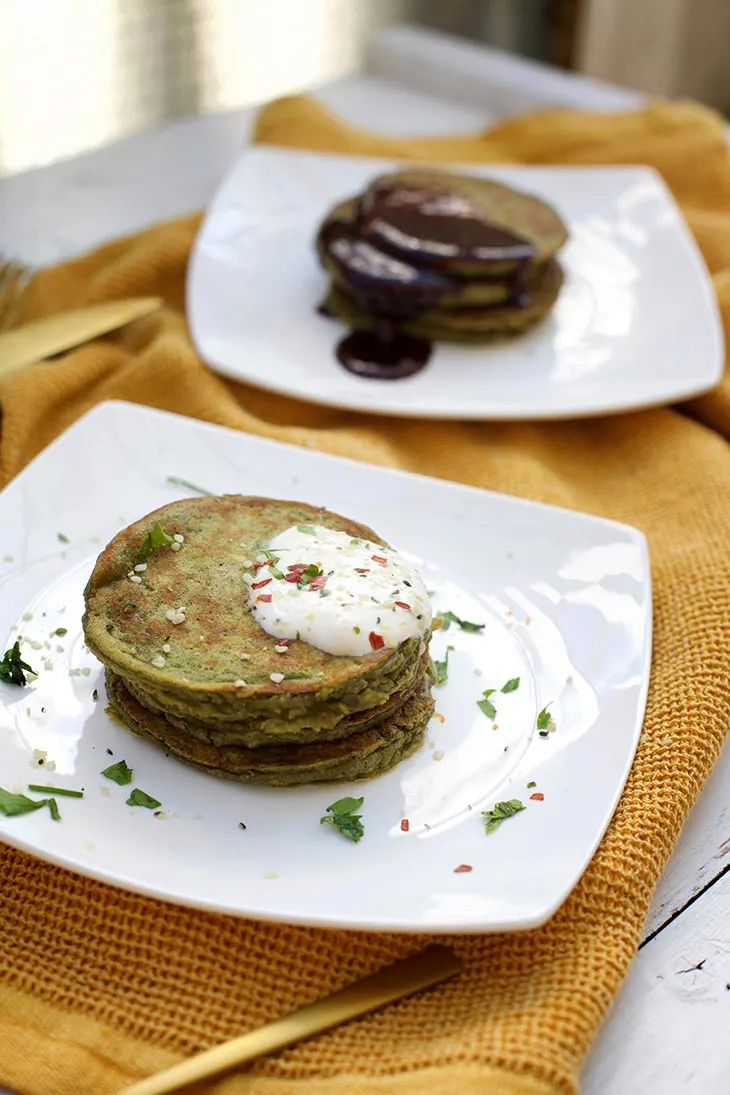 Now, the secret for these avocado pancakes is actually choosing the perfect avocado. Because the avocado will have to be mashed, it should be perfectly ripe – no more, no less!
Here is my short guideline to choosing the right avocado: The best way to check the ripeness of the avocado is by gently squeezing it into your palm. The ready-to-eat avocado should feel soft, but not mushy. The color of the avocado skin could also give you a clue: it should be darker in color, as more green ones suggest that the fruit is not ripe yet.
Now, enough with the talking, go gather your ingredients and let's make the recipe!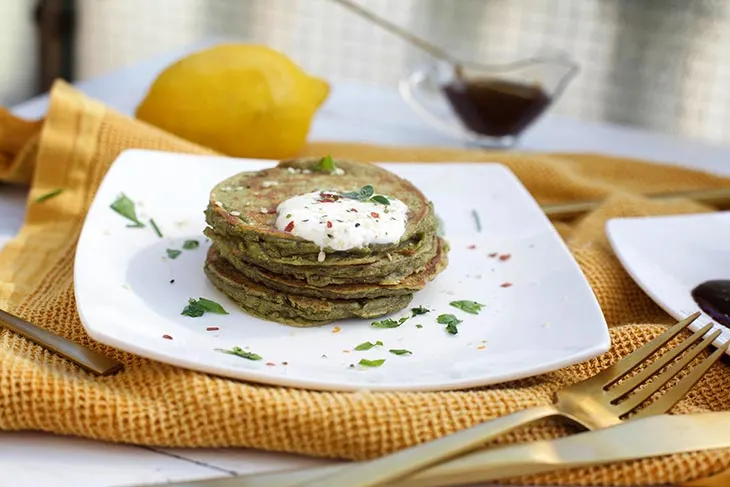 As usual, if you decide to try this recipe for avocado pancakes, don't forget to let me know how you liked them! I'm always happy to hear from you! Happy cooking!
Yield: 8
Avocado Pancakes - Sweet and Savory Versions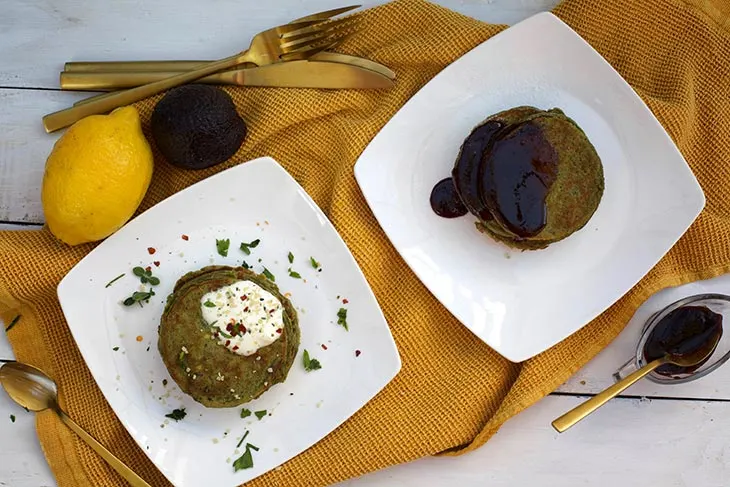 Are you an avocado fan? If the answer is yes, trust me – you simply have to try these vegan avocado pancakes! You will become obsessed!
Ingredients
350g (2 cups) oat flour
60g (½ cup) flour - use GF if needed
1 Tbsp sugar
1 tsp baking powder
½ tsp salt
1 ripe avocado, mashed
240ml (1 cup) almond milk
½ tsp vanilla extract
15g (½ cup) baby spinach
2 Tbsp maple syrup
black pepper
a pinch of cayenne
vegan butter or coconut oil, for the pan
Instructions
Add the avocado, flour, sugar, baking powder, salt, almond milk and baby spinach to a food processor. Pulse until you obtain a smooth batter.
Divide the batter between two bowls.
To one of them add 2 Tbsp maple syrup and vanilla extract
To the other add black pepper, cayenne and more salt.
Place a bit of butter or oil in a large skillet over medium heat.
Once melted and hot, scoop the batter into the pan, dot each pancake and cook for 2-3 minutes per side, until golden brown.
Serve your sweet pancakes with maple or date syrup. Serve your savory pancakes with some salty vegan yogurt and your favorite toppings. Enjoy!
Nutrition Information
Yield
8
Amount Per Serving
Calories

240
Total Fat

3g
Carbohydrates

41g
Fiber

2g
Sugar

6g