This vegan tomato tart is so flavorful and smells absolutely amazing! You can't even tell it's vegan! Plus, it's really easy to make!
This is definitely the best vegan tart I've made so far. It's gluten-free too! The crust turned out absolutely PERFECT!! While I was eating it and enjoying every bit of it, I felt so proud of myself! I'm getting better and better at baking gluten-free goodies.
If you don't have any great baking or cooking skills, don't you worry! You can still make this. It's that easy. Mix, chop, spread, bake.. and this tomato tart is ready! 🙂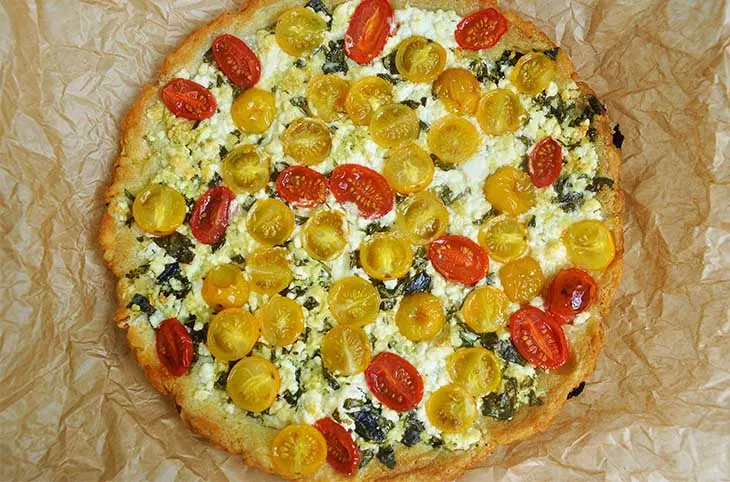 This is not your usual tart crust. I used gluten-free flour mix by Schar. Gluten-free flour mixes are a lot different than regular wheat flour when baking. Doughs won't usually get elastic, but this is not a problem at all for me. I actually enjoy it this way more, because I don't have to roll the dough at all. Spreading it with your fingers does the trick!
The crust's texture exceeded my expectations! It is so tender… it almost melts in your mouth! This whole vegan tomato tart was really, really good.
I hope you'll give it a try. Trust me, it's worth it! 🙂
P.S. If you're not vegan, you can use butter and goat cheese or feta cheese instead of tofu and coconut oil.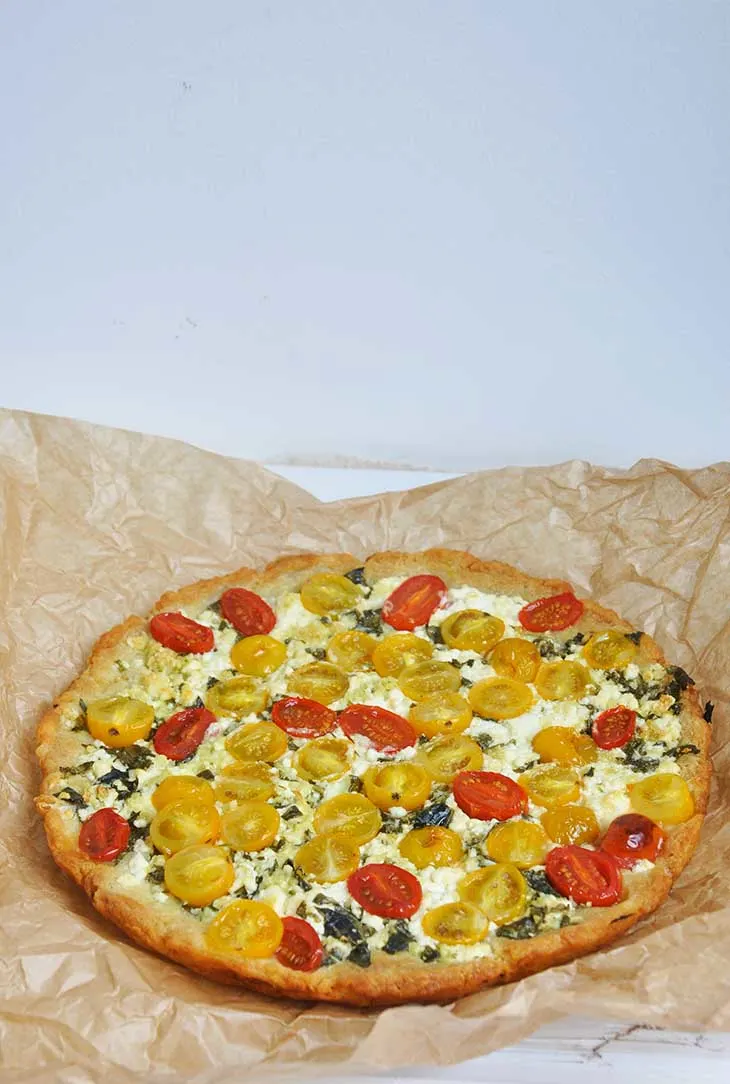 Yield: 4
Vegan Tomato Tart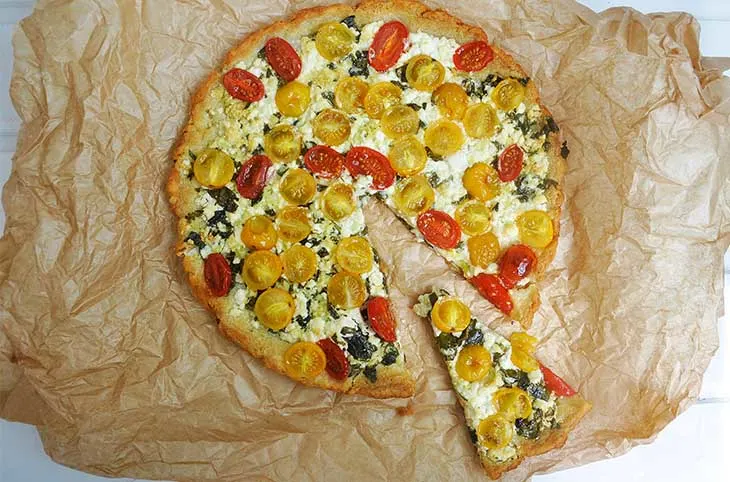 This vegan tomato tart is so flavorful and smells absolutely amazing! You can't even tell it's vegan! Plus, it's really easy to make!
Ingredients
Crust:
120g (1 cup) gluten-free flour
4 large Tbsps coconut oil, softened at room temperature (or regular butter, if you're not vegan)
80ml (⅓ cup) water
½ tsp baking soda
Toppings:
10-15 cherry tomatoes, halved
200g (7 oz) firm tofu, drained
½ cup basil, chopped
1 garlic head, cloves peeled and mashed
Instructions
Heat oven at 375F.
Add all crust ingredients in a medium bowl. Mix them well using a fork.
Place the bowl in the fridge for a couple of minutes, while you prepare the toppings.
Cut tomatoes in half. Chop basil. Mash garlic.
You can either mash tofu with a fork, or use a food processor to turn it into a creamy paste.
Blend all topping ingredients together, except tomatoes.
Take the bowl out of the fridge.
Grease a tart pan with some coconut butter.
Now, if you want to make this tart quickly, proceed to the next steps. If you want to be able to shape the tart dough, you'll have to leave it in the fridge for at least 30 minutes.
Pour the crust dough into the pan.
You'll see that the crust dough will be extra sticky and wet. This is how it is supposed to be. You'll get an incredibly tender tart crust. Start spreading it all over the pan using a fork or a spoon. (Alternatively, you can leave it the fridge for about 30 minutes. It will get easier to shape)
Add tofu cream and spread it evenly.
Add halved tomatoes.
Bake in oven for 15-20 minutes.
Notes
You think one whole garlic head is too much? No, it isn't! Trust me, it will be HEAVENLY good! 🙂
Nutrition Information
Yield
4
Amount Per Serving
Calories

310
Total Fat

17.3g
Carbohydrates

27.5g
Protein

11g