Craving gluten-free vegan pizza and want to try some new flavors? Try this Middle Eastern gluten-free vegan pizza recipe with amazing flavors!
Since I discovered this awesome gluten-free pizza crust recipe, making homemade gluten-free pizza has become so easy and fun! Just mix the ingredients together, no kneading involved, add the toppings and you're done! The pizza crust turns out perfect each time. 🙂
I've tried a bunch of new gluten-free vegan pizza recipes so far, with lots of interesting ingredient combinations and flavors. This time, I wanted something really special, so I decided to make this Middle Eastern gluten-free vegan pizza recipe.
You'll be amazed by the abundance of flavors in this pizza recipe and how well all these ingredients blend together. Drizzle some tahini on top and enjoy an awesome vegan pizza recipe with oriental flavors.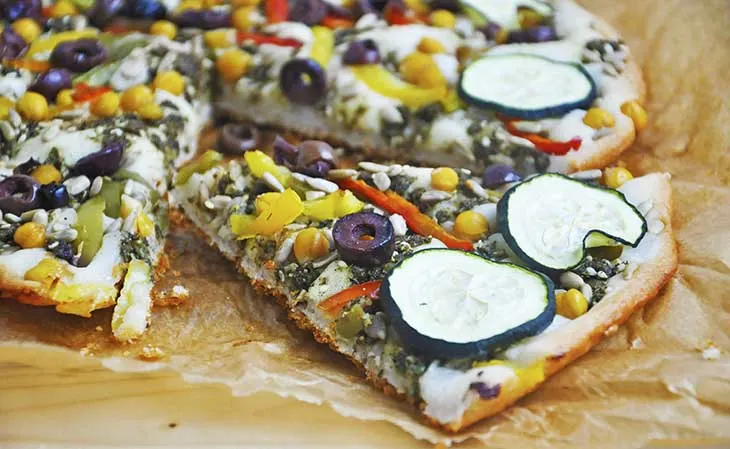 I wanted to use eggplants instead of zucchini for this recipe, but there's a funny story behind the reason why I didn't. 🙂 I asked Costin to go and buy some eggplants because I didn't have any in the house. So he did. He came back and said he could only find these weird imported eggplants and that they were expensive too. I got curious because I knew that eggplants weren't supposed to cost that much here. That's when I saw that he bought zucchinis instead.
Of course, I couldn't stop laughing and made fun of him all day because he didn't know the difference between zucchini and eggplants. Now he does! 😀
Anyway, you should use eggplants instead of zucchini, or maybe even both. Also, use pine nuts instead of sunflower seeds like I did. I couldn't find any at that moment.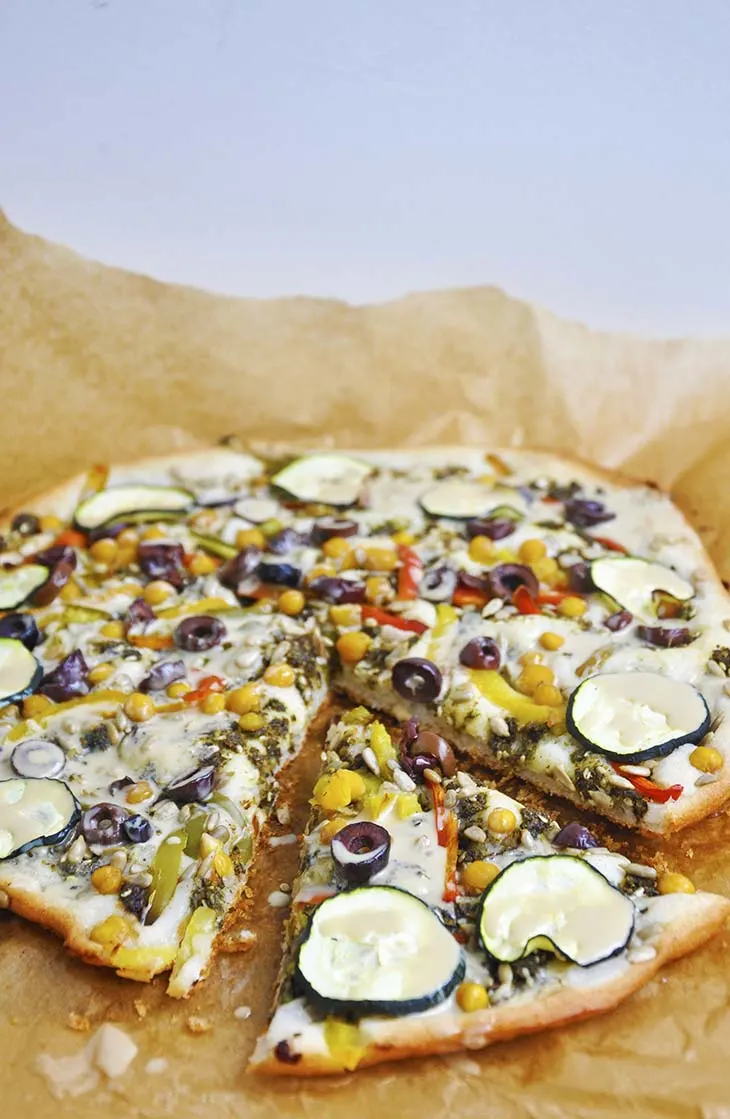 Yield: 2
Middle Eastern Gluten-Free Vegan Pizza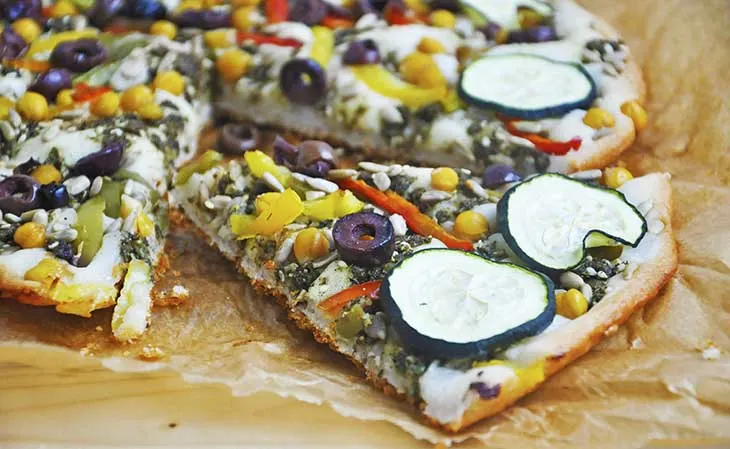 Craving gluten-free vegan pizza and want to try some new flavors? Try this Middle Eastern gluten-free vegan pizza recipe and you'll be amazed by its flavors!
Ingredients
For gluten-free vegan pizza crust:
300g (1 ¾ cups) gluten-free flour (MixIt Universal/Farina or Mix B by Schar)
250ml (1 cup) warm water
2 Tbsps olive oil
½ tsp sea salt
10g (2 tsp) dry yeast
+ 1 Tbsp sunflower oil for greasing
For toppings
½ zucchini, sliced
4 eggplant slices - optional -
3 Tbsps sliced Kalamata olives
3-4 Tbsps sweet corn
4 Tbsps boiled chickpeas
50g (½ cup) sliced red bell peppers - I used frozen, mixed colors
1 ½ Tbsp za'atar + 1 Tbsp olive oil + 3 mashed garlic cloves
some pine nuts, I didn't have any so I used sunflower seeds instead
tahini, to taste
Instructions
Mix all pizza crust ingredients into a large bowl. Mix using a spoon.
The dough will be extremely sticky and moist. Don't worry, this is just as it is supposed to be.
Cover an oven tray with some parchment paper and lightly grease it.
Pour the dough right in the middle.
Start spreading it using the tablespoon, using circular motions, from the inside to the outside. You want to give it a somewhat circular shape.
When the pizza crust has an almost-round shape, grease your hands with some oil and start shaping its margins and make it even rounder. You can even press it on top. If it gets sticky, just grease your hands some more.
Mix za'atar with olive oil and mashed garlic cloves. Spread this all over the pizza crust, using a spoon.
Add the rest of the toppings.
Cook in oven at 200C for 30 minutes or so.
Serve with a drizzle of tahini on top.
Nutrition Information
Yield
2
Amount Per Serving
Calories

1494
Total Fat

74.4g
Carbohydrates

164.7g
Protein

41.4g