If you're looking for a comforting, easy and super delicious warm soup for the cold season, you are in the right place! Here's how to make an amazing vegan wild rice soup!
One of my favorite parts about the cold season is its perfect compatibility with warm soups. Of course, nothing stops you from having a steamy bowl of soup in the middle of summer either, yet I doubt that would be very satisfying. But no need to worry about that right now, since the days are getting colder and colder… while my soups are getting hotter and hotter! 🙂
Today I wanted to try something a little bit more exotic. So I chose a recipe that I really enjoy for wild rice soup. By exotic I mean not really usual for my country!
Despite it being really tasty and satisfying, not many people around here manage to use it in their cooking. But this soup will definitely make you a wild rice fan. This recipe is all you could ask for in a soup: it's warm, filling, nutritious, creamy and incredibly tasty. Need I say more? 🙂 It's also really easy to prepare and it keeps well in the fridge, which makes it perfect for meal prep as well. I only see advantages here!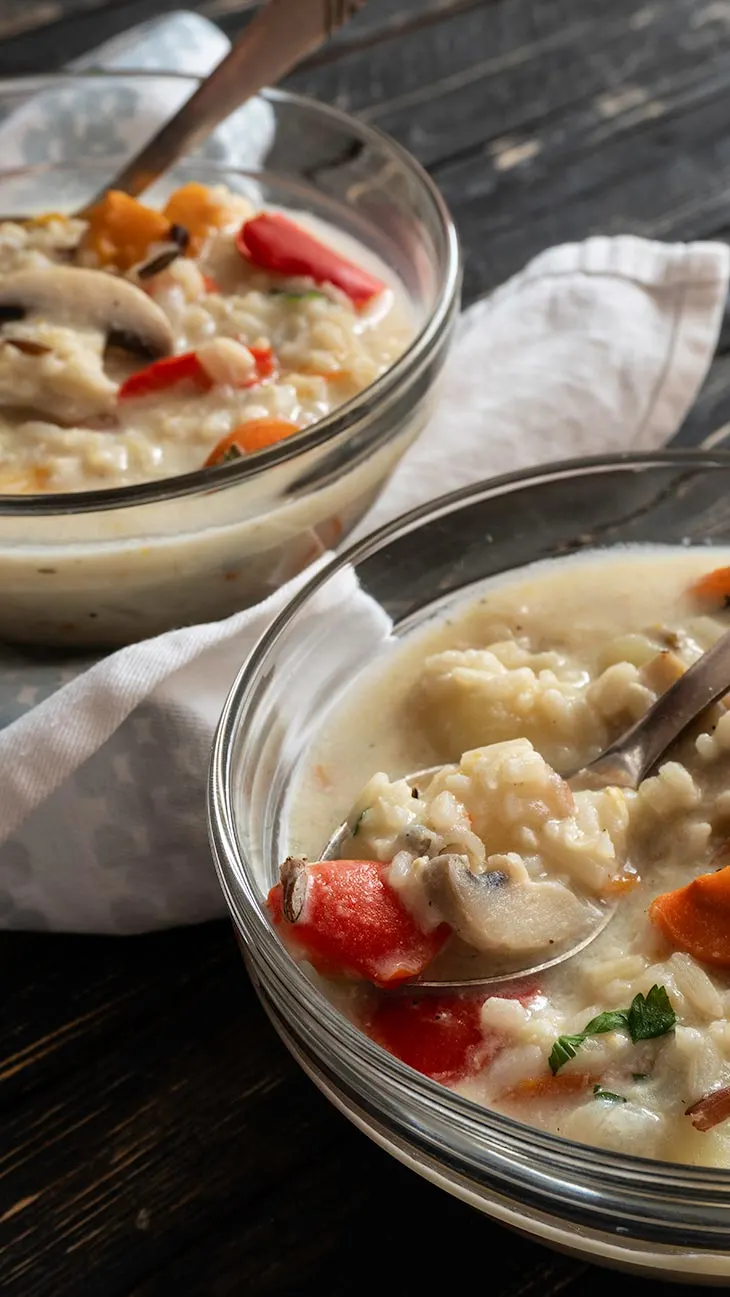 Half an hour of cooking for (around) five days of happiness. It seems like a good deal to me! You can warm it up and serve it whenever you feel like it. It's perfect to take it with you for lunch at work – just keep it away from your colleagues: once they'll feel the smell, one sip won't be enough. I am only joking, of course. I am all about sharing the deliciousness!
Because I chose wild rice as the main ingredient for this soup, I think we should talk a little bit about it. There are many really interesting facts about this tasty ingredient!
For example, did you know that wild rice is not actually rice? Rice is the seed of an aquatic plant – but rice and wild rice are not related at all! Wild rice is native in North America. Even though it became popular only recently, it has been eaten by people since prehistoric times! I'm always blown away by these facts. 🙂
We often find new ingredients and we feel really proud of this discovery… and then we do a little bit of research and we find out that those foods have been around for ages! And I feel like that's the case with wild rice too! It has been around since prehistoric times and yet people didn't start cultivating it until 1958. But still, we should be happy that wild rice is widely available now!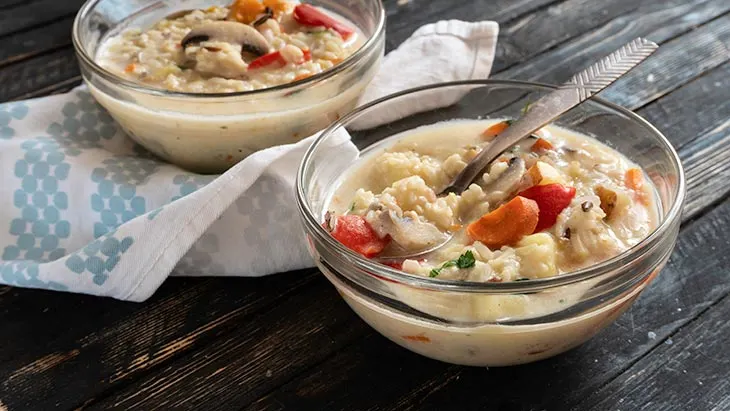 As you can already guess, wild rice is a great substitute for regular rice and potatoes as well, being more nutritious than both. Here's what you'll get from 100 grams of wild rice:
Calories: 101
Carbs: 21 grams
Protein: 4 grams
Fiber: 2 grams
Vitamin B6: 7% of the Daily Value (DV)
Folate: 6% of the DV
Magnesium: 8% of the DV
Phosphorus: 8% of the DV
Zinc: 9% of the DV
Copper: 6% of the DV
Manganese: 14% of the DV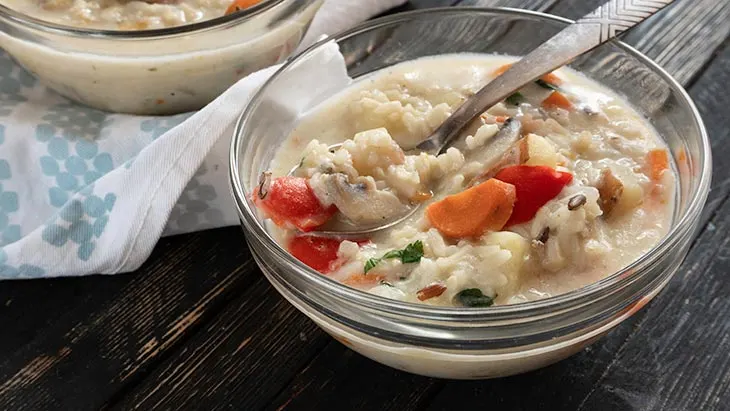 So it's actually a very nutrient-dense food and that's because it's low in calories and high in nutrients. It's also a great plant-based source of protein. Oh, and did I mention it's also a great source of antioxidants – 30 times higher than white rice! So this food is really healthy and shouldn't be absent from any vegan diet.
I think that wild rice is perfect for an autumn dish because of its rich flavor and somewhat smoky taste. I feel it's extremely soothing after a long and colder day and this soup is perfect exactly for that purpose!
I am convinced that you will find this recipe perfectly satisfying if you decide to give it a try. I chose a mix of ingredients and spices that would satisfy even the pickiest eater (kids included, of course). I promise that this recipe will be a hit for the whole family! So all you need to do is find the ingredients and 30 minutes (tops, I promise) of spare time and you will end up with a wonderful dish that will last for the next few days.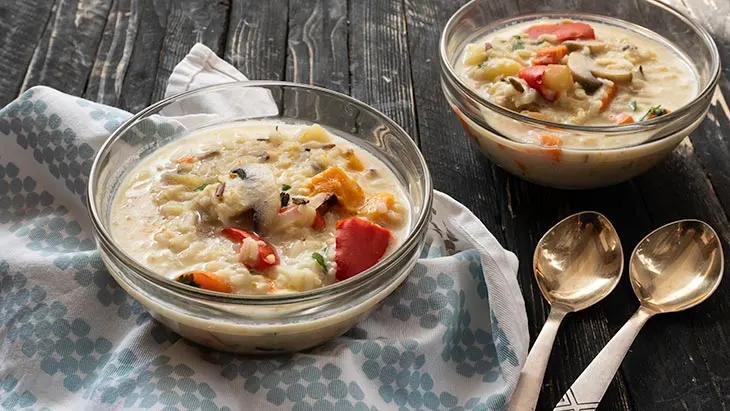 Now let's head to the kitchen because I'm sure you're eager to try this recipe out – I can already feel the taste of this delicious soup! Gather all you need and follow my instructions below. And most importantly – don't forget to share the results and enjoy them with your close ones! I'd really appreciate if you would let me know your opinion about this soup in the comments, I'm curious to know!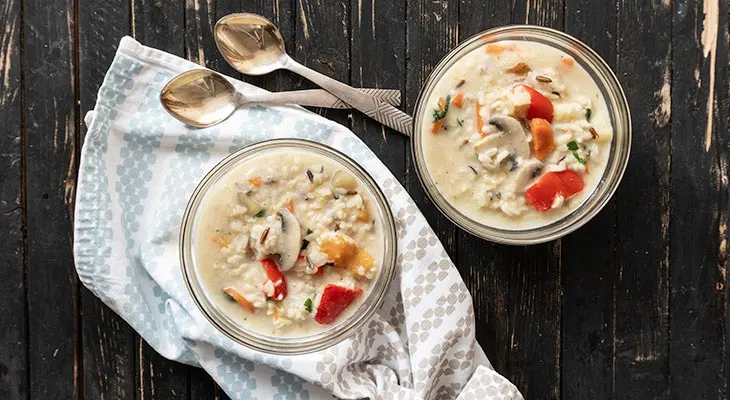 If you're looking for a comforting, easy and super delicious warm soup for the cold season, you are in the right place! Here's how to make an amazing vegan wild rice soup!
Ingredients
200g (1 cup) wild rice or a wild rice blend
1 medium potato
1 bell pepper
1 medium white onion
1 carrot
70g (1 cup) mushrooms
parsley
3L (12 cups) veggie stock
200ml (1 cup) full-fat coconut milk
salt and pepper
Instructions
Wash the potatoes well. Chop them into cubes (I left the skin on).
Chop the onion, carrot and pepper.
Add the veggies and sliced mushrooms to a pot together with the rice, cover with veggie stock and bring to a boil. Season with salt and pepper and cook until the rice is fully cooked through (about 15 minutes).
Add the coconut milk and cook for an additional 1-2 minutes or until the soup thickens.
Serve with chopped parsley.
Nutrition Information
Yield
4
Amount Per Serving
Calories

177
Total Fat

4g
Carbohydrates

30.5g
Protein

4.3g