Are you in the mood for something else? Here's how to prepare vegan scallion pancakes – simple, quick and extremely delicious! And vegan too!
A great morning deserves a great, fresh batch of pancakes. Or some cereal, sandwiches or some orange juice. But let's stick to the pancakes, as they're one of my favorites! But today I want to make things a bit more exciting, so I'd like to present you with a savory version to the classic pancakes.
As you may have guessed already, today's recipe is all about pancakes! But hear me out – these pancakes are more similar to bread than to your usual serving of a sweet breakfast or dessert.
There is delicious bread to be found all around, and it takes time and patience to taste it all. Today we are going to make a stop inside the Chinese cuisine where we are going to find one of the best pastry recipes that you can think of. I'm talking about scallion pancakes! 🙂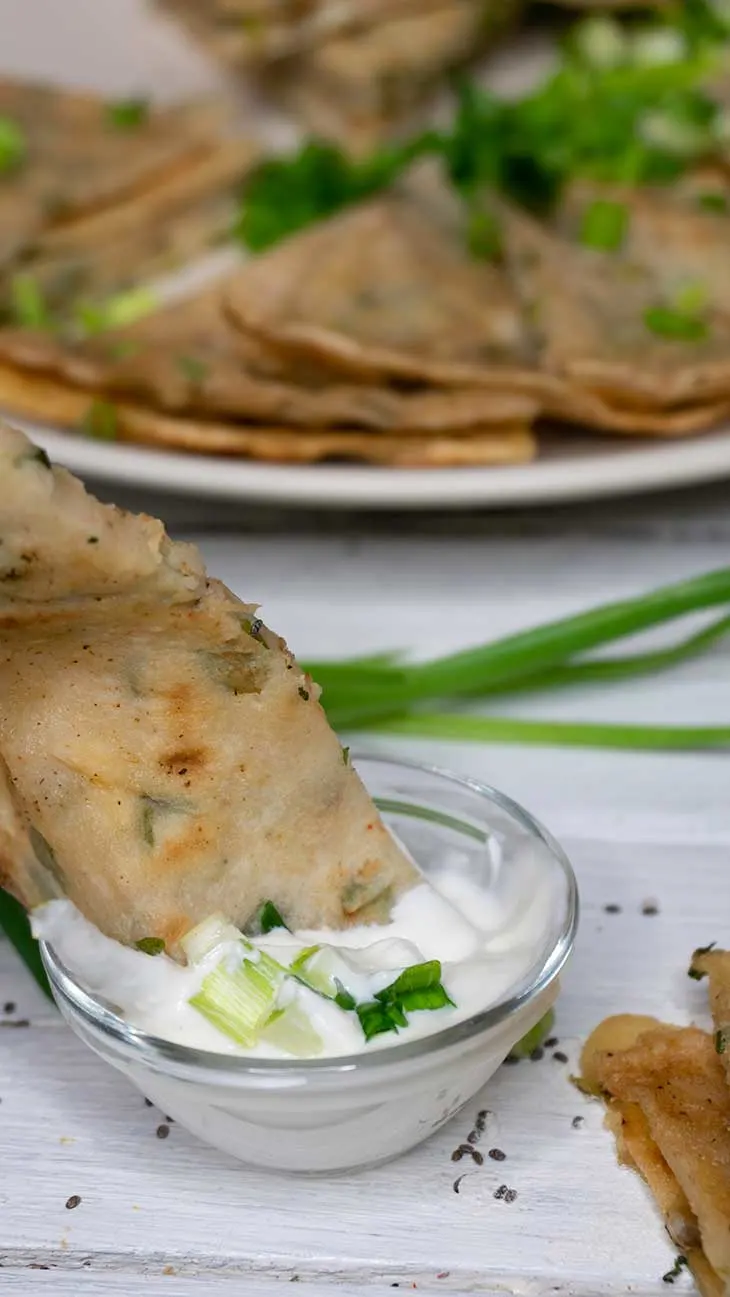 Hmm… pancakes… wasn't I talking about bread? Don't be alarmed – scallion pancakes are pancakes in the way that they are cooked in a pan on the stovetop.
Yet they are generally eaten as a bread together with soup and side dishes! And, unlike western pancakes which are made from liquid batter, scallion pancakes are made out of dough – which makes them a little bit more like a flatbread than a pancake!
Maybe it's the first time you hear about scallion pancakes, so let's talk a little bit about them. They are considered to be a Chinese specialty.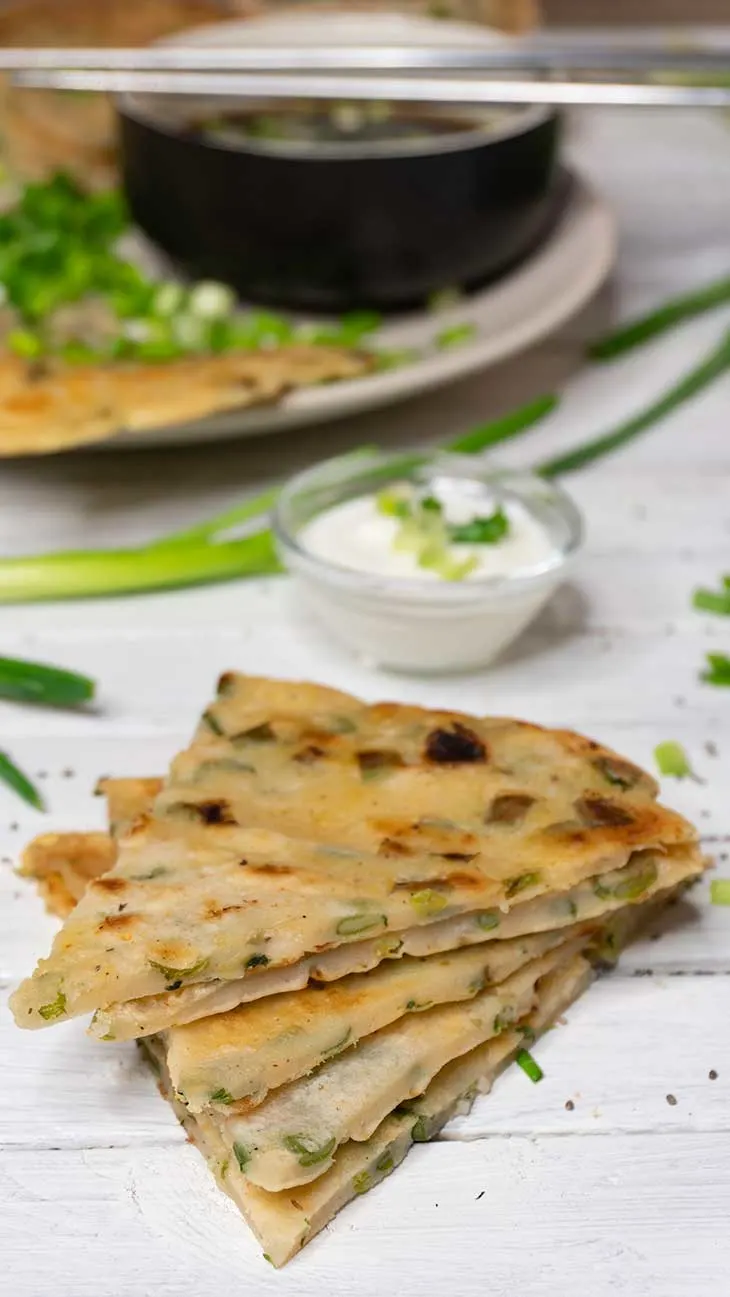 In Chinese cuisine, you can find them under the name of cong you bing – which literally translates as scallion pancakes. No surprises here – they contain chopped scallions.
They have a really nice chewy texture which makes them a great delicacy. They are pan-fried and that gives them beautiful and deliciously crisp edges. So one of the most distinctive features of the scallion pancakes is this combination of textures – both chewy and crisp! 🙂
You'll know when you are eating the right scallion pancake when each bite offers you a delicious and pleasant merge of textures.
So if you're looking for a way to enhance your meals, you are in the right place! These pancakes are really versatile and work wonderfully however you decide to serve them.
They taste great as a bread substitution together with soups and main dishes. You can also have them for breakfast, as the scallions scattered around the pancake give it a really great taste – so you will really enjoy them as a stand-alone savory breakfast.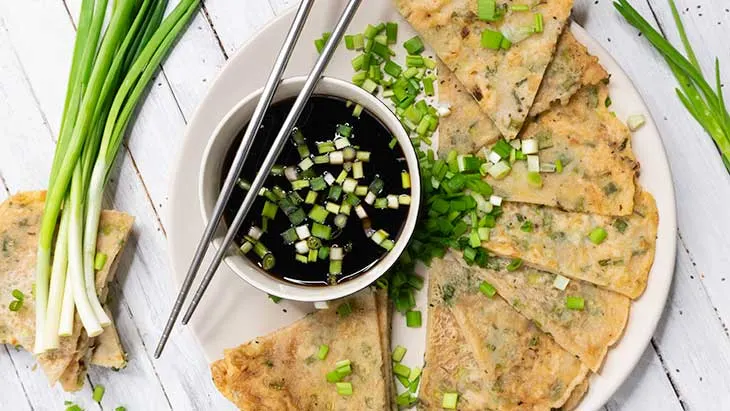 In Asia, these pancakes are really, really popular and you would find them everywhere from street food carts to fancy restaurants. You can even find them in Asian supermarkets, either fresh or frozen. Chinese people love them so much, that they even have a legend stating that these pancakes are the precursor of the western pizza!
According to the legend, Marco Polo tasted the scallion pancakes during one of his journeys. Back in Europe, he missed the scallion pancakes so much that he tried to find chefs able to prepare it for him!
An Italian chef from Naples tried to recreate the dish for him – but after numerous tryouts he was unsuccessful. Marco Polo suggested that he tried adding the toppings on top of the dough rather than inside it – and this is how he accidentally created the pizza!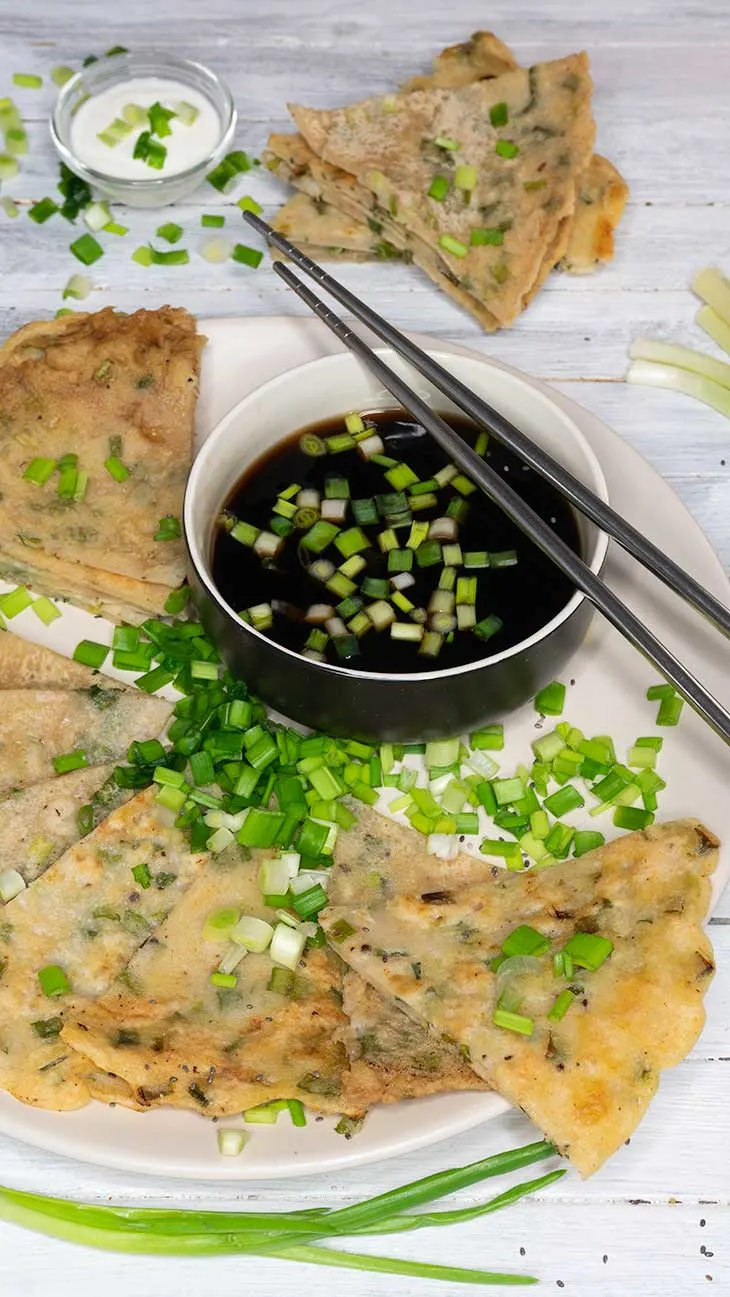 Some scientists and historians even tried to find the truth of that legend – but it turned out that Western pizza outdates the expeditions of Marco Polo. Nevertheless, the legend shows just how much the Chinese people love their scallion pancakes. And if the recipe is legend-worthy, then you don't really have any excuse not to try it! And, just like presumably Marco Polo did, you won't be able to find peace until you try them again and again and again.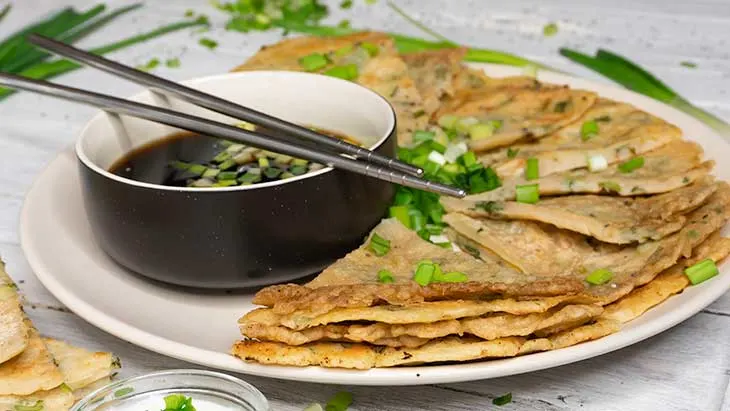 And with this recipe, you won't need to travel tens of thousands of kilometers in order to taste these delicious treats. Because I made sure that these scallion pancakes taste exactly like the real thing!
A really great aspect is that they are naturally vegan so there's no need to make any big adjustments or replacements. You are really going to enjoy these delicious pancakes – I sure did and my friends that tasted the batch I made loved them too!
And just as you thought things can't get better – the scallion pancakes are really easy to make! You will only need a few very basic ingredients and a spare hour or so. So as you are probably eager to get started, let's head to the kitchen and let the magic happen. Follow my steps and don't forget to share the deliciousness!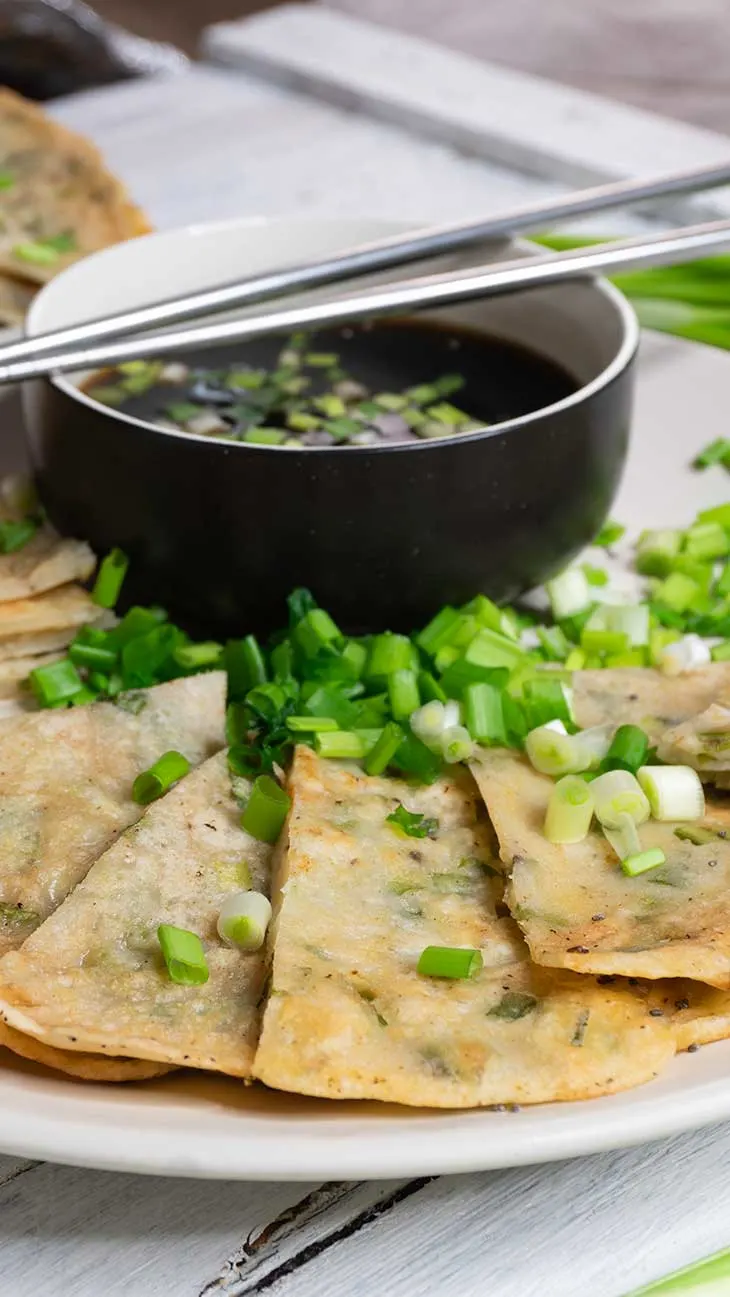 When everything is done – head back and leave a comment to let me know how it went. Hearing from you means a lot to me and helps me make the recipes better and better!
Yield: 2
Vegan Scallion Pancakes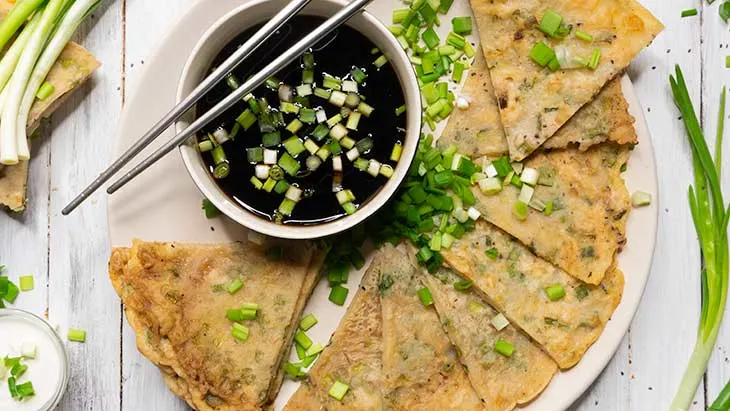 Are you in the mood for something else? Here's how to prepare vegan scallion pancakes - simple, quick and extremely delicious! And vegan too!
Ingredients
180g (1 ½ cup) flour, use GF if needed
360ml (1 ½ cup) water
100g (1 cup) scallions, finely chopped
½ tsp salt
¼ tsp Chili powder
black pepper
vegetable oil
Instructions
Mix the salt, chili powder and black pepper with the flour.
Pour the water (room temperature) and combine until you have no more lumps.
Add the chopped scallions and combine.
Heat 1-2 Tbsp of vegetable oil in a pan and fry the pancakes one at a time, using one ladle of batter per pancake.
Serve with soy sauce and more chopped scallions.
Nutrition Information
Yield
2
Amount Per Serving
Calories

551
Total Fat

33.3g
Carbohydrates

53.5g
Protein

9.2g