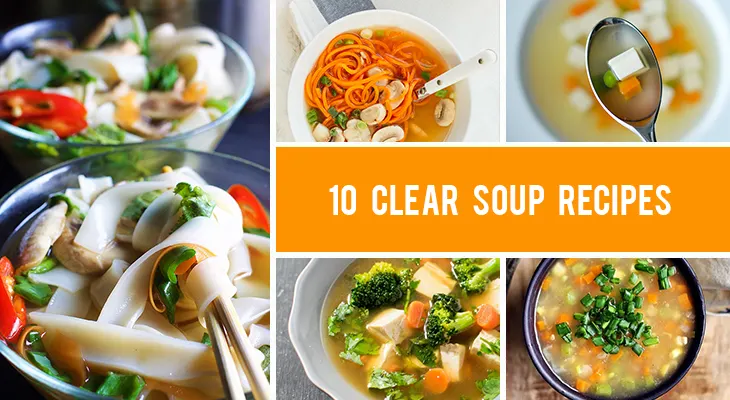 Here are 10 clear soup recipes that will warm you up! These delicious soups are healthy, nourishing and surprisingly filling! Give them a try!
Now that the cold season is approaching, there is only one thing on my mind: soups! And what could be more satisfying, filling and warming than a big bowl of hot, clear soup?! Clear soups have the power of being soothing but also filling, and the process of making them is very easy and fast most of the time. Just boil a flavorful broth and add your favorite veggies – and that's it!
One of the reasons why I love clear soups so much is that they remind me of my childhood when my grandmother used to feed me a big bowl of clear veggie soup almost every day. I was always so delighted by the mild flavors of the soup, always topped with fresh herbs, usually parsley, in astronomical quantities! 🙂
When crafting the perfect clear soup, the balance of ingredients is key to achieving that delicate, refined flavor profile we all love. A common challenge, however, is the conversion of measurements, especially when dealing with various recipes from different sources. For instance, if a recipe calls for a specific amount in tablespoons and you need to convert it to cups, having a reliable tool can be incredibly helpful. This is where handy conversion tools come into play. If you want to convert tablespoons to cups you can simply use online tools for automatically adjust the volume of broth or seasoning in your soup, ensuring that every spoonful is as delightful as intended.
And because I want to show you that, despite being so easy and light, clear soups are also an explosion of amazing flavors, I created this list with 10 of my favorite clear soup recipes. As usual, you will find here clear soup recipes for every taste, regardless if you love lemon, cilantro, sweet corn, carrots or even Asian soups!
Click on the linked titles in order to access these great clear soup recipes. I'm sure you will find here at least one soup that will become your favorite this winter! Many thanks to all the amazing food bloggers who took the time to write these delicious recipes. As always, let me know which of these soups is your favorite!
Clear Soup Recipes
If you're a fan of the Asian cuisine, then I guarantee you will fall in love with this soup! This vegan version of the famous Pho soup is bursting with flavors and healthy vegetables. The best part of all? It is so easy to make that anyone can do it, even beginners! And this also makes it perfect for weeknight dinners or quick lunches. Give it a try!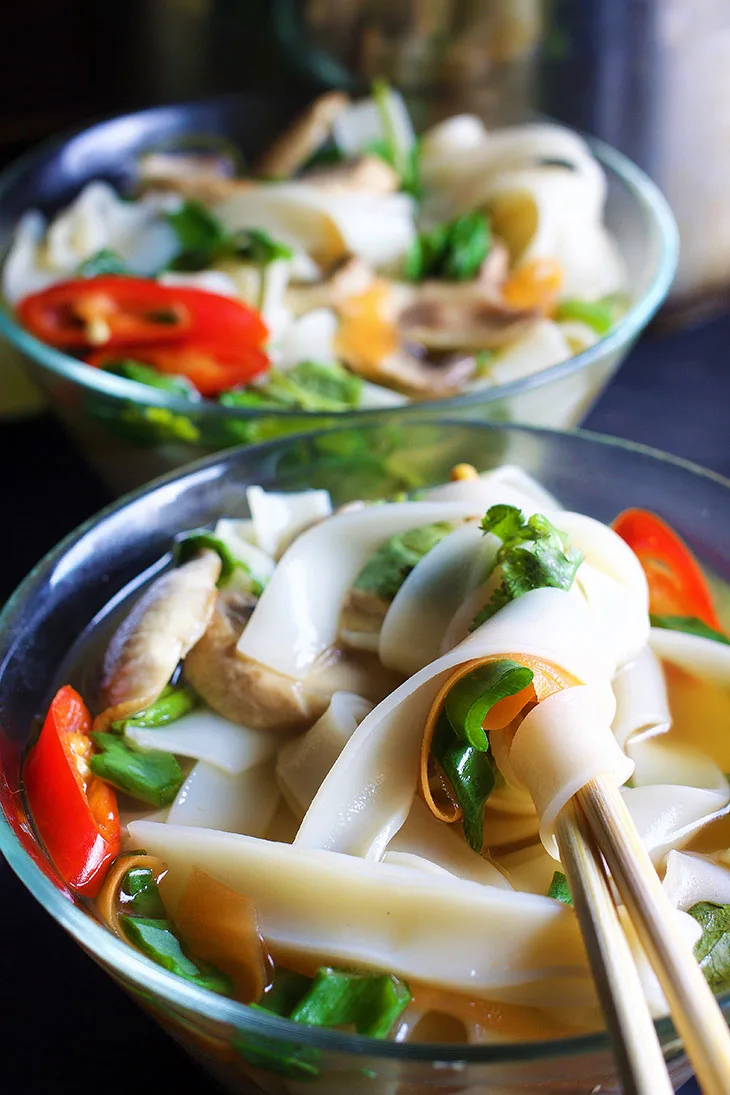 This is a soup for all the Japanese cuisine aficionados out there: onion soup with mushrooms! This amazingly delicious soup is even low in calories and a great meal starter, as it will instantly make you feel better. You can even add some miso if you want to make this soup extra special and delicious and preserve the traditional Japanese flavors!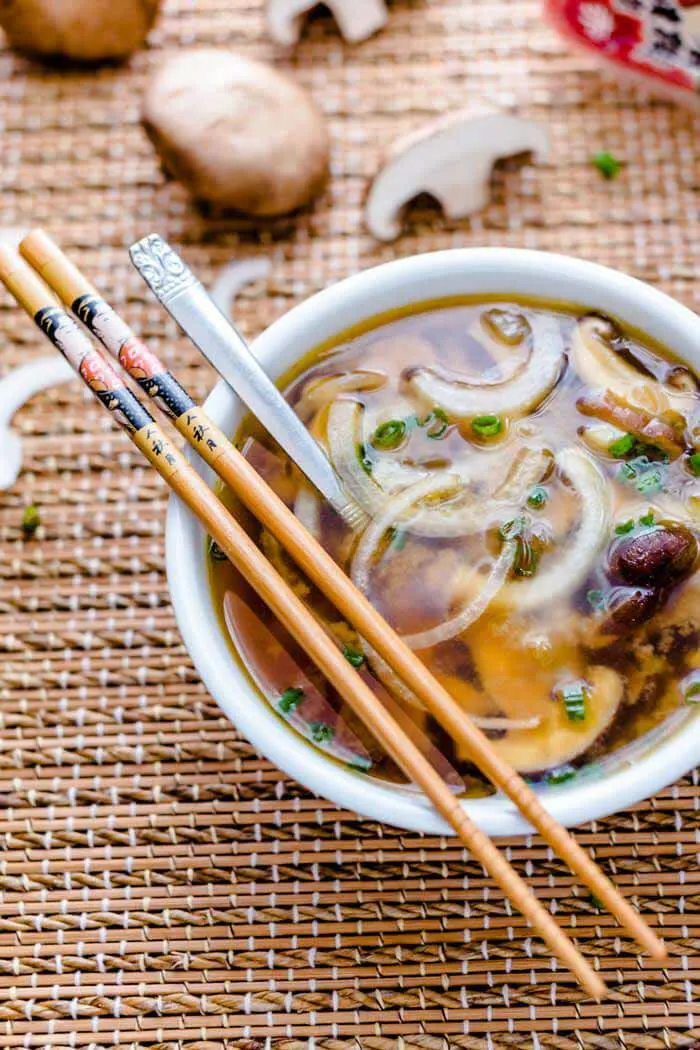 If you need a comforting soup that will also give you a much-needed amount of protein, then this vegan Thai clear tofu soup with homemade aromatic broth is your answer! The homemade aromatic broth uses only 3 ingredients and it resumes all the magical Thai flavors: galangal, lemongrass and kaffir lime leaves! I guarantee you will love it!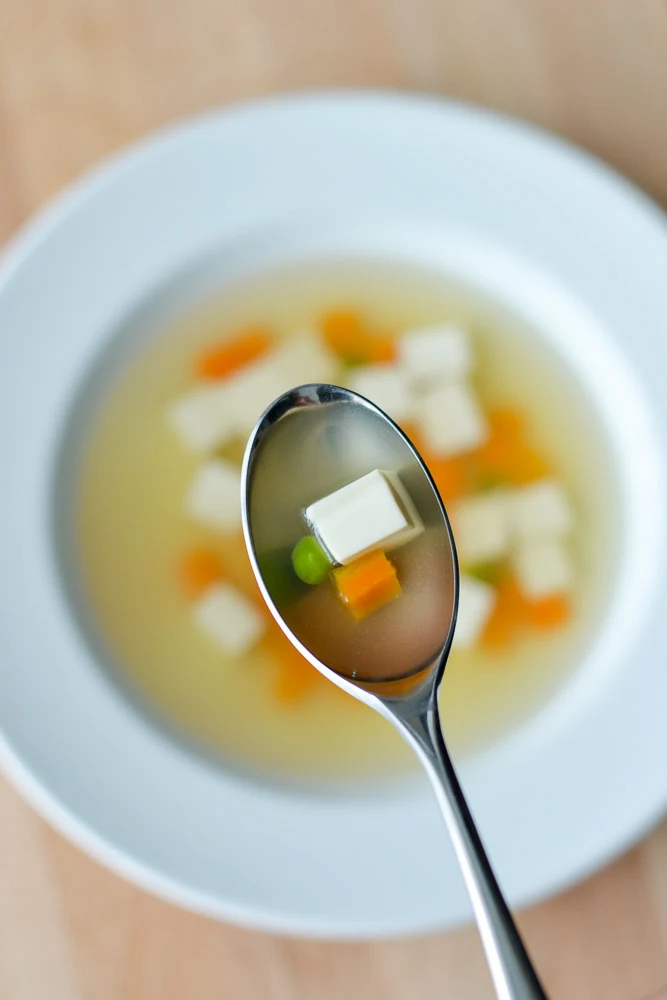 If you need one more reason to use your spiralizer, this easy clear onion soup with carrot noodles is your perfect excuse! Besides being full of flavor and healthy ingredients, the colorful and yummy carrot noodles will transform this amazing soup into a real delicacy! This clear soup has a mild flavor and you can easily change the ingredients and add your favorite veggies!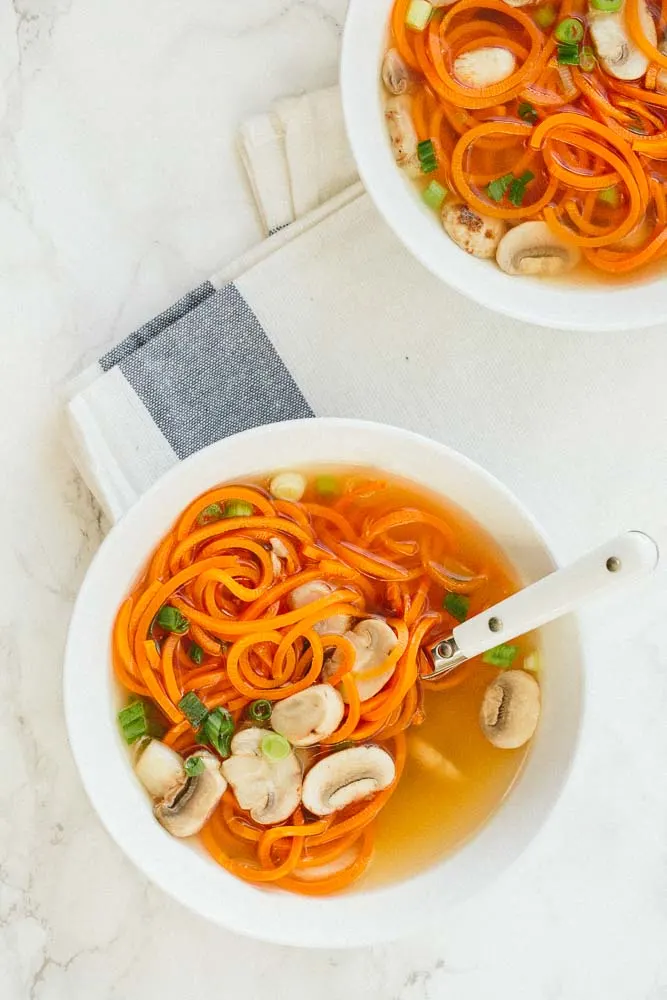 This recipe is a unique take on the classic Rasam soup. The pineapples give it a refreshing, tasty flavor that will totally satisfy you! And if you want to make the best version of this aromatic soup, you should use freshly ground rasam powder, which is a mix of different seeds. More details in the original recipe!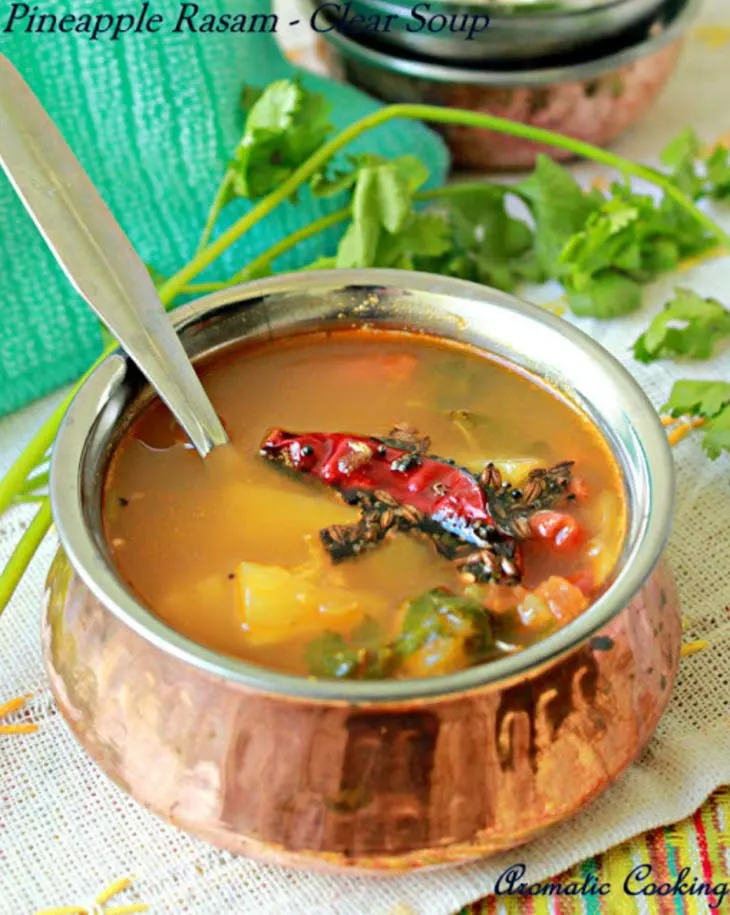 What could be more comforting on a chilly autumn or winter day than a clear veggie noodle soup that preserves the authentic flavors of our childhood? I'm sure that a big bowl of warm clear veggie soup will instantly make you feel better. Plus, it's full of vitamins and delicious veggies – what more can you ask for? Oh, and don't forget to add fresh parsley on top!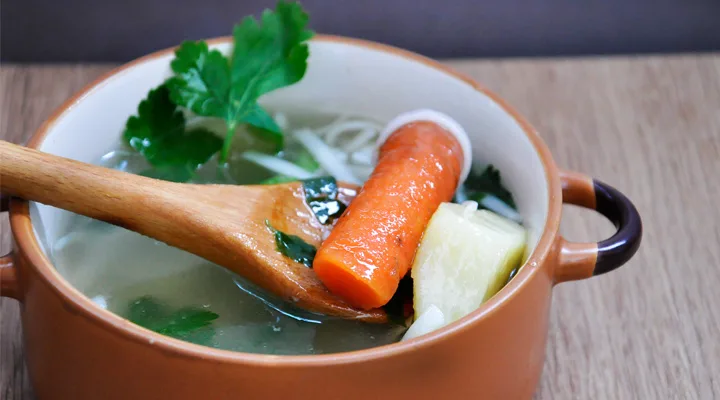 If you're a fan of cilantro, then you have to make this cilantro tofu soup at least once in your lifetime! This amazingly healthy soup is bursting with exotic flavors and will be the perfect filling lunch or dinner. Give it a try and let yourself be amazed by all the beautiful Asian flavors reunited in this clear soup!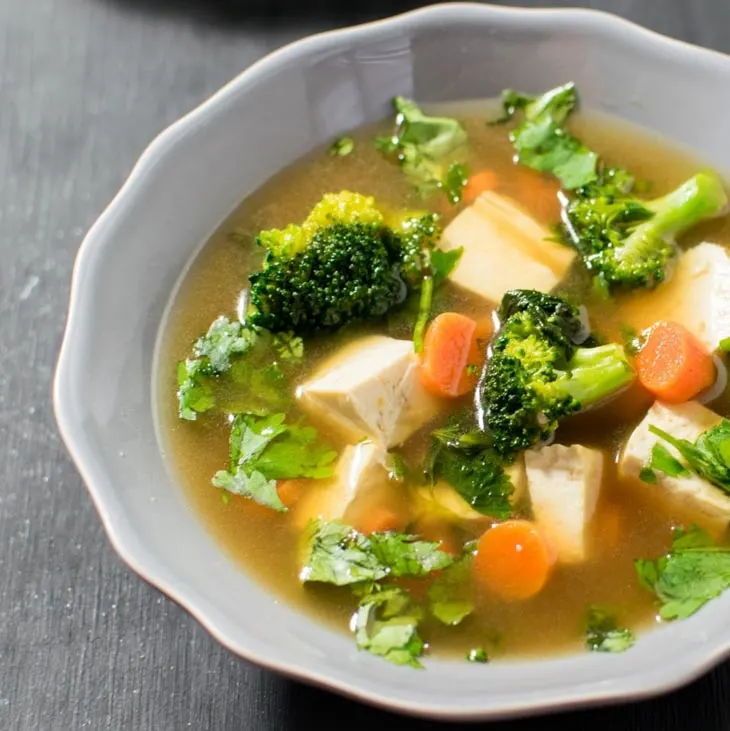 If you are in the mood for a refreshing but also filling soup, then I urge you to try this lemon coriander soup! A big bowl of this hot soup will delight your senses and make you feel all warm inside. Not convinced yet? Then you should know that this soup is ready in 15 minutes! How convenient, right?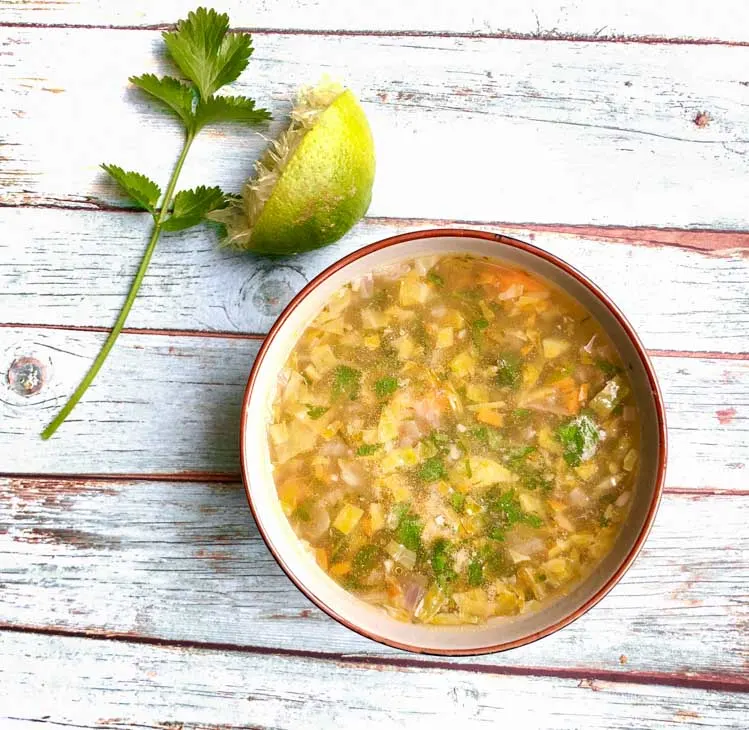 If you love sweet corn as much as I do, then this great sweet corn clear soup is definitely a keeper. This recipe has step by step photos so it will be extremely easy to make, regardless if you are a beginner or a master chef. This soup is actually Indo Chinese so prepare your taste buds to be amazed by all the flavors packed in a bowl of soup!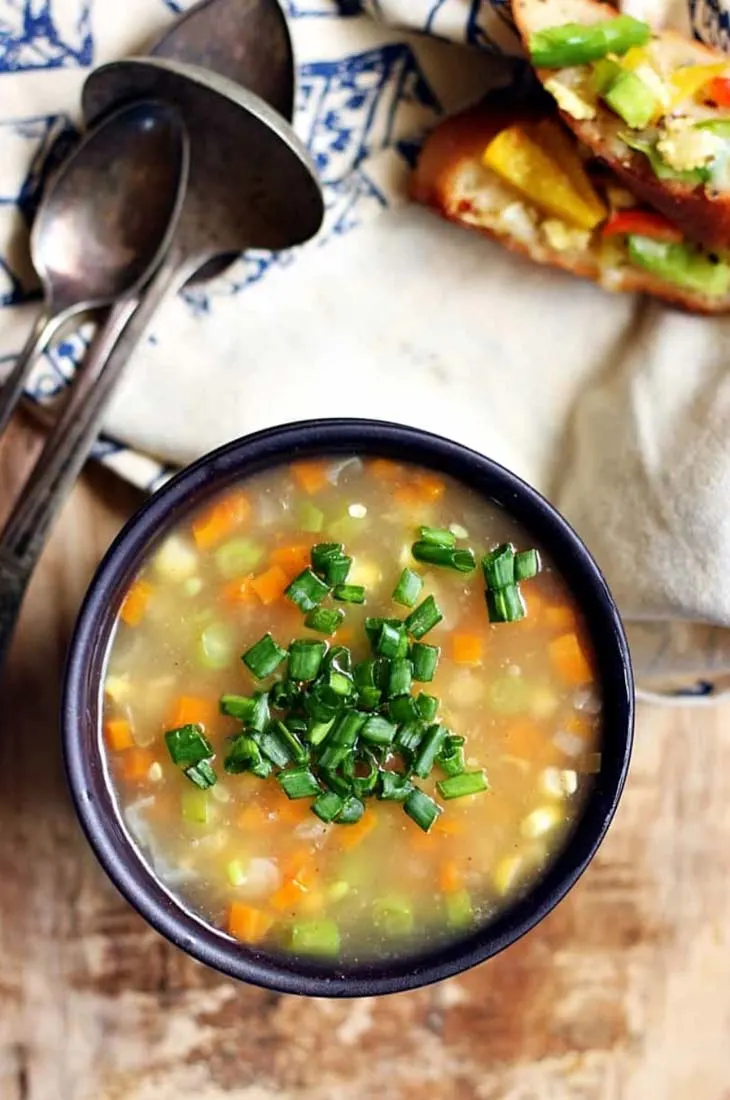 I am ending this satisfying yummy list with a very simple but delightful soup: chickpea soup! This clear soup with chickpeas is very easy, light and perfect if you need some cleansing. Despite being so simple, this soup is not boring at all! You will be amazed by the subtle lemon and cilantro flavors that go so well with the chickpeas. Give it a try!