If you're bored of basic soups, here's an incredible recipe to try for a change: vegan coconut curry chick'n soup! Super healthy and bursting with incredible flavors!
Here's a very possible scenario: you're tired after a full day of working at the office. And you're pretty much starving. You think of ordering some takeaway, maybe a yummy burger with fries or some pizza (again).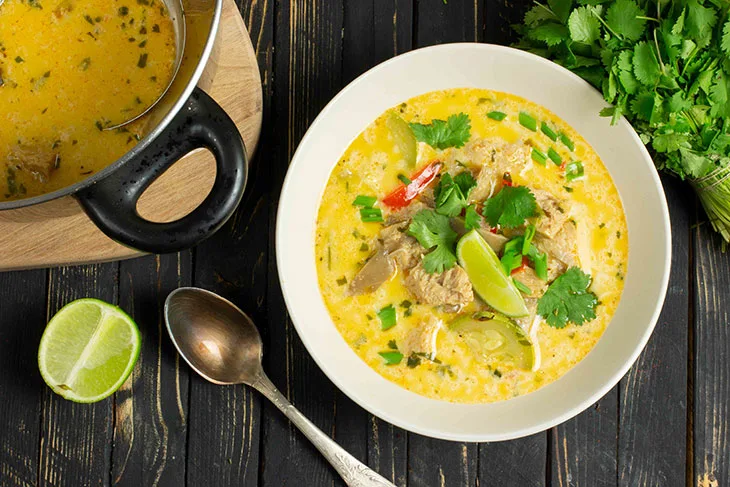 But this means you'll have to wait for at least 30-40 minutes. Plus the money you'll spend on the food, the delivery, and the tips. Maybe that's not such a good idea, after all.
Okay, but what would be a better idea instead? Cooking? Sure, you can try. After all, it's cheaper and it can take less time than ordering food again from your favorite restaurant. But what should you cook today?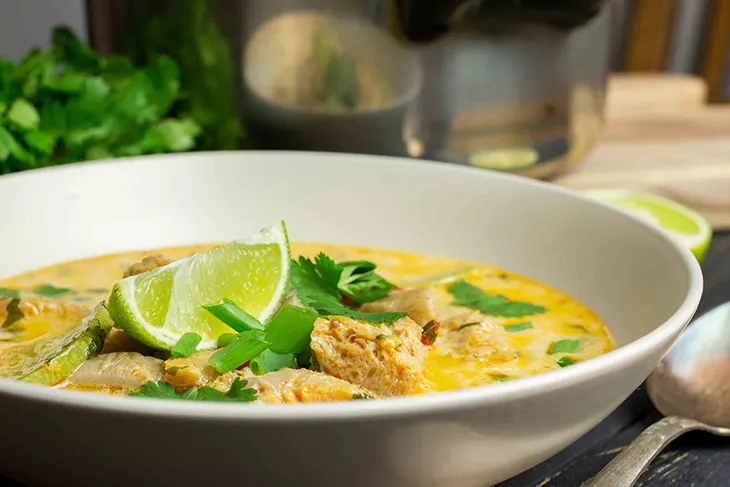 Heh, I have an excellent idea for a weekday dinner that doesn't require a lot of effort or an endless list of complicated ingredients. You just need some soy cubes, some veggies, curry paste, and some coconut milk. If you have these, rest assured that you can prepare an extremely delicious dinner in no time. This brings me to today's special recipe: vegan coconut curry chick'n soup!
Let's be honest for a bit. It's cold outside. It may even be snowing, depending on the part of the world where you're based. The only thing that could turn a winter day into a bright one would be a steaming bowl of something delicious. And what could be better than… a soup?!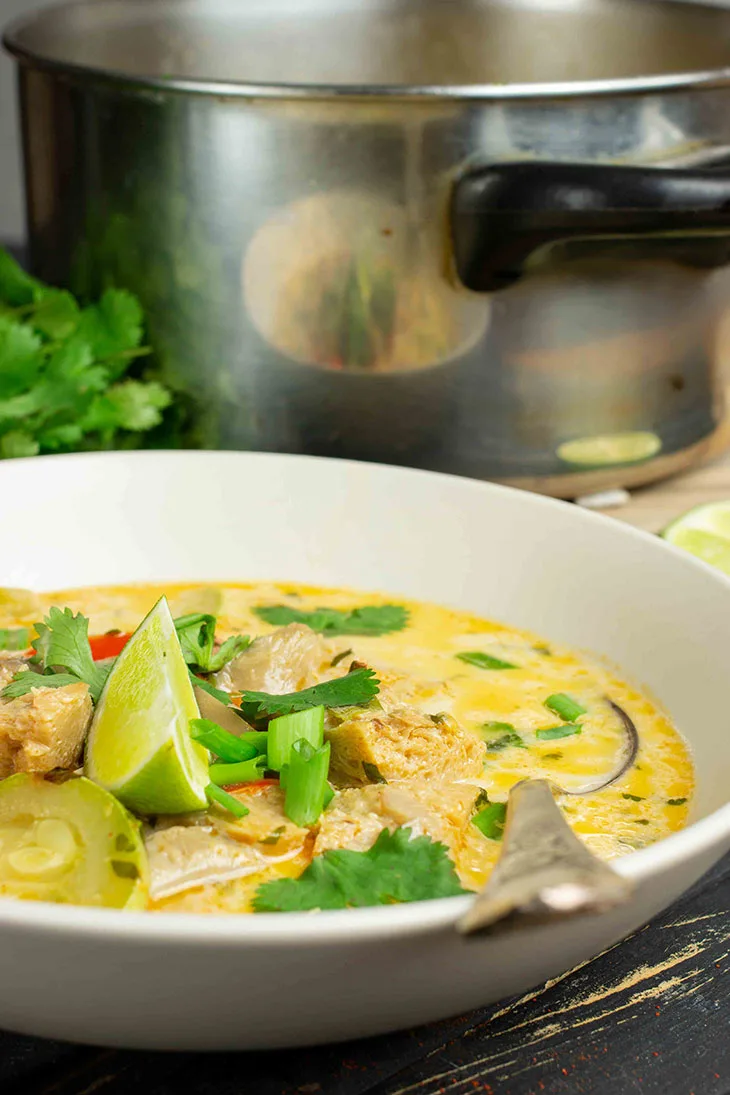 And not just any soup, my friends. This vegan coconut curry chick'n soup is ANYTHING but boring. It's actually bursting with exotic flavors. Just think about the following: green onions, coconut milk, garlic, ginger, lemongrass, soy sauce, curry paste, cilantro… I'm already drooling, I swear! 🙂
Although it may sound fancy and complicated, this vegan soup is actually not that hard to make. There are two main elements you need to take care of: the soup base, which should be full of flavors and exotic aromas – the creamy coconut milk will be an essential item here. And the toppings – I chose soy cubes, shiitake mushrooms, and red bell peppers for today's recipe. I think they make an incredible combo that's very hard to compete with.
Ah, before I forget: if you're really short on time or you simply HATE cooking, here's a workaround for you: just throw the ingredients in a crockpot while you're out doing your chores or working from home and your dinner will be ready with literally no effort. How awesome is that?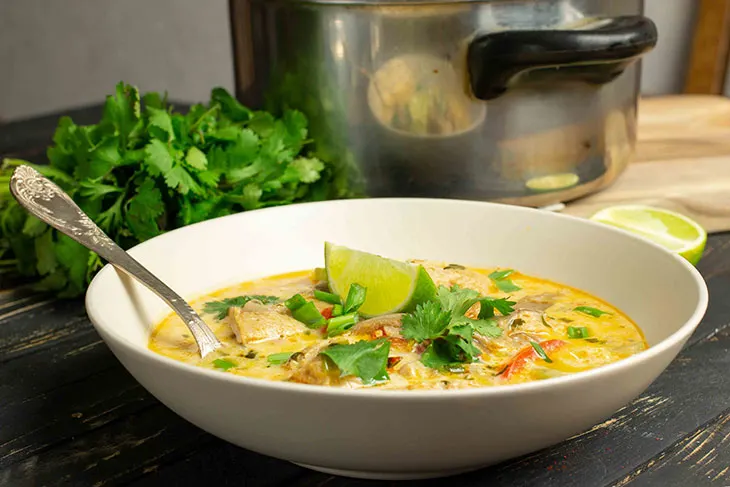 And if you find that you don't have all the ingredients needed, you can of course switch and replace some of the veggies. Maybe you don't like mushrooms or zucchinis. No problem here! Just make sure you don't omit the ginger, lemongrass, coconut milk, and, of course, the curry paste. I mean… you can't really make a coconut curry without curry and coconut, am I right? 😉
So picture this: you can have a delicious vegan coconut curry chick'n soup ready in around half an hour. I think that's great, especially if you're bored with plain old soups and stews. And thanks to the soy cubes, this dish is also rich in proteins – and we all know how important proteins are in a vegan diet, right?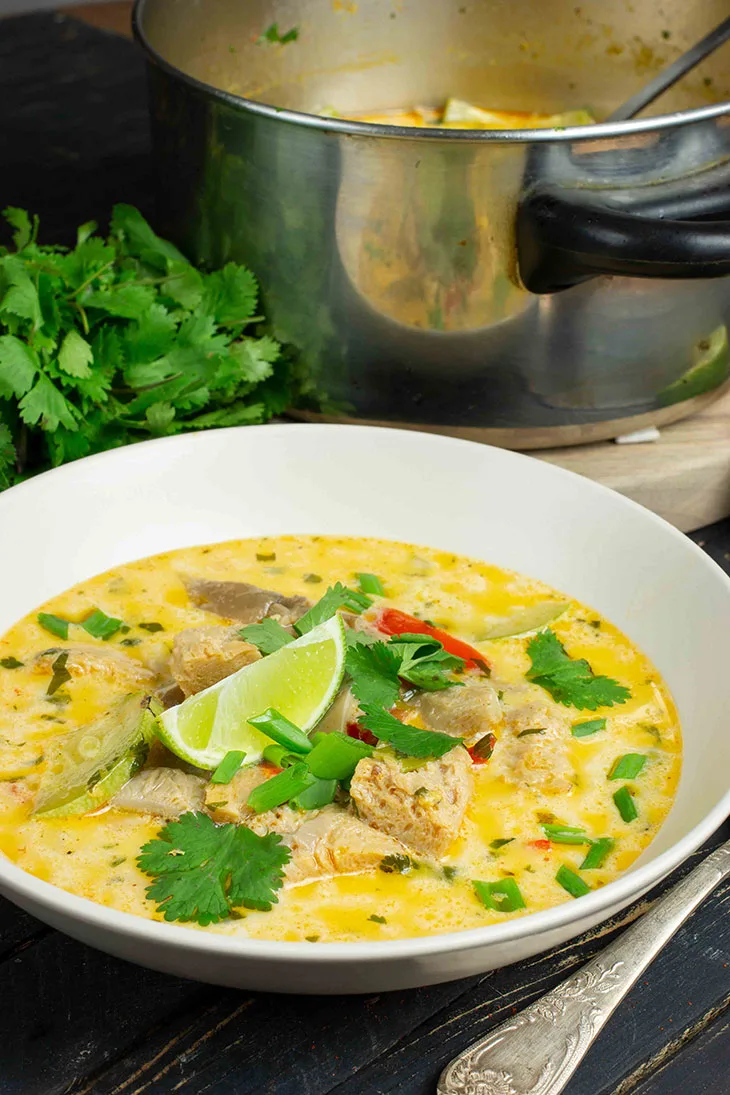 Snow outside, but a big bowl of comforting soup on your table. For me, that's picture-perfect. The first time I tried this recipe, I was a bit unsure if my family would love it as much as I do. Turns out everyone asked for seconds, so I can say it was a real success. Even non-vegans will love it, I'm sure of that, as the flavored soy cubes perfectly compensate for the lack of meat.
So what are you waiting for? I URGE you to try this vegan coconut curry chick'n soup because, except for the fact that it's extremely delicious, it's also full of nutrients and it will surely warm you from the inside.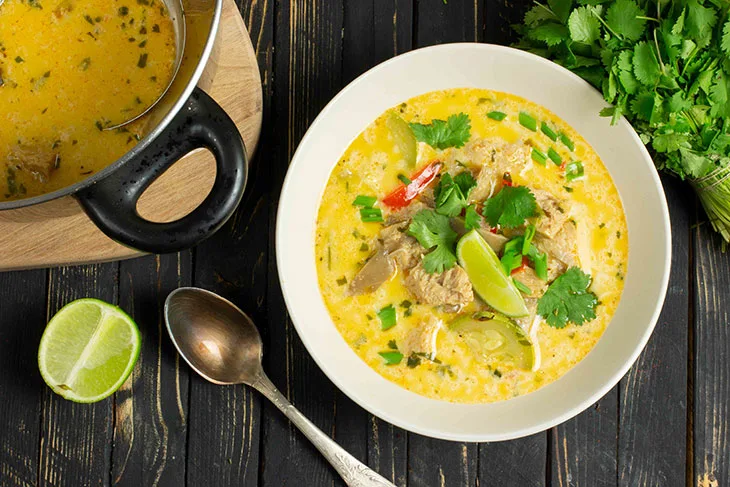 That being said, I'm sure I already convinced you that this is an unmissable dish to try, regardless if you're preparing it for a weekday dinner or for a special weekend lunch with your loved ones. So gather your ingredients, chop everything, and let's get cooking! Bon appetite!
Yield: 4+
Coconut Curry Chick'n Soup - Vegan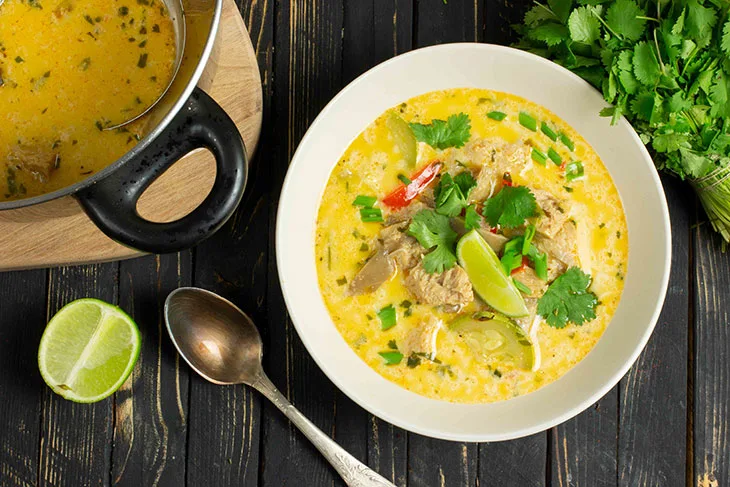 If you're bored of basic soups, here's an incredible recipe to try for a change: vegan coconut curry chick'n soup! Super healthy and bursting with incredible flavors!
Ingredients
30g (¼ cup) textured soy protein, cubes
1-2 shiitake mushrooms, sliced
½ red bell pepper, sliced
1 Tbsp green onion, sliced
½ small zucchini, sliced
1 garlic clove, minced
1 tsp ginger, minced
1 tsp lemongrass, chopped
½ Tbsp tamari or soy sauce
1 Tbsp red curry paste
½ lemon, juiced
1 Tbsp cilantro, chopped
1 Tbsp coconut oil
1L (4 cups) veggie stock or water
400ml (13.5 oz) coconut milk
Salt
Instructions
In a pot, add the coconut oil, red pepper, and mushrooms and sautee for 3-5 minutes.
Add the ginger, garlic, and curry paste, stir and cook for another 3 minutes.
Add the veggie stock, soy cubes, green onion, lemongrass, lemon juice, tamari/soy sauce, and coconut milk.
Bring to a boil, lower the heat and simmer for 15-20 minutes, adding the zucchini half-way through.
Season with salt to taste. Serve with fresh cilantro.
Nutrition Information
Yield
4
Amount Per Serving
Calories

129
Total Fat

6g
Saturated Fat

4g
Trans Fat

0g
Unsaturated Fat

1g
Cholesterol

7mg
Sodium

769mg
Carbohydrates

10g
Fiber

1g
Sugar

6g
Protein

11g
I strive to keep the information as accurate as possible but make no warranties regarding its accuracy. I encourage you to make your own calculations using your preferred nutrition calculator.