Here's how you can make vegan spaghetti alla Puttanesca (pasta Puttanesca) that looks and tastes just like the authentic Italian recipe!
Let's eat Italian! I begin the veganized Italian recipes challenge right now with this delicious vegan spaghetti alla Puttanesca recipe! Who doesn't love Italian food? After the Middle Eastern cuisine, Italian recipes are by far my favorite. Pasta, pizza, tiramisu…these are the perfect carb-bomb comfort foods, am I right?! 😀
But, did you know you can easily veganize any Italian recipe?! Even the ones with meat and fish can be made vegan and you won't feel a huge difference in taste or texture. Take this vegan spaghetti alla Puttanesca, for example.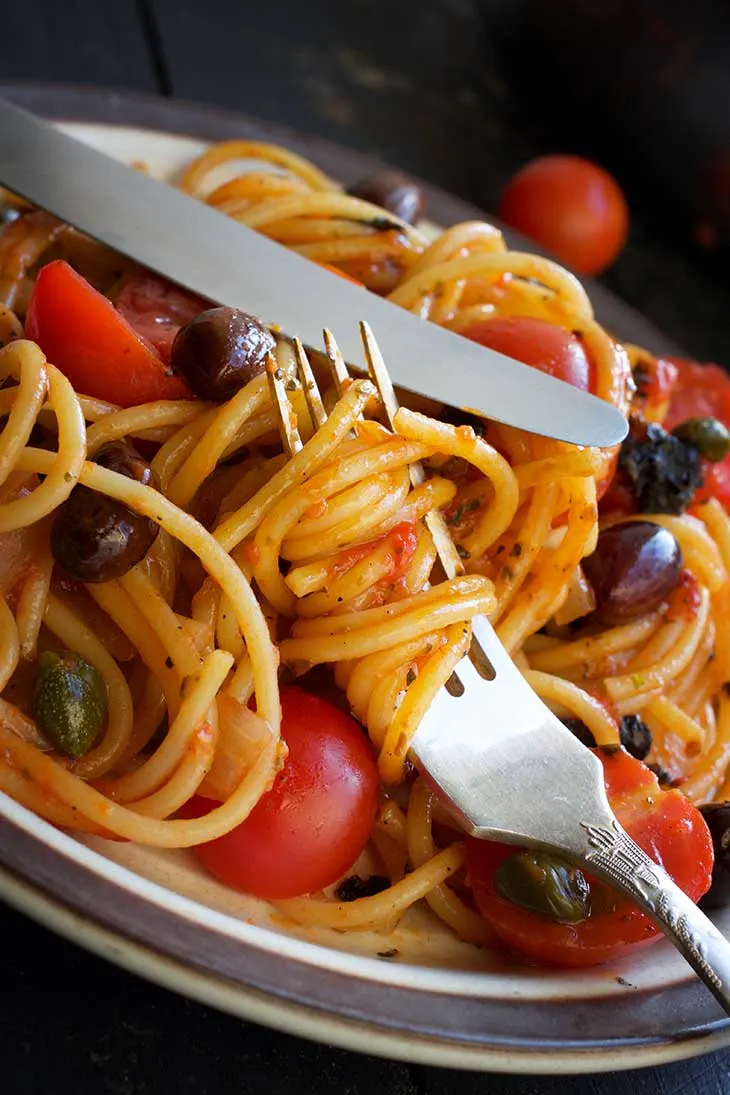 The original spaghetti alla puttanesca recipe is an Italian pasta recipe which originated from Napoli in the mid-20th century. It is traditionally made with tomatoes, olive oil, olives, capers, garlic and…anchovies! Did you know that spaghetti alla puttanesca actually means "spaghetti in the style of a whore" in Italian? :))
To mimic the taste of fish I used Nori sheets! Yes! Made them crispy and then added them to the pasta right before serving. The result -> INCREDIBLE! Eating plant-based is awesome and you don't have to miss the taste of meat and fish at all, there are so many great alternatives you can try! Be creative! 🙂
Tip: You can make it gluten-free by simply using GF spaghetti or corn spaghetti. 🙂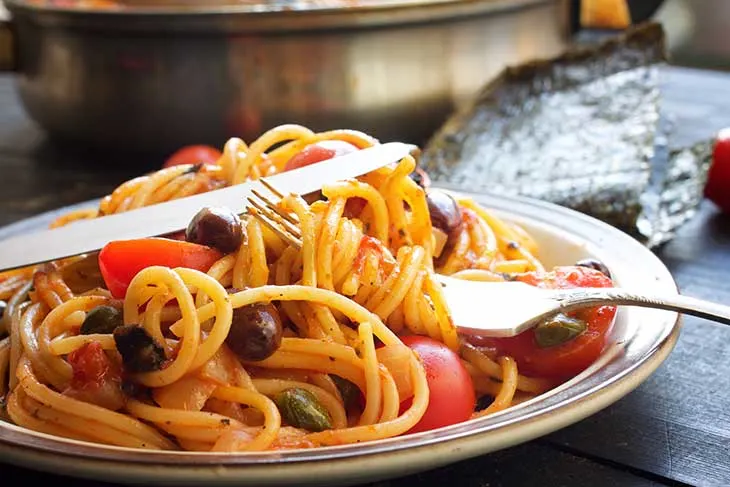 You'll love this recipe, I'm sure! 🙂 Give it a try and drop a comment below to tell me how it was. And if you want to eat awesome, quick and easy recipes every day, check out my meal planner!
P.S. Don't forget about the Spring Discount – 25% off for Yearly Plans! 🌞 🌼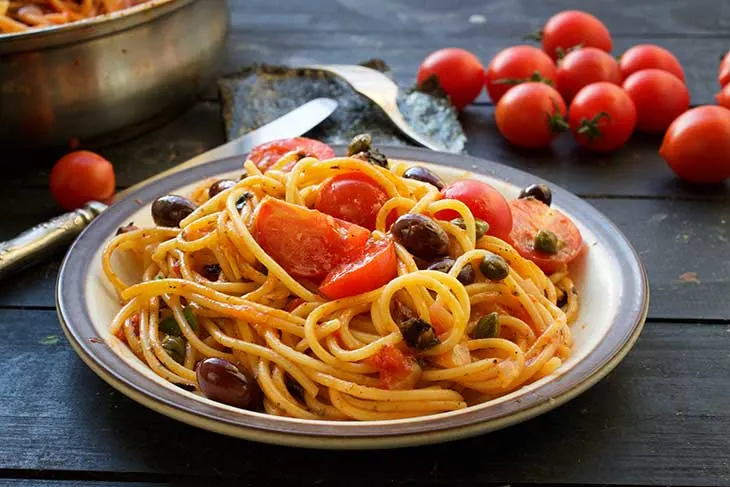 Yield: 4
Vegan Spaghetti alla Puttanesca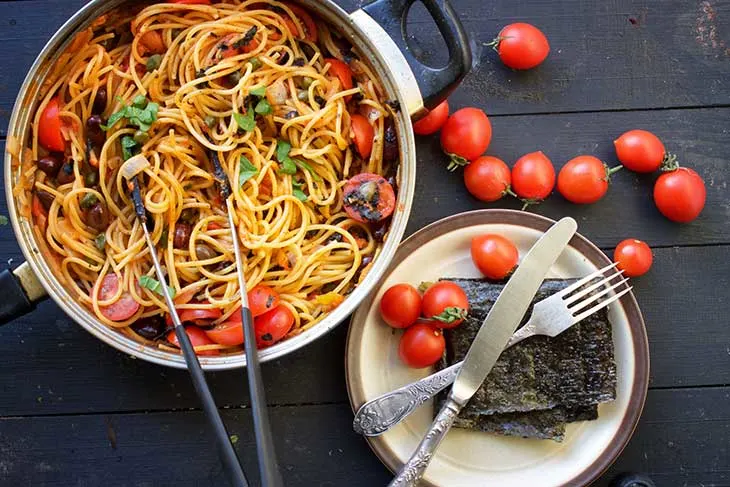 Here's how you can make vegan spaghetti alla Puttanesca (pasta Puttanesca) that looks and tastes just like the authentic Italian recipe!
Ingredients
200g (7 oz) spaghetti
4 garlic cloves, minced
1 medium yellow onion, peeled and chopped
2 Tbsp extra-virgin olive oil
1 can (400g | 14 oz) tomatoes, peeled and crushed
150g (1 cup) cherry tomatoes, halved
90g (½ cup) pitted kalamata olives
2 Tbsp capers
1 Nori sheet
⅓ tsp cayenne pepper
1 tsp black pepper
1 tsp dry basil
1 tsp maple syrup
salt and ground pepper, to taste
fresh chopped basil
Instructions
Heat a dry skillet over medium heat. Add the Nori sheet and fry until crispy. Crush the Nori sheet in small pieces and set aside.
Cook pasta al dente, according to the instructions on the package. Set aside.
Heat olive oil in a large skillet, over medium heat.
Add chopped onion and minced garlic. Saute over medium heat until translucent, about 6 minutes, stirring occasionally.
Add the canned tomatoes, olives, capers, cayenne, dry basil and maple syrup. Continue cooking for 5 minutes.
Stir in the cooked pasta and crushed nori. Add salt and ground pepper to taste. Stir in cherry tomatoes and serve with some basil on top.
Nutrition Information
Yield
4
Amount Per Serving
Calories

372
Total Fat

8g
Carbohydrates

63.4g
Protein

11.6g