Here's how you can make a delicious and easy vegan tortellini soup perfect for when you crave a hearty, wholesome soup recipe! Give it a try!
Kristin from Yellow Bliss Road was the one who inspired me to cook this delicious vegan tortellini soup. I saw her tortellini soup with Italian sausage recipe on Pinterest and immediately wanted to give it a try! I decided to make it vegan with just a couple of easy and affordable substitutes and the result was comfort food at its finest!
In case you are not familiar with the different kinds of Italian pasta, tortellini is a ring-shaped pasta that almost looks like a navel. This type of pasta is stuffed with meat, cheese or veggies and mushrooms for the vegan versions. You can find tortellini either, refrigerated, frozen or even dry. They also differ in size, from small to large.
The original tortellini soup recipe contains real sausage which I replaced with smoked tofu, crumbled and mixed with some spices. My vegan tortellini soup is more on the chunky side rather than having a creamy texture, but if you want to make it a creamy soup, simply blend the ingredients (except vegan tofu sausage and tortellini, of course!).
It's so flavorful and easy to make! I used store-bought vegan mushroom-filled tortellini, but you can use any kind of tortellini you want. You can even make this with tiny ravioli or noodles!
I served this vegan tortellini soup with lots of fresh chopped herbs on top. I didn't have any fresh basil, but it would have been the perfect topping for this. So feel free to add any herbs you want, but basil is a match made in Heaven for this soup! 🙂
P.S. Don't forget about the Spring Discount – 25% off for Yearly Plans!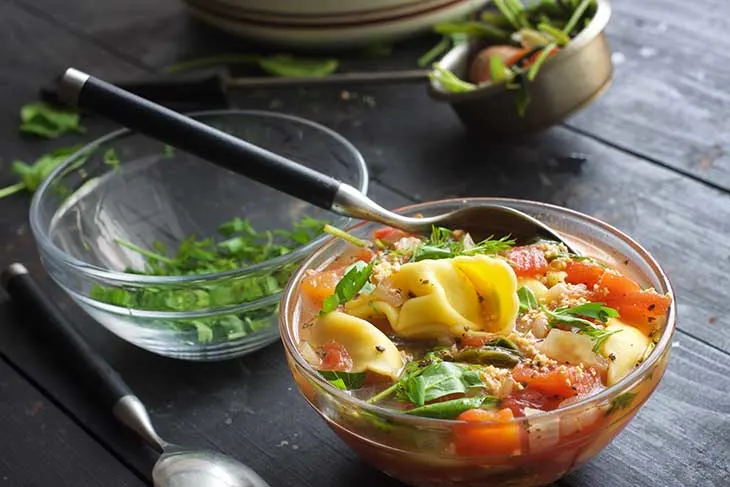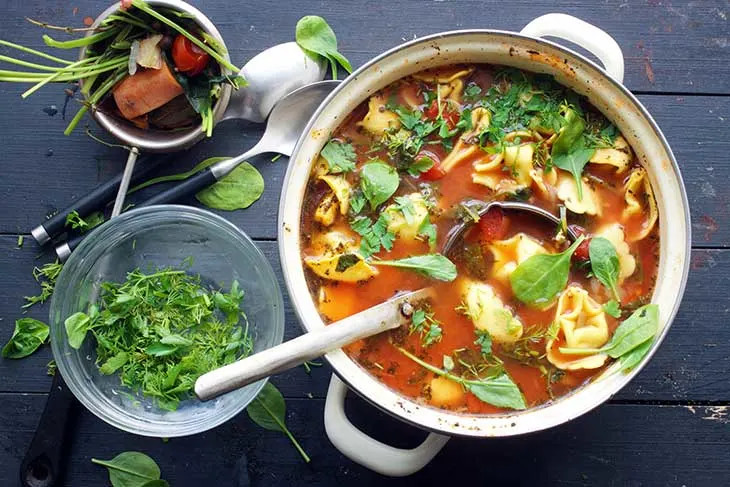 Here's how you can make a delicious and easy vegan tortellini soup perfect for when you crave a hearty, wholesome soup recipe! Give it a try!
Ingredients
For the vegan "sausage":
1 Tbsp avocado oil
250g (1 cup) smoked tofu
1 tsp cumin powder
½ tsp sweet paprika
½ tsp ground coriander
½ tsp ground black pepper
25g (½ cup) diced onion
1 Tbsp minced garlic
2 Tbsps olive oil
For the tortellini soup:
350g (1 ½ cup) peeled and crushed tomatoes
1L (4 cups) homemade vegetable broth
1 tsp tomato paste
1 tsp dry basil
1 tsp dry oregano
1 tsp sea salt
½ tsp pepper
200g (2 cups) store-bought mushroom tortellini
60g (2 cups) fresh baby spinach
Instructions
Add all the vegan sausage ingredients in a food processor or blender, except garlic and onion, and pulse a few times, until tofu gets a minced meat texture.
In a large pot, over medium heat, heat olive oil and add the onion and garlic. Saute for a few minutes, then add minced tofu and continue to cook, until the onions are soft.
Add all the soup ingredients, except tortellini and spinach. Stir and cook for 10 more minutes.
Then add the vegan tortellini and cook until almost done - about 6 to 8 minutes. Add spinach, give it a stir, then cover and remove from heat
Serve with some fresh chopped greens on top.
Nutrition Information
Yield
6
Amount Per Serving
Calories

247
Total Fat

14g
Carbohydrates

16.7g
Protein

13.7g