If you love Dalgona coffee, then get ready to fall in love with this vegan Dalgona coffee cake! It's a healthy sweet treat that everyone will love!
I'm sure you all know what Dalgona coffee is by now. But if you've somehow missed it (or you don't have an internet connection), I'm going to introduce you to this 21st-century wonder.
Dalgona coffee is a beverage that has been widely popularized during these past months, mainly as a TikTok challenge. It's made by whipping equal proportions of instant coffee powder, sugar, and hot water until it becomes really creamy and foaming.
This light mixture is then added to usually cold milk, and it resembles the most-beloved coffee frappe. Occasionally, other toppings are added to the drink to make it even more sweet and decadent, such as coffee beans, coffee powder, cocoa powder, honey, syrups, or crumbled biscuits. The name is derived from a Korean sugar-sweet called dalgona, due to the resemblance in taste and appearance.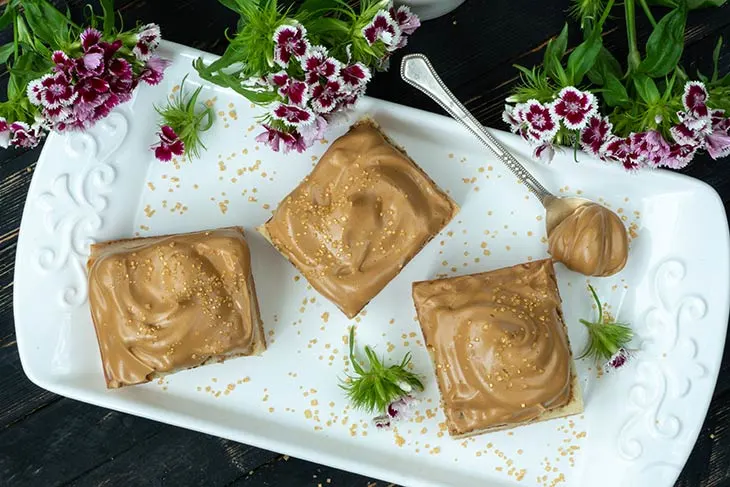 Funnily enough, Dalgona coffee is also called the quarantine drink or quarantine coffee, as it became popularized during the COVID-19 pandemic. Because well… people are staying inside, getting bored, so they have to try new things. And I think cooking (or preparing beverages) is always a nice skill to have, which can take your mind off your worries. So I think it's really cool that this Dalgona thing came into being! 🙂
Because this beverage feels more like dessert than like your usual cup of morning joe, I figured why not make a cake around it? And oh boy, was that a wonderful idea!
This Dalgona coffee cake is fairly easy to make. And for it, you're going to need… Dalgona coffee. Obviously. Which is pretty easy to make as well. You can whip the coffee and sugar with a mixer, or entirely by hand, which, by the way, is a great arm workout. When whipped entirely by hand, it takes 3 to 4 minutes to achieve that wonderful foamy texture, and by then, your arms are going to shake – trust me on that.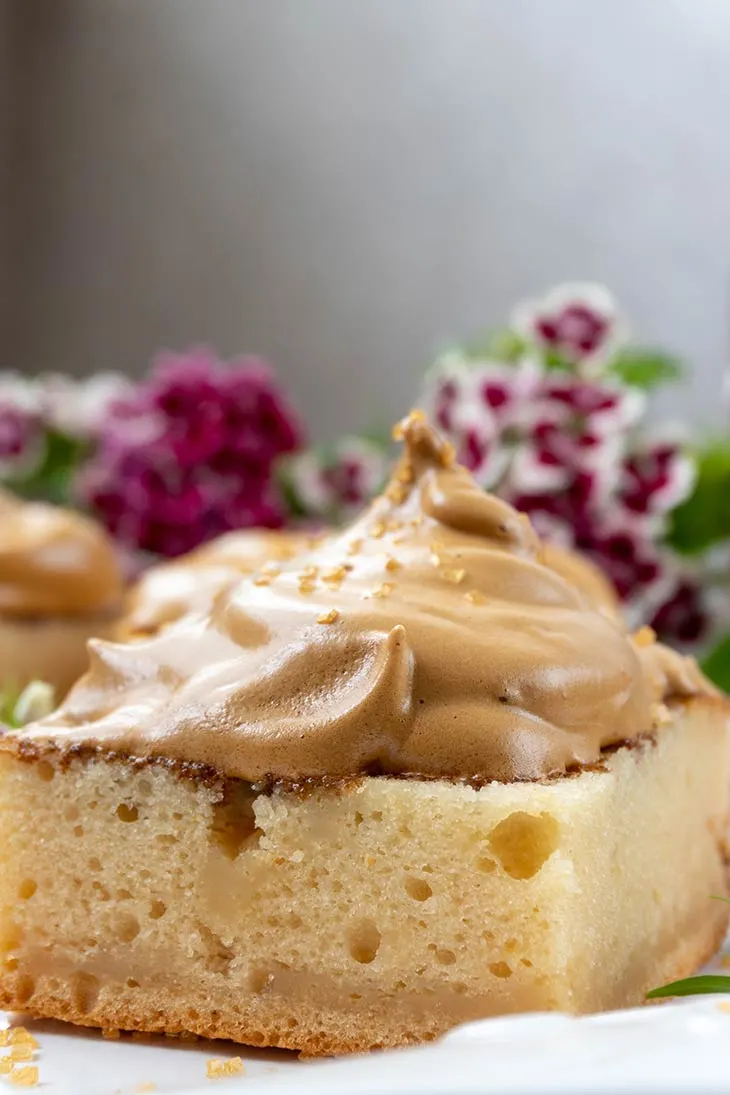 If you want to skip on the workout, as I mentioned above, you can use a hand mixer, though I recommend whisking by hand at first so you'll have a bit of volume for your electric mixer. Otherwise, it's going to be hard for the whisks to reach anything.
You'll know it's done and perfect when it's silky smooth and stiff peaks have formed. You can use this light mixture as a filling for the cake. And here, you can opt for any flavor, but what goes best with coffee? You guessed it: vanilla. Obviously.
This is a cake that I can pretty much guarantee can be enjoyed equally if you're an avid coffee drinker or if you don't drink coffee at all, because it doesn't have the bitterness of a usual cup of coffee, just the wonderful flavor. However, if you've got kids, I recommend you opt for decaf instant coffee – you can find it just as easily at any store and it works just as well. Amazing coffee flavor with none of the caffeine.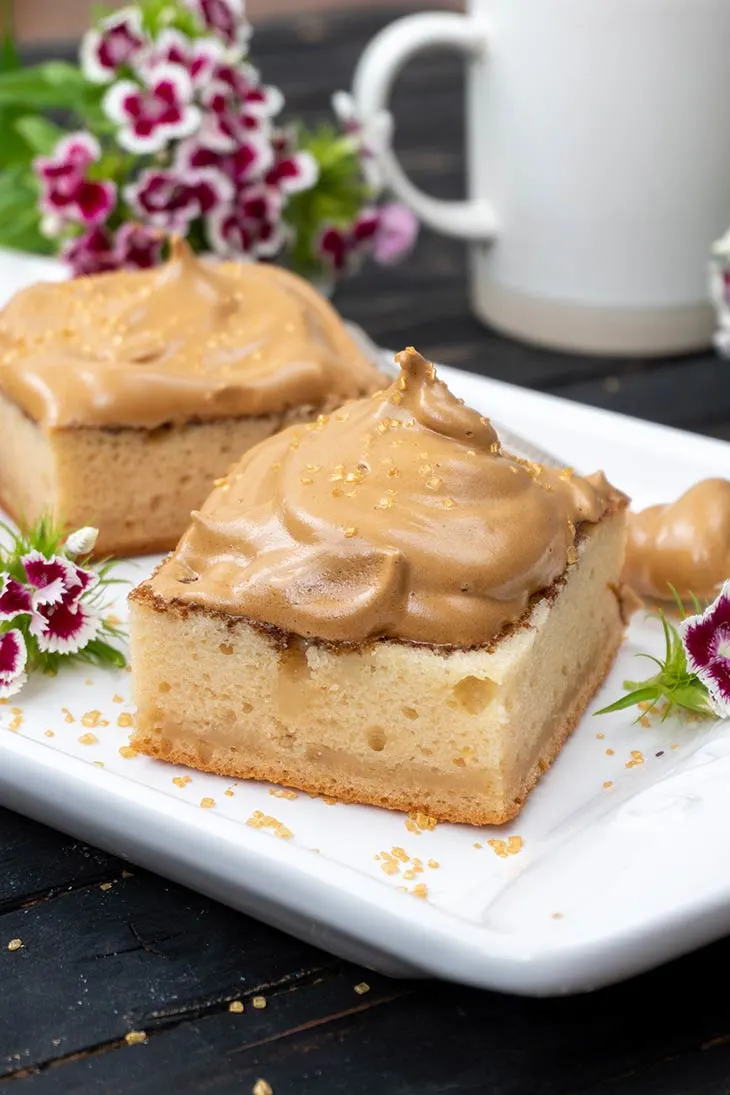 As I mentioned above, this is a vegan recipe, so we're going to opt for plant-based milk instead of a regular one, and, of course, no eggs are involved. But don't think that just because it's vegan, it must mean it's hard to make because this isn't the case at all. This recipe doesn't call for any rare ingredients, just some household ones, and will surely be able to satisfy the sweet tooth of vegans and non-vegans as well. In fact, I dare you to serve this to someone without mentioning that it's vegan. I'm pretty sure they're not going to be able to figure out. It's a cake as delicious as any.
If you want to be extra and give yourself a nice treat, you can have this cake for breakfast. I mean come on… just for once. It's a coffee cake, after all, and dessert for breakfast is amazing if you don't do it every single day. So I highly suggest you try this one out! 🙂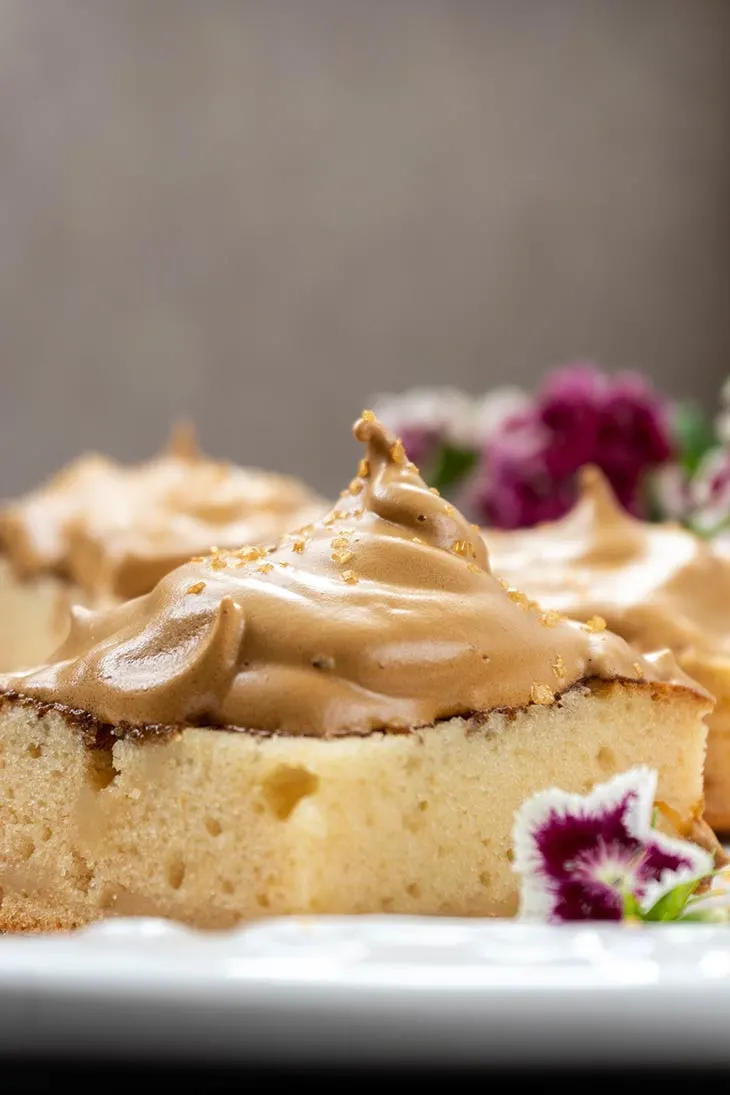 I've tried it for breakfast and it's made my day a million times better. It's also amazing as an afternoon snack, too, especially when that tiredness kicks in. Studies show that simply by smelling coffee we tend to feel more energetic, so having a piece of coffee cake, even if you're opting for the decaf version, is a sure way to get your energy flowing for the rest of the day.
As for beverages, this cake is obviously best served with the now-famous Dalgona coffee on the side. But if you don't feel like preparing another cup, you can have your regular coffee, or even a glass of plain milk to cut out its sweetness.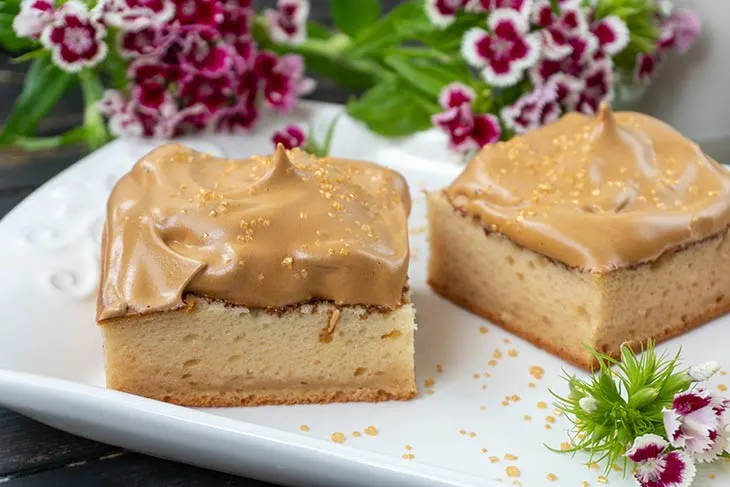 Well, I think we can all agree that it's good to look on the bright side of life now and then and see that this pandemic has come up with a bunch of benefits too, after all. Like amazing Dalgona coffee, and this amazing Dalgona coffee cake. 🙂
---
Personalized meal plans and workout videos | Get your customized meal plan today! [x_button shape="square" size="mini" float="none" target="blank" href="https://shop.gourmandelle.com/?utm_source=mainsite&utm_medium=site&utm_campaign=inpost" info="none" info_place="top" info_trigger="hover"]I WANT A MEAL PLAN![/x_button]
---
Yield: 12
Vegan Dalgona Coffee Cake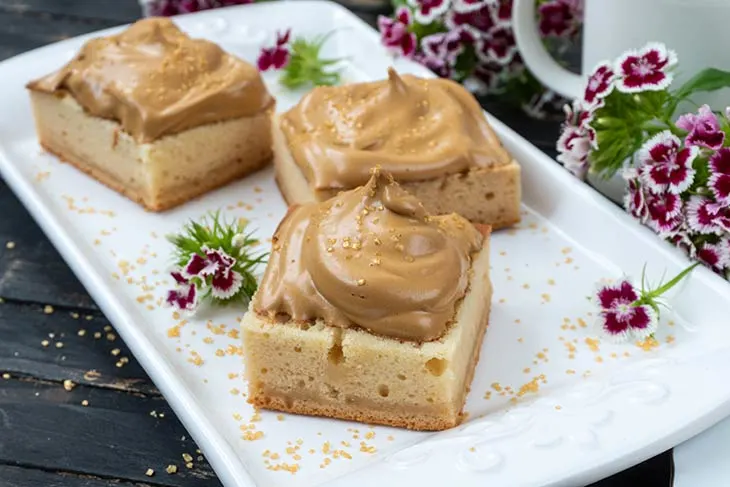 If you love Dalgona coffee, then get ready to fall in love with this vegan Dalgona coffee cake! It's a healthy sweet treat that everyone will love!
Ingredients
240ml (1 cup) non-dairy milk
1 Tbsp non-dairy yogurt
70g (⅓ cup) brown sugar
60ml (¼ cup) coconut oil
1 tsp white vinegar
1 tsp vanilla extract
300g (2 cups) all-purpose flour
2 tsp baking powder
¼ tsp baking soda
¼ tsp salt
Dalgona coffee topping:
2 Tbsp instant coffee
2 Tbsp brown sugar
2 Tbsp hot water
Instructions
Mix well non-dairy milk, non-dairy yogurt, brown sugar, vinegar, vanilla extract, and coconut oil.
In another bowl mix the flour, baking powder, baking soda, and salt.
Fold into the wet ingredients and combine.
Line a baking dish with parchment paper hanging on the edges. Transfer the mixture and bake at 180 C for 30-35 min.
While the cake is in the oven make the topping. Combine 2 tbs of instant coffee with the 2 tbs of sugar and 2 tbs of hot water. Whisk until foamy. Use a hand mixer preferably.
Cool the cake completely before slicing. Serve with Dalgona coffee topping.
Nutrition Information
Yield
12
Amount Per Serving
Calories

150
Total Fat

6g
Carbohydrates

21g
Protein

2.5g
I strive to keep the information as accurate as possible but make no warranties regarding its accuracy. I encourage you to make your own calculations using your preferred nutrition calculator.