If you love carrot cake, then you'll surely enjoy this unique reinterpretation – here's how to make the most delicious vegan carrot cake swiss roll!
If you followed my blog before, you know two things about me. One: I love dessert. Two: I love Swiss Roll.
Swiss Roll is an amazing dessert that, surprisingly, does not come from Switzerland, but most likely from Austria. It's such a popular dessert around the world that almost every country has their own version. It also comes in a huge variety of flavors, some of the most popular being vanilla, chocolate, strawberry, forest fruit, and so many others, while more exotic ones are coffee, matcha, or pistachio.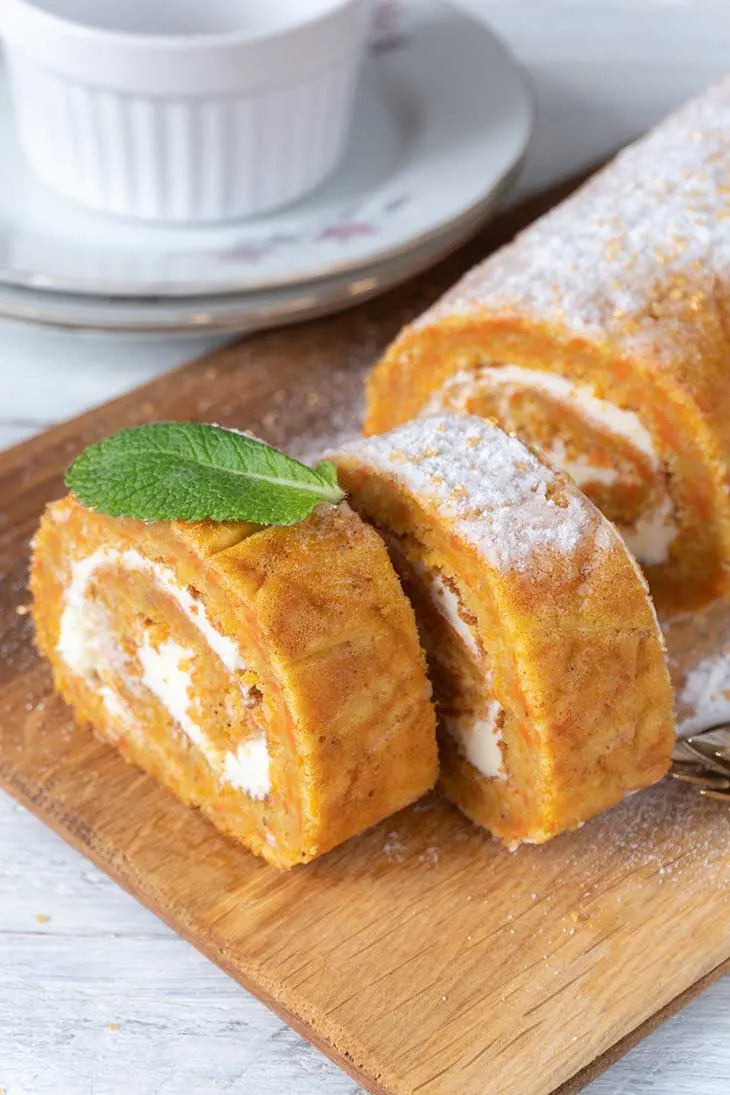 Swiss Roll consists of a thin and airy sponge cake base which is then filled with a generous amount of light, fluffy cream. Keywords when it comes to this dessert are subtle, light, and airy. It's one of those things that seem pretty luxurious even though they're pretty simple to put together.
As I mentioned last time, when I made a vanilla version, making a swiss roll from scratch might indeed seem intimidating at first, but don't freak out. With a bit of patience and attentiveness, you'll have yourself a perfect Swiss roll in no time.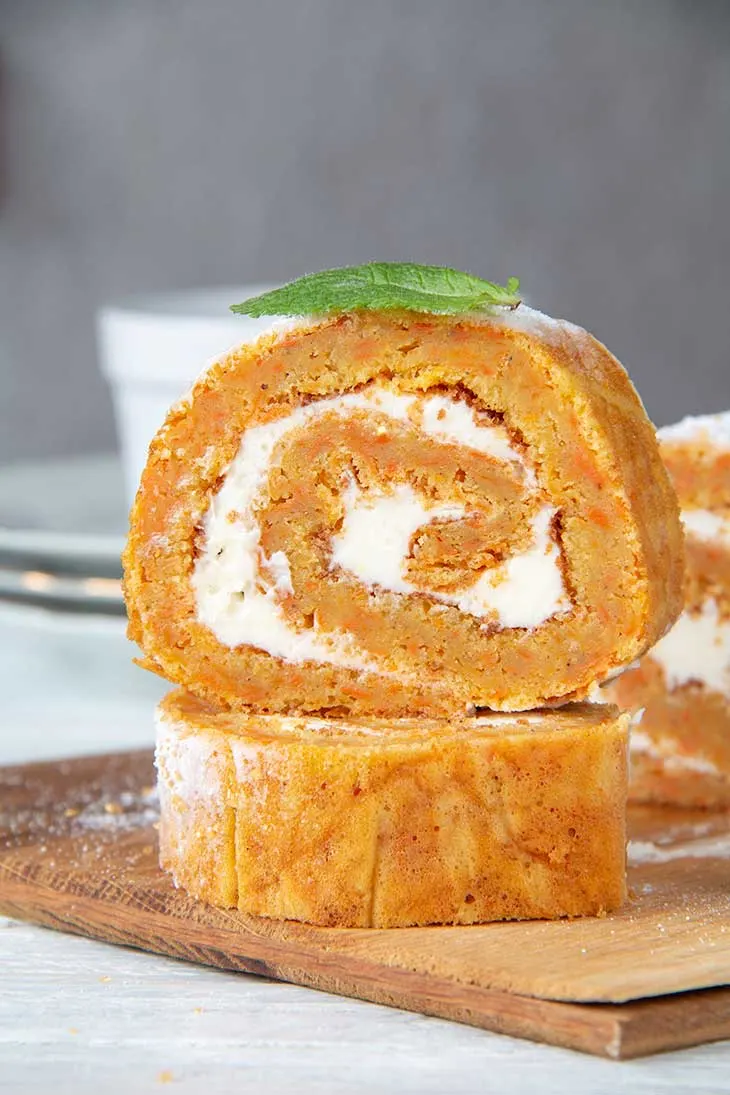 When it comes to baking, it's really everything about measuring out your ingredients properly. You can experiment with the flavor of the sponge cake or the flavor of the filling, of course, but when it comes to the formula, things start being a little bit more strict. So just pay attention to that and you're gonna do just fine! 🙂
I love everything when it comes to Swiss rolls: the light texture, the taste, the fact that you feel like eating something incredibly fancy… While I've tried lots of different flavors and I pretty much enjoyed them all, today I chose to share with you a more special one: carrot cake. Yep! Because who doesn't love carrot cake, and how can you go wrong by adapting it into a roll?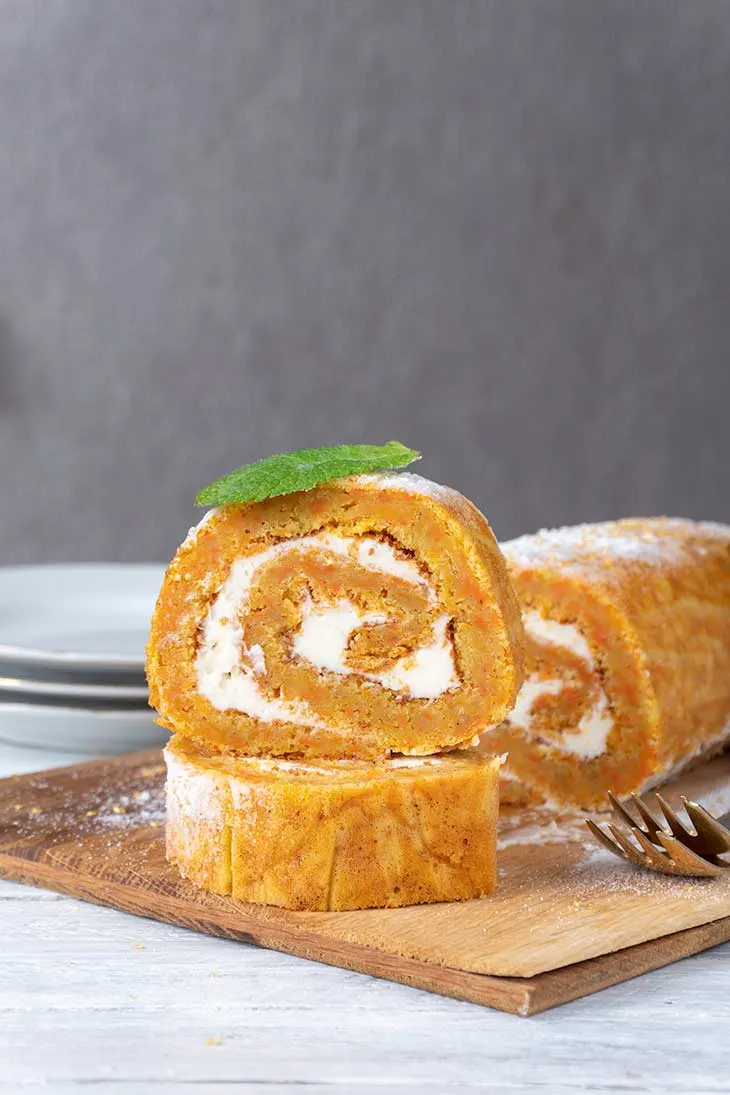 If you've never tried a carrot cake before, or if you think carrots do not belong in a dessert, you must give them a try! Carrot cake is a sweet and moist spice cake, full of grated carrots and toasted nuts. It's usually covered in a cream cheese icing. Carrots give an incredibly sweet flavor and an amazing texture, not to mention that they come along with a bunch of important nutrients. And honestly… I have yet to hear of a better way to sneak in your vegetables than in a dessert!
This carrot cake roll has all of the benefits of the carrot cake, but it comes with a slightly fancier presentation that's sure to impress each and every person at the table. Basically, you're going to bake a thin layer of sponge cake that you are going to prepare exactly as you would prepare the carrot cake base. That is, with a lot of shredded carrots and a lot of spices such as cinnamon, nutmeg, and ginger.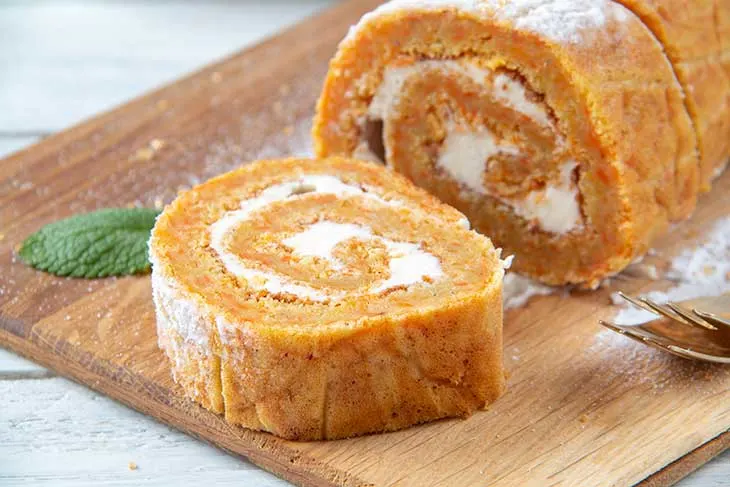 As I'm pretty sure you know, carrot cake is usually served with a famous cream cheese icing. We are going to use just that, but as a gorgeous filling for our roll.
And there you have it! The perfect carrot cake Swiss roll. Flavour-wise, this roll is perfectly balanced. The aroma of the carrots is pumped up by those amazing spices. With any mouthful, you get plenty of filling, which is amazing, because who enjoys a dry Swiss roll? Not me! If you want a little bit more crunchiness and texture, you can always add your favorite nuts to the mixture. Amazing options would be walnuts, and, even better in my opinion, pecans. Trust me, you cannot go wrong with this!
We all know this: in the afternoon, especially around 4 PM, our energy drops significantly and we need that glucose kick. This carrot cake roll does the trick exceptionally well, and it's a better choice than, say, a store-bought chocolate bar filled with who-knows-what ingredients.
I like to serve it as a snack with a nice cup of tea or coffee, or, socially, during brunch – because, let me tell you, this dessert is sure to impress anybody! It's perfect for when you want to show up with something fancy for your guests, but don't want to make anything too complicated. 🙂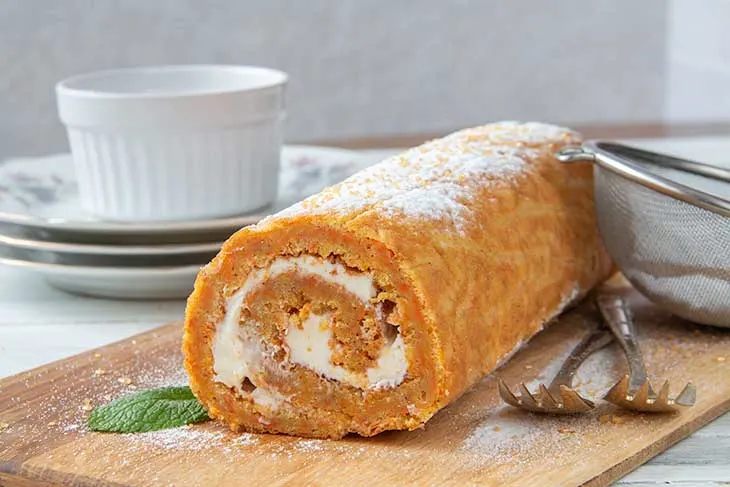 These being said, I hope you're going to try this carrot cake roll recipe out, and I hope you're going to enjoy it as much as I did!
---
Personalized meal plans and workout videos | Get your customized meal plan today! [x_button shape="square" size="mini" float="none" target="blank" href="https://shop.gourmandelle.com/?utm_source=mainsite&utm_medium=site&utm_campaign=inpost" info="none" info_place="top" info_trigger="hover"]I WANT A MEAL PLAN![/x_button]
---
Yield: 6-8
Carrot Cake Swiss Roll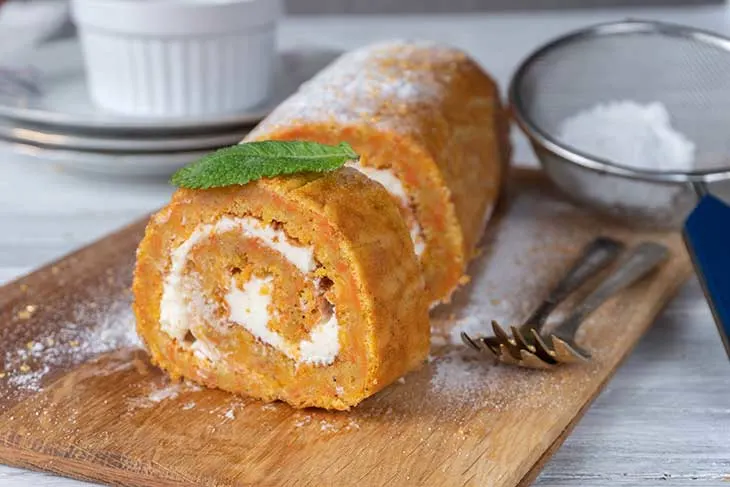 If you love carrot cake, then you'll surely enjoy this unique reinterpretation - here's how to make the most delicious vegan carrot cake Swiss roll!
Ingredients
For the cake:
180g (2 cups) grated carrots
100g (¾ cup) flour
100g (½ cup) coconut sugar
4 Tbsp coconut yogurt
1 tsp baking powder
1 tsp grated ginger
1 tsp vanilla extract
2 tsp cinnamon
¼ tsp nutmeg
½ tsp salt
For the filling:
170g (6 oz) vegan cream cheese, unsalted (Creamy by Violife has a neutral taste)
60g (¼ cup) vegan butter
180g (1 cup) coconut sugar + 2 tsp cornstarch, blended until turned into powder
1 tsp vanilla extract
Instructions
In a bowl, cream the yogurt and 2/3 cup sugar then add 1 tsp of vanilla extract.
In a separate bowl, mix your dry ingredients (flour, baking powder, cinnamon, nutmeg, and salt).
Add the dry ingredients to the yogurt mixture and stir. Add the carrots and ginger.
Mix well and transfer to a greased and lined pan.
Bake at 170 degrees C for 10 minutes.
As soon as it comes out of the oven, turn in on a clean towel dusted with powdered coconut sugar.
Remove parchment paper.
Use the towel to help you roll your cake.
Refrigerate for 1 hour.
To make the filling, beat the vegan butter and cream cheese while gradually adding in powdered coconut sugar.
Add 1 tsp of vanilla at the end.
Unroll the cake, spread the filling, and roll it back.
Refrigerate for another 2 hours.
Nutrition Information
Yield
8
Amount Per Serving
Calories

300
Total Fat

10g
Carbohydrates

50g
Protein

2.3g
I strive to keep the information as accurate as possible but make no warranties regarding its accuracy. I encourage you to make your own calculations using your preferred nutrition calculator.