This baby carrot salad will make you LOVE carrots! It has a crunchy texture you'll love and the maple-mustard dressing gives it a special flavor!
Carrots are one of the most common vegetables in the world. They make their way into almost every soup, salad, stir-fry and dish you could think of. Their sweet flavor always brings a wonderful contrast to your meals and the vibrant orange color brings beauty to the dish.
But carrots are a lot more than just a great vegetable in terms of flavor and color; they have many amazing things to offer our bodies as well. Let's find out!
Benefits of Carrots
Carrots pose a lot of benefits to our health; for starters, they are packed with important vitamins like vitamin A, K and C. An average carrot contains 204% of daily recommended values of vitamin A, 8 mcg of vitamin K, and 6% of the recommended daily values of vitamin C.
Vitamin A is greatly beneficial to the health of your eyes; it helps them maintain moisture and mucus levels, and it helps them strengthen their ability to adjust to the light. That's why carrots can be really beneficial for your sight! Vitamin K is also very helpful as it helps your blood to be able to clot and it strengthens your bones and kidneys. As for vitamin C, it helps your body absorb iron from the foods you eat.
Then we have fiber! Carrots are packed with fiber which is one of the most nutritional carbohydrates out there. An average, medium carrot is packed with 2 grams of fiber. It gives our bodies energy and it helps us feel full for longer, that means we're not consuming empty calories and carbs, which helps our weight loss purposes. Fiber is also a great helper when it comes to maintain blood sugar levels and to maintain a healthy digestive system.
Carrots are also a great source of potassium, providing at least 400 mg of it per carrot. This amazing mineral will reduce the risk of stroke, high blood pressure and it's also known to relief anxiety. It also aids your metabolism and strengthens your muscles, heart, and nervous system. Potassium also helps lower tension in your blood vessels and arteries, which is why they help reduce risks of cardiovascular disease. They also contain high levels of cholesterol, which is why moderate consumption is recommended, but overall they're beneficial to your heart.
They also boost your immune system thanks to its antiseptic and antibacterial properties. Carrot helps prevent cancer as well thanks to its content of beta-carotene and also thanks to fiber. They're even beneficial for your oral health as their antioxidants stimulate the gums and the production of saliva which guards against bacteria and foreign bodies.
Carrots are known to reduce the risk of strokes by 68% in people who eat them every day and they're great to reduce blood sugar levels thanks to carotenoids which affect insulin resistance. These are just a few of all the amazing benefits of making carrots a common ingredient in your diet!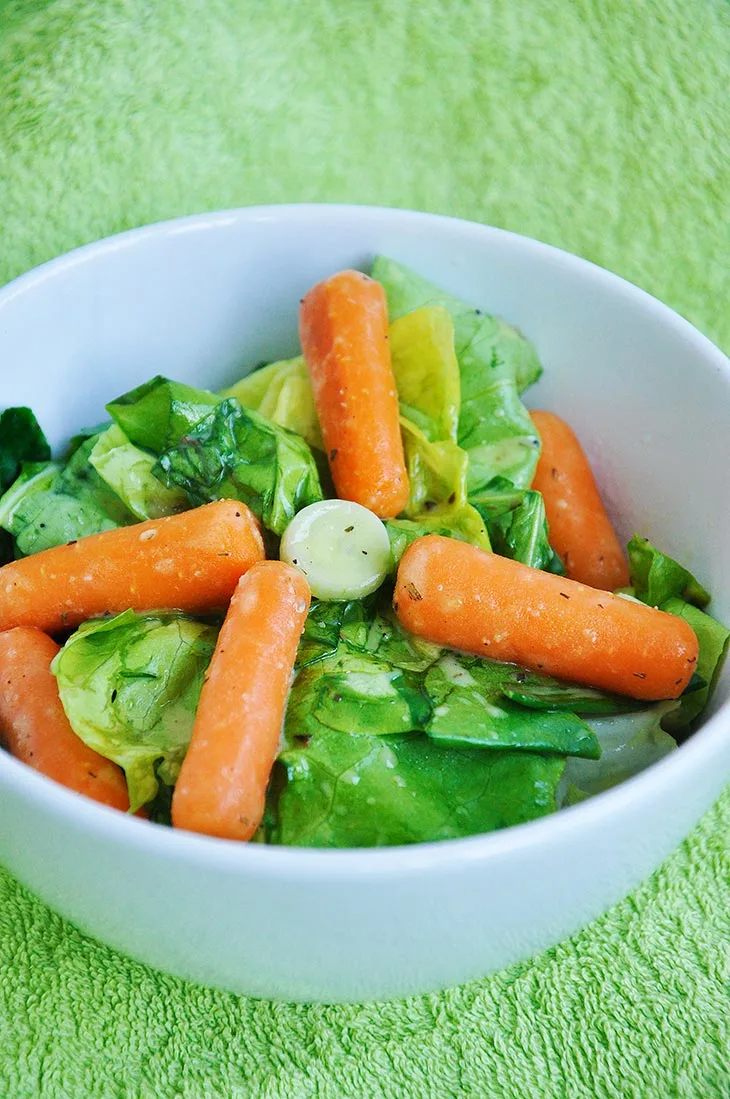 I love baby carrots! They are cute, tiny, a little bit sweet and I found out they go great with thyme and mustard dressings! I first made a similar dressing/sauce for Christmas last year, when I served this delicious tofurkey roulade and a maple-glazed baby carrots side dish. I fell in love with it and since then I've been regularly using it as a dressing in salads as well.
I thought it would go perfectly with this baby carrots salad and it did! This baby carrots salad is quick, easy to make and very filling. It can feed 2 hungry people or 4 less hungry ones. 🙂
Look, even Pisulina liked it! She just kept on sniffing around and didn't let me take any photos. I think she wanted some too! So, here it is! Enjoy!
Don't forget to let me know how it was if you'll give it a try! 😀
P.S. By the way, did you know that baby carrots aren't actually baby carrots? :)) I know, it's weird. They are actually normal carrots, cut and shaped to the size of baby carrots. Of course, the normal ones are the healthier option, but I like baby carrots from time to time.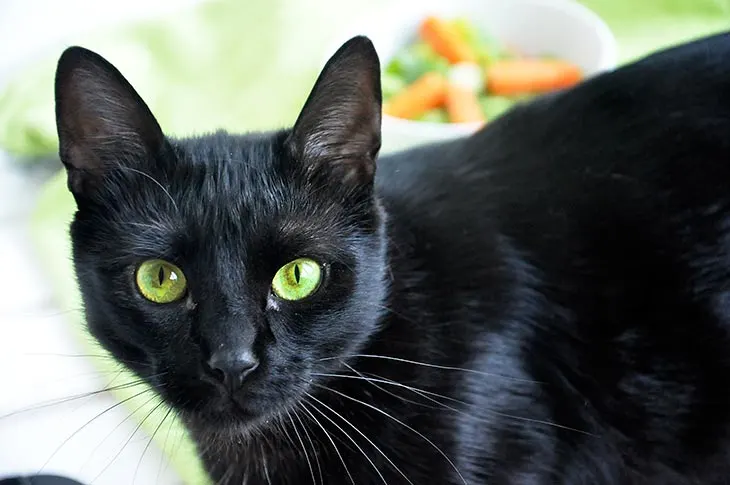 Yield: 2+
Baby Carrot Salad with Maple-Mustard Dressing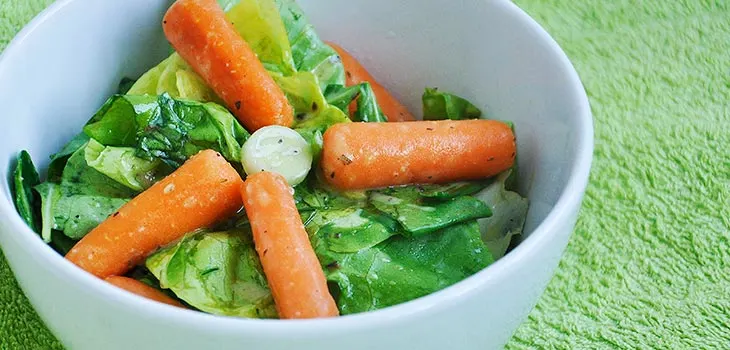 This baby carrot salad will make you LOVE carrots! It has a crunchy texture you'll love and the maple-mustard dressing gives it a special flavor!
Ingredients
300g (10.5 oz) baby carrots, frozen
1 medium lettuce head, rinsed and leaves chopped
5 scallions, chopped
Maple-Mustard Dressing:
3 Tbsps mustard
1 Tbsp maple syrup
3 Tbsps olive oil
½ lemon's juice
2 tsps dry thyme
sea salt, to taste
½ tsp ground pepper
Instructions
Steam frozen baby carrots until they're tender, but still have a little bit of crunch (15 minutes).
Rinse lettuce, remove leaves and chop them. Chop scallions.
Mix all dressing ingredients together.
When the baby carrots are ready, mix them with the scallions and lettuce leaves in a large bowl.
Add dressing and toss salad.
Serve!
Nutrition Information
Yield
2
Amount Per Serving
Calories

479
Total Fat

39.7g
Carbohydrates

27.7g
Protein

2.7g
About Carrots
Carrots are a root vegetable and they're scientifically classified as Daucus carota. The taproot, most commonly orange part of the carrot is what's most often consumed, but its greens are also used in salads and other dishes. The carrot we know is a domesticated variety of the wild species that is Daucus carota and it has its origins in Europe and southwestern Asia. Wild carrots have a woody core element that's not very pleasant to the palate, that's why the characteristics we're familiar with today have been selected through cultivation.
Origins
The domestic variety of carrot is proven to have its origins in Central Asia. The wild ancestor of the carrot already mentioned above is thought to come from Persia (now Iran and Afghanistan). At first, carrots were used for their aromatic leaves and their seeds, not their roots. In fact, there are some close relatives to the carrot that are still used for their leaves and seeds, like cilantro, parsley, coriander, cumin, dill, anise, and fennel. Yes, that's right! They're related.
The presence of wild carrots was found in Switzerland, South Germany, Rome, which is where the first mention of the carrot (or parsnip) took place in the 1st century; it was also introduced to Spain in the 8th century and around this time the modern carrot is born in Afghanistan. Eventually, they were cultivated in China, Japan, the Netherlands, America, and the rest is history!
General Facts about Carrots
Carrots can be traced back about 5,000 years!
If you thought carrots were only orange, you're wrong! They can be white, yellow, red, and purple, it's just that these varieties are less common.
Carrots are 88% made up of water.
Carrots can stay in the ground through winter, unlike many other vegetables that need to be plucked and dug up.
Carrots grow tiny white flowers that provide the seeds to harvest them.
Carrot's seed is a schizocarp, which means it's composed of several carpels that separate to release the seed inside.
There are more than 100 species of edible carrots today in the world.
Carrots used to be better and dry, and they gained their characteristic sweetness in the 17th and 18th
Now, carrots are one of the most sugary vegetables in the world.
Carrot leaves used to be a fashion statement in 17th century England. Women used to wear them in their hair as accessories!