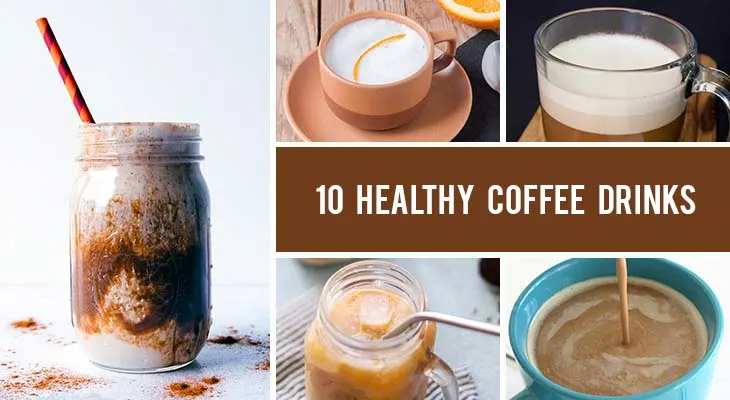 Coffee Lover? Here are 10 healthy coffee drinks you can easily make at home with just a couple of ingredients. Check them out!
This list is a dream for all coffee lovers out there who also follow a vegan diet. Excluding dairy from your diet doesn't mean you cannot enjoy the amazing coffee drinks you used to order at Starbucks or any other specialty coffee shops. In fact, making your own coffee drinks at home is fun and even healthier than buying them already prepared! Plus, it can create a good morning routine which will help you wake up every day with a smile on your face. These coffee recipes can even transform Mondays into less of a chore!
If you are the kind of person who loves cappuccinos, coffee milkshakes, mocha lattes, frappucino or any other creamy coffee, then this list is for you. If you prefer drinking your coffee black, then maybe you will also want to look into some of these healthy coffee drinks recipes because they're pretty amazing!
I urge you to scroll through this amazing list with 10 healthy coffee drinks in order to find some great ideas for vegan, healthy coffee creamers and other drinks that will make your mornings dreamy. Click on the linked titles in order to access these vegan and healthy coffee drink recipes. I am absolutely sure that you will find here some recipes that will make you fall in love with your coffee over and over again!
Healthy Coffee Drinks
I am starting this delicious list with an amazing recipe that will blow your mind: an extra thick vegan coffee milkshake! Besides being an indulgent treat, this milkshake doesn't have any refined sugars, so there's no need to feel guilty after slurping a big glass of "The Godfather"! Give it a try and I'm sure you will be amazed.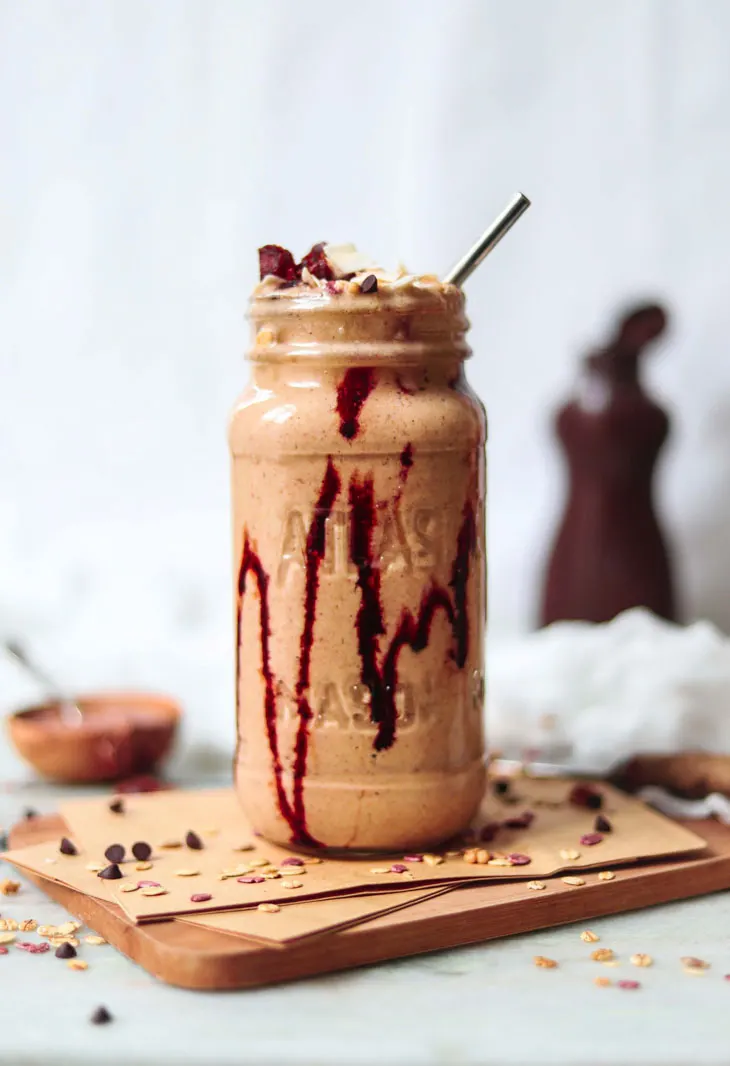 Awesome Protein Coffee
Awesome Coffee is a plant-based protein coffee powder that offers a healthier alternative to sugar-laden coffee drinks. With 13g of protein per serving and natural, plant-based ingredients, it's a guilt-free way to enjoy your favorite beverage. Made with real coffee beans, pea protein, and rice protein. Awesome Coffee provides a sustained energy boost without the crash that often accompanies traditional coffee. It's perfect for busy mornings, pre-or post-workout, or as a mid-day pick-me-up.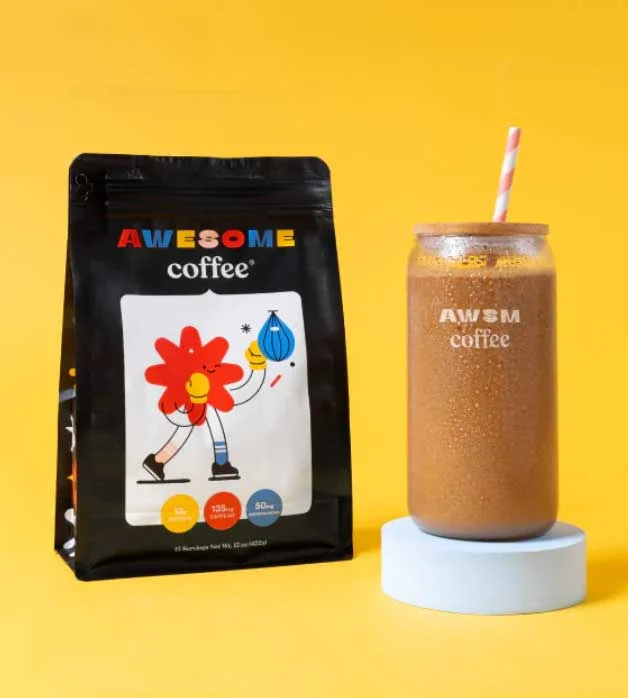 If you're a fan of iced coffee, then you have to try this coconut milk Thai iced coffee at least once! Besides being vegan and paleo, this yummy drink is guaranteed to provide you an energy boost at any given moment of the day. This coffee drink is super creamy, perfectly sweet and it resembles coffee ice cream so much. Give it a go and you won't regret it!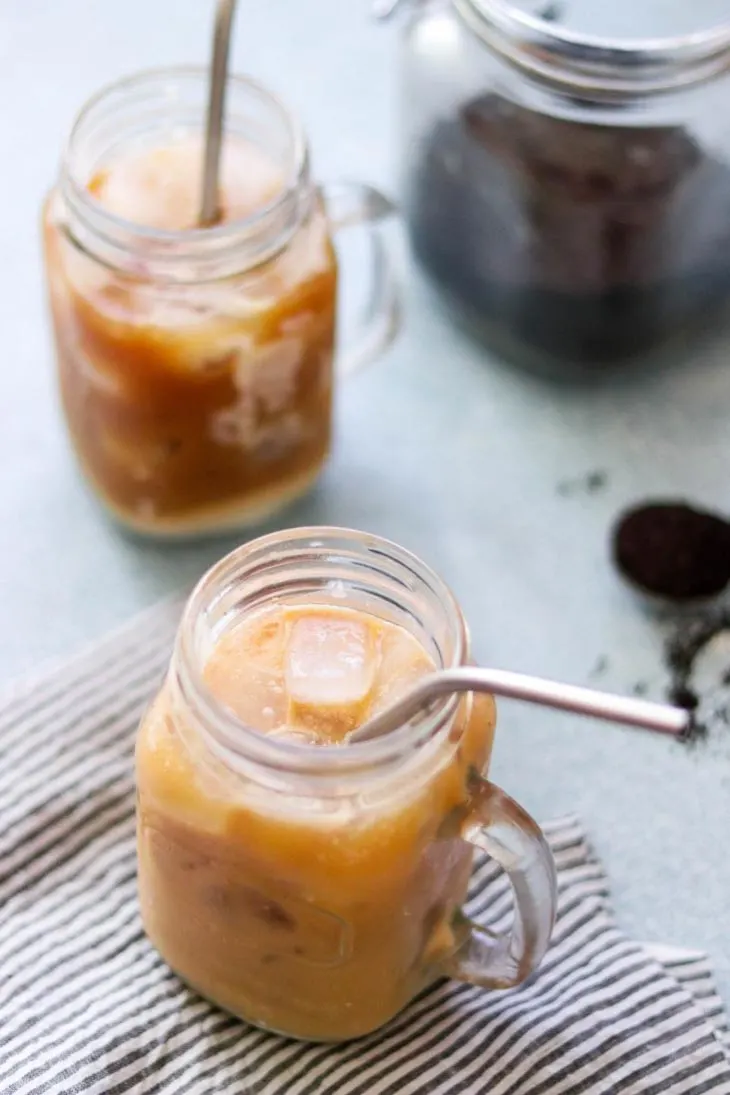 Maybe you've heard about "bulletproof" coffee before and I must say it is an amazing recipe. If you don't know that it is, let me explain it to you: bulletproof coffee is coffee with coconut oil mixed well using a blender. The benefits of this drink are endless, from giving you a big dose of energy, to improved mental function and more. Plus, it's a great way of adding coconut oil into your day to day diet!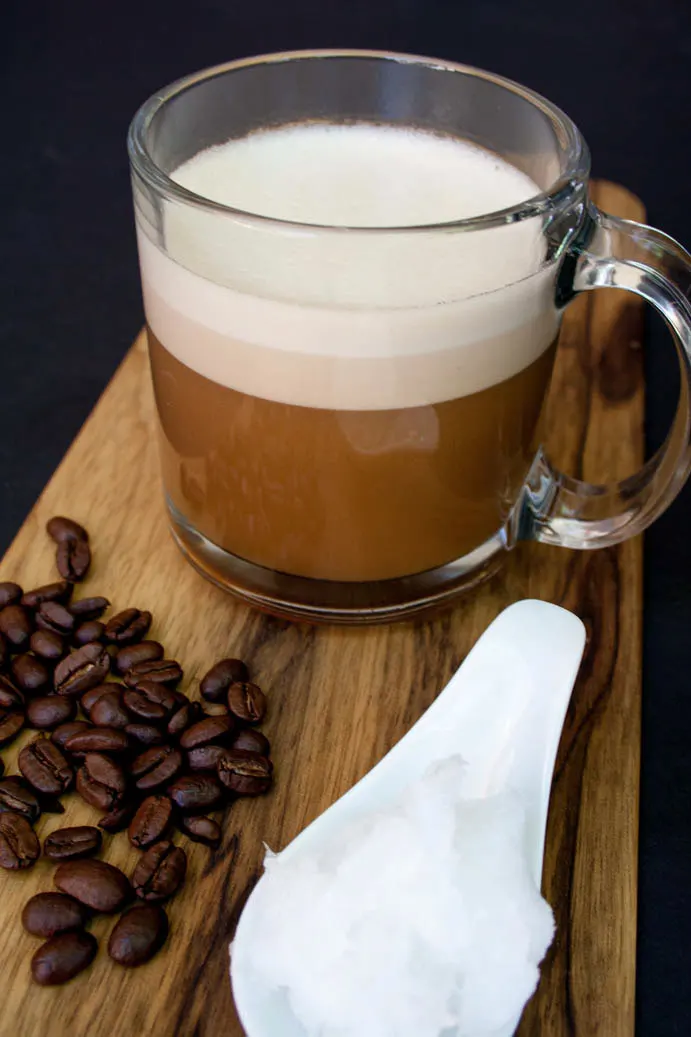 What could be better than a vegan and paleo Snickers coffee creamer? Sounds absolutely perfect, right? This vegan coffee creamer has the power to transform any boring, black coffee into a real delicacy! Plus, it's ready in less than 5 minutes which makes it the best coffee companion in the world!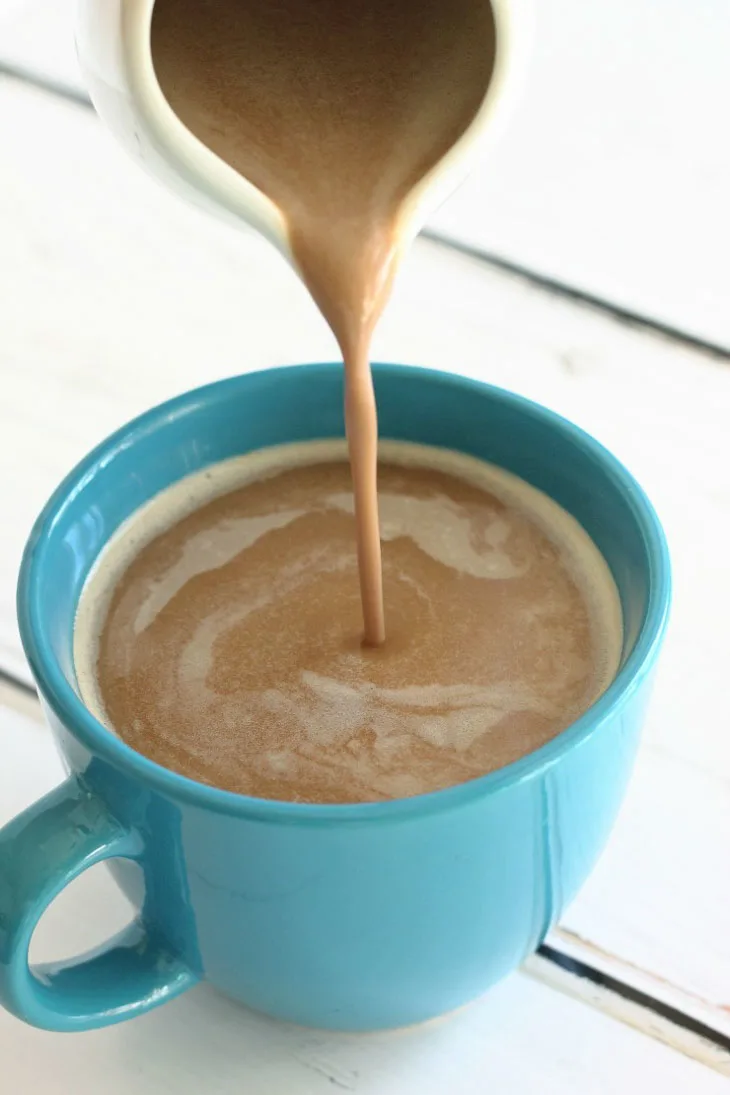 If you are not a fan of Snickers, then I have another creamer option for you! This peppermint mocha coffee creamer is vegan, healthy and absolutely tasty! You can use it in winter, in the holiday season, but there's nothing to stop you from using it every day to transform your daily morning coffee into something 10 times better!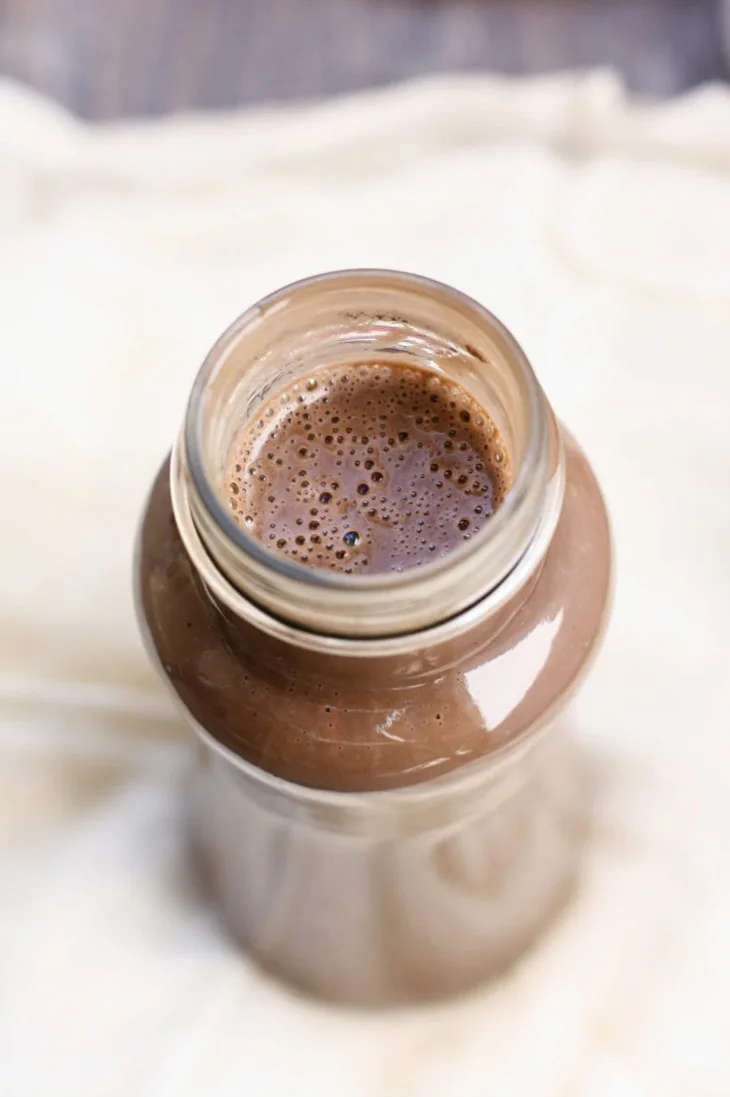 This iced cinnamon almond milk macchiato is absolutely perfect for those hot summer days. Almond milk is my favorite vegan milk, so this delicious macchiato is one of my favorite coffee drinks ever! It is so easy to recreate it at home, you won't ever order a classic macchiato at the coffee shops ever again!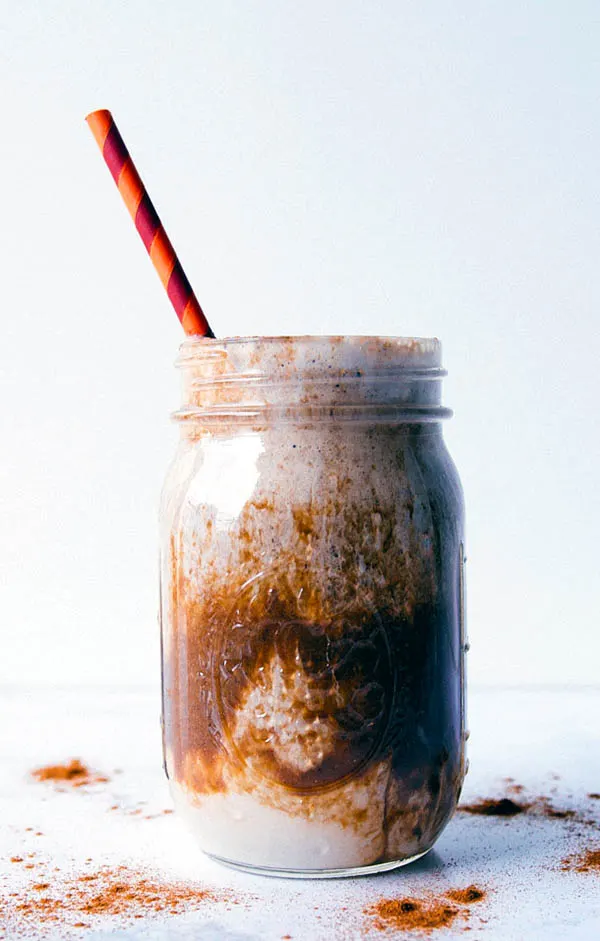 This is a simple and delicious coffee drink that can be consumed any time of the year, as you can make it either iced or warm. This dairy-free mocha latte is creamy, light and the perfect way to start each morning. Besides being really tasty, this vegan latte is also paleo, vegan, and it has no refined sugar, which makes it way healthier and cheaper than the coffees you can find at the specialty shops!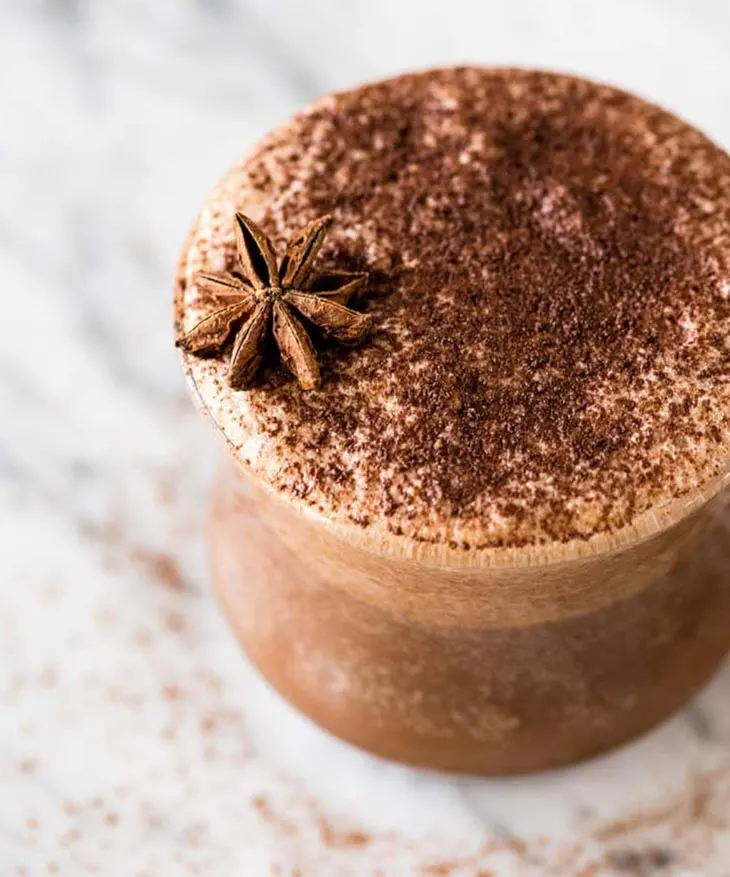 If you're a fan of Kahlua, then you will absolutely love this vegan iced coffee! This is so much better than the classic version of the iced coffee because it has a subtle and delicious Kahlua taste. You can even use any other coffee liqueur you want, anything will work with this amazing drink. Give it a try and you will see how your mornings will improve!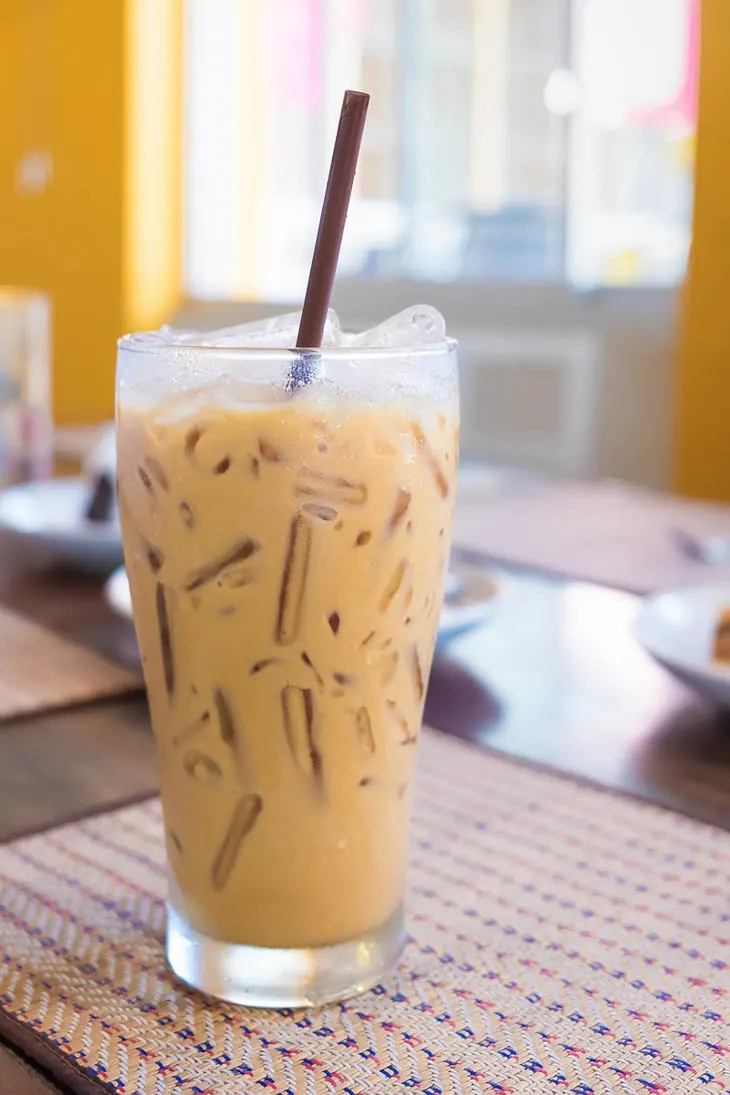 This is a vegan take on the classic frappuccino drink. The toasted hazelnuts will give this mocha coconut latte a unique, amazing flavor which will make you absolutely fall in love! Make sure to sprinkle some toasted dry unsweetened coconut shreds on top of your drink for extra flavor and texture. Simply amazing!