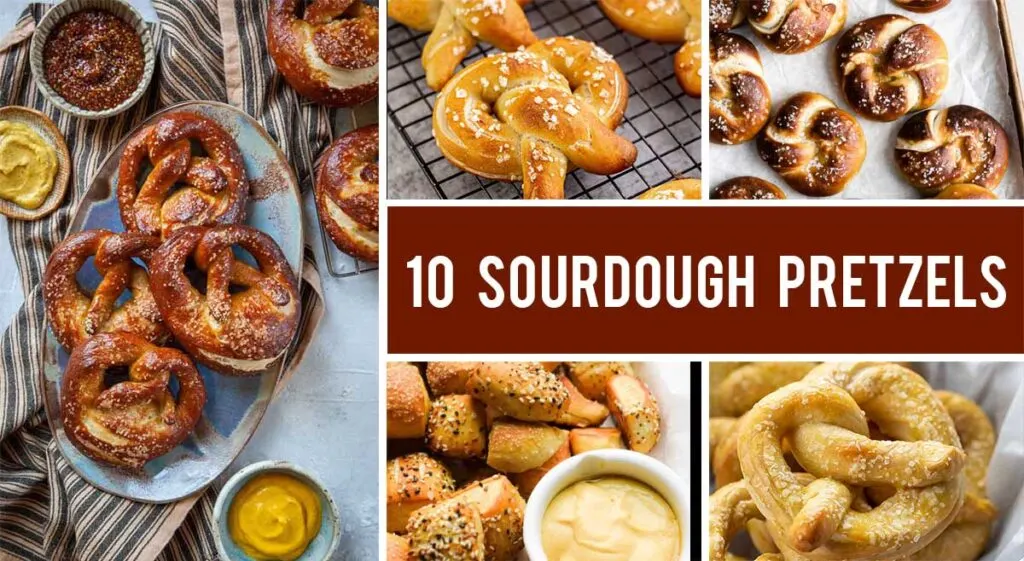 If you want to start experimenting with homemade sourdough, here's where you start! Here are 10 incredible sourdough pretzels that are definitely worth the effort!
Pretzels are one of the best snacks in the world. They're crunchy, salty, and filled with… carbs. But they're also pretty easy to make at home! If you've never tried making your own little snacks at home, this article will surely get you to the kitchen really soon, baking some amazingly delicious sourdough pretzels!
Pretzels are a baked snack food that originated in Germany and Austria, where they were originally called "brezels". These days, you can find them all over the world — but their popularity is still based on their European roots. The word pretzel is derived from the Latin word (pretiola) for "little reward" – in other words, eating one will be your own little reward! 🙂 But let me tell you a couple of stories about the origin of their name.

It is said that pretzels were created by a monk "around 601". There are two main theories here: the first one states that the monk offered pretzels as a reward to children who successfully learned their prayers; the second one states that he created them inspired by the shape of hands in prayer and the name actually comes from the word "preces" (prayers). Regardless of what the truth is, one thing's for sure: pretzels are both delicious and fun!
Separately from this monk story, pretzels have been around since many centuries ago, when bakers in Central Europe first discovered that mixing flour with water and baking soda produced a bread that could be shaped into a twisty shape — one that would hold up to being dipped in lye or other liquids for baking. Over time, pretzels became popular across Europe and spread throughout the U.S., where they continue to be enjoyed today as an iconic snack food.
Traditionally, pretzels are made from flour, water, and yeast. The dough is kneaded and shaped into a long rope, then twisted into a pretzel shape. It's baked in an oven until golden brown, after which it can be brushed with butter or salt for flavor.
By the way, If you want to see how to make vegan pretzels (without sourdough, but following the traditional method), here's my recipe: Vegan Pretzel.
As for eating these delicious treats, there are so many ways to consume pretzels, but here are some of my favorites:
Eat them plain. This is a great way to start your day if you're a fan of simple, savory breakfasts! Plus, they also make for excellent snacks on the go.
Dip them in butter and eat them with cheese! This is another classic pairing that can't be beaten; the butter and cheese complement each other perfectly!
Have mustard! Mustard seems like an odd addition here, but trust me — it makes all the difference in the world! I personally recommend going with something spicy like horseradish or wasabi because these flavors really offset the blandness of the pretzel itself. Plus, this is such a German thing to do and pretzels are, after all, very German as well!
Did you know you can make pretzels with sourdough as well?
If you've been only making regular pretzels, you're missing out. So why make sourdough pretzels for a change?
Sourdough pretzels are better than regular pretzels – at least in my opinion, but I know I'm not the only one! The sourdough starter gives them a nice tang and chewiness that makes them so much more satisfying to eat (and better for your digestion). If you want creamier, softer pretzel centers, just add milk or yogurt to the dough before baking (this will also make the dough easier to work with during shaping).
Sourdough pretzels are delicious to snack on, and they're also pretty easy to make. The only thing you need is some sourdough starter and a little time. The resulting pretzels have a unique taste and texture that sets them apart from their yeast-raised counterparts. You just need to try it yourself and see! 🙂
Making pretzels at home is not as difficult as you might think, and they're way more delicious than anything you can buy in the store. In case you want to give it a try, here are 10 delicious sourdough pretzel recipes that are definitely worth the effort!
Happy cooking! 🙂
10 Sourdough Pretzels That Are Definitely Worth the Effort
If you want to start experimenting with homemade sourdough, here's where you start! Here are 10 incredible sourdough pretzels that are definitely worth the effort!