Learn how to make a vegan pretzel – a popular German recipe – by following this easy, step-by-step recipe. Plus, transform it into a delicious pretzel sandwich!
When it comes to German baked goods, we can all agree that pretzels are among the most famous ones. Soft pretzels, called Brezen, Brezeln or Laugenbrezel in Germany, are a type of baked bread. The inside of a Brezeln is thick and soft, with a kind of chewy texture, while the outside is thin and crunchy, though not burnt. Pretzels are a popular choice for German people when it comes to snacks between meals. It is even believed that the pretzel is the oldest snack food known!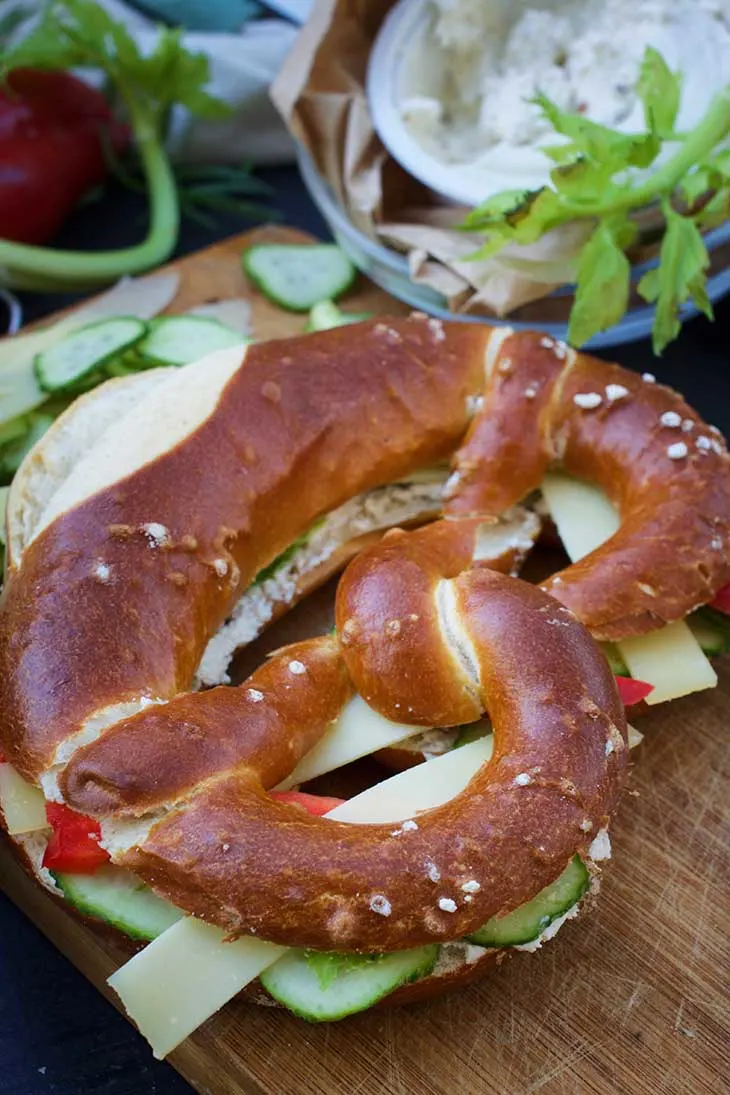 The history of the pretzel is extremely interesting, though not much can be said with certainty. Most pretzel aficionados assume that it has Christian backgrounds, originating in the old monasteries. Just like bread, they were a convenient and inexpensive way to help solve the poor's problem with hunger. The pretzels date from around 610 A.D., from a region between Southern France and Northern Italy.
It is said that a young monk was preparing bread for Lent, a period of fasting and penitence respected by Christian people. Using the leftover dough, he accidentally formed the pretzel shape we all know – that of a knot composed of three equal loops. The loops are supposed to represent the Christian Trinity of Father, Son, and Holy Spirit; the knot resembles the praying pose of the Christians – arms folded across their chests, each hand on the opposite shoulder.
The monk used his creation to reward children for saying their prayers, and named it "pretiola", which is Latin for"little reward". The name went through some changes, morphing into the Italian word, "brachiola" (which means "little arms"). After this episode, the snack became more popular and spread across Austria and Germany, and it became what we now know as Bretzel or Pretzel.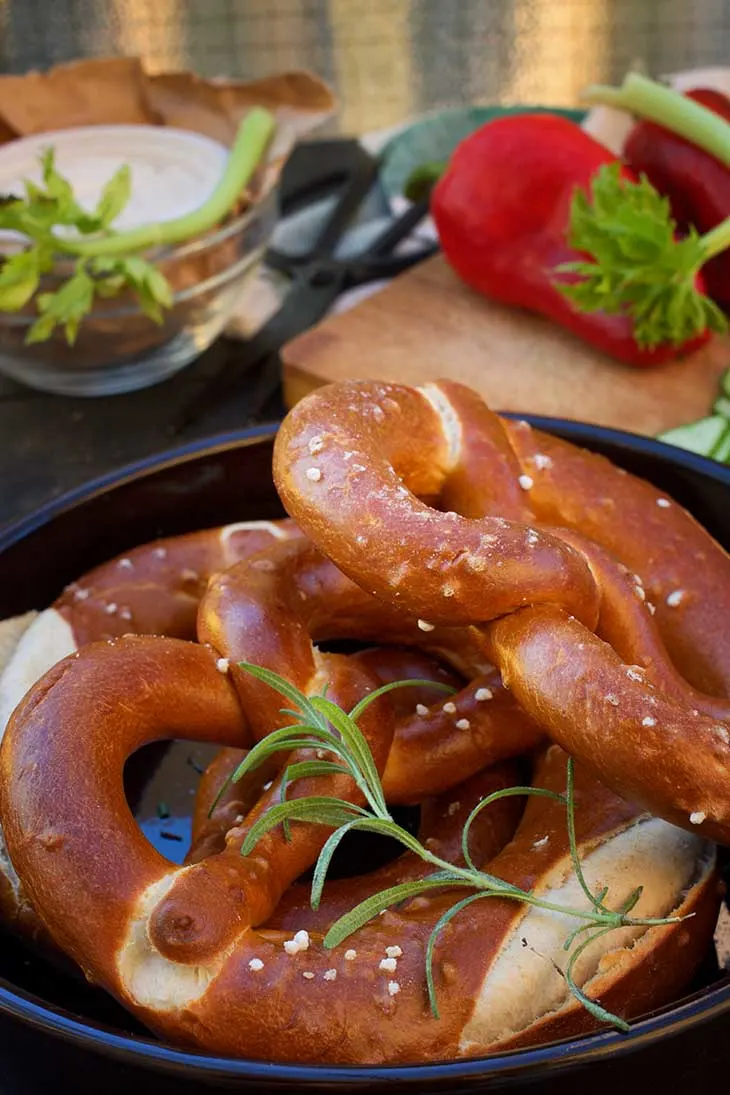 Another popular story regarding the pretzel says that it was made by desperate bakers held hostage by local dignitaries. From the 12th century on, the pretzel became an emblem of the bakers' guild in southern German areas, and some of these emblems have survived to this day! An illustration dating from that time is found in the Hortus Deliciarum, and may well be the earliest depiction of this food.
Now let's talk a bit about the pretzel's composition. The main ingredients in pretzel dough are flour, water, yeast, shortening, and sugar. The yeast that you put in the dough produces carbon dioxide gas, which gives the pretzel its light consistency.
But what about the outside? That texture is obtained by bathing the pretzel in a lye or baking soda solution before baking it. Dipping the dough in lye alters the ratio between sugar and protein, resulting into that lovely crispy outside. Lye can be pretty hard to find and sometimes even dangerous to use, so a good alternative for you to try at home would be a baking soda bath which will lead to the same results.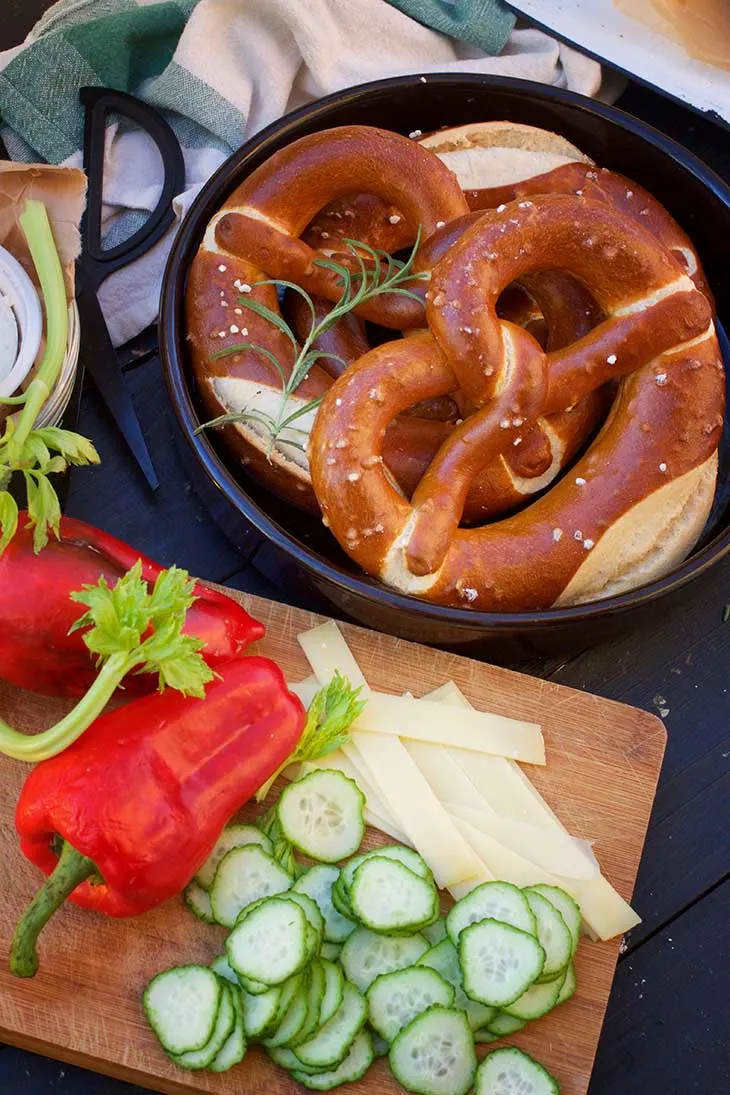 Though pretzels are usually sprinkled with salt, a wide variety of seasonings is available nowadays, including sugar, chocolate, seeds, nuts, and whatever else you may prefer. Other varieties of pretzels include hard-baked pretzels, which are significantly smaller, have a very long shelf life and a crispier texture.
The pretzel is basically an empty canvas for you to fill, its subtle flavor allowing for experimentation. So why don't you try making some? They might turn out better than the ones you always get from your local bakery. And you can rest assured that you can have them while they're hot! Best part? You can even make a pretzel sandwich with them!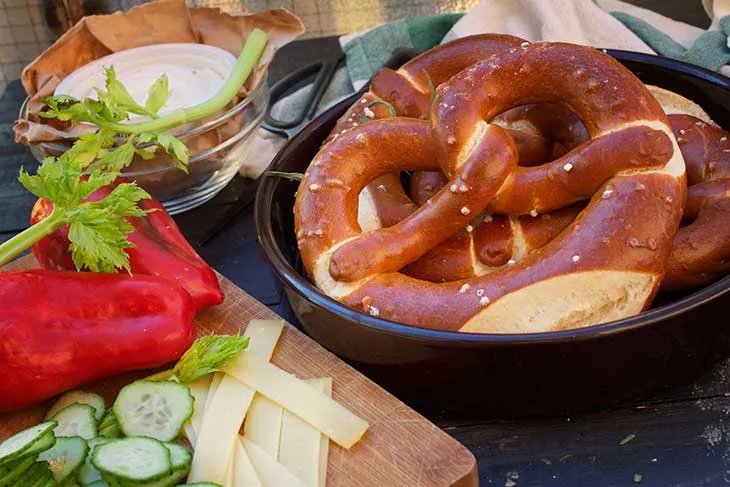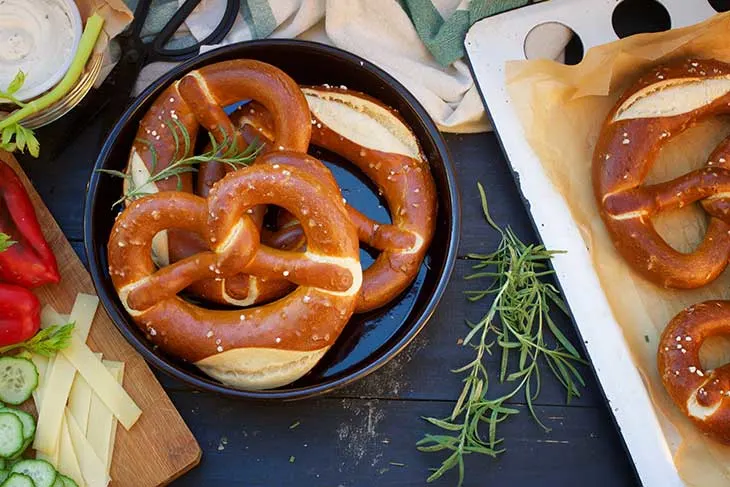 Learn how to make a vegan pretzel - a popular German recipe - by following this easy, step-by-step recipe. Plus, transform it into a delicious pretzel sandwich!
Total Time
1 hour
5 minutes
Ingredients
240g (2 cups) flour
160ml (⅔ cup) warm water
2 tsp active dry yeast, 7g
Instructions
In a small bowl combine the warm water, sugar and the yeast. Stir to combine and let sit for few minutes until foamy.
In another big bowl combine the flour with the salt. Add the coconut oil and the yeast mixture.
Combine and knead with your hands for about 5 minutes until a dough is formed.
Put back in the bowl and let it sit until it doubles in size for about 30 minutes to an hour, covered with a towel.
Preheat oven to 200 C.
Take the dough out on a clean work surface. Separate the dough into 8 pieces and roll each one into thick "ropes". Twist the ropes into pretzel shapes, securing both ends on the base of the pretzel.
Bring 5 cups of water to boil and add the soda.
Turn the heat to low and put every pretzel in the soda water for at least 30 seconds.
Place all the pretzels on a baking sheet and drizzle with sea salt.
Bake for 20 minutes or until golden brown.
Enjoy with vegan soft "cheese" and veggies.
Nutrition Information
Yield
8
Amount Per Serving
Calories

111
Total Fat

3.2g
Carbohydrates

17.4g
Protein

3.1g