Make this Lebanese cuisine-inspired vegan red lentil soup and enjoy a delicious Middle Easter recipe ready in just 20 minutes!
I am a huge fan of red lentil soup! This is one of my favorite creamy soup recipes, not only because it is ready really fast, but also because it has a fresh, light texture and taste I love!
The only inconvenient is that I usually eat double or even triple servings each time I cook this! I really can't get enough of it. This red lentil soup is just perfect for any season. You can eat it warm or cold. It is low calorie, diet friendly and really filling. I'm sure you'll love this red lentil soup recipe as much as I do.
If you don't mind a few extra calories I recommend you to add some crunchy croutons on top. It makes it even better!
Did you know that lentils are known as one of the oldest sources of food in the world, dating back to more than 9.000 years? They're also very popular for being a source of protein that's a lot more affordable than other proteins. Lentils are actually a source of many beneficial nutrients such as essential amino acids, vitamins, and minerals.
There are a lot of types of lentils out there, all of them delicious and good for our health. Today we want to focus on red lentils, so let's find out everything we need to know so we can include this wonderful food to our diets.
About Lentils
Lentils have been present in the human diet for about 9.500 and 13.000 years ago, since aceramic Neolithic times. Nowadays they're most common in Asian countries, particularly India because vegetarians use lentils as a replacement for meat protein. Lentils vary in color, yellow, red, orange, green, and they also vary in size.
Red lentils, also known as red split lentils, are orange-red and they cook really fast. Unlike many other beans, lentils don't require a pre-soaking process when you buy them dried because they are naturally split in half once the skin is removed. This is what makes them so quick and easy to cook. They're also really cheap!
Health Benefits of Red Lentils
The fact that they're cheap doesn't mean you're getting a low-quality food. On the contrary! Lentils contain the high amount of protein, about 35% (or 17.8 grams per cup). These proteins include the essential amino acids known as isoleucine and lysine. They also have a very low-calorie count, so you can eat as much as you need and you don't have to worry about your calories for the day.
In fact, lentils are an amazing source of fiber providing at least 15 grams per cup; this means that you'll feel full for longer and it helps keep your hunger at bay. They also contain molybdenum, folate, tryptophan, manganese, iron, phosphorous, copper, vitamin B1, and potassium. There's also the presence of two very important amino acids known as methionine and cysteine that are both beneficial for your muscles and overall strengthening.
Red lentils also contain folate, vitamin B1, B6 and B9, minerals, thiamin, pantothenic acid, and dietary fiber. When cooked, a cup of red lentils contains about 320 calories, seven of which are contributed by the 0.75 grams of total fat per cup. Only 0.1 grams are saturated fats, and they're also cholesterol-free. They're also a rich source of iron, containing 6.6 milligrams in each cup.
So, enough about the benefits of lentils, here's how to enjoy them by making this quick and easy red lentil soup inspired by the Lebanese cuisine! 🙂
Yield: 6+ servings
Creamy Vegan Red Lentil Soup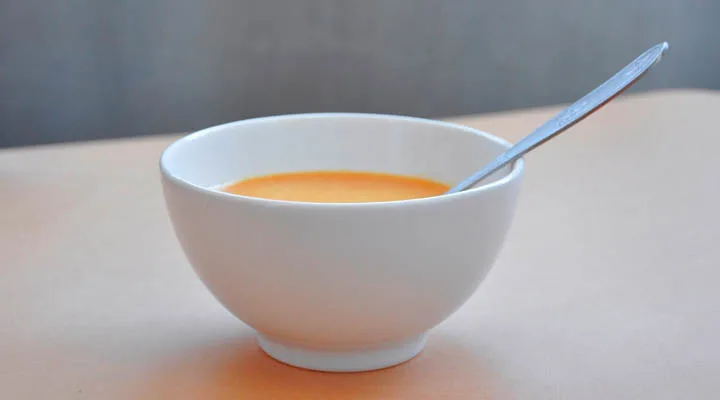 Make this Lebanese cuisine-inspired vegan red lentil soup and enjoy a delicious Middle Easter recipe ready in just 20 minutes!
Ingredients
250g (1 ¼ cups) red lentils
5 garlic cloves, mashed
1 onion, chopped
2 medium carrots, sliced
100g (1 cup) grated celery root
½ peeled lemon, cut in 4
2 Tbsps olive oil
water, enough to cover them
½ tsp sweet paprika
sea salt, to taste
Instructions
Add red lentils, chopped onion, grated celery and sliced carrots in a pot.
Add water just enough to cover them and bring to a boil over medium heat.
Let them boil until tender (about 15 minutes).
Remove from heat.
Add the rest of the ingredients.
Using a vertical blender, blend all ingredients together until the soup is smooth and creamy. Add more water until you reach the desired consistency.
Nutrition Information
Yield
6
Amount Per Serving
Calories

141
Total Fat

7.2g
Carbohydrates

14.6g
Protein

4.4g
How to Cook Red Lentils
The first thing you need to do is wash the red lentils and take out any small stones or twigs there might be. Just put them under running water and all of the unwanted things should float.
Let me remind you that red lentils don't require a pre-soaking process, so just place them in a large enough pan with water or the broth of your choice. Use one and a half cup of liquid for each cup of red lentils. You can add herbs, garlic, and onions but reserve the salt for when they're almost done; otherwise, it will harden them. Bring to a boil and then let it simmer; make sure to stir from time to time, just like any other bean.
Cooking time will depend on the use you'll give them. If they'll end up in a delicious salad cook them for 10 to 15 minutes so they'll be tender but firm. Cook them for 20 to 25 minutes if you plan to make soup or dips. Sample them every ten minutes and you'll have them just the way you like them.
How to Eat Red Lentils
There are many things you can do with red lentils; for one, you can make soups with the vegetables of your choice. You can also make dals and stews, and serve with rice or roti.
Salads are also a popular, simple and delicious way to enjoy red lentils; you can also sauté them with onions, peppers and spinach and top it with vinaigrettes and nuts of your choice, and any other ingredient you want. You can make lentil dips and spreads by puréeing the lentils and seasoning them with garlic, lemon juice, olive oil, cilantro, paprika and anything else.
Red lentils can also be used as a substitute for meat, so you can make vegetarian patties and lentil cakes that you can have on your plate. Lentils can also be an amazing substitute for ground beef in many recipes, such as tacos, sloppy Joes, and pasta sauce. They're also great to make curry!
Red lentils can also be used to make sweet recipes such as cookies, cakes, brownies, and more!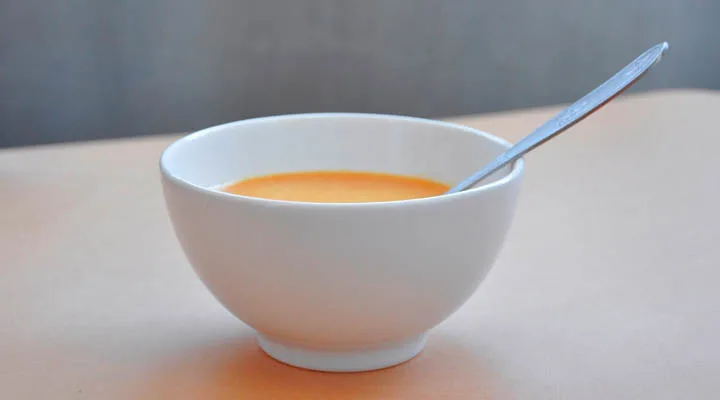 More healthy creamy soups? Try Potato and Carrot Caraway Flavored Creamy Soup and Creamy Mushroom Soup with Thyme & Garlic Flavored Baguette.