This is my version of dal kofta, with vegetarian lentil balls and a silky-smooth curry sauce. Give it a try!
This is not your regular vegetarian dal kofta recipe. I experimented with textures, flavors, and ingredients, and a new kind of dal kofta recipe emerged. 🙂
I was inspired by Veggie Num Num's recipe and decided to add a personal touch to it. Even though I'm not a huge fan of Indian food, I do love a good curry or dal from time to time.
This recipe is worth the extra time in the kitchen. You'll love how all the spices blend so well together. The contrast of textures between the crispy lentil koftas and the creamy curry sauce turns this recipe into a perfect comfort meal. I just love veg kofta recipes!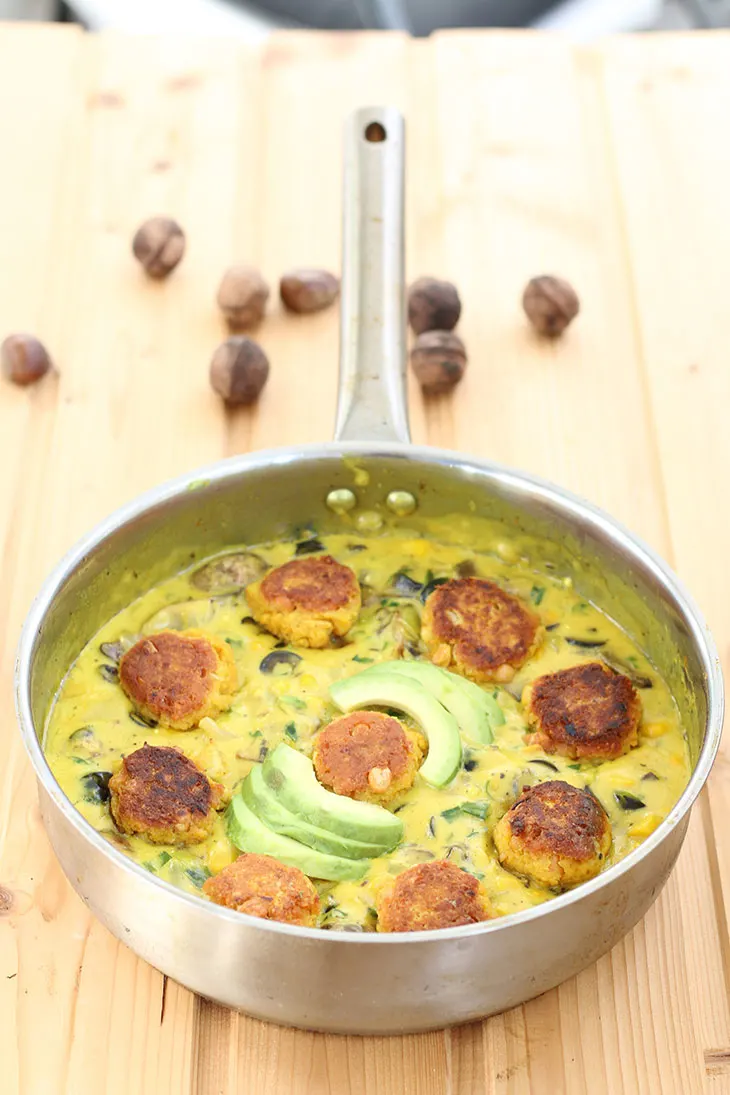 You can serve this with a side of rice, or just do as I did. Place it in a bowl with some baby spinach and top it with fresh parsley and sliced avocado. The combination may seem unusual, but it's so good! Trust me! 🙂
There's not much else I can tell you about this dal kofta recipe, so just head straight to the ingredients list and give it a try! Let me know how it turns out for you!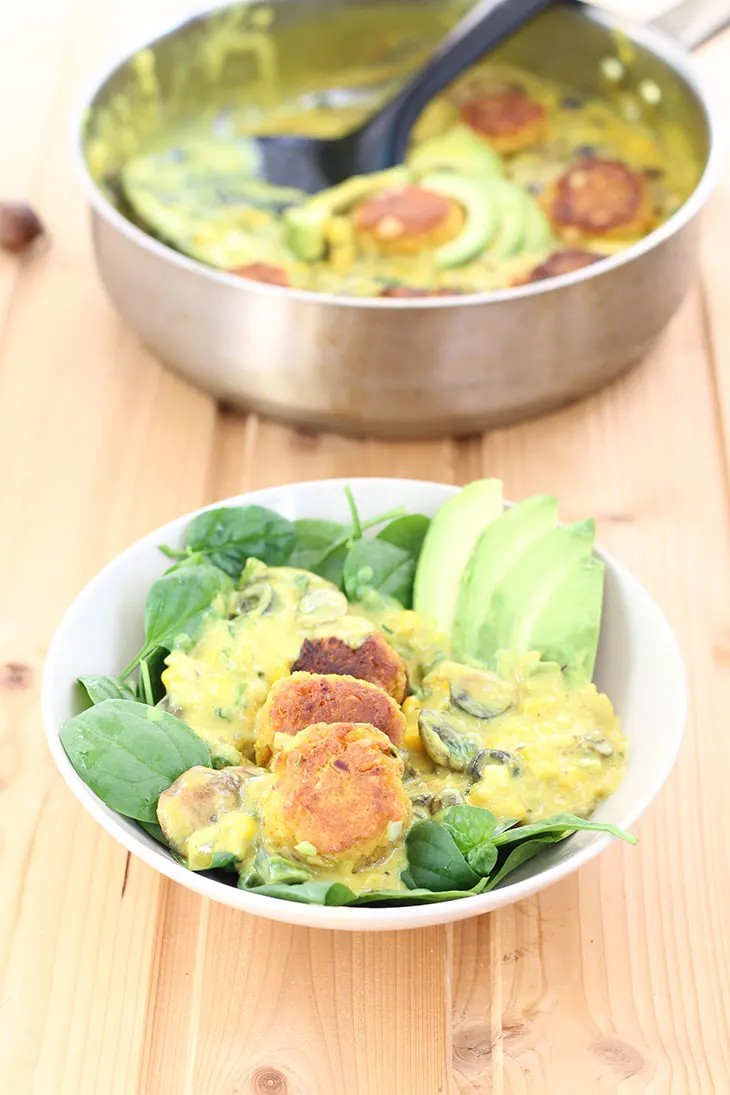 Yield: 6+
Dal Kofta | Lentil Balls in Curry Sauce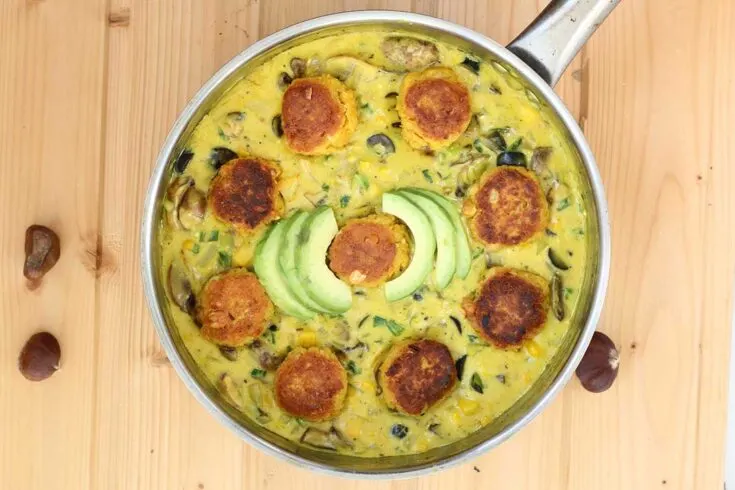 This is my version of dal kofta, with vegetarian lentil balls and a silky-smooth curry sauce. Give it a try!
Ingredients
Lentil Balls:
210g (1 cup) red lentils
1 onion, diced
½ tsp baking soda
120g (1 cup) wholegrain breadcrumbs
1 Tbsp psyllium husks or ground flax seeds
sea salt and ground pepper, to taste
oil
Sauce:
5 button mushrooms, sliced
80g (½ cup) sweet corn
2 spring onions, chopped
4 garlic cloves, minced
500ml (2 cups) vegetable stock or water
250ml (1 cup) coconut milk, full fat, unsweetened
2 tsps corn starch or flour
2 Tbsps olive oil
fresh parsley, fresh baby spinach and sliced avocado for serving
Spices:
1 tsp cumin
½ tsp ginger powder
2 tsps turmeric
1 tsp ground coriander
½ tsp ground pepper
salt, to taste
Instructions
Boil lentils for 15 minutes. Drain them very well and place them into a large bowl.
Using a hand blender, mash them until they turn into a paste.
Add the rest of the ingredients for the lentil balls and mix. Let the composition sit in the fridge for 10 minutes.
Meanwhile, prepare the curry sauce.
Heat oil in a large pan. Add sliced mushrooms, garlic, spring onions and saute for 5 minutes. Add all the rest of the ingredients, except corn starch. Cook for 15 minutes, on medium heat, while stirring ocassionaly.
Add corn starch in a cup. Take 5-6 Tbsps of the curry sauce liquid from the pan, and pour it over the corn starch. Mix well. Add 5 more Tbsps of liquid from the pan. Pour this over the curry sauce in the pan and mix well. The sauce will start to thicken.
Cook for 5 more minutes and remove from heat.
Take the lentil balls composition out of the fridge.
Heat some oil in a large non-stick pan.
Make small lentil balls, with about 1/2 Tbsp of composition per ball. Fry them on each side, until goldern and slightly crispy. Do this until you finish all the composition.
Once ready, place all lentil balls in the curry sauce.
You can serve this with rice, or like I did, with some fresh baby spinach and avocado slices.
Nutrition Information
Yield
6
Amount Per Serving
Calories

294
Total Fat

14.6g
Carbohydrates

33.8g
Protein

6.7g