This delicious Lebanese chickpea soup is the perfect Middle Eastern-inspired comfort soup! It's bursting with amazing flavors and very filling due to chickpeas, potatoes, and carrots.
The Lebanese cuisine is ancient and dates back thousands of years. Some of the recipes even have origins as early as the Roman era! Also, Lebanese recipes were influenced by various foreign civilizations that reigned power in the region in different periods of time so that's why you'll notice so many different types of ingredients being used.
As part of the Middle Eastern cuisine challenge I'm hosting on the blog this month, you'll see dozens of popular Lebanese recipes, some traditionally vegetarian, others veganized by myself. I'll start with this chickpea soup recipe, which is quite a popular dish in Lebanon.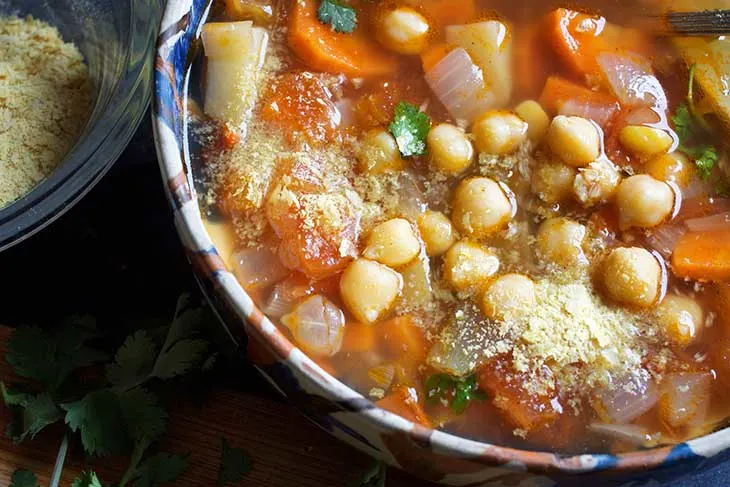 Hummus, falafel, all have a common ingredient – chickpeas – so frequently used in the Lebanese cuisine. Chickpea is a legume and is a great source of proteins for vegetarians. It is rich nutrients and minerals and considered an excellent food for helping you achieve your health and fitness goals. Moreover, chickpeas are high in fiber, iron, B vitamins and have traces of antioxidants.
This hearty chickpea soup is spiced with a delicious condiments blend called Baharat. Baharat is a Middle Eastern spice blend made with peppercorns, cumin, coriander seeds, cloves, cardamom, paprika, nutmeg, and cinnamon, all ground together. If you're planning on cooking more Middle Eastern recipes, consider making this spice blend in a larger batch and store it in a spice jar. You'll love it in a bunch of other different recipes!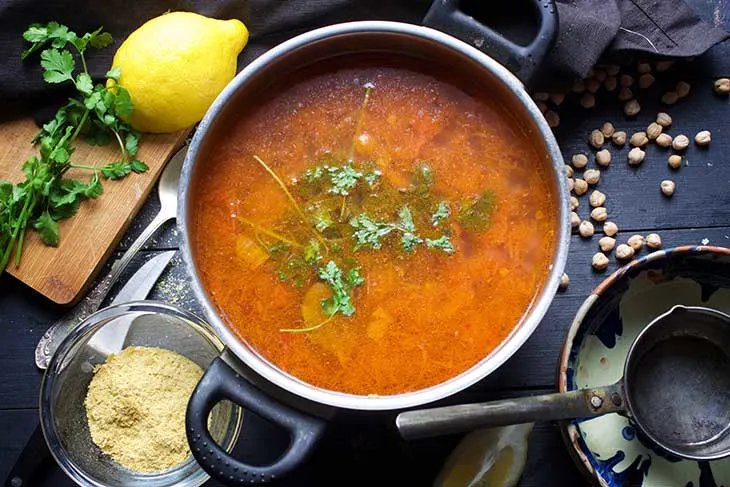 This chickpea soup is not only delicious but diet-friendly too! It can be served either cold or hot and can make up a filling yet light lunch. You can also easily pack it in a jar and bring it to work or school.
You can make the authentic Lebanese chickpea soup keeping all the ingredients intact, or bring is some changes in the taste of your own innovation and use of the ingredients.
Optional – when serving this chickpea soup sprinkle some nooch – nutritional yeast on top. You'll thank me later! 😀
Hope you'll like this chickpea soup recipe! Don't forget, if you give my recipes a try, take a photo and tag me on Instagram @gourmandelleblog and use the hashtag #gourmandellerecipe. I will feature you on my Facebook page and/or Instagram Stories! 🙂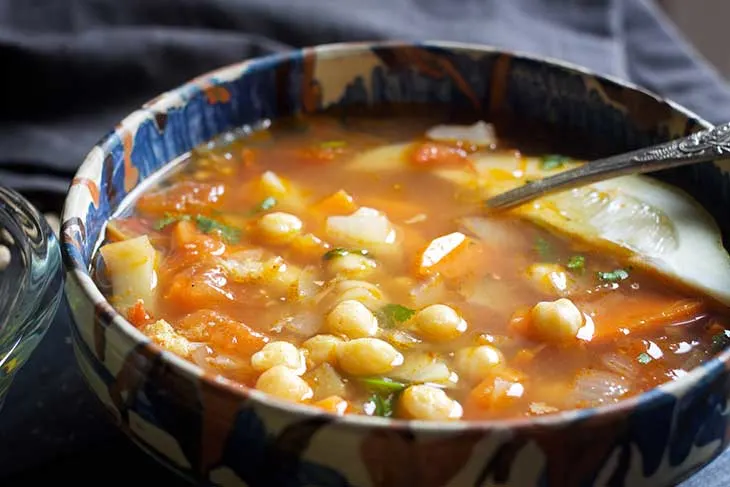 Yield: 6
Lebanese Chickpea Soup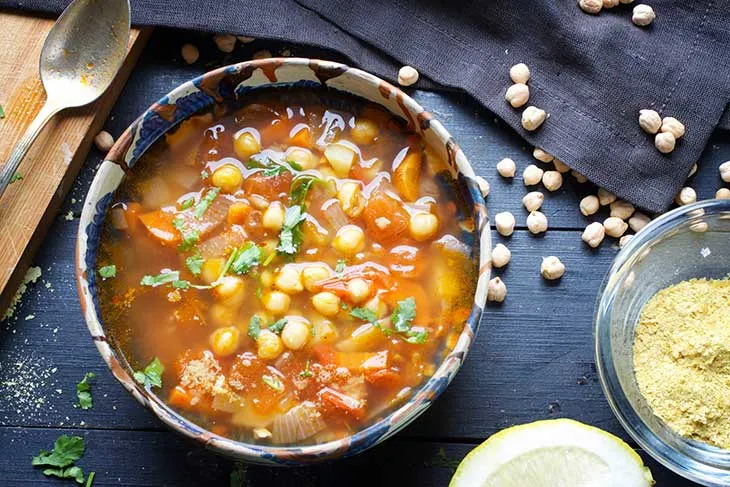 This delicious Lebanese chickpea soup is the perfect Middle Eastern-inspired comfort soup! It's bursting with amazing flavors and very filling due to chickpeas, potatoes, and carrots.
Ingredients
For the soup:
2 Tbsp olive oil
1 yellow onion, large, sliced
2 carrots, sliced
2 potato, medium, cubed
2 garlic cloves, minced
1 bay leaf
350g (2 cups) cooked chickpeas, drained
1 juicy tomato, large, diced
750ml (3 cups) light homemade veggie broth, or replace with water
250ml (1 cup) water
1 Tbsp tomato paste
1 tsp paprika powder
½ lemon juice
1 handful fresh parsley, chopped
1 tsp chili flakes
1 Tbsp nutritional yeast
For the Baharat powder:
½ tsp cinnamon, ground
½ tsp cloves, ground
⅓ tsp cardamon, ground
½ tsp coriander seeds, ground
½ tsp nutmeg, grated
1 tsp ginger powder
1 ½ tsp red peppercorns, finely ground
Instructions
Heat a large saucepan over a medium heat.
Dry roast all the Barhat spices, about a minute, and set aside.
Heat the oil in the saucepan.
Add onions and garlic and saute for about 2 minutes, until the onions are soft.
Add the diced tomato and cook, stirring occasionally, for about 3 more minutes.
Add carrots and potatoes, continue to cook.
Add the Bahrat powder you roasted separately, bay leaf and saute the veggies a few more minutes to combine the juices, flavors, and spices.
Add the broth, tomato paste, paprika powder, chili flakes and water; mix until well combined, turn up the heat to high and bring the mixture to a boil.
Add the boiled chickpeas.
Lower the heat to a simmer and continue to cook for 5 to 10 minutes.
Turn the heat off, add lemon juice, some chopped parsley and put the lid on.
Let it rest for about 5 minutes.
Serve with fresh chopped parsley and nutritional yeast (optional) on top.
Nutrition Information
Yield
6
Amount Per Serving
Calories

291
Total Fat

7.7g
Carbohydrates

41.4g
Protein

13.8g