Not a huge bread baking fan? Try this super-easy, no-knead, gluten-free rustic bread recipe. It's high fiber, healthy and anyone can make it! Enjoy! 🙂
If bread making is not exactly your hobby, but you also miss the taste and smell of freshly home-baked bread, then this recipe was created especially for you! I'm not a huge baking fan either, as I don't want to spend a lot of time in the kitchen and I'm always looking for tricks and tips on how to minimize everyday cooking time.
I also don't eat bread very often, once or twice a month is enough for me. But I must honestly say that I miss the freshly baked bread texture and smell, especially when I'm making hummus or other spread recipes.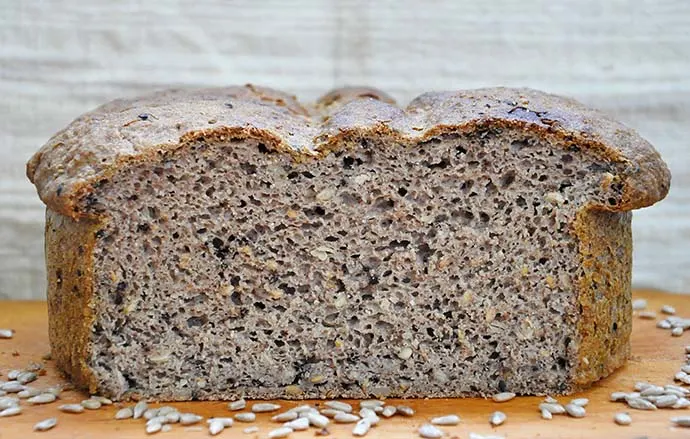 This no-knead gluten-free rustic bread recipe is just perfect for those of you who want to make a great homemade bread but lack the patience or the time to try out complicated baking recipes. It's super-simple, doesn't involve any kneading, just mixing, and it's also super-healthy, high-fiber and of course, gluten-free!
I am a big fan of Schar gluten-free flour blends, and this time, I used their Rustic Gluten-Free Flour Mix. This and Mix B are my favorites when it comes to making bread.
To make this bread even better, I added black cumin, sunflower seeds, and flaxseeds. This became a very nourishing bread recipe, not one with just empty calories and carbs.
So, here's my no-knead gluten-free rustic bread recipe. Give it a try and let me know how it turned out for you! 🙂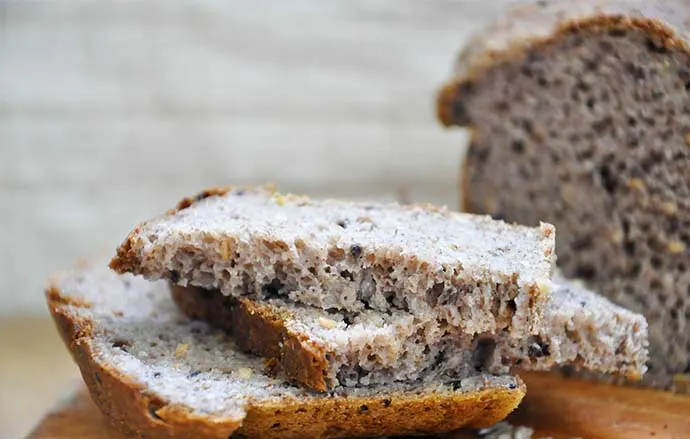 P.S. What other seeds do you add to rustic breads? I'd love to try some other mixes as well. 🙂
Yield: 4
Easy No Knead Gluten-Free Rustic Bread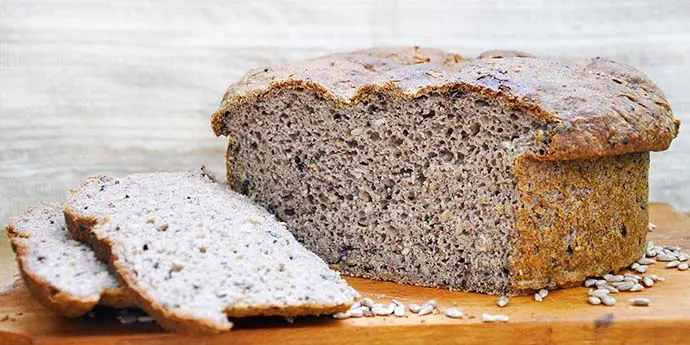 Not a huge bread baking fan? Try this super-easy, no-knead, gluten-free rustic bread recipe. It's high fiber, healthy and anyone can make it! Enjoy! 🙂
Total Time
1 hour
20 minutes
Ingredients
500g (17.5oz) gluten-free rustic flour blend by Schar
500ml (2 cups) warm water
10g (2 tsp) dry yeast
4 Tbsps olive oil
1 tsp sea salt
½ Tbsp sugar
a handful of raw sunflower seeds, lightly toasted in a pan
2 Tbsps black cumin
2 Tbsps flax seeds
Instructions
Put flour in a large bowl and add salt.
In a separate bowl, add warm water, dry yeast, and sugar. Mix well and let it aside in a warm place for 10 minutes.
Pour de liquid over the flour in the bowl and start mixing using a wooden spoon. You can also use a food processor if you have a dough program on it.
Add oil and seeds. Mix well.
The dough will be extra-sticky. This is perfectly normal.
Start your oven on the lowest temperature and leave the door slightly open.
Cover the bowl with the dough using some plastic foil. Place the bowl on a stool, near the oven. Let it rise for about an hour.
I used a round cake form with detachable walls, with approx. 30cm in diameter. I covered it with some parchment paper, which I also greased with some oil.
Move the dough in the form. Grease the top with some oil and place it in the oven at 180C/375F.
Bake the bread for 50-60 minutes.
Nutrition Information
Yield
4
Amount Per Serving
Calories

543
Total Fat

24.7g
Carbohydrates

67.6g
Protein

12.5g