Are you in the mood for a finger-licking good dish? Here's how to make the absolute best vegan Teriyaki wings! Simple, quick, and extremely yummy!
Ah, yes, Teriyaki wings… who in this world doesn't love them? They're sticky, they're yummy and they're simply addictive. We all know it!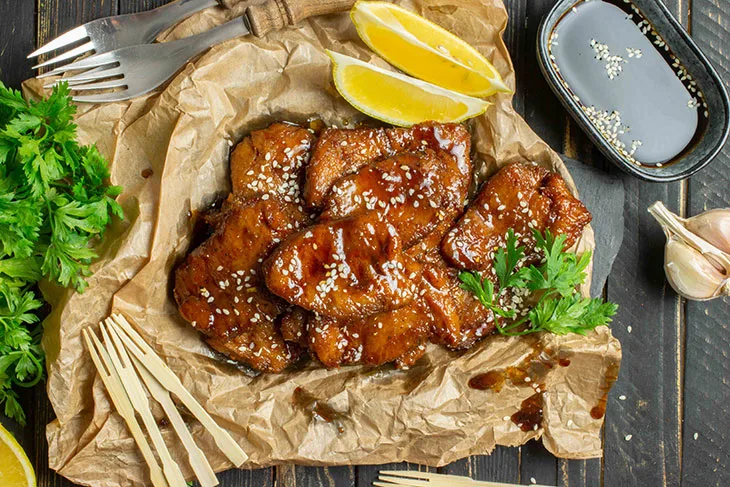 Okay, but what do you do when you've transitioned to a vegan diet and you're craving some saucy Teriyaki wings? Hmmm, complicated answer. Or… is it? In fact, the answer is pretty simple, my friends. Just like any other good recipe out there, you CAN 'veganize' Teriyaki wings too! 🙂
How? Heh, that you'll discover down below, but for now I can only tell you this: these vegan Teriyaki wings are crispy, delicious, and healthy too. If you won't be able to stop eating… please don't blame me, okay? You have been warned! 😉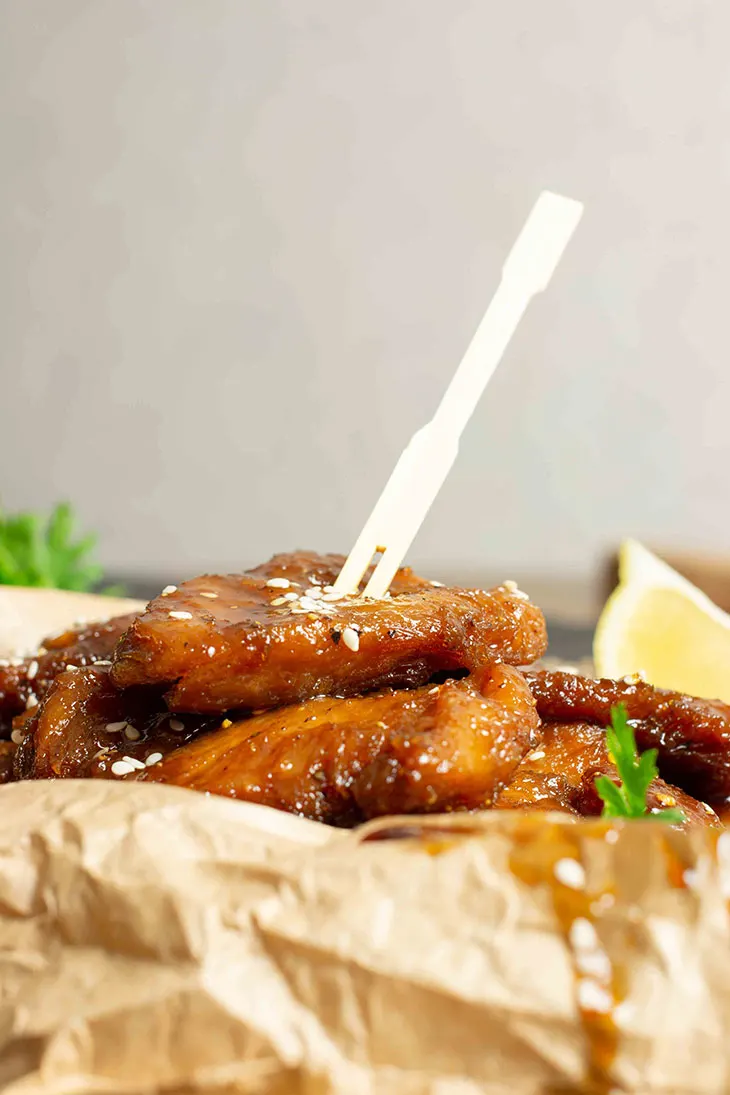 Regardless if you're planning on serving your vegan wings as a snack, as lunch/dinner, or as a party appetizer together with your friends, this is a recipe that you HAVE to try at least once in your lifetime.
At least for the fun experiment of turning chicken vegan, am I right? Ah, before I forget – yes, you can serve these vegan wings to children as well. They're THAT healthy!
Okay, but how can you turn chicken wings vegan? It's simple and you actually have multiple choices for this. You can use cauliflower florets, which work wonders in mimicking chicken's texture – or you can use soy protein schnitzels like I did today. I recommend using the soy protein I'm talking about because they're easier to work with and they have a higher protein intake. It's a win-win situation!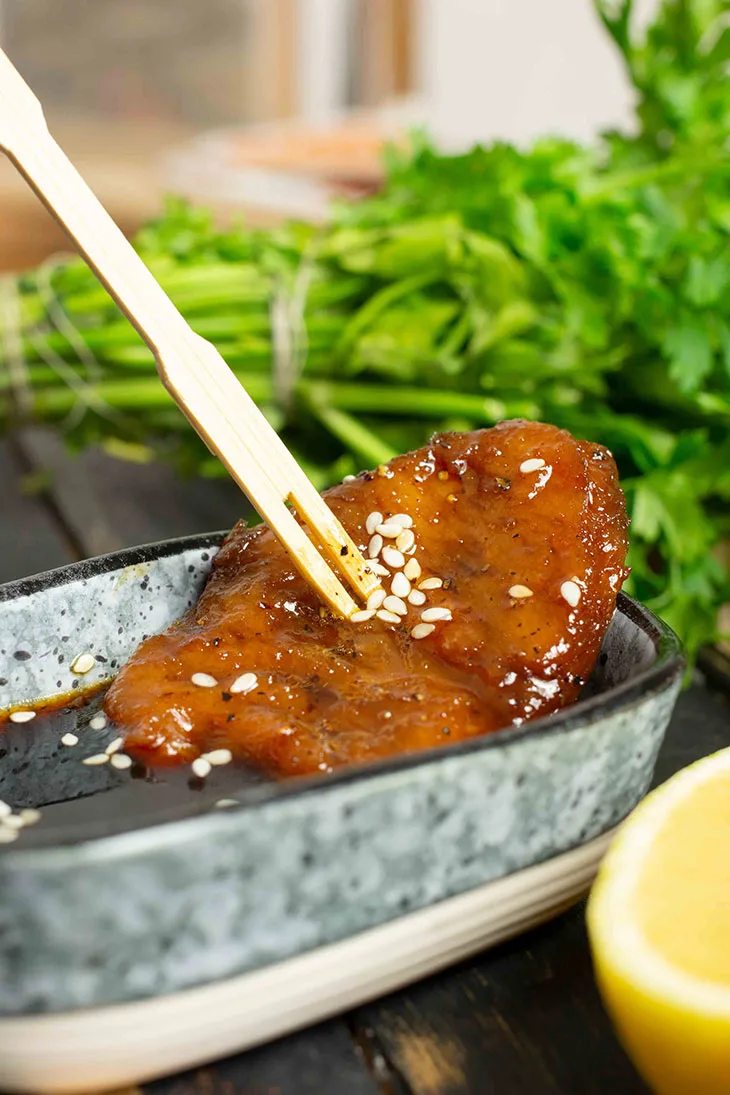 If you love tangy, intense flavors, this is THE recipe for you. I recommend making it for dinner or, even better, for a special occasion or a family gathering. I promise you that everyone will love them and they'll be gone in no time! With this in mind, you can maybe double the ingredient quantity. The recipe below makes 12 vegan Teriyaki wings, so make sure you have more than enough for your group of friends.
Ah, and I'm pretty positive that even meat-lovers will fall in love with this recipe. It's super delicious and the soy protein schnitzels are an ideal replacement for chicken wings. As odd as it may sound!
In case you decide to make this recipe, be prepared for a bit of experimenting, as we'll be making our OWN Teriyaki sauce AT home! Yes, no store-bought sauce here, we're going full natural!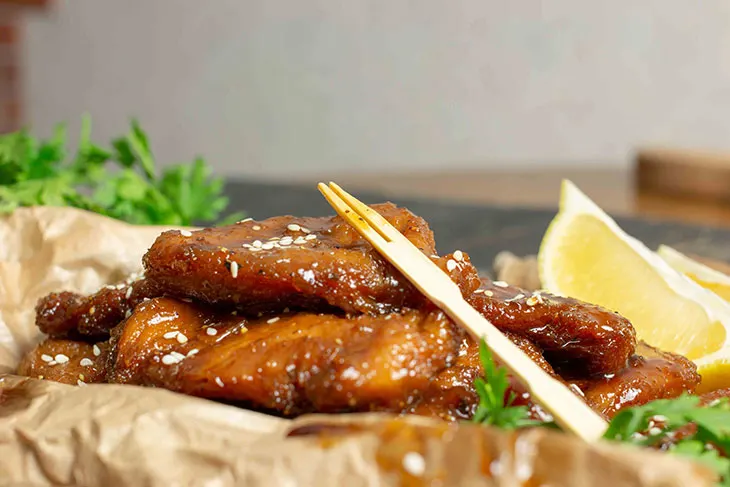 As fancy as it may sound, making your own Teriyaki sauce is not that hard at all. You just need a couple of ingredients such as garlic, ginger, vinegar, sugar, xanthan gum, soy sauce aaaand a little bit of water. And that's it! Simmer these on low heat for less than 10 minutes and you'll have a thick Teriyaki sauce, probably ten times more flavorful than the store-bought one.
Tip: If you're planning on experimenting some more with this Teriyaki sauce, you can save the recipe for later or make a bigger batch that will last you for quite some time in the fridge! In case you need some inspiration, you can make the following recipes using your homemade Teriyaki sauce: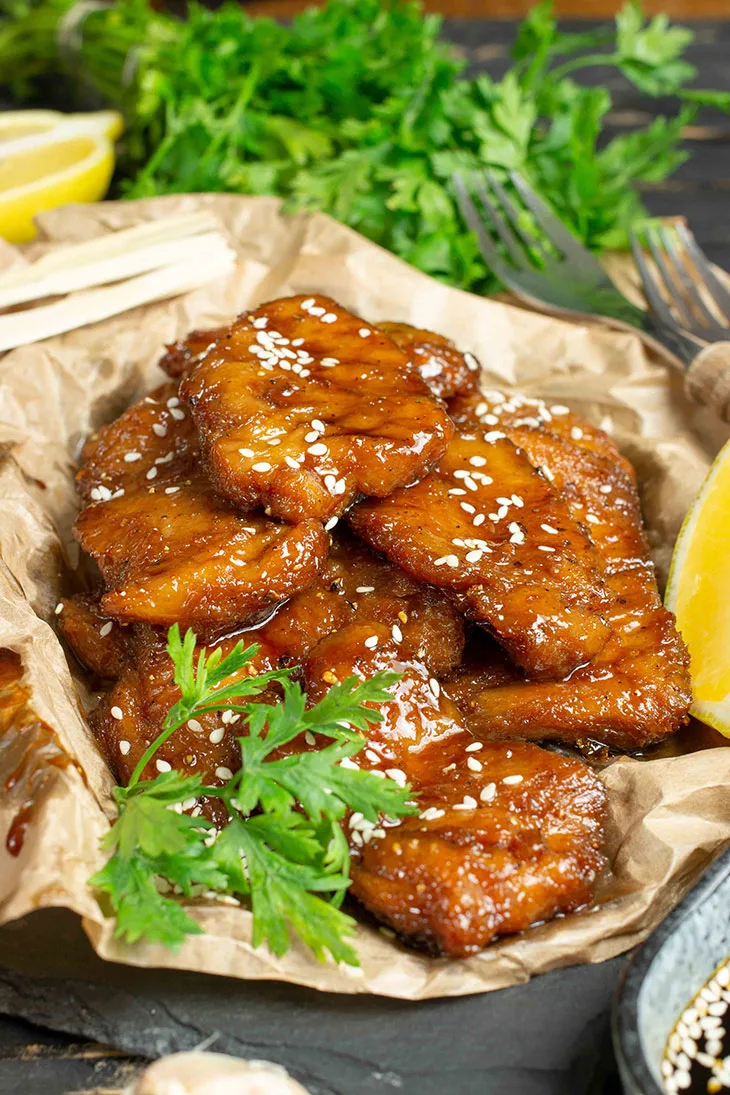 I recommend serving these vegan Teriyaki wings as they are because the sauce perfectly complements the soy protein schnitzels and, in my opinion, you don't need anything else! But if you feel like you do, you can try making a salad as a side dish.
I hope I convinced you to try these amazingly flavorful vegan Teriyaki wings. They're full of umami flavor, they're sticky, filling, and extremely easy to make. Even a kid could make these, so in case you have one, invite them to the kitchen for a cute family activity together. I'm sure they'll find this just as exciting as you do!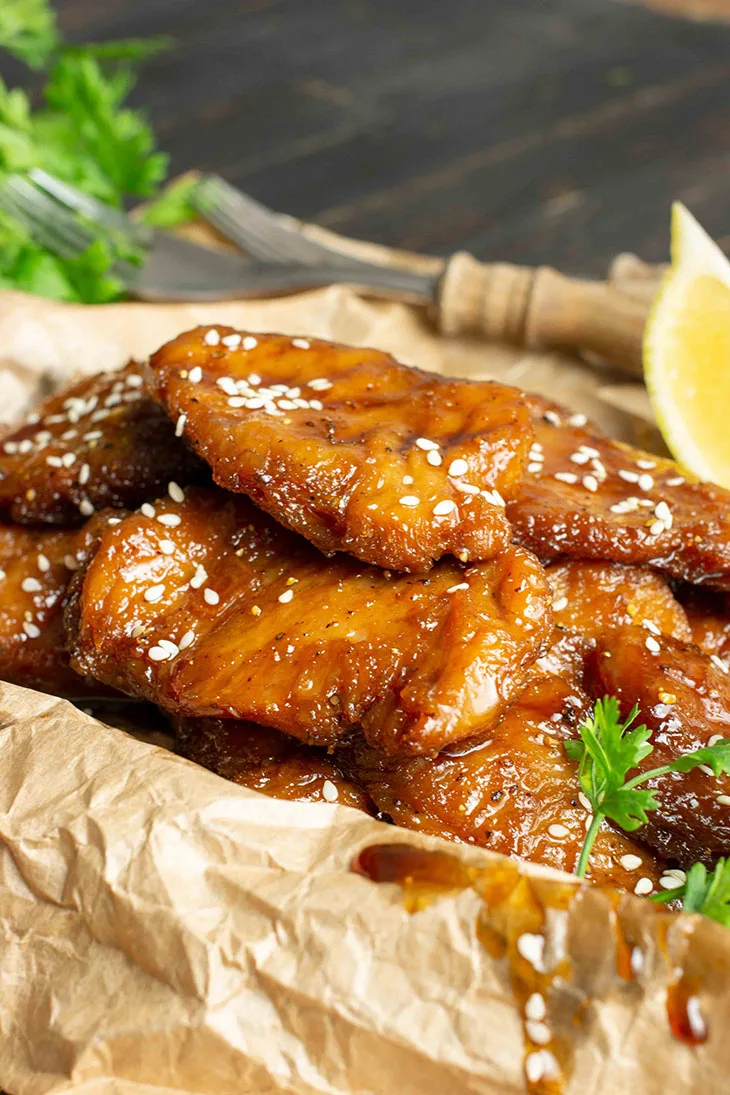 So, what's next? Gather all the ingredients needed and head to the kitchen. If you follow the recipe below, I'm sure your vegan Teriyaki wings will end up flawlessly delicious. Happy cooking!
Yield: 12
Vegan Teriyaki Wings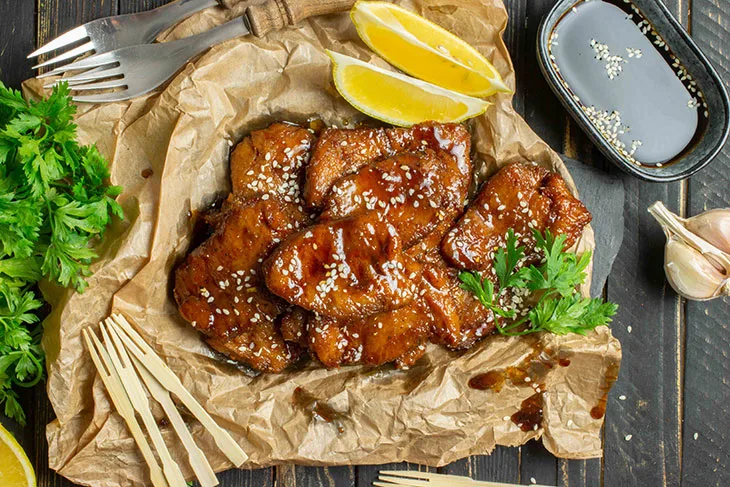 Are you in the mood for a finger-licking good dish? Here's how to make the absolute best vegan Teriyaki wings! Simple, quick, and extremely yummy!
Ingredients
12 textured soy protein schnitzels
500ml (2 cups) veggie broth or water
1 Tbsp sunflower seed oil
3 garlic cloves, minced
1 tsp ginger, grated
1 tsp xanthan gum
1 Tbsp apple cider vinegar
60ml (¼ cup) soy sauce or tamari
2 Tbsp brown sugar
1 Tbsp water
Sesame seeds, for decoration
Instructions
In a pot, bring the veggie broth to a boil and add the schnitzels.
Cook for 15 minutes over medium heat, stirring occasionally.
Drain them and set them aside.
In a pan, sautee the garlic and ginger in oil until they develop some color.
Add the vinegar, sugar, xanthan gum, soy sauce, and water.
Cook over low heat for 5-7 min, stirring constantly until the sauce thickens.
Add the schnitzels to the sauce and mix well to coat them well (1-2 minutes).
Serve with roasted sesame seeds on top.
Nutrition Information
Yield
12
Amount Per Serving
Calories

184
Total Fat

6g
Saturated Fat

1g
Trans Fat

0g
Unsaturated Fat

4g
Cholesterol

19mg
Sodium

738mg
Carbohydrates

5g
Fiber

0g
Sugar

2g
Protein

30g
I strive to keep the information as accurate as possible but make no warranties regarding its accuracy. I encourage you to make your own calculations using your preferred nutrition calculator.