This is the best vegan pulled pork burger recipe you'll ever make! Made with no exotic and expensive ingredients, just with simple, affordable foods. 
I've done it! I created the best vegan pulled pork burger ever! No exotic and hard to find ingredients, such as Jackfruits, just simple, affordable mushrooms! I am so excited to share this recipe with you! It was AAAAAAHHHHMAZING!
In case you're not familiar with what pulled pork means, you should know that this is a method of cooking pork. The meat is cooked slowly at low temperatures, allowing it to become tender enough so that it can be "pulled", or easily separated into individual pieces. If you take a look at how the original, meat-based pulled pork recipes look like, you'll see that this vegan version looks exactly the same! 🙂
I can't contain my happiness! 😀 After I made the vegan steak I didn't think I would be able to make something better than that when it comes to fake meats, but I was wrong! Oh…so wrong! I know, I know, I'm not modest at all, but after you've tried this recipe, you'll understand what I'm talking about! 🙂
---
It's time to stop worrying about what you're going to eat! I created the meal planner app to help you! Get your personalized meal plan with delicious, healthy, and budget-friendly recipes! GET YOUR MEAL PLAN!
---
Want to grow oyster mushrooms at home? Check out this mushroom farm kit!
I am 100% sure omnivores will have a hard time noticing that these are not made with meat, but mushrooms instead! Completely cruelty-free – 100% delicious!
I used almost the same blend of spices I created for the vegan steak recipe. You can use this spice mix if you want to give your recipes a delicious BBQ taste.
As you can suspect, eating this vegan pulled pork burger was a complete mess. Oh, but a tasty, tasty mess. 😀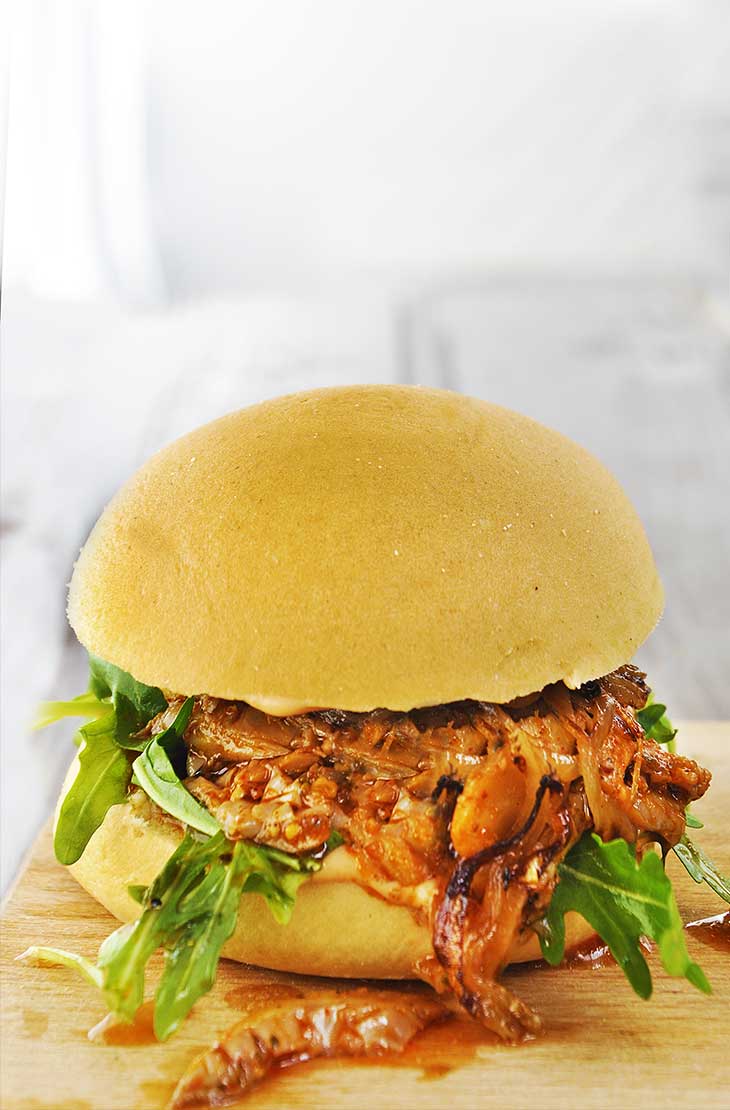 Vegan Pulled Pork Burger with Caramelized Onion
This is the best vegan pulled pork burger recipe you'll ever make! Made with no exotic and expensive ingredients, just with simple, affordable foods.
Ingredients
3 Tbsps vegan mayo
some arugula leaves
Condiments mix:
2 garlic cloves, minced
1 tsp brown sugar
2 tsps carob powder
1 Tbsp vegan barbecue sauce
3 Tbsps sunflower oil
2 Tbsps apple cider vinegar
sea salt, to taste
BBQ spice mix:
¼ tsp allspice
⅓ tsp thyme
¼ tsp coriander, ground
⅓ tsp pepper, ground
½ tsp sweet paprika
½ tsp smoked paprika (optional, but recommended)
¼ tsp mustard seeds, ground
½ tsp garlic powder
½ tsp onion powder
Caramelized onions:
2 large onions, julienned
2 Tbsps sunflower oil
some salt
Instructions
Slice mushrooms into thin, long strips. Put them in a bowl.
Add all condiments and spices. Mix well.
Place them all in a large pan, over medium heat.
Saute for 20 minutes. Add a little bit of water if necessary, so the mushrooms won't burn.When ready, remove from heat.
In a separate pan, heat some oil and add julienned onions. Sprinkle with salt and slowly caramelize them. If you want to know how to caramelize onions, check out this step-by-step method.
Cut each bun in half. Spread ½ Tbsp of vegan mayo on each bun. Add oyster mushrooms "pulled pork", a couple of arugula leaves, caramelized onion and eat!