Looking for the most delicious breakfast in the world? Here's how to make breakfast hot pockets – all vegan or vegetarian. You're going to love it either way!
As you probably know if you followed me, I'm a pretty big fan of hot pockets! Of course, I'm not talking about the frozen ones that you get from the store. I'm talking about their heartier, healthier version: the ones made at home. I've made a pizza version before, and it was a huge success, so yeah. I thought, why not try different fillings? And so these breakfast hot pockets came into play! 🙂
I consider myself to be a breakfast person, so the notion of breakfast hot pockets got me excited, to say the least. As you probably noticed by now that I'm really into versatile recipes, and this is no exception. The thought that I can swap one ingredient for another and make do with what I have in the fridge is incredibly comforting for me. We all have pretty busy lives nowadays, so, as much as you might enjoy cooking and strictly following a recipe, sometimes this is simply not possible.
That's why I love homemade hot pockets so much. They are the epitome of a healthy freezer-friendly meal that you can make when you have a few free hours and reap off its benefits on a super busy day when you don't feel like cooking at all. I'm sure you're going to find this recipe super helpful if you have kids as well. They can get hungry in no time, and it's always nice to have something nutritious in the freezer, that you can quickly pop in the oven or microwave for a delicious meal.
In my opinion, these make for a more special breakfast – a little twist from your usual breakfast omelet. But you can sure consume them for lunch as well, or even for dinner because they're a pretty balanced meal.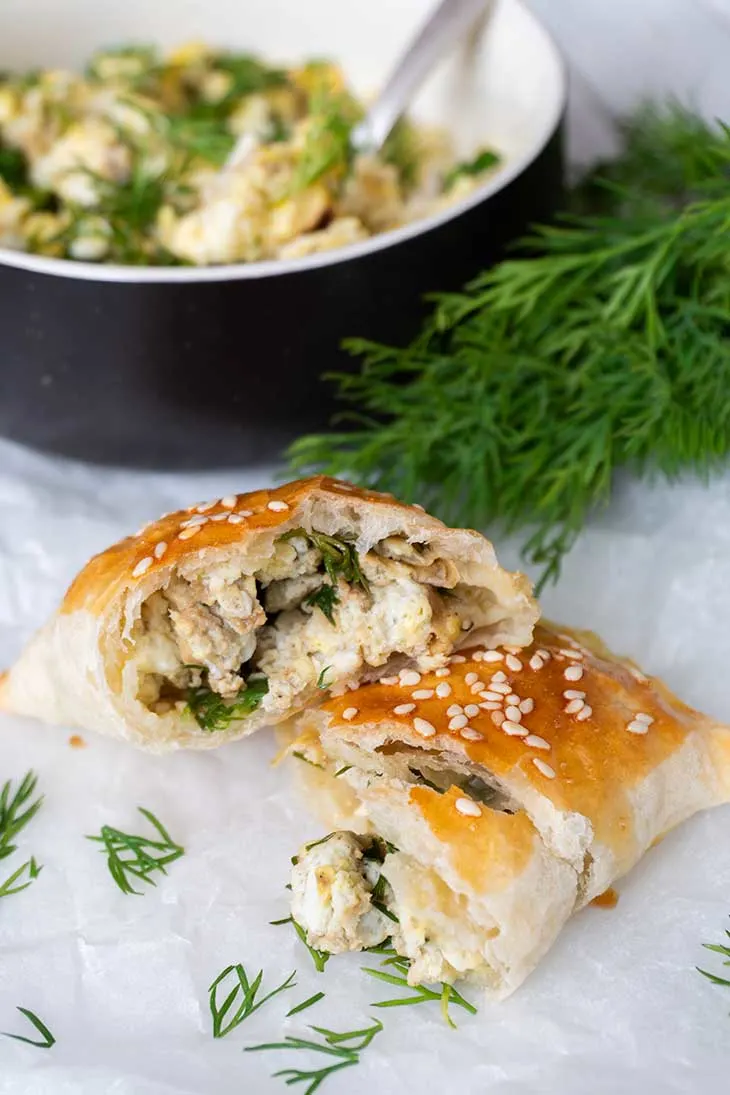 A protein-rich breakfast is an amazing option, as it is going to keep you fuller for longer. It's also been shown to benefit muscle health and to support weight loss by increasing muscle mass, energy expenditure, and satiety hormones.
So, to sum this up, making sure you regularly eat a protein-rich breakfast is going to result in amazing health benefits and it's gonna make it less likely for you to snack at night. That's why these breakfast hot pockets are such a great option for your first meal of the day.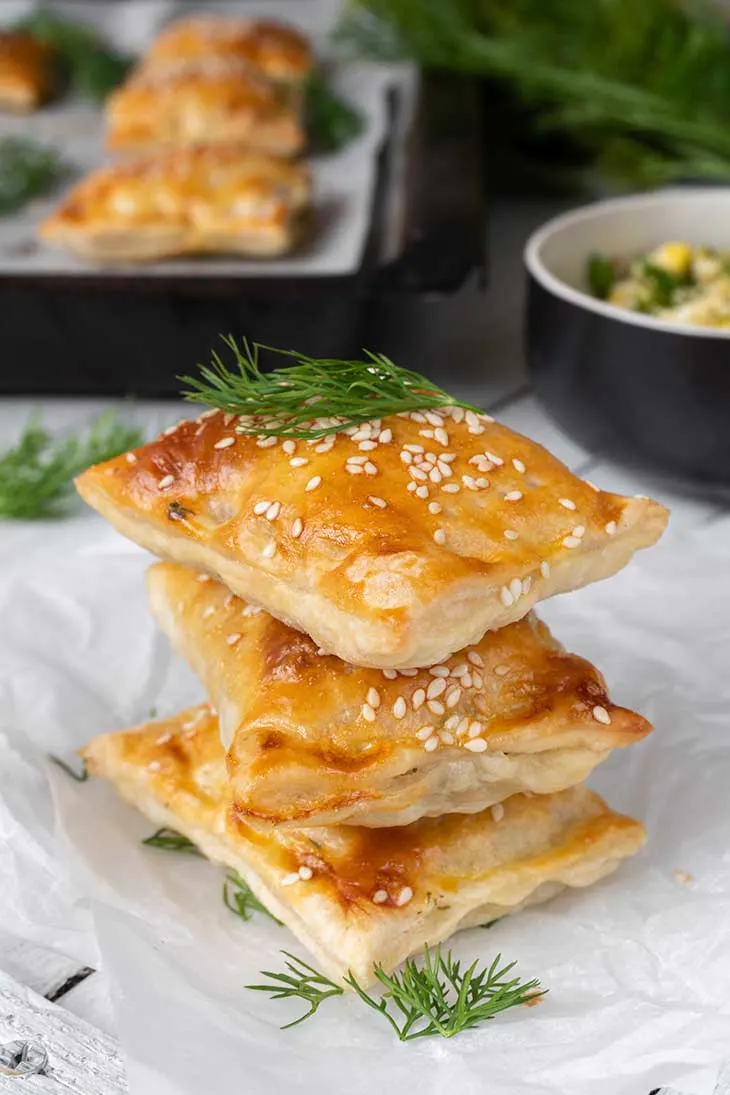 As you probably figured out by now, eggs are the star of the show here. These breakfast hot pockets are basically little omelet-filled pieces of dough. That's it. So simple, yet so delicious.
As it is with omelets or scrambled eggs in general, these breakfast hot pockets offer great variety as well. Scrambled eggs are a blank canvas to which you can add your favorite ingredients. Amazing options would obviously be vegetables – all sorts of vegetables. I often go for onion (wait for it to caramelize and it's going to be so delicious), bell peppers, or tomatoes.
Other great, nutrient-dense options would be spinach and other fresh herbs (cilantro and dill work amazingly). If you feel like it, you can also add cheese to the mixture. And if you're vegan, you can, of course, opt for vegan cheese. The same goes for meat. You can add bits of sausage, chicken, or deli, or their mock versions for a filling, savory breakfast. Or lunch. Or dinner. Or snack. I often like to have these as a snack, as they're super convenient to carry around with you, on the go.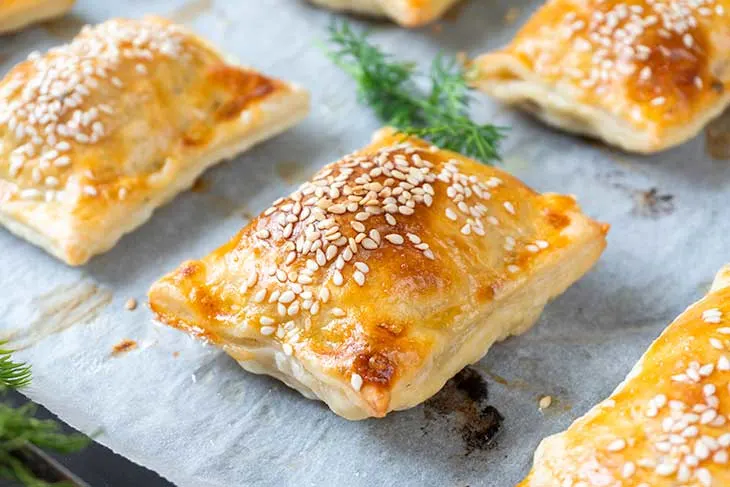 In short, you can make this recipe vegan by filling it with vegan scrambled eggs or you can make it vegetarian and use the "normal" scrambled eggs.
These homemade breakfast hot pockets are infinitely better than the store-bought version. Why? Because we know all of the ingredients we've used and we limited the amount of fat. They have way fewer calories as well and are more filling. I mean, they actually feel like a meal – like a real, nutritious meal. And they're more nutritious the more veggies you add in.
I like to serve these with extra veggies or extra fruit on the side. I've always liked the combo of omelet + side fruit, it feels fancy and healthy. Berries would be the prettiest (strawberries, raspberries, or blueberries), but really any other fruit would do. It's just about raising the vitamin bar higher, after all.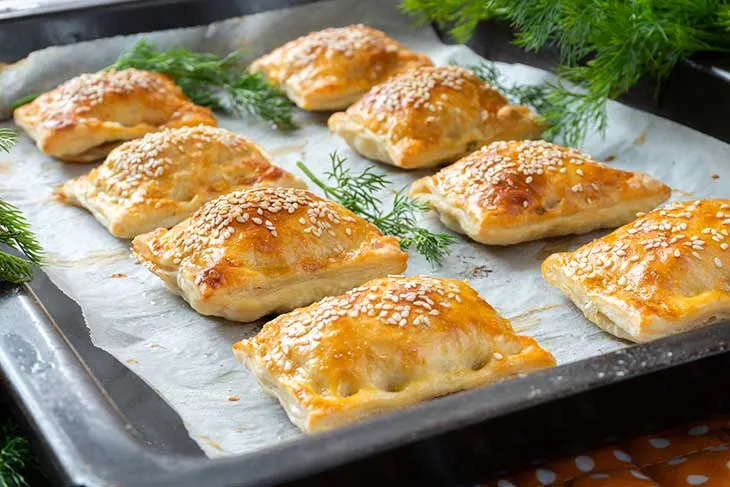 And voila! You've got yourself an amazingly balanced and healthy breakfast that's going to keep you full and satiated until lunch. Enjoy it with your favorite coffee. And don't forget to tell me how delicious it was!
---
Personalized meal plans and workout videos | Get your customized meal plan today! [x_button shape="square" size="mini" float="none" target="blank" href="https://shop.gourmandelle.com/?utm_source=mainsite&utm_medium=site&utm_campaign=inpost" info="none" info_place="top" info_trigger="hover"]I WANT A MEAL PLAN![/x_button]
---
Yield: 8
Breakfast Hot Pockets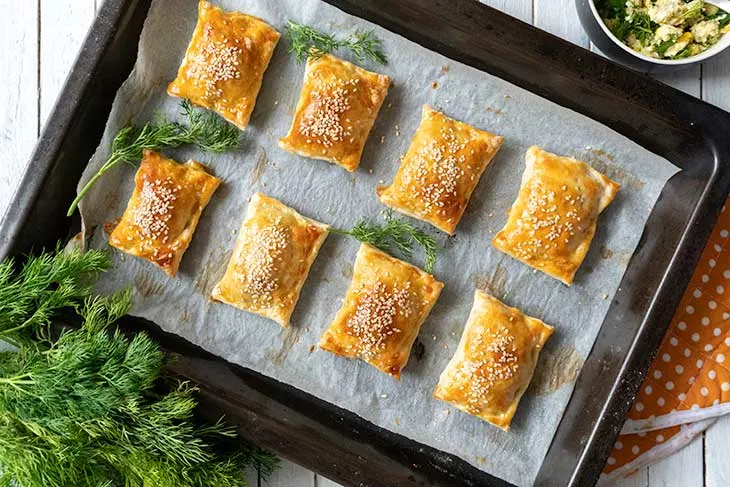 Looking for the most delicious breakfast in the world? Here's how to make breakfast hot pockets - all vegan or vegetarian. You're going to love it either way!
Ingredients
400g (1 sheet) pastry dough
pizza sauce or ketchup or any tomato sauce you like
250g (1 cup) tofu, crumbled
35g (⅓ cup) green onions, chopped
2 Tbsp olive oil
1 tsp turmeric
½ tsp black salt
1 garlic clove, minced
1 Tbsp nutritional yeast
1 Tbsp dill, chopped
1 Tbsp sesame seeds
vegan cheese - you can try my recipe or buy any melting cheese from the store
salt
pepper
Instructions
Add ½ cup tofu to a blender and pulse until smooth. Set aside.
Add another the rest of the tofu and pulse until crumbled.
Heat skillet on medium heat, add the oil.
Add the green onions, garlic, turmeric, black salt, and ½ tsp of pepper.
Cook for 2 minutes, stirring.
Add the tofu and nutritional yeast, mix well and cook for 3-5 minutes.
Take off heat and add the dill.
Roll out the dough, cut into squares and spread 1 Tbsp of pizza sauce on each.
Add some shredded vegan cheese.
Add the tofu filling and pinch them shut with a fork.
Brush them with olive oil and sprinkle sesame seeds on top.
Bake at 180 degrees C for 20 min or until golden brown.
Nutrition Information
Yield
8
Amount Per Serving
Calories

400
Total Fat

25.5g
Carbohydrates

33.7g
Protein

8.8g
I strive to keep the information as accurate as possible but make no warranties regarding its accuracy. I encourage you to make your own calculations using your preferred nutrition calculator.