Chocolate fan? Here's how you can make these double chocolate chip cookies that will melt in your mouth!
This is the first time ever baking chocolate chip cookies. I've heard about them, of course, knew that they are extremely popular, especially in the US, and I've eaten some before, but only store-bought. I liked them but never tried them homemade.
I'm not a very big fan of sweets. I like them, but I also avoid them and fortunately, I don't have any sugar cravings. I always prefer something savory instead of a dessert. 🙂 But this time, something clicked inside me. I think this Oreo chocolate chip cookies recipe released my inner sweet tooth! :))
These vegan double chocolate chip cookies are dreamy, to say the least. I didn't even imagine they could be this good! It's by far one of the easiest and most delicious desserts I've ever baked until now, and this means I won't make these again too soon because I devoured them without any guilt whatsoever.
We ate 14 chocolate chip cookies just the two of us, in one day! There were only two left until the next day, but we ate them first thing in the morning. :)) These are addictive, don't say I didn't warn you!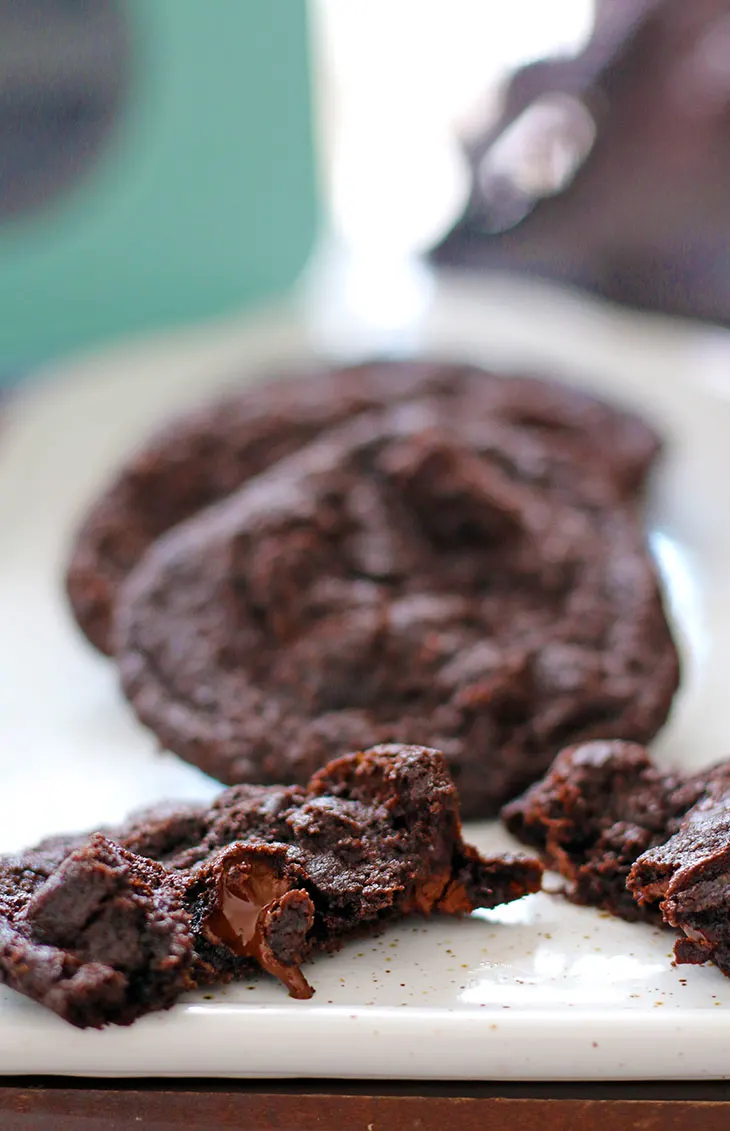 Just look at the photo above…the texture is perfection! They are crunchy on the outside, chewy on the inside, and full…FULL…of awesome chocolate! And whenever you get a chunk of chocolate in them, it simply melts in your mouth!
I couldn't find any vegan chocolate chips, so I used dark chocolate, cut into small chunks. I think it's even better this way, because from what I've noticed on other similar chocolate chip cookies recipes, those chocolate chips don't melt as nice as chopped chocolate.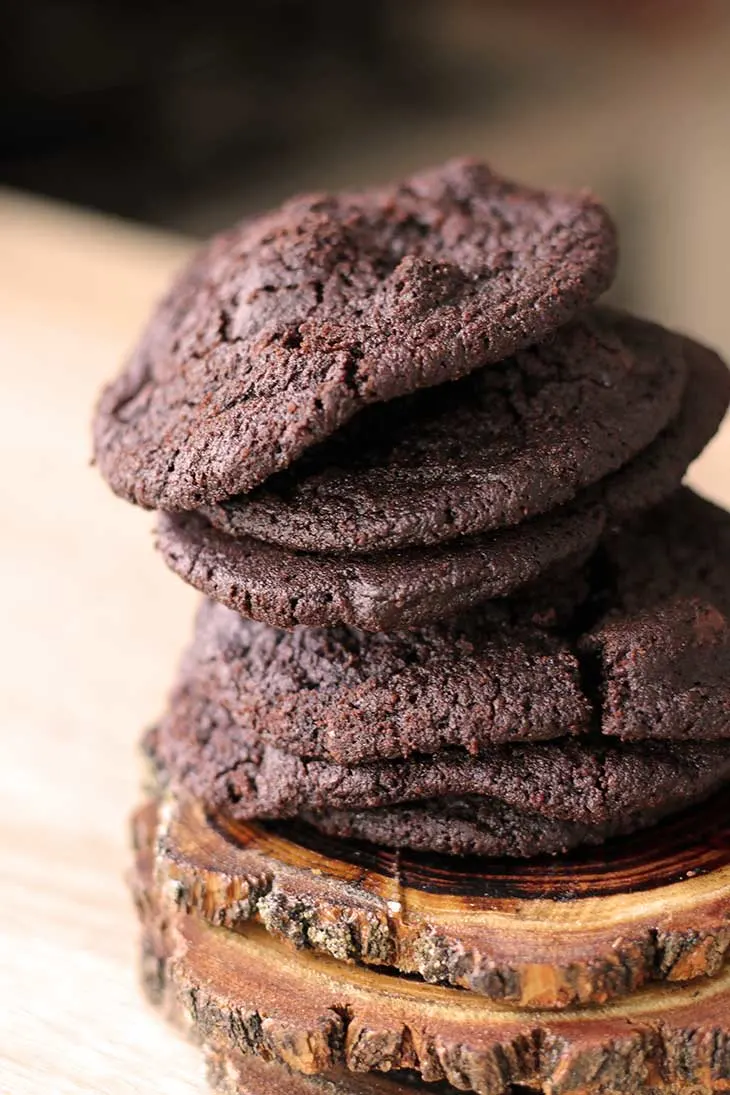 There's also the simple vegan chocolate chip cookies recipe, without any cocoa, I may try it sometimes, but this time I wanted to make this a decadent sweet treat, super-rich in chocolate and with an Oreo cookies flavor.
These can last for days if stored in an air-tight container like the Neoflam Smart Seal recipients mentioned below, but mine were devoured instantly, so I wasn't able to save some for later. :))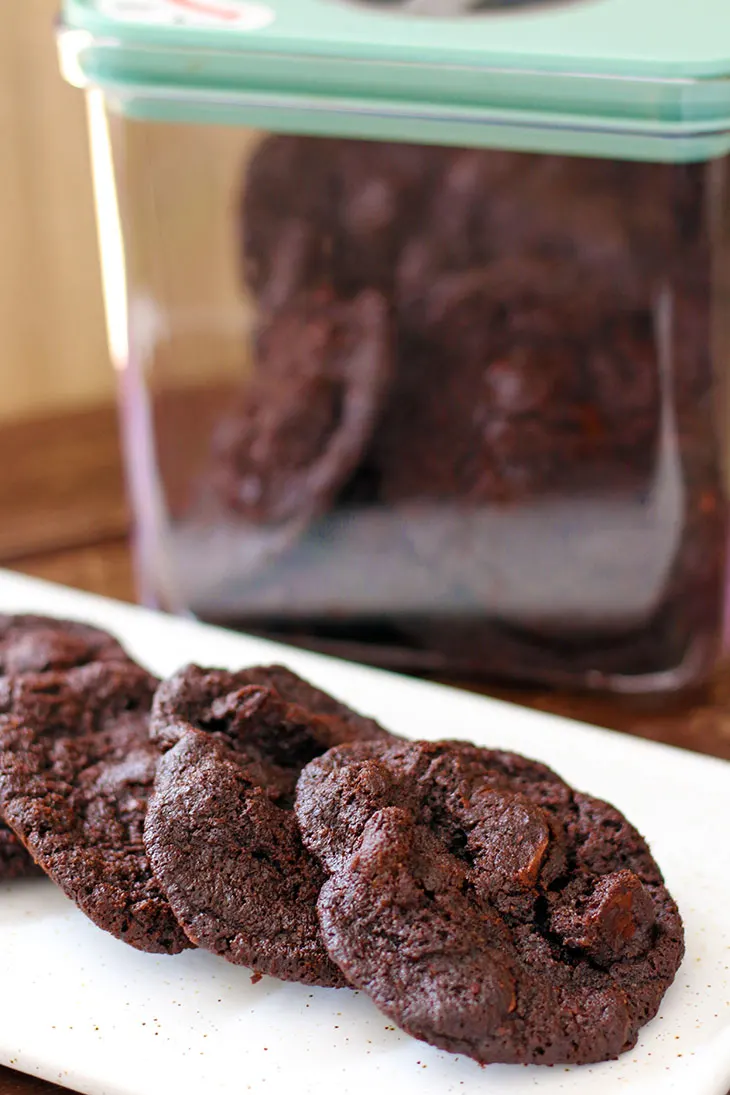 The Neoflam campaigns are by far my favorite from all the Mega Image campaigns. I was super-excited last time when the Neoflam pans and baking dishes were available and I bought them all and have been using them ever since. They hold up very well, so when I saw the Smart Seal containers I knew they were high-quality too.
They are. I've been using them for just a week, but I really like their design and the materials that were used. I like to organize the foods in my pantry, so these were a great fit. You can even use them for packing lunches for school or work. They're BPA-free and close hermetically.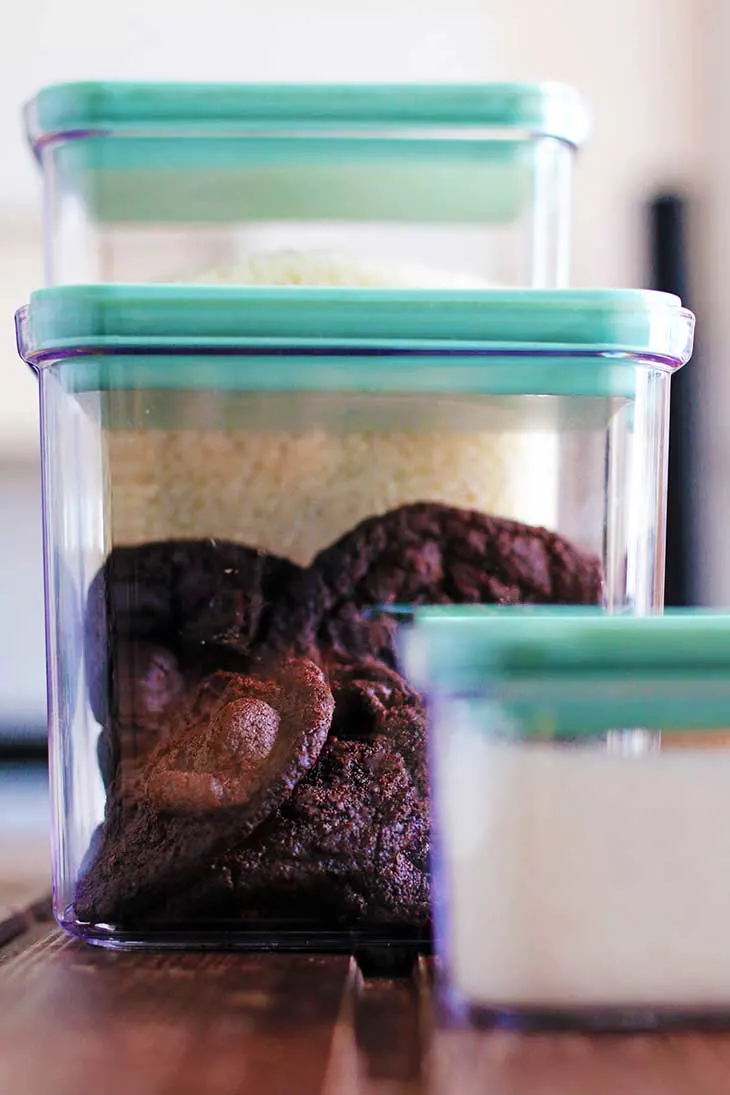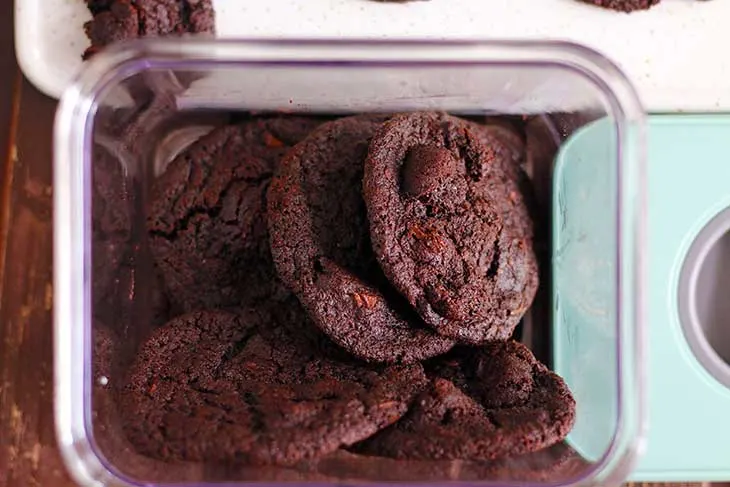 I currently have just three Smart Seal containers, the blue ones, but I am already gathering points to buy the other three pink ones. I have 15 points already because I'm a huge fan of the Mega Image Online service and order my food online two times per month. It's more convenient this way, as I don't waste any time grocery shopping, plus I only buy what I need and get some cool gifts too!
I received 5 free gifts for the last order. It's a nice marketing tactic to make your customers loyal. Well, it works for me, paired with the impeccable customer service, of course. 🙂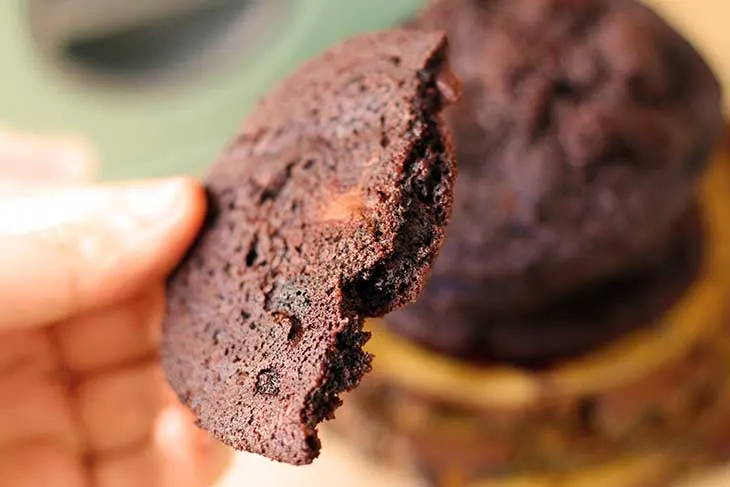 Now, about this double chocolate chip cookies recipe…They're actually triple chocolate, because I also used crushed Oreos in them. I made it vegan, with vegan butter and without eggs. If you're not vegan, you can use regular butter as well, make sure it is softened, at room temperature. You can also use coconut oil, soft not completely melted.
The eggs aren't necessary at all. I also added just a tiny bit of soy milk (you can use any other type of milk as well) to make the cookie dough a little bit wetter.
It's important to use a blend of dark brown sugar (muscovado) and white sugar. If you use only muscovado sugar, these vegan chocolate chip cookies will be too caramelized and if you use just white, they will lose flavor, so the combo between these two is ideal.
I haven't tried these chocolate chip cookies with gluten-free flour, but it should work! Let me know if you try them this way!
I'm sure you'll love these double chocolate chip cookies. Watch the video recipe below, just above the written recipe, if you want to see how they're made, step by step.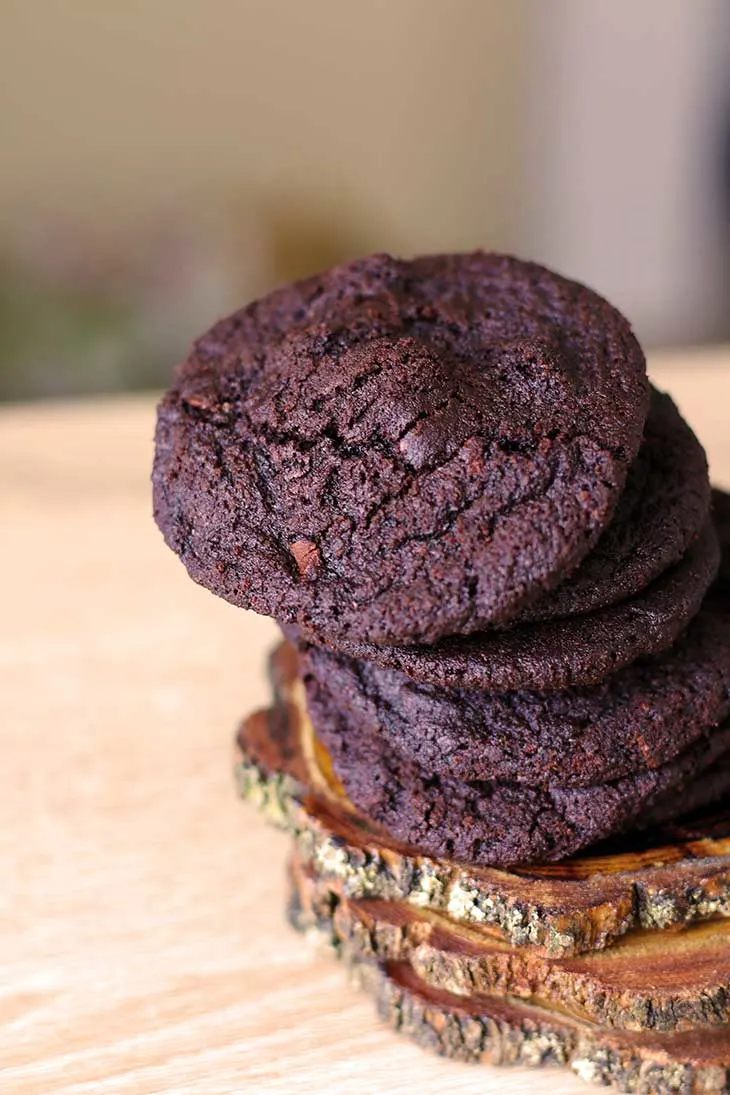 Double Chocolate Chip Cookies – video recipe
Yield: 16 + cookies
Double Chocolate Chip Cookies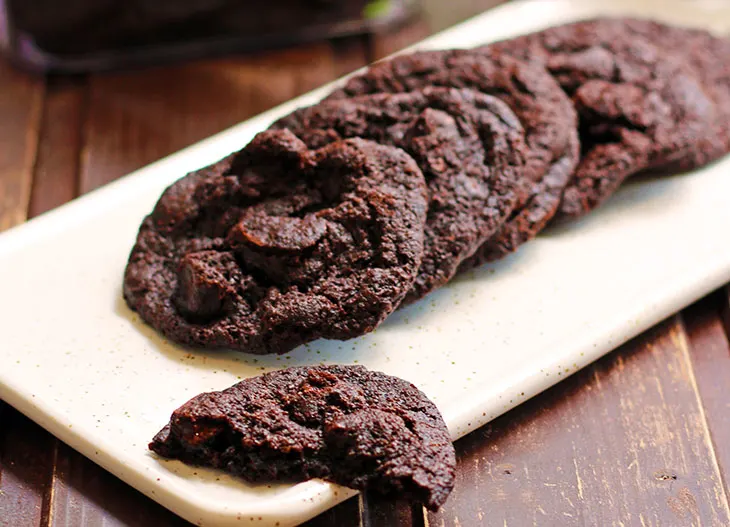 Chocolate fan? Here's how you can make these double chocolate chip cookies that will melt in your mouth!
Ingredients
100g (¼ cup) vegan butter, soft
1 Tbsp soy milk, or any other type of milk
80g (⅓ cup) white sugar
80g (⅓ cup) dark brown sugar, muscovado
125g (1 cup) all-purpose flour
2 Tbsps cocoa powder, premium quality
1 tsp baking soda
a pinch of salt
100g (1 cup) vegan chocolate, cut into small chunks
Instructions
Heat the oven to 180°C.
Add the softened vegan butter into a bowl. Add the two types of sugar and mix well, until creamy, using a hand mixer.
Sift the flour and cocoa into a separate bowl. Add the baking soda and a pinch of salt.
Put the dry ingredients of the wet ones and mix well.
Add, if needed, one tablespoon of soy milk to make the cookie dough wetter.
Add the chopped chocolate and mix well using a spatula.
Cover a large oven tray with parchment paper.
Using a teaspoon, scoop out some cookie dough. Wet your hands and start shaping some cookie dough balls. Place max. 9 cookie balls on the tray, at distance from each other. You will bake these in two batches.
Bake the Oreo chocolate chip cookies for 10 minutes, until the outsides are slightly crispy and the insides are soft. Remove them from the tray, carefully, by lifting only the parchment paper and placing it somewhere else. Let them cool.
Cover the baking tray again with some parchment paper, but be careful not to burn yourself, it's hot!
Place the rest of the cookie dough balls and bake for 10 minutes.
Let the cookies cool before eating them.
Nutrition Information
Yield
16
Amount Per Serving
Calories

127
Total Fat

5.6g
Carbohydrates

18g
Protein

1.1g