This spinach salad with tahini dressing is not only healthy but delicious too! I never thought spinach salads would be so good! The hemp oil-tahini dressing makes this spinach salad taste divine!
Because of my recent detox diet, I started experimenting with new salad and dressing recipes. I discovered that I absolutely love hemp oil and tahini! In this case, I combined the two ingredients and made an amazing tahini dressing!
This tahini dressing can turn any boring salad recipe into a delicious treat! It's also ready really fast! Besides that, this spring spinach salad also contains radishes and a great seeds mix for some extra crunchiness!
Hope you'll like this fresh spinach salad recipe and if you want to learn more about the health benefits of spinach and why you should eat it more often, read below. 😉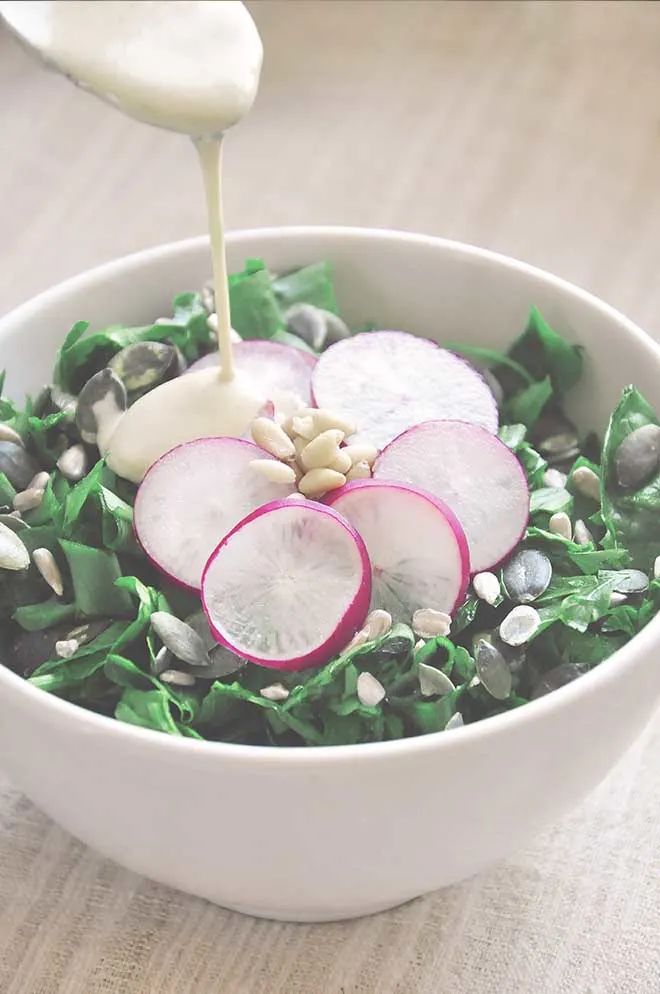 All you need to know about spinach
You probably don't think much about spinach, you might even think it a bit bland and inconspicuous, but that doesn't mean it doesn't have its wonders. Especially when it comes to the benefits that it brings to your health. Popeye might have been a bit exaggerated, but he was definitely on to something.
Not many care about having a strong spinach presence in their diet, so that's why today I want to make an effort and help you change your mind. Spinach is delicious and it is wonderful for your body and your health. You should have more of it, not less. So let's take a look at what it has to offer and the ways you can add it to your everyday life.
Spinach Benefits
Spinach is rich in many positive things for your body. Let's start with the fact that it contains an antioxidant known as alpha-lipoic acid. This antioxidant has been proven to lower glucose levels, increase insulin sensitivity, and prevent oxidative stress-induced changes. All of these are afflictions that diabetics go through and spinach can help them greatly.
Spinach also helps prevent cancer because it contains chlorophyll; this has been shown to block carcinogenic effects of heterocyclic amines. Spinach is also rich in a nutrient called beta-carotene, among many others; this nutrient reduces the risks of developing asthma.
It's also a rich source of potassium which helps reduce high blood pressure and it can also help fight back the effects of sodium. Vitamin K is also present in spinach, which is great news for your bones! It modifies bone matrix proteins and it also improves calcium absorption.
Spinach is a great source of fiber which helps prevent constipation and it promotes a healthy digestive tract. It also helps you feel fuller for longer without having to intake extra calories; this is great to help you on your weight loss journey. Vitamin A is also a big part of spinach and it can help you with hair and skin health by keeping them moisturized and growing!
In a cup of raw spinach you'll find: 27 calories, 0.86 grams of protein, 30 milligrams of calcium, 0.81 grams of iron, 24 milligrams of magnesium, 167 milligrams of potassium, 2,813 micrograms of Vitamin A, 58 micrograms of folate and also vitamin K, fiber, phosphorus, thiamine, iron, calcium, potassium and magnesium.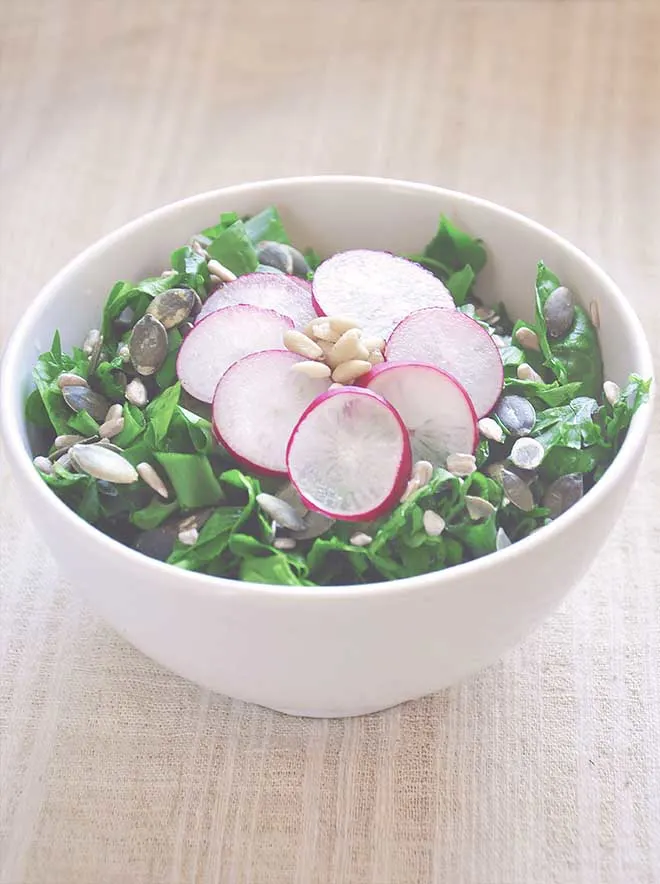 How to Include Spinach in Your Diet
It's very simple to add spinach to your food; you can start by adding it to your everyday smoothies. You can try different combinations like mango, berries, orange, pineapple, or any of your favorite fruits. Just remember to add a bit of spinach; it doesn't have a strong flavor, so you'll be getting all of the benefits without even noticing it's there.
Add them to your salads as well! That's what baby spinach is for, so mix it with other salad greens, veggies, nuts, and even fruits! It will definitely add texture and an extra flavor. You can also add spinach to your scrambled eggs and omelets to make a hearty breakfast.
Likewise, you can always add a bit of spinach to your soup and you can sneak it into your pasta salsas! Just chop it up finely and it will add a little extra flavor to your pasta. You can also try wilting it really quickly with a little olive oil, garlic, and salt; you can have this with some toast as a part of your breakfast or as a healthy snack.
Those are just a few of the ways you can incorporate spinach into your everyday meals. Try them out!
General Facts about Spinach
Spinach belongs to the amaranth family and is related to beets and quinoa.
It has its roots in Persia, but is now produced mostly in the United States and China.
China is the world's largest spinach producer with 85% of global production.
Spinach loses nutritional value with each passing day. It's better to eat it fresh!
There are a few varieties of spinach: Savoy, flat/smooth leaf spinach and semi-savoy.
In the 30's, spinach growers in the United States credited Popeye with a 33% increase in domestic consumption.
Medieval artists extracted green pigment from spinach to use as an ink or paint.
It contains 15 different vitamins and minerals.
Bottom line is spinach is great for you and for everyone! So do yourself a favor and don't ignore it anymore. Find ways to include it to your everyday life and you'll see all of the positive changes of leading a healthier life.
Yield: 2 generous servings
Spring Spinach Salad with Tahini Dressing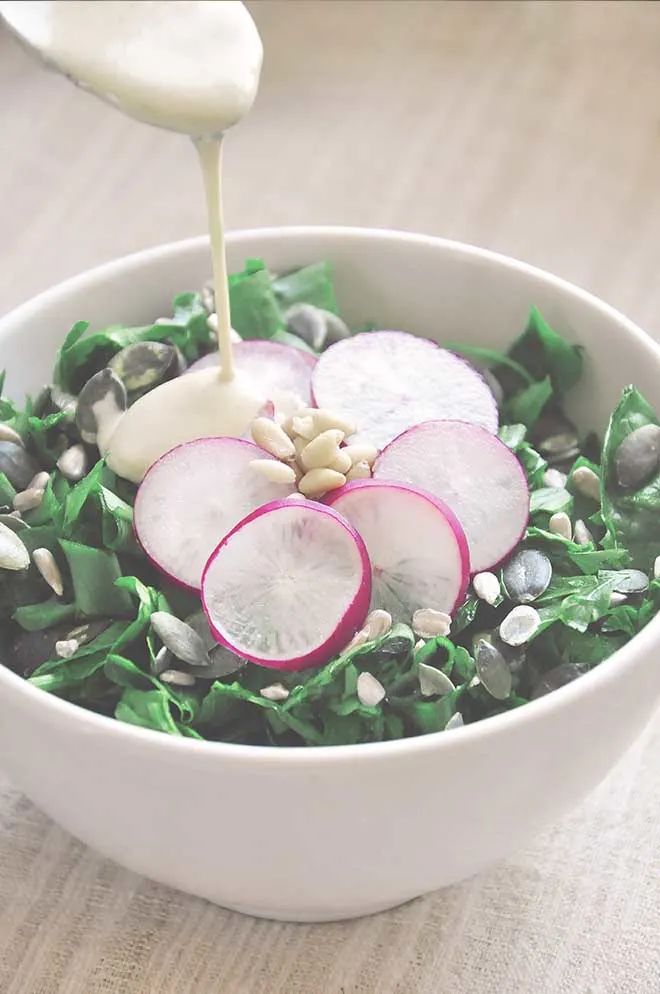 This spring spinach salad with tahini dressing is not only healthy but delicious too! The hemp oil-tahini dressing makes this spinach salad taste divine!
Ingredients
90g (3 cups) spinach, chopped
6 radishes, sliced
30g (1 cup) ramps/wild garlic leaves, chopped
50g (½ cup) scallions, chopped
2 Tbsps raw seeds of choice (I used pine, sunflower, and pumpkin seeds)
Dressing:
4 Tbsps cold-pressed hemp oil, you can use extra-virgin olive oil if you don't have hemp oil
1 lemon's juice
½ tsp sea salt
2 Tbsps tahini
some water, only if the dressing is too thick
Instructions
Make the dressing. Add all ingredients together and mix well.
Rinse well and chop the greens and veggies. Mix them together. Serve with seeds on top.
Add dressing only right before serving the salad.
Nutrition Information
Yield
2
Amount Per Serving
Calories

524
Total Fat

38.4g
Carbohydrates

33.7g
Protein

11g
Want more salad ideas? Try these 10 Delicious and Healthy Veggie Salads. They're all vegetarian and delicious!