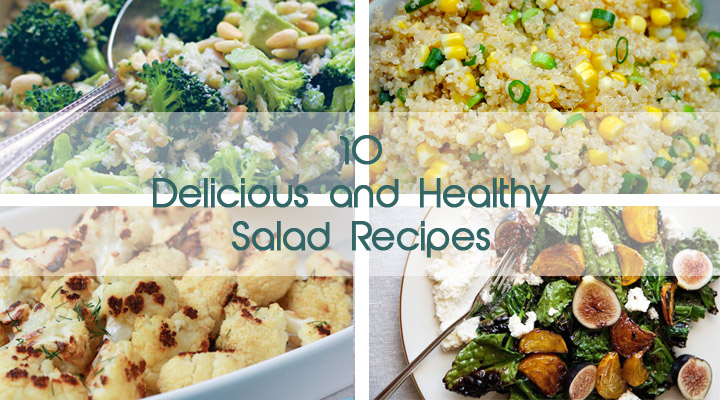 I love veggie salads but honestly I'm not very good at making them, or maybe I'm just lazy :D. I always ask someone else to make the dressing, actually, I never tried to make it myself. Yes.. lazy.. just as I said. But those times are over! I just saw some amazing veggie salads recipes and decided to share them with you. I'll even try some of them myself and this time I'll make them on my own from scratch.
I also found a great photo on Pinterest with 6 dream veggie salads dressings (unfortunately I didn't find the source so if you know who made it, let me know and I'll post it here). They seem so easy even I can do them.
1. Whole-Wheat Orzo Salad with Broccoli-Pine Nut Pesto
2. Broccoli Grape Harvest Salad
3. Roasted Cauliflower Salad with Olives & Capers
4. Lemon Cilantro Avocado Pasta Salad
5. Long Weekend Grilled Veggie Salad

6. Quinoa with Corn and Scallions
7.  Detox Salad
8. Crispy Roasted Cauliflower with Tahini Dressing
9. Cucumber and Zucchini Carpaccio Salad
10. Grilled Kale Salad with Beets, Figs, and Ricotta
6 Dream Salad Dressings: Citrus vinaigrette, balsamic vinaigrette, mustard-herb vinaigrette, fresh raspberry vinaigrette, sesame-ginger vinaigrette, chipotle-honey-lime vinaigrette.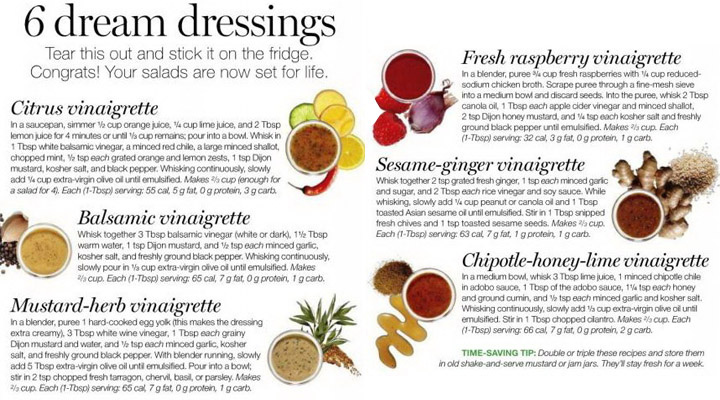 Cooksnaps