In need of a filling yet refreshing summer dish? Here's how to make the BEST grilled halloumi salad that's actually tasty and far from boring!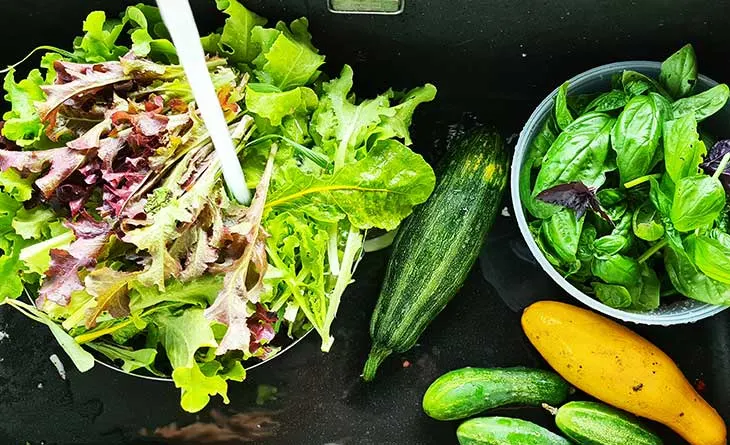 Confession time! I decided to change things on the blog a little – I decided to start posting more of those excellent recipes I'm making every day for lunch or dinner. These are yummy, easy recipes for everyday cooking that I made and loved, but for which I didn't have any time to take "professional" pictures with my camera because I was just TOO hungry. I have so many recipes like this that I didn't share with you guys because I felt the visuals are "not worthy". I had no props, no proper light, and no fancy plating. But I won't let that stop me ever again!
So for this recipe, I only have a couple of photos taken with my phone, but what's important here is the taste and the actual recipe. No perfect pictures ahead, just the real, non-polished food that I eat in my real life. 🙂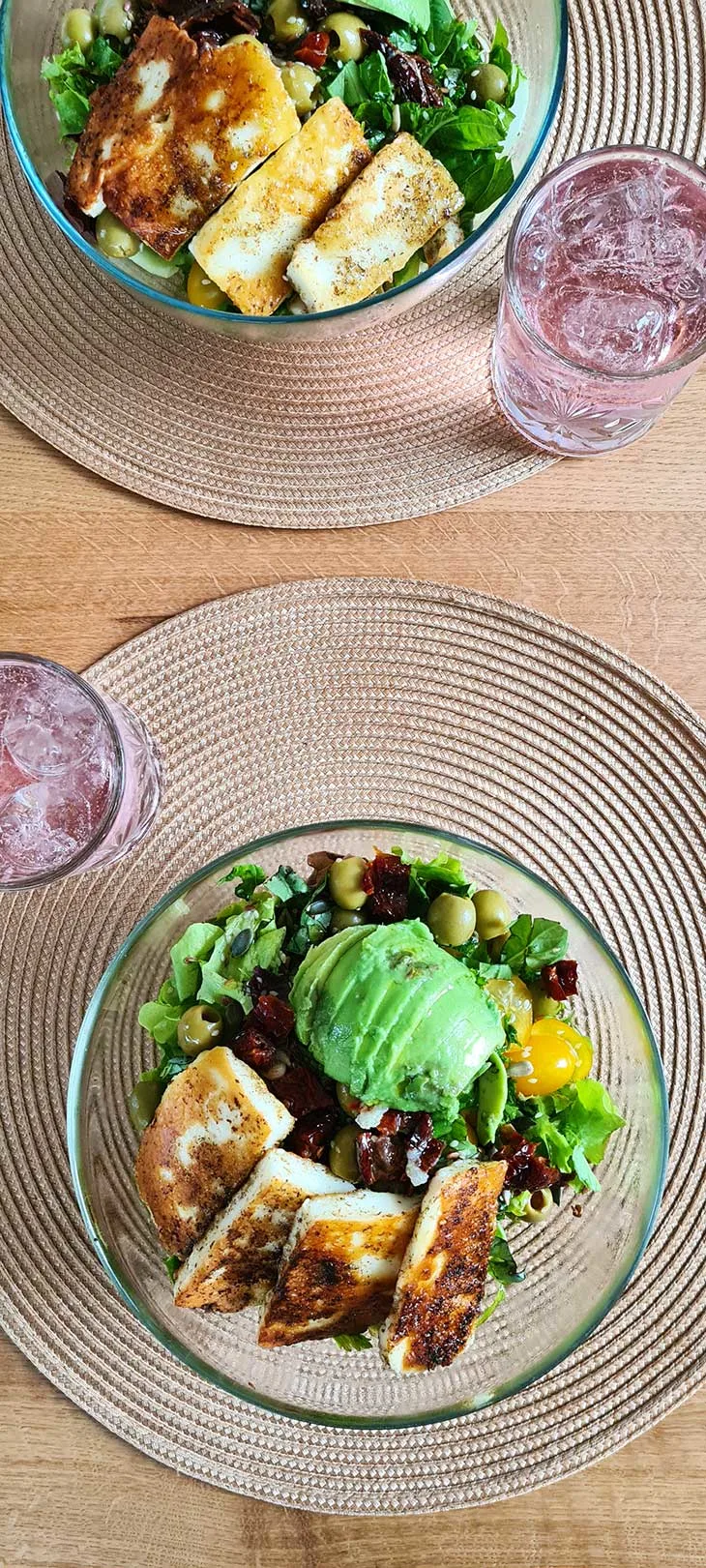 I feel blessed to finally have THE garden of my dreams! This is the first year I've taken up gardening and I find it wonderful! I simply cannot explain the amazing feeling of picking and eating produce grown by yourself, in your garden. Of seeing how the carefully sowed seeds become vigorous plants and how you can enjoy the results on a daily basis.
Maybe you've heard this a thousand times before, especially from people that have their own garden: home-grown vegetables and fruits simply can't compare to store-bought ones from the supermarket. And I can tell you that it's totally true and there's no placebo effect included here. I promise!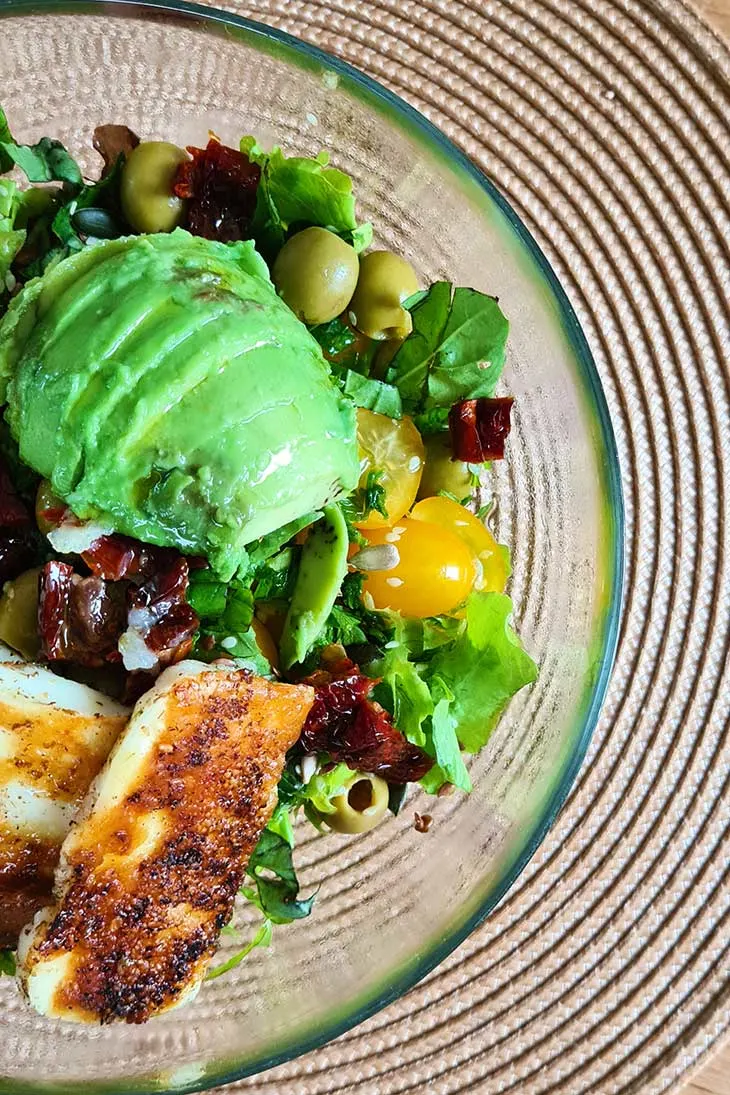 I've also made a fun test with my husband where we tried to guess which produce was from the supermarket and which is from our garden. We had our eyes closed and we tried it with cucumber, blueberries, tomatoes, and raspberry. We guessed them all! And the difference is quite huge.
Fortunately, we haven't bought any salad or lettuce from the supermarket since spring when we planted our own. We had and still have a super-rich harvest, lucky us! We had to trim the salad at some point, so we were left with a lot of fresh leaves to consume in the following days.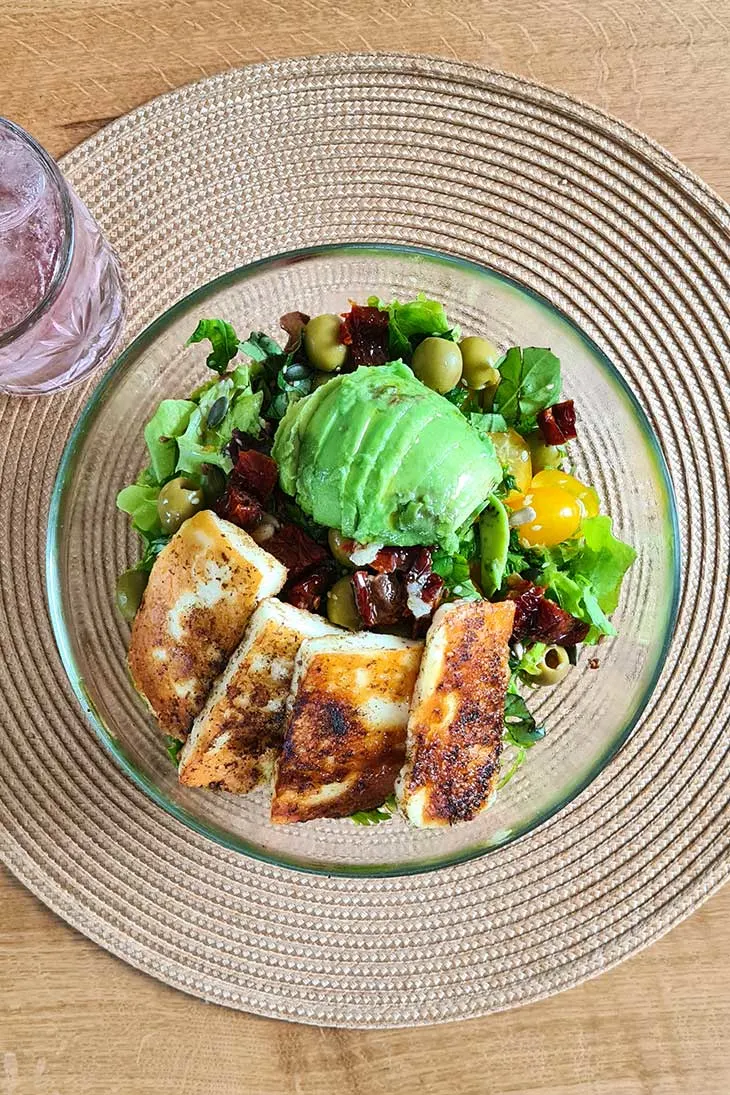 The ones we couldn't consume, we put into Ziplock bags and kept in the freezer. You might think this sounds weird, but let me assure you that salad leaves work wonderfully in soups too. Especially if you're making some hearty soups such as this Potato Cabbage Soup or this Gnocchi Soup.
Long story short – because of our salad abundance and hot temperatures, we started eating salads for dinner almost every day. Various combinations and flavors, all simple and nourishing. And we're enjoying them all!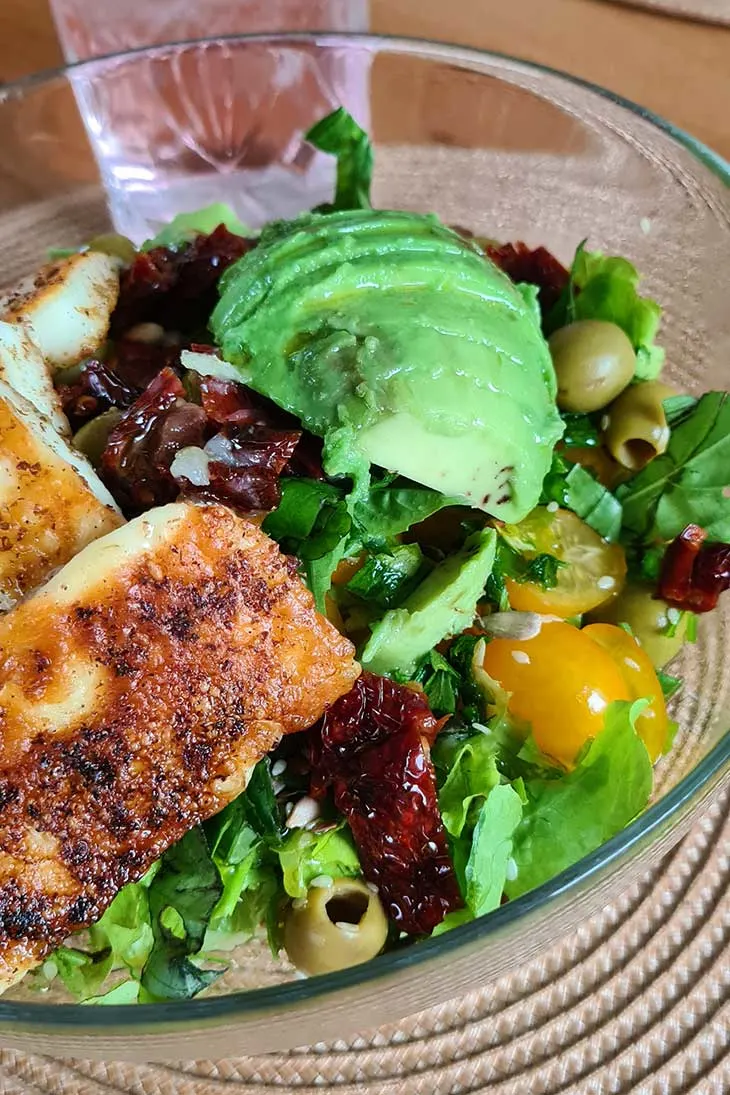 Today I decided to create a Greek-inspired salad that can literally teleport me in the middle of summer vacation whenever I'm making it. This is how I ended up with this grilled halloumi salad! 🙂
And my job was pretty easy once the inspiration struck! I combined all the good stuff: salad leaves, olives, cherry tomatoes, avocado, cucumber, sun-dried tomatoes, some seeds, lemon, olive oil, basil leaves, and more. And I topped everything with grilled halloumi, of course. The result? THE best grilled halloumi salad recipe I ever made! I'm 100% going to make it again this weekend because I'm craving a bowl while I'm writing this article!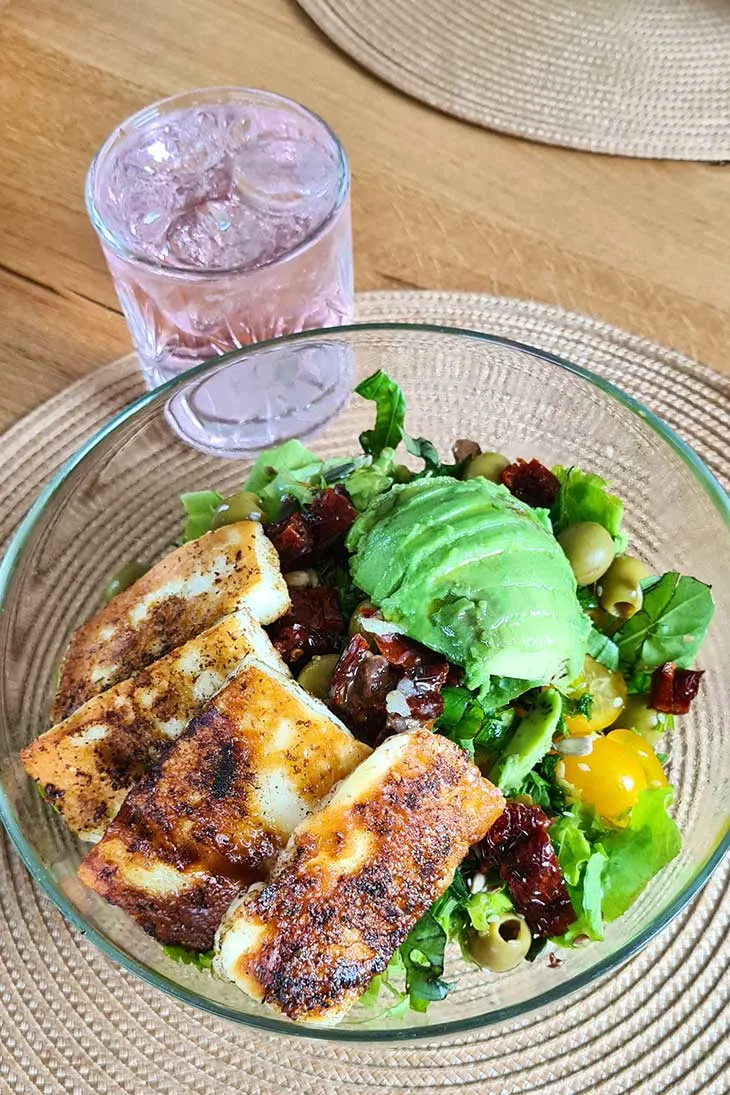 One of the best things about this salad (and salads in general) is that you can easily swap, mix and match your favorite ingredients without affecting the consistency of the final result. In case you don't like sun-dried tomatoes, for example, you can simply omit them. You can also add extra ingredients if you feel like it such as corn or chickpeas. The world is yours!
I honestly wish I could find this main-dish-type-of-salad in restaurants too! I'm talking about rich salads, with delicious dressing sauce, that are truly filling and yummy. You know, for those times when you don't feel like eating pasta or a burger again but you still want something that will keep you full for a couple of hours. Until then… I try to enjoy an incredible homemade salad every time that I can! 🙂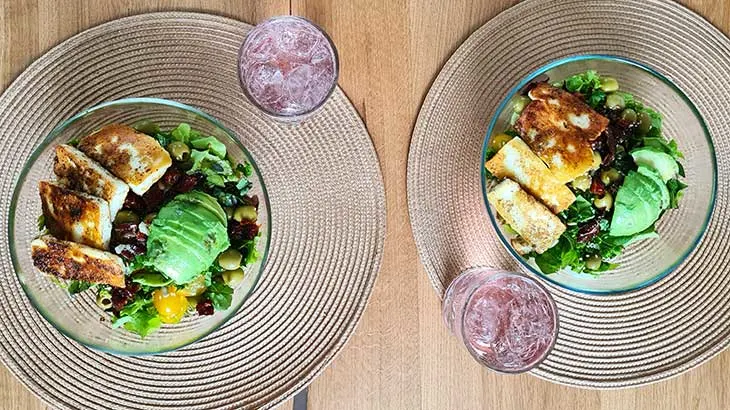 If you decide to try this grilled halloumi salad as well, don't forget to let me know how it went. And if you don't have your own garden, I hope you're using produce from the farmer's market at least, in case you have access to one. You'll see the difference right away!
Happy cooking!
Yield: 2 servings
Best Grilled Halloumi Salad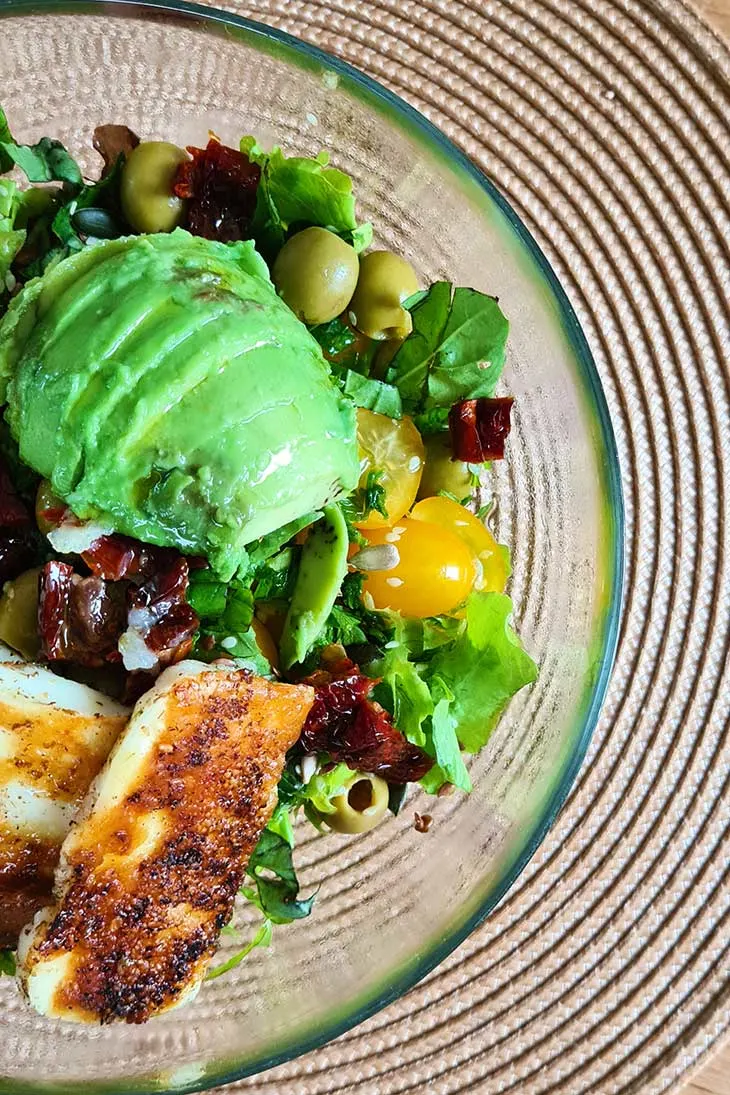 In need of a filling yet refreshing summer dish? Here's how to make the BEST grilled halloumi salad that's actually tasty and far from boring!
Ingredients
200g (7 oz) halloumi cheese
2 tsp za'atar
4 generous hands of mixed salad leaves
a few basil leaves
2 Tbsp seed mix (sunflower, flax, sesame, pumpkin, chia)
10 olives, seedless
10 cherry tomatoes, cut into halves or in 4
1 avocado, peeled and sliced
2 cucumbers, peeled and sliced
4 sun-dried tomatoes, in olive oil, cut into small pieces
4 Tbsp olive oil
juice from 1 lemon
Instructions
Because I made two portions, I divided the quantities into 2 bowls right from the start.
Cut the salad and basil leaves and put them in the bowls. Add half of the quantities for the tomatoes, sun-dried tomatoes, cucumbers, olives, seeds, and avocado into each bowl.
Add half of the olive oil and lemon juice quantity into each bowl.
Slice the halloumi cheese - I used 4 slices per portion.
Grease a pan with a little olive oil and put it on medium heat.
Add za'atar on each halloumi slice (on both sides) and fry them in the pan - around 2 minutes for each side.
Serve the halloumi slices on top of the salad.
Nutrition Information
Yield
2
Amount Per Serving
Calories

501
Total Fat

38g
Saturated Fat

15g
Trans Fat

0g
Unsaturated Fat

20g
Cholesterol

79mg
Sodium

810mg
Carbohydrates

19g
Fiber

9g
Sugar

7g
Protein

25g
I strive to keep the information as accurate as possible but make no warranties regarding its accuracy. I encourage you to make your own calculations using your preferred nutrition calculator.