Here's how to make some amazingly delicious creamy asparagus pasta with green pesto. Easy, quick, and extremely yummy. Give it a try!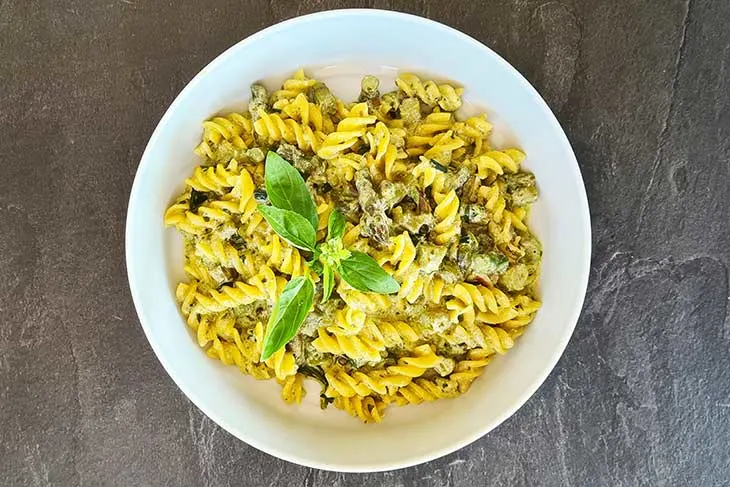 Confession time! I decided to change things on the blog a little – I decided to start posting more of the day-to-day recipes I'm making for lunch or dinner. These are yummy, easy recipes for everyday cooking that I made and loved, but for which I didn't have any time to take "professional" pictures with my camera because I was just TOO hungry. I have so many recipes like this that I didn't share with you guys because I felt the visuals are "not worthy". I had no props, no proper light, and no fancy plating. But I won't let that stop me ever again!
So for this recipe, I only have a couple of photos taken with my phone, but what's important here is the taste and the actual recipe. No perfect pictures ahead, just the real, non-polished food that I eat in my real life. 🙂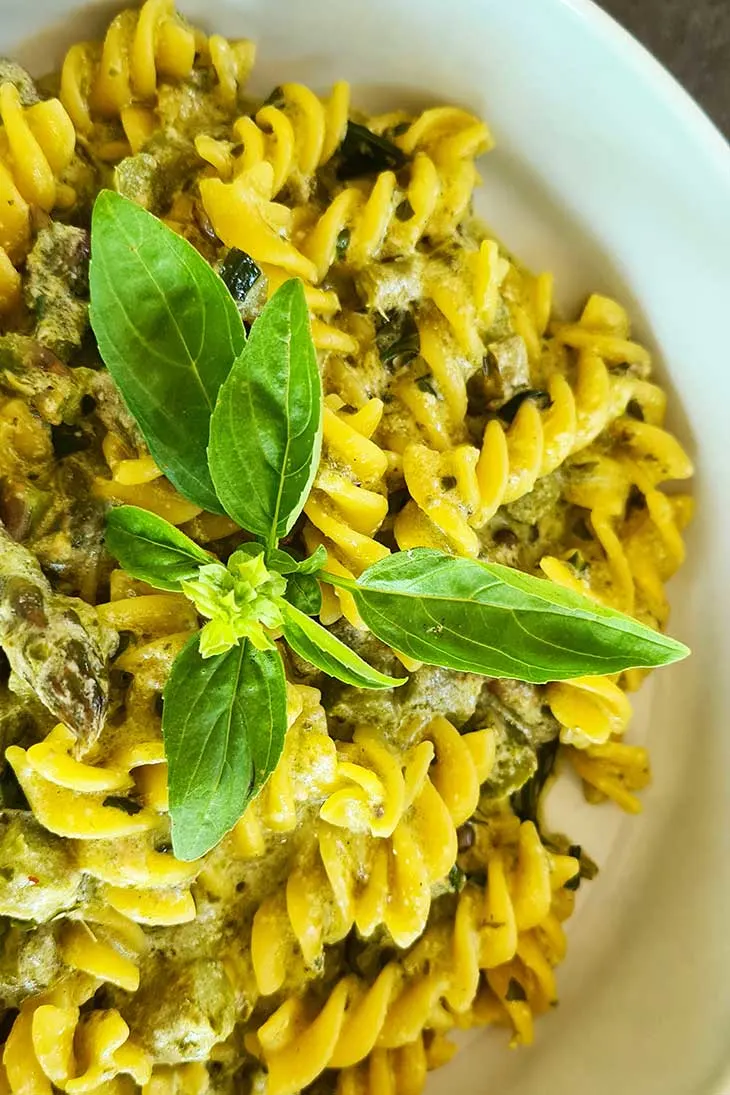 There are days when I'm in the mood for something creamy and comforting. And I have plenty of options for this – maybe a casserole or some lasagna? Or a creamy soup? Endless ideas! But this time I wanted to try something different. I was craving asparagus AND pasta, so the next best thing to do was this creamy asparagus pasta with green pesto. And it ended up pretty amazing, I must admit!
I know there are people here that dislike asparagus. Or people that have no idea how to include it in recipes or how to consume it differently than a steamed side dish. And I think that's such a shame! Let this recipe be a little dose of inspiration for you and let me teach you how to create the creamiest sauce with asparagus! 🙂 Are you ready?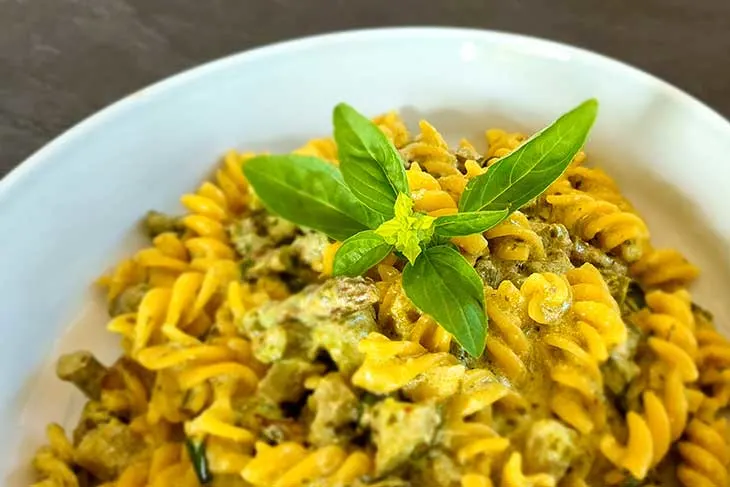 Although it may look like a simple veggie, asparagus is known to be one of the most well-balanced vegetables in the world. It's nutrient-dense, it has a subtle taste and, moreover, it's SO easy to cook!
Asparagus is rich in potassium, folic acid, fiber, and lots of vitamins such as A, C, and B6. And I think that's pretty amazing! Including more veggies in your daily diet is always a good idea and asparagus should definitely be one of them. It's actually one of my latest obsessions!
Let's not forget about one important thing: although it's rich in nutrients, asparagus is very low in calories. A cup of cooked asparagus (that's about 90-100 grams) only has 20 calories. 20! Can you believe it! And 2.2 grams of proteins – and we all know just how important proteins are, especially in a vegan diet. Definitely recommended!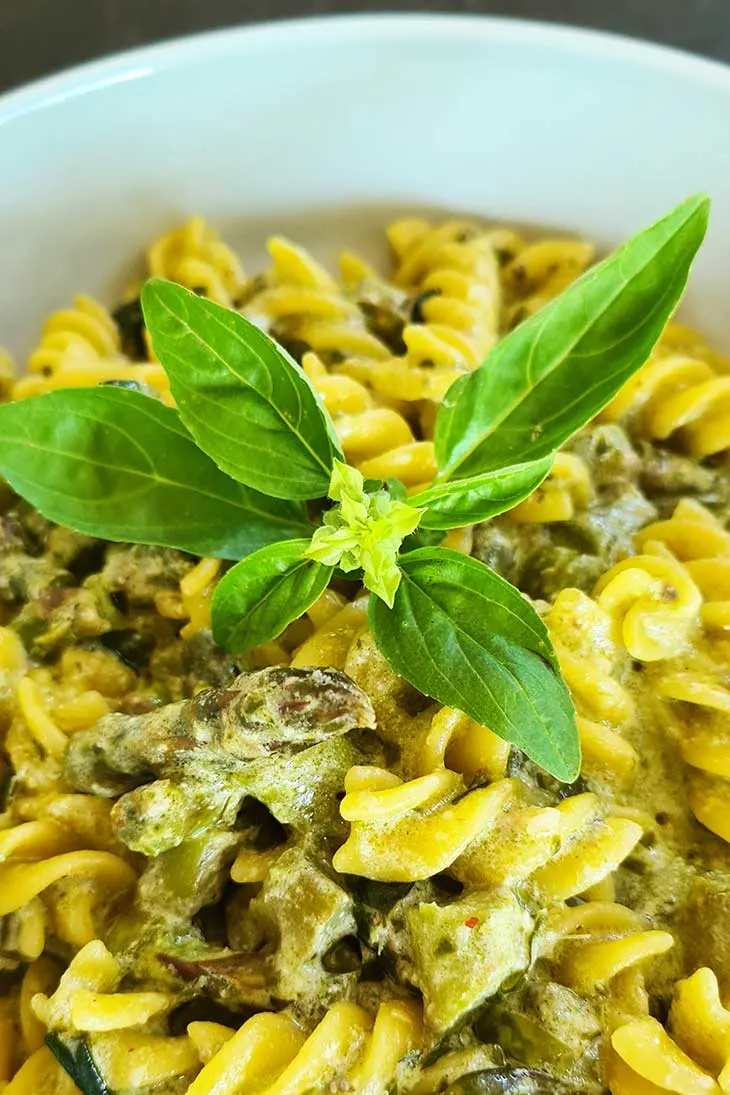 Talking about the health benefits of asparagus, I must mention that it's an excellent source of antioxidants, it's good for our digestion thanks to the big amount of fiber, it's recommended for pregnant women as well thanks to its huge intake of vitamin B9 (folate) and it can also help to lower our blood pressure. And if this info can't convince you to eat more asparagus from now on, I don't know what will!
Everyone knows just how easy and quick it is to cook asparagus – and this creamy asparagus pasta is a perfect example! You'll only need some asparagus (duh!), garlic, fresh basil, green pesto (homemade if you can!), olive oil, soy vegan cream, some nutritional yeast and that's basically it! Sautee, mix, pour the pasta and your meal is done.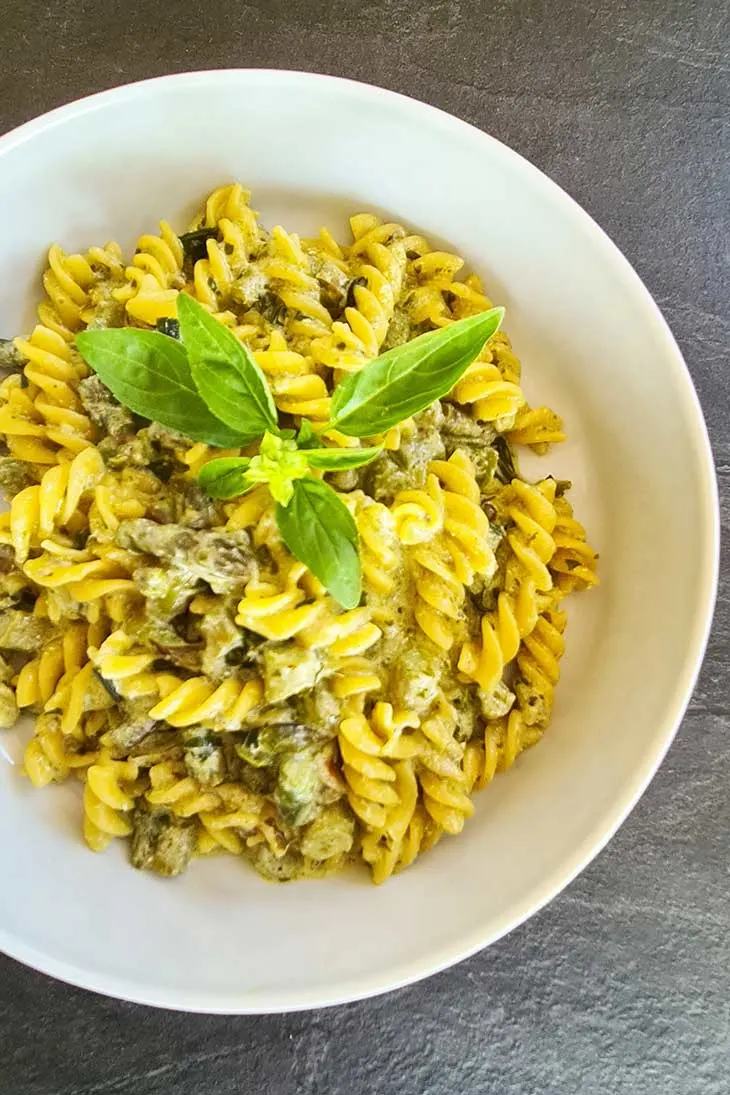 One of the best things about this creamy asparagus pasta is that it's ready in no time. You'll only need 5 minutes for the asparagus and another 3-4 minutes for the rest of the sauce. Meanwhile, you can boil the pasta according to the instructions and, if I think about it, your creamy asparagus pasta shouldn't take more than 10 minutes to be done – prepping included!
Of course, it can take longer in case you decide to prepare some homemade green pesto before making your pasta, but it can still be a super nice activity. I think this recipe works wonderfully for lunch or dinner, especially during the weekdays when you don't have a lot of time on your hands. This creamy asparagus pasta is super efficient – just how I like my food! And if you dislike spending a lot of time in the kitchen as much as I do, then you'll surely fall in love with this recipe in an instant.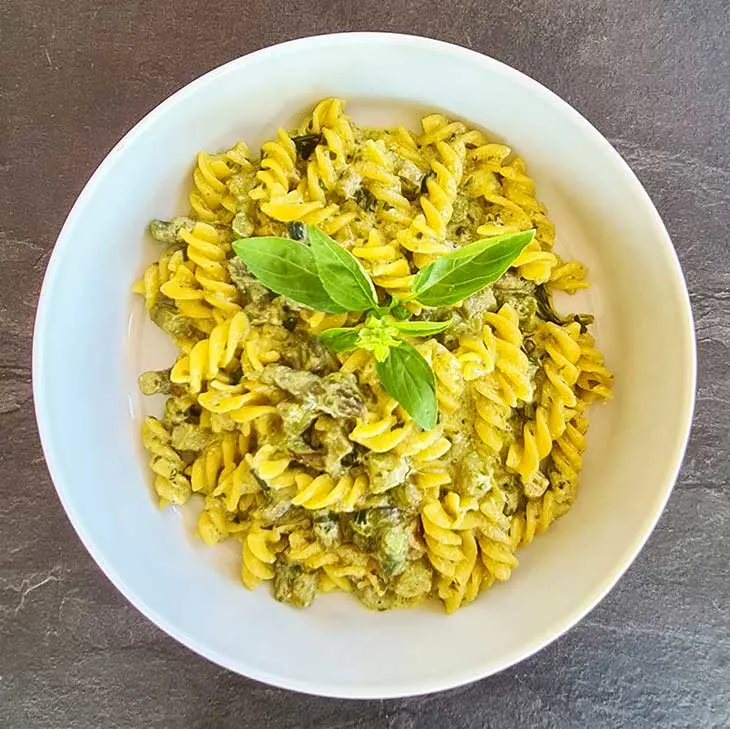 Now I'm sure you're eager to give this creamy asparagus pasta a try soon. If you decide to do so, don't forget to let me know how it went – I'm so curious to read your opinions in the comments! Until then, happy cooking! 🙂
Yield: 2 servings
Creamy Asparagus Pasta with Green Pesto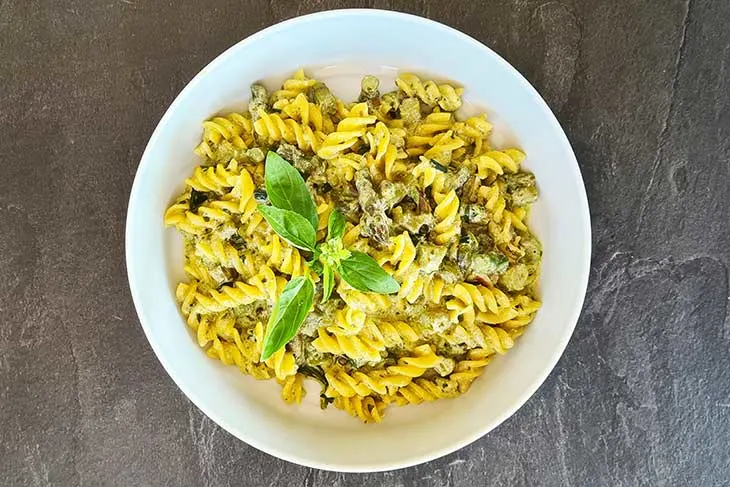 Here's how to make some amazingly delicious creamy asparagus pasta with green pesto. Easy, quick, and extremely yummy. Give it a try!
Ingredients
200g (7 oz) pasta, I used fusilli. Use gluten-free if needed
200g (7 oz) asparagus, stalks, cut into 2-3cm pieces - we'll only use the upper parts, which are more tender. you can keep the lower halves too, cut them into thin slices and use them for soups or risotto
4 garlic cloves, sliced
a handful of fresh basil
2 Tbsp green pesto, homemade or store-bought
1 Tbsp olive oil
250ml (1 cup) vegan soy cream - I always use the soy one from Alpro
1 Tbsp nutritional yeast flakes
salt and pepper, to taste
Instructions
Boil the pasta according to the instructions on the package.

Add the olive oil to a pan. Add the sliced garlic and asparagus. Sautee for 4-5 minutes on medium heat.

Set the heat to a minimum and add the pesto, fresh basil (chopped), soy cream, nutritional yeast, salt, and pepper.

Once the pasta is cooked, add them to the pan and mix. If needed, fix the consistency with a little pasta water.
Nutrition Information
Yield
2
Serving Size
1
Amount Per Serving
Calories

782
Total Fat

62g
Saturated Fat

32g
Trans Fat

2g
Unsaturated Fat

26g
Cholesterol

146mg
Sodium

283mg
Carbohydrates

44g
Fiber

6g
Sugar

6g
Protein

17g
I strive to keep the information as accurate as possible but make no warranties regarding its accuracy. I encourage you to make your own calculations using your preferred nutrition calculator.