This chocolate magic custard cake is not only extremely easy to make but also delicious and has a rich, decadent chocolate flavor! Give it a try!
First of all, I want to say a big THANK YOU to Jo from JoCooks! I found this decadent chocolate magic cake recipe on her blog and decided to give it a try. This is a Romanian recipe, usually known as "The Smart Cake". I've heard about it a long time ago but never tried it myself.
I was intrigued by its name and decided to try it in a gluten-free, refined sugar-free, dairy-free version. I didn't have the courage to make it egg-free as well, and therefore vegan, in the first attempt, but I will experiment and try with aquafaba. Maybe it works. Anyway, I loved the result! It turned out just perfect. I used Jo's recipe as an inspiration and adapted it from there.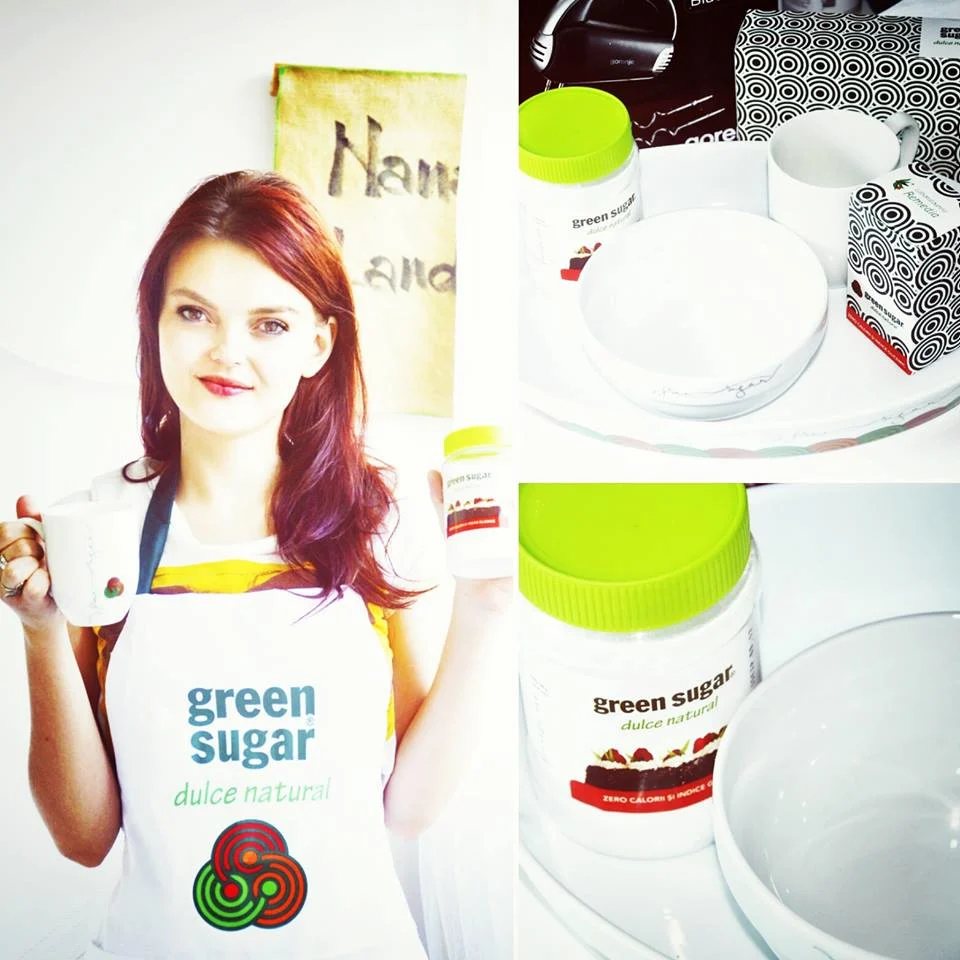 With this chocolate magic custard cake recipe, I participate in the awesome bloggers' campaign organized by Green Sugar Romania. Ever since I discovered their products, I ditched sugar and started using stevia powder instead. In my opinion, it's the best stevia powder on the market! It tastes just like sugar. It's not sweeter either, I find it exactly as sweet as sugar is. Love it!
Because this is a Romanian brand and I don't think they currently sell their products in other countries as well, I will give more details about this campaign on the Romanian version of this recipe.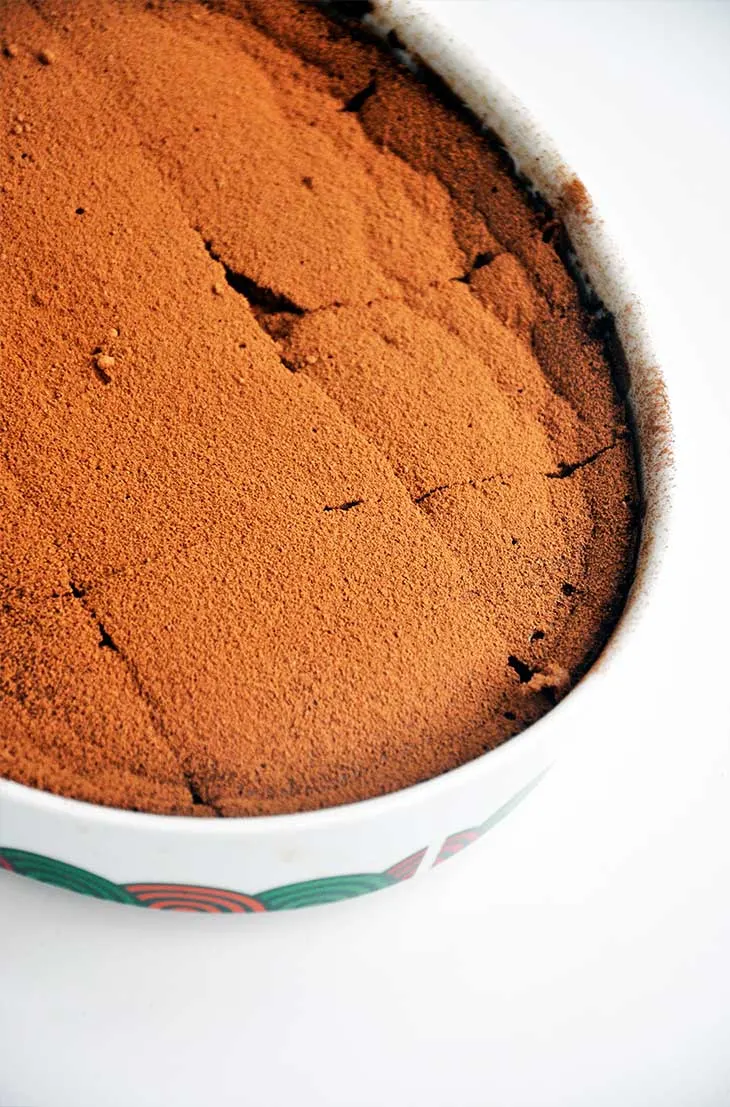 I will definitely make this awesome magic custard cake again. It's not only extremely easy to make but also delicious! I will try it with other flavors too. What do you say about peanut butter and/or coffee? Sounds good, right?! 😀
Until I experiment with new flavors, check out the recipe below for this chocolate magic custard cake.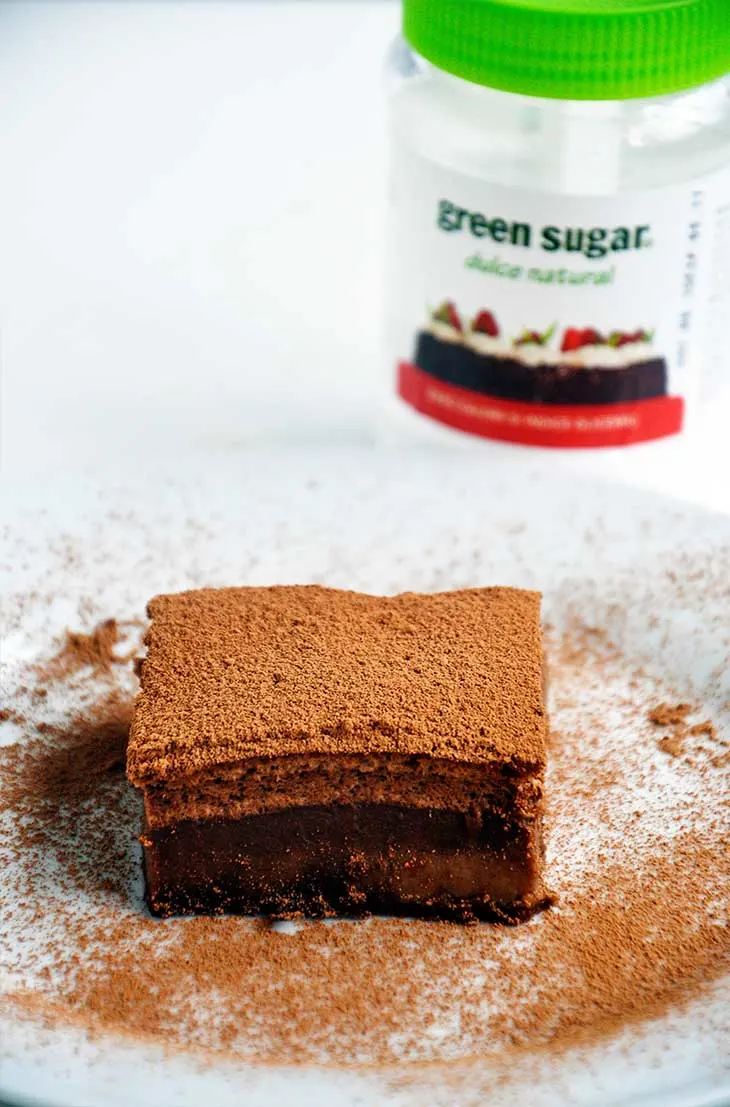 Yield: 12
Chocolate Magic Custard Cake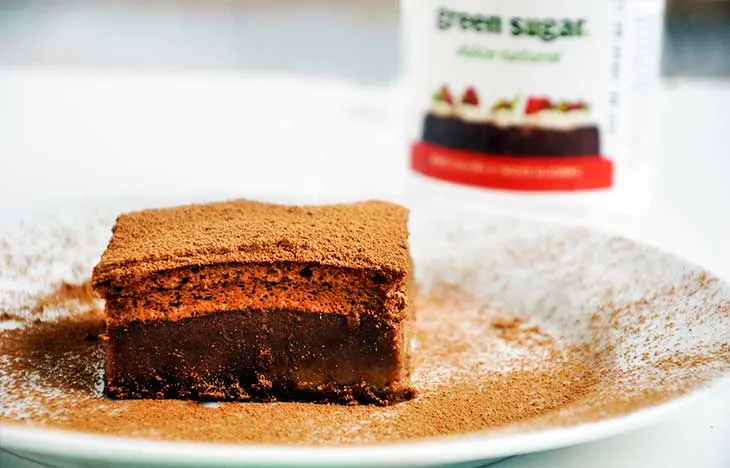 This chocolate magic custard cake is not only extremely easy to make but also delicious and has a rich, decadent chocolate flavor! Give it a try!
Total Time
1 hour
15 minutes
Ingredients
6 eggs, at room temperature and separated
1 ½ Tbsps water
250g (8.8 oz) stevia powder, or the same amount of sugar if you want
200g (1 cup) coconut oil, melted
100g (¾ cup) gluten-free flour, I used MixIt by Schar, but you can also use all purpose flour if you don't need to make this gluten-free
9 Tbsps cocoa powder
750 ml (3 cups) soy milk, warm (or dairy milk, if you don't want to make this recipe dairy-free)
pinch of salt
2 tsps vanilla powder
1 Tbsp rum
1 ½ tsps apple cider vinegar
Instructions
Preheat oven to 325 F / 190 C degrees. Grease and flour a baking pan. Mine was oval-shaped (see photos) with approx. 35cm in lenght and 25cm in width.
Separate the eggs and add the egg yolks to a bowl. Add the water and Green Sugar/sugar to the egg yolks. Beat this at high (using a hand mixer or a professional mixer) for a couple of minutes.
Add coconut oil (or melted butter), vanilla, rum and salt to mixer and continue beating until butter/oil is fully incorporated.
Mix the cocoa and flour together in a bowl and add to the mixing bowl in batches, Mix thoroughly.
Add the milk a bit at a time and mix. The mixture will be almost liquid, but don't worry.
In a separate large bowl, add egg whites and vinegar and mix until egg whites are stiff.
Add a bit of the egg whites to the cocoa mixture and gently fold in. Next you reverse and add a bit of the chocolate mixture to the egg whites. Repeat until everything is well mixed.
Pour the batter in the baking dish and bake for 50-60 minutes or until done. The baking time may differ, depending on your oven.
Very important! Let it cool completely before cutting. When cooling the layers of this magic cake will separate. When hot, the cake will still be jiggly and won't have the proper texture.
Notes
I used an oval-shaped ceramic baking dish with approx. 35cm in lenght and 25cm in width.
Nutrition Information
Yield
12
Amount Per Serving
Calories

776
Total Fat

30g
Carbohydrates

75g
Protein

50g
I strive to keep the information as accurate as possible but make no warranties regarding its accuracy. I encourage you to make your own calculations using your preferred nutrition calculator.