Here's how to make porridge perfectly every time! This quick guide will show you some useful tips for the perfect porridge recipe, plus some delicious porridge toppings ideas.
Can you believe this is the first time I made and ate porridge?! Jamie Oliver is responsible for opening up my appetite for this popular healthy breakfast/dessert. I saw this video on the Jamie Food Tube and loved all the ideas! This sounded like an amazing sweet breakfast and decided to give it a try right away.
But, what is porridge? Simply put, it'a mush of cereals – cereals boiled in liquid and turned into a creamy, delicious and healthy meal. I used oats to make this so you can call it oatmeal as well, but you may use amaranth, cornmeal, and other cereals to cook porridge. The difference between porridge and oatmeal is the main ingredient – in this case, oats. If you make an oat porridge you can call it oatmeal, but porridge is extended to other cereals too.
Porridge is incredibly easy to make if you follow some simple yet important tips.
Tips on how to make porridge – perfect every time!
If you want to make an oats porridge, use coarse oats, not quick-cooking oats.
Use a 1:3 oats-water ratio. For 1 serving I use 1/2 cup of oats and 1 1/2 cups of water.
Always boil oats in water, not milk! You can add a splash of dairy or veg milk after the porridge is ready, but don't boil the oats in milk from the start or else it will foam and you'll probably have to clean your stove afterward.
Add a pinch of sea salt into the boiling water. It enhances the flavors.
Use a wooden spoon to stir the oats while boiling. Stir continuously or else they may stick to the pot.
Once the water starts boiling, turn the heat down to medium-low.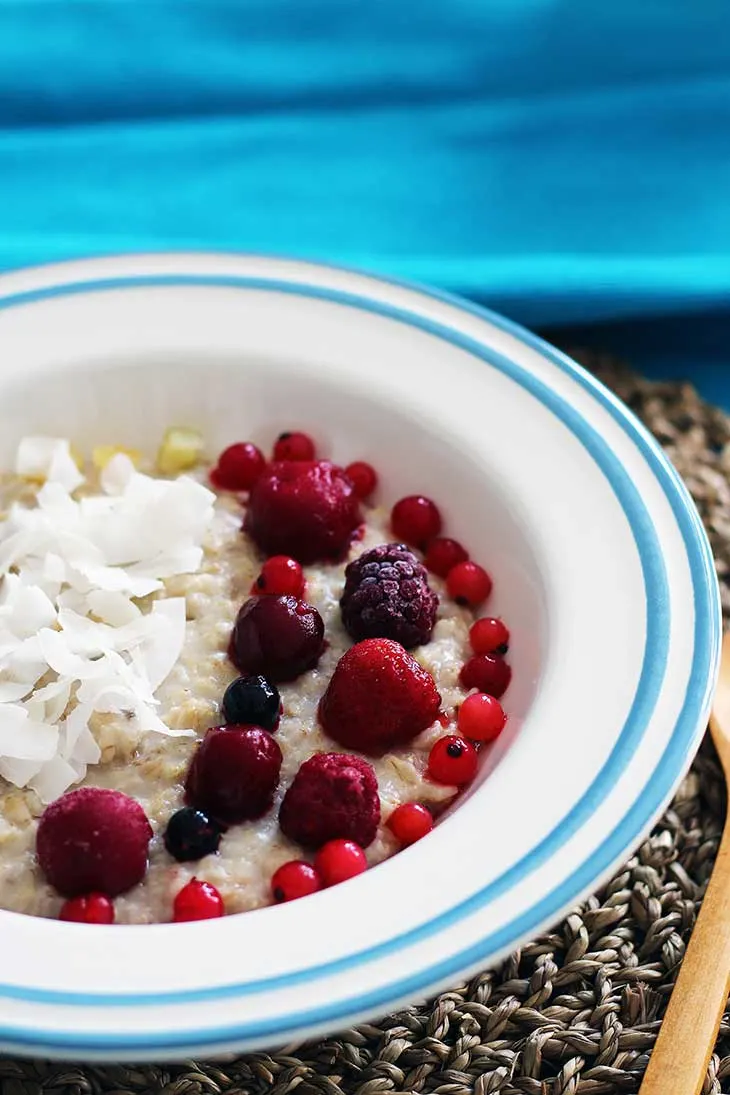 The health benefits of porridge / oatmeal
Did you know that oats are among the healthiest grains on Earth? They're naturally gluten-free (though if you're a coeliac make sure you buy only certified gluten-free oats as there's a risk of cross-contamination) and high in fiber and proteins!
Oats are a great source of manganese, phosphorus, and magnesium, among other vitamins and minerals. Their carbs, fats, protein and overall nutrients ratios make them some of the most nutrient-dense foods you can eat! They're also rich in antioxidants and have weight-loss, blood sugar control and cholesterol-reducing properties due to their high-fiber content.
Oats are not only good to eat but also to put on your skin! There are so many DIY recipes on the web for oats-based face masks and body scrubs.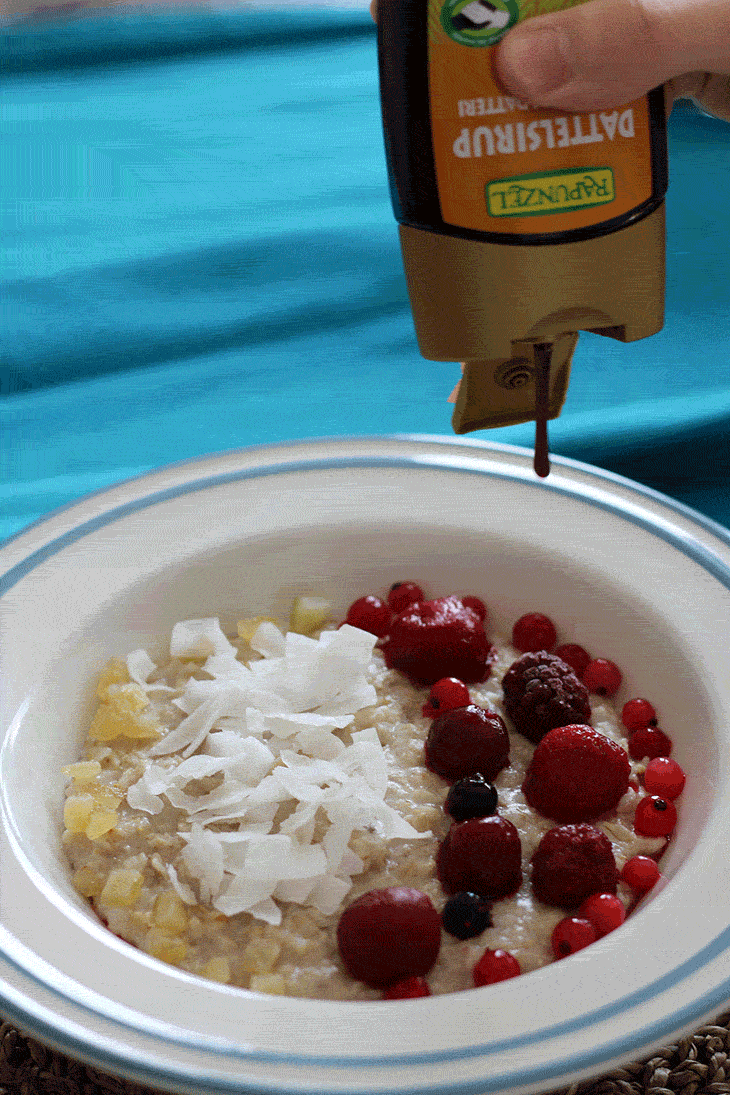 More porridge toppings ideas
You can eat oatmeal with any favorite toppings you want. I never add a sweetener while the oats are boiling. I always add the sweeteners after I pour the porridge in the bowl. Also, I try not to overdo it and add small amounts of healthy sweetener like stevia or date syrup. I prefer to add more fruits for a sweeter flavor.
You can check out Jamie's porridge toppings suggestions in the video mentioned above or try some of my other ideas presented below:
Apple Pie Porridge: cardamom, cubed apples, cinnamon and brown muscovado sugar. Add these to a small pan with 2 Tbsps of water and a splash of lemon juice and cook on medium-low heat until the apple cubes soften a bit. Serve on top of the porridge. You can also add some raisins!
Banana & Peanut Butter Porridge: Simple! Slice a banana and add 2-3 dollops of peanut butter into the porridge. Make it even better by grating some dark chocolate on top.
Tropical Porridge: You'll need some pineapple, fresh or canned, cut into small cubes, coconut milk (the full fat, cream type) coconut flakes, brown sugar and rum. Place the pineapple and sugar in a pan, splash it with rum and cook on medium-low heat until the pineapple caramelizes a bit. Mix 2 Tbsps of coconut milk into the porridge. Serve the caramelized pineapple on top of the porridge with coconut flakes.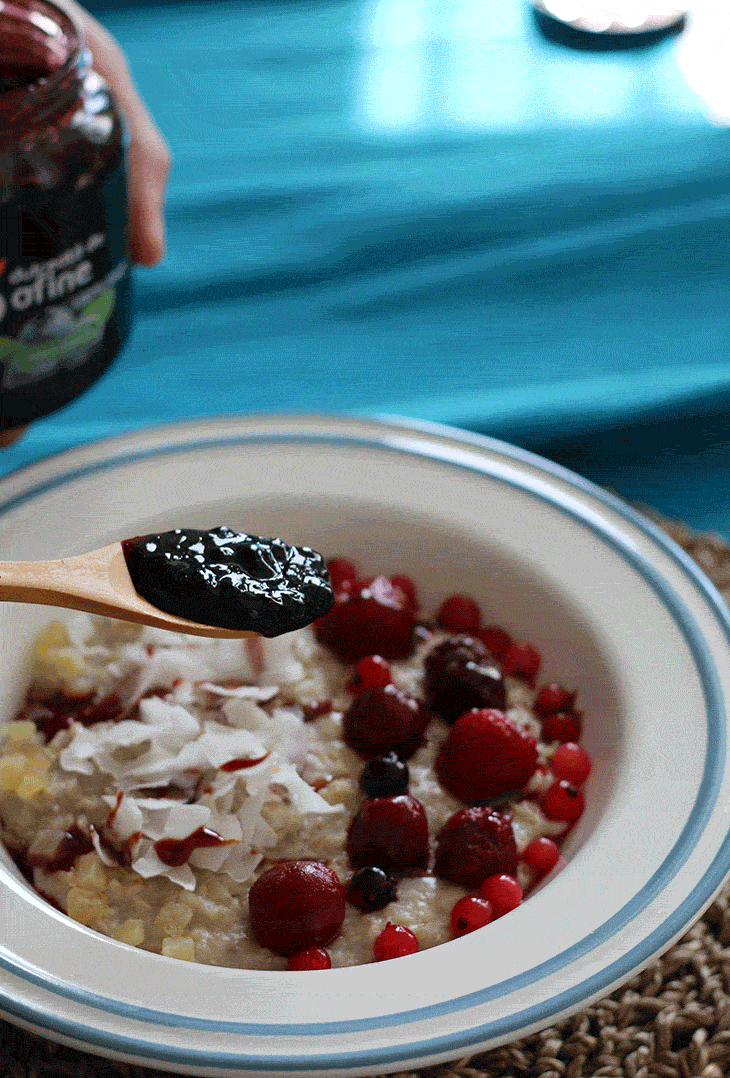 The frozen berries topping is the one I will probably use often as I always have frozen forest berries in my freezer. They're perfect for smoothies, ice cream or I just eat them just as they are when I crave something sweet.
Feel free to be creative and make your own favorite porridge toppings but make sure you keep it healthy, so use more fruits and healthy sweeteners.
You can eat porridge for breakfast or you can make it whenever you crave something sweet but guilt-free. 🙂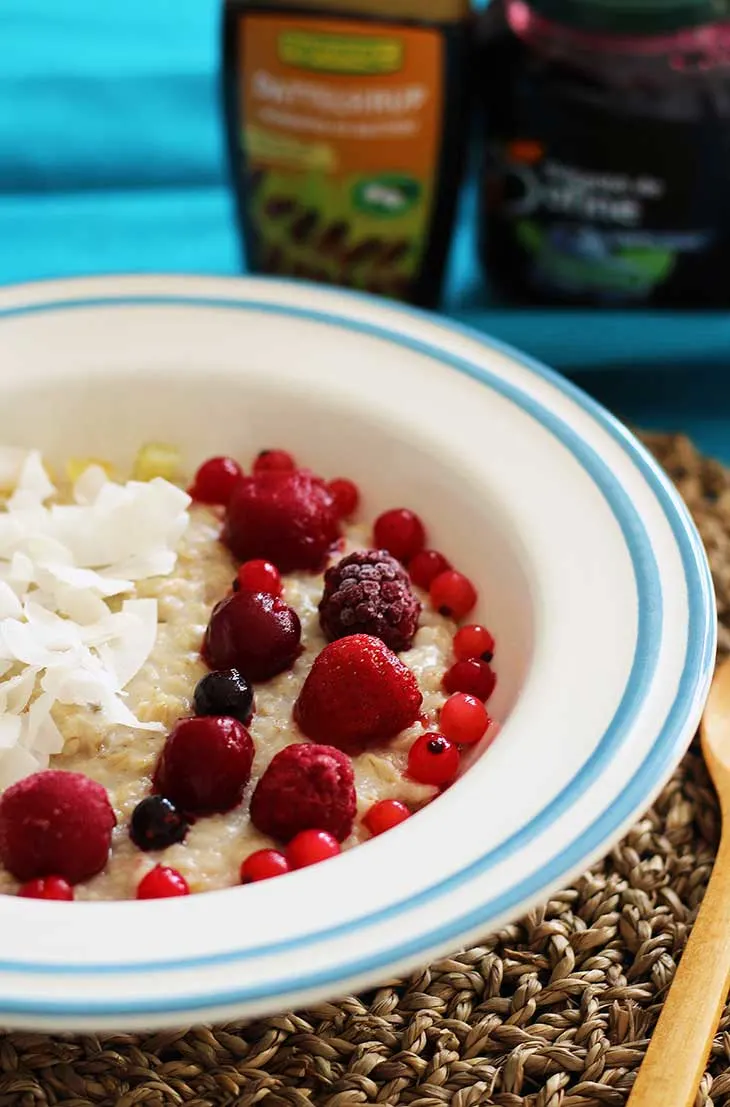 Hope you'll like my quick guide on how to make oatmeal porridge perfectly every time! What's your favorite porridge topping and how do you usually cook porridge? Drop me a comment below! I'd love to get some new ideas!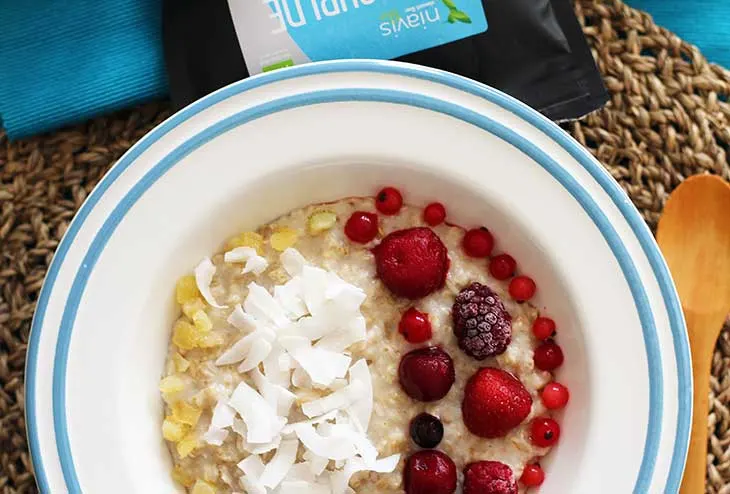 Yield: 1
How to make porridge - perfect every time!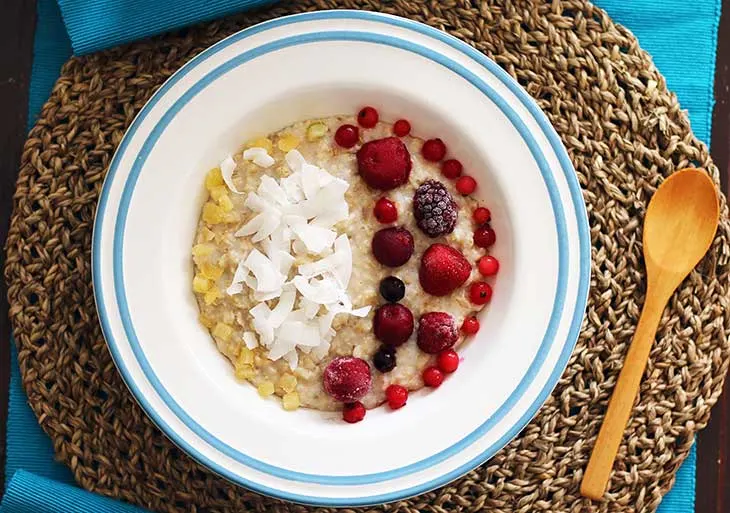 Here's how to make porridge perfectly every time! This quick guide will show you some useful tips for the perfect porridge recipe, plus some delicious porridge toppings ideas.
Ingredients
45g (½ cup) coarse oats
360ml (1 ½ cup) water
a pinch of salt
Toppings:
frozen or fresh berries - my mix contained black and red currants, raspberries, blackberries, strawberries and even some pitted sour cherries
1 Tbsp sugar-free preserved lemon zest
2-3 Tbsps coconut flakes
date syrup, to taste
1 Tbsp sugar-free blueberry jam
Instructions
Add the oats to a pot. Pour the water and add a pinch of salt.
Bring to a boil over high heat then lower the heat to medium-low.
Stir constantly using a wooden spoon.
Once it thickens it's ready - about 10-15 minutes in my case.
Pour the porridge into a bowl.
Add the toppings and serve right away.
Nutrition Information
Yield
1
Amount Per Serving
Calories

671
Total Fat

8.7g
Carbohydrates

134.7g
Protein

13.g