Tarte Tatin has never been easier to make! This pear tarte Tatin recipe is a simple, easy dessert anyone can make! Plus, its vegan too!
Tarte Tatin is a popular French dessert named after the Tatin hotel which invented this signature dish. Basically, it's a simple, yet delicious upside-down tart made with a pastry crust. It's originally made with apples caramelized in butter and sugar, but you can use other fruits as well, like pears, peaches, pineapple or even make a savory version using tomatoes, onions and other veggies! 🙂
I'm actually looking forward to making this amazing pastry recipe with eggplants or zucchinis. I think the result will be amazing! Just imagine those perfect eggplants drizzled with olive oil, cooked with flavorful sage and garlic and baked upside down in a crispy and flaky pastry crust. Yum!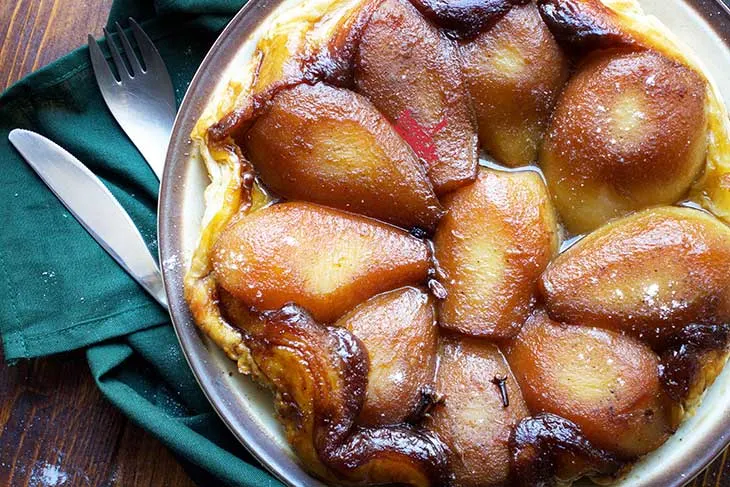 Tarte Tatin wasn't unfamiliar to me at all, but I've never cooked it myself. I've enjoyed it made by some friends, at restaurants, but as I'm not really a fan of baking sweets I was never tempted to give it a try myself. Until now.
I decided to turn this popular French dessert into a vegan delight. It was easier than expected! All I had to do is use a vegan pastry which can be found in almost any store and replace butter with some solid coconut oil. The result – just as delicious as the original!
Hope you'll give it a try. If you want to impress your guests, friends or family but don't want to cook anything complicated, this pear tarte Tatin recipe may be exactly what you're looking for. 🙂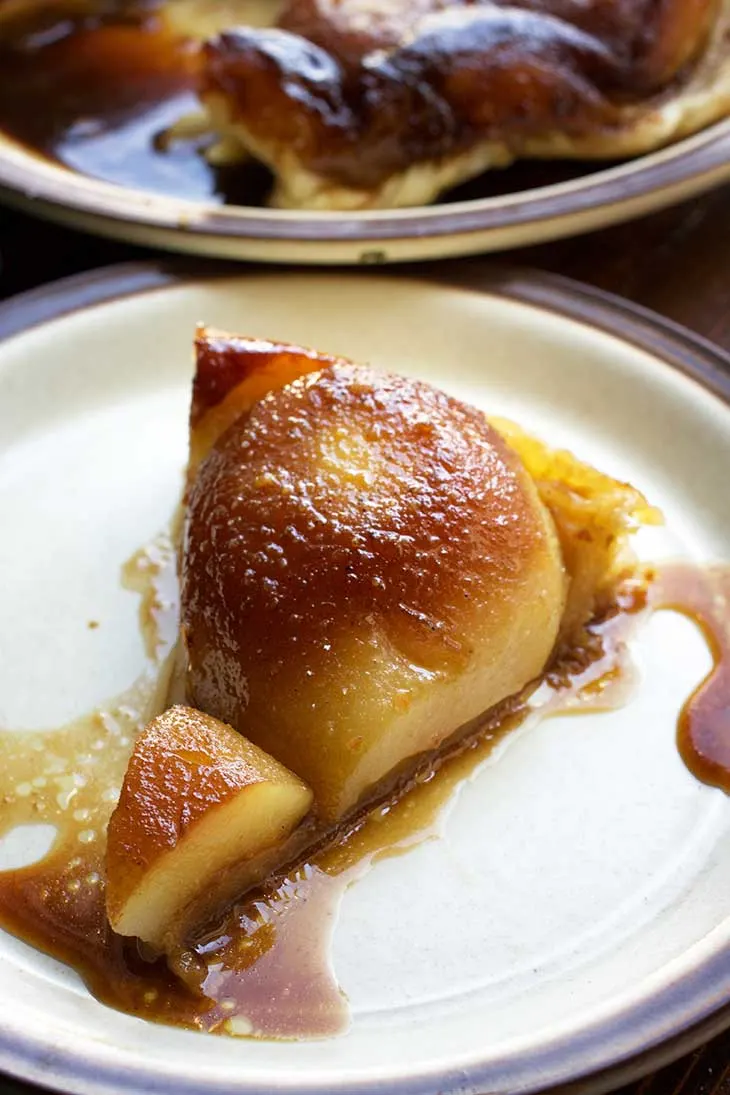 Yield: 4
Pear Tarte Tatin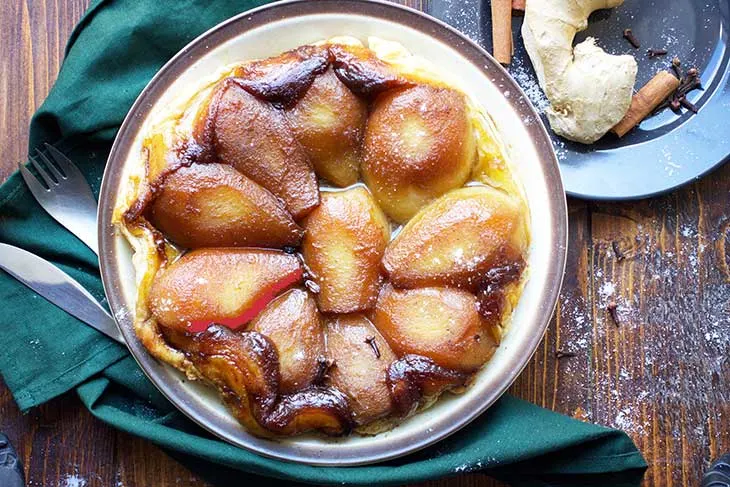 Tarte Tatin has never been easier to make! This pear tarte Tatin recipe is a simple, easy dessert anyone can make! Plus, its vegan too!
Ingredients
170g (½ cup) molasses sugar
80ml (⅓ cup) apple cider
4 Tbsps coconut oil, cold, solid
1 tsp freshly ground ginger
½ tsp ground cardamon
1 tsp cloves
5 medium pears, peeled, halved and cored
⅓ tsp vanilla seeds
1 sheet vegan puff pastry
Instructions
Preheat the oven to 200C/400F.
In an oven-friendly skillet, on medium heat, add the molasses sugar and apple cider. Stir to incorporate until the sugar is melted.
Add the freshly ground ginger, cardamom, cloves, vanilla and cook about a minute, until the caramel comes runny. Turn the heat to low.
Add the pear halves and stir to cover them with caramel.
Arrange them in a single layer, front side down.
Turn over the heat and add the coconut oil.
Carefully place the pastry sheet on top, using a wooden spoon or a rubber spatula, tuck in the edges along the edge of the skillet.
Place it in the oven and bake about 30 minutes or until the crust is golden.
Let it cool about 20 minutes
Place a dish on top of the skillet and, with a quick move, invert the skillet.
Serve!
Nutrition Information
Yield
4
Amount Per Serving
Calories

457
Total Fat

17.3g
Carbohydrates

73.5g
Protein

1.6g