Are you craving a comforting, delicious and meal-prep friendly dish? Don't worry, I got your back with this awesome recipe for potato and meatballs casserole! Give it a try, it's incredibly good and easy to make!
Did I say…umm…meatballs? Yes, but no worries, I'm talking about the vegan version, as always!
I know there's an ongoing debate about whether we should use meat names for vegan ingredients and foods. I think it's no problem since in our community we all know what we're talking about. I don't think there's any risk of a non-vegan getting tricked into eating non-meat stuff. And even if this happens, I promise that all the recipes on this blog are just as tasty! Or even better. 🙂
Sorry about the long intro. As you probably guessed from the title, today we are going to prepare some potato and "meatballs" casserole!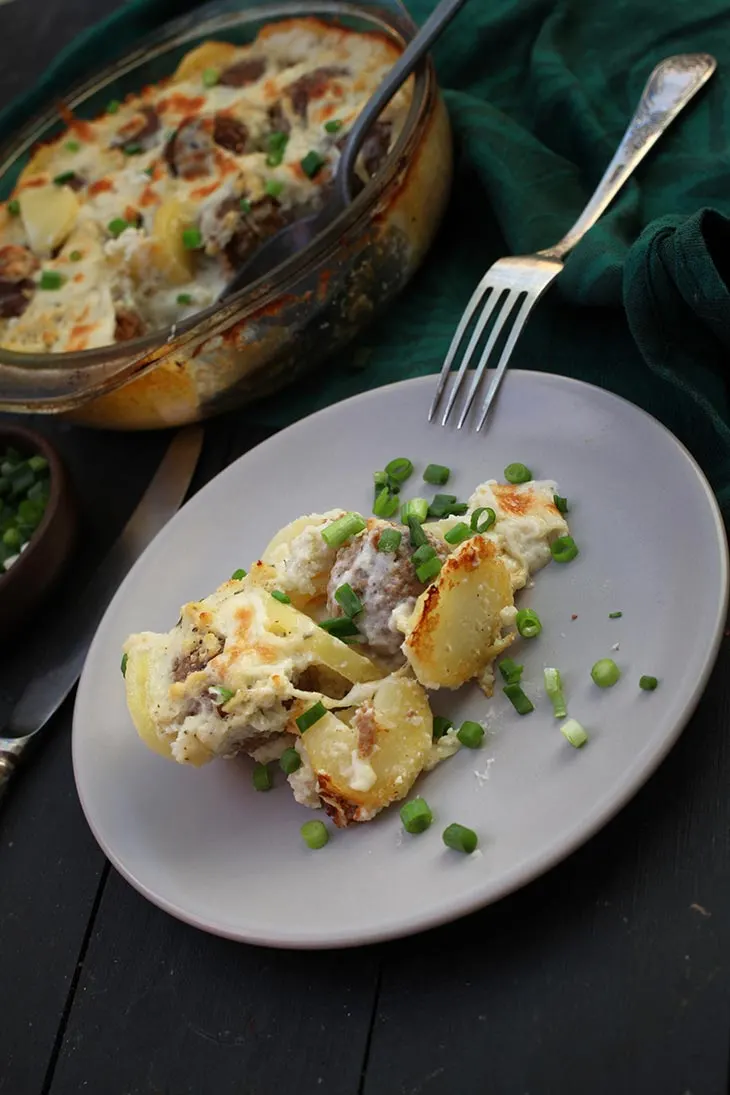 I know that my upcoming week is going to be quite busy, so today I wanted to cook something that will last me for a few days. And this is exactly that kind of meal since it keeps perfectly refrigerated for a few days, and you won't have to worry about what you should eat tomorrow. And it's so tasty that you will anyways want more..and more..and more!
But don't worry, it's still super easy to make! 🙂
For this recipe, you will need an oven, as the casserole will be baked. I wanted to go for something extra-healthy, and we all know that baking is better than frying.
I once took some of this potato and "meatballs" casserole to work and some of my colleagues were really intrigued about how this recipe can be this tasty! I think the fact that the "meatballs" are plant-based actually makes if better than if they were made of actual meat!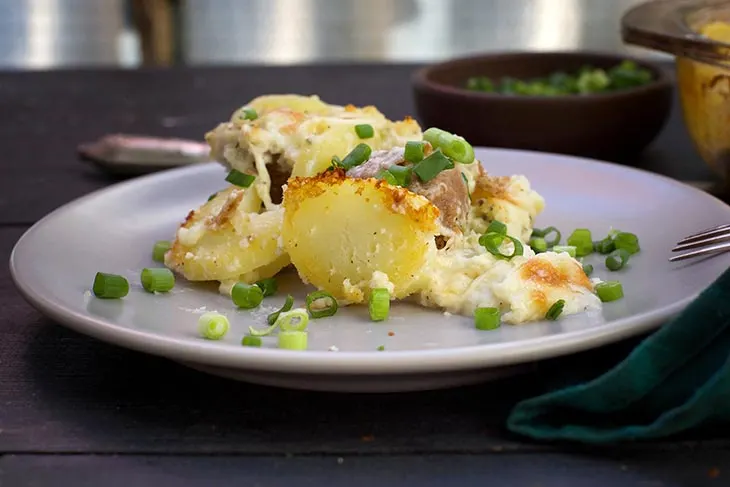 When I was still eating meat, I was always finding the potato-meat combination quite hard for the stomach to handle. Especially if we're talking about minced meat – the stuff that meatballs are made from. I always had to prepare some salad on the side in order to make everything easier to handle, but in the end, I wasn't really satisfied with my meal!
This is no longer the case with these vegan "meatballs". The fact that the meatballs are plant-based makes this dish so much lighter!
This way, I can better concentrate on all the flavors that this dish has to offer. I am just amazed and happy with my choice of being a vegan. Maybe if I was still eating meat, I wouldn't have encountered all these beautiful vegan and vegetarian dishes, that constitute a so-much-better alternative to meat.
I feel that since I started being a vegan, my life has improved. Not only because of the health benefits, but I am now paying more attention to other tastes. Meat can be so overpowering that you don't really feel the taste of any other ingredients.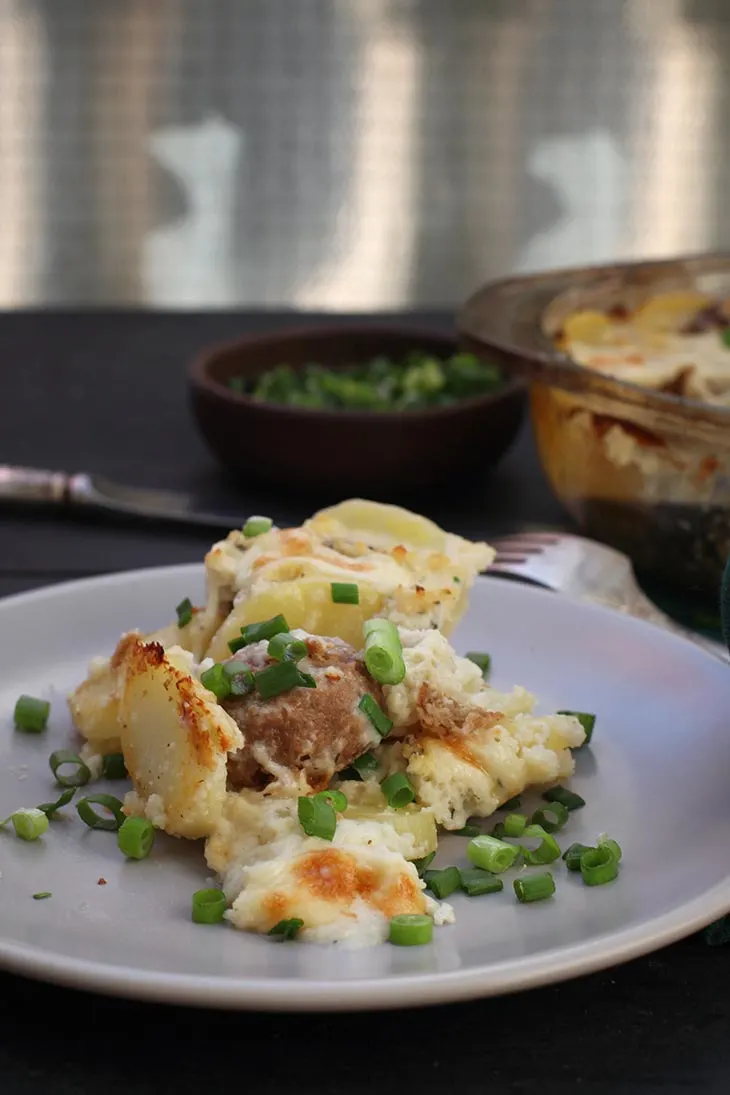 Now I feel that I am more in touch with all the other flavors that constitute a dish. And this brings us back to our potato and "meatballs" casserole. I feel that I really hit the jackpot with this recipe.
All the ingredients in this recipe are so well-balanced that each flavor gets the chance to stand out. It's a blend of flavors that gives each ingredient the chance to shine. And I don't want to sound over-enthusiastic, but I think the vegan cuisine is really the place where most of the culinary magic happens.
And not only this recipe is very tasty but it's also really easy to make! Once you gather together all the ingredients, the rest of the process will go smoothly. It's the perfect project for a relaxing afternoon! I am one of those people that find the cooking part just as fun as eating! 🙂
So for me, preparing this recipe really was a treat in itself. And as I told you – it's the gift that keeps on giving. You will spend a part of your afternoon in the kitchen, and then you will have a delicious meal to enjoy a few days after. Isn't that great?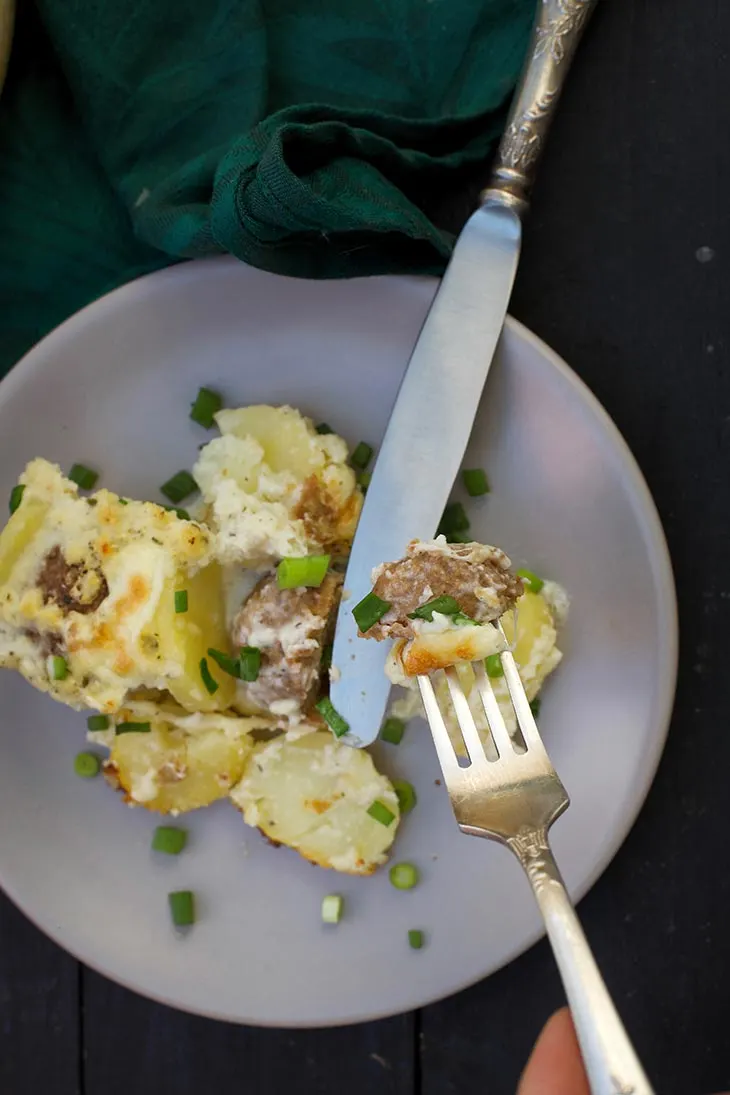 I hope that my enthusiasm towards this recipe has transferred to you as well because I promise you will not regret this! If you have some spare time this evening, gather all the ingredients and let's start this! And if you do, let me know what you think of the results!
Yield: 6+
Potato and 'Meatballs' Casserole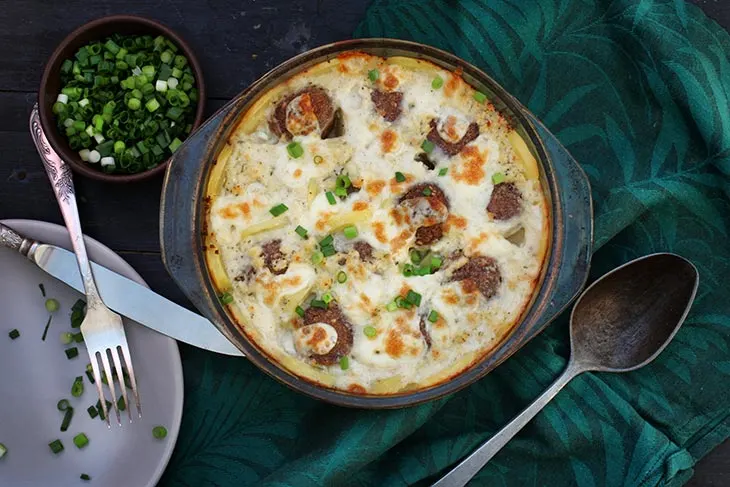 Are you craving a comforting, delicious and meal-prep friendly dish? Don't worry, I got your back with this awesome recipe for potato and meatballs casserole! Give it a try, it's incredibly good and easy to make!
Total Time
1 hour
10 minutes
Ingredients
For the meatballs:
350g (2 cups) chickpeas
3 Tbsp chickpea liquid
2 Tbsp ground flaxseed + 4 Tbsp water = vegan egg mixture
50g (½ cup) breadcrumbs - use GF if needed
1 tsp garlic powder
2 tsp onion powder
1 tsp dried parsley
1 tsp cilantro
1 Tbsp sesame seeds, toasted
1 Tbsp thick soy sauce
¼ tsp black pepper
olive oil, for frying
For the casserole:
50g (½ cup) finely chopped cauliflower
3 potatoes, peeled, boiled and sliced
250g (1 cup) shredded vegan cheese
For the basic white sauce:
3 Tbsp olive oil
2 Tbsp all-purpose flour - use GF if needed
500ml (2 cups) soy milk
1/5 tsp nutmeg
½ tsp white pepper
½ tsp sea salt
Instructions
To prepare the sauce:
Add the oil to a saucepan on medium heat.
Add the flour and stir in with a whisk.
Add the soy milk and continue to stir and whisk.
Add the nutmeg, salt, and pepper and cook until thick. Set aside.
Heat the oven to 200 C.
Add all meatballs ingredients to a food processor (except the olive oil) and pulse until well-combined and a thick paste forms.
Form the balls - about ½ Tbsp each.
Heat a skillet on medium-high, add the meatballs and quick-fry until they just start to crisp. Set aside.
To make the casserole:
Lay the potato slices in a single layer on the bottom of the casserole dish, and a layer on the sides.
Top with meatballs and place the rest of the potato slices between the meatballs, walls-like.
Add cauliflower.
Cover with the vegan Bechamel sauce and vegan grated cheese.
Bake for about 20 minutes or until golden on the edges.
Broil for about 5 minutes for a crispy top.
Serve with some fresh greens on the top. Enjoy!
Nutrition Information
Yield
6
Amount Per Serving
Calories

526
Total Fat

23g
Carbohydrates

66g
Fiber

16g
Sugar

12g