Here's how you can make a vegan tapas party! Discover what are some of the best tapas recipes you can make, what drinks are best suited for a Spanish tapas and get inspired by some easy vegan tapas ideas!
Tapas is a very popular part of Spanish cuisine. It's a way of eating food and it basically means serving the meals in small portions. Tapas are traditional Spanish snacks or appetizers, usually served before the main course, but they can also be combined in order to create a full meal.
Spanish people usually go 'bar hopping' and they serve tapas sometime between lunch and dinner or during the weekends, as a snack. In the old times, tapas meant free, small portions of food that you would receive when you ordered something to drink, but over time it transformed into a famous way of serving appetizers.
In some cities, such as Madrid, you will still find traditional bars where they serve tapas for free when you pay for your drink. The tapas concept is very similar to the Italian aperitivo.
You will find tapas in the entire country of Spain, but these dishes are traditional especially in Andalusia, Murcia, León, Extremadura and Ciudad Real.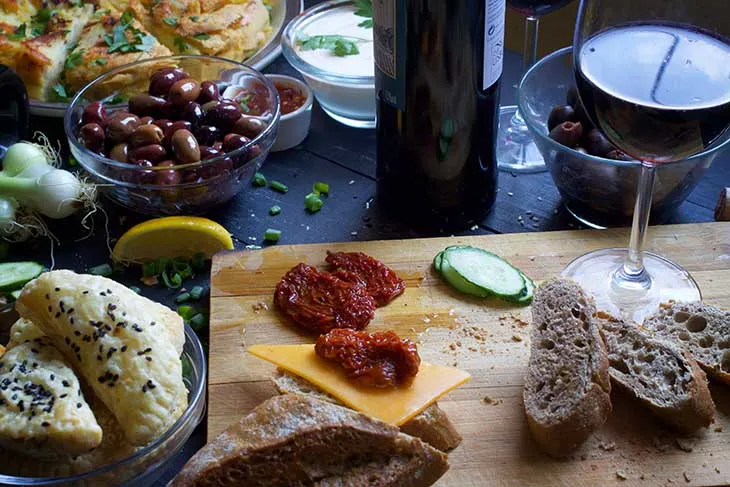 Tapas can be found in Central America too, where they are known as "bocas". In Spain, you will even find special tapas bars, where they serve between 8 and 12 types of traditional tapas appetizers together with a glass of wine, beer or sangria.
Spaniards love their food so much, they created 'tapas' in order to taste as many types of small portions as possible and limit themselves to just one. Of course, no tapas party is complete without good friends that you can share your food with. Tapas play an important role in the social life of Spanish people, as going out and eating tapas has become a real habit with time.
One of the best things about tapas is that they don't require a lot of effort or complicated cooking techniques. You can just choose your favorite tapa recipes according to your own preferences, prepare them and you'll have a wide variety of delicious appetizers in no time! You don't need to be an experienced cook in order to bring some authentic Spanish flavor into your kitchen. 🙂
If you want to find out how to make some of the most popular Spanish tapas recipes, this food guide will take you through the process of creating the perfect tapas party that will impress all your friends and family.
You will discover some delicious vegetarian tapas recipes and easy vegan tapas ideas. These vegan tapas recipes will be loved by everybody!
Don't forget to pair these delicious tapas with bread, fresh veggies, some yummy and creamy dips and, of course, red wine!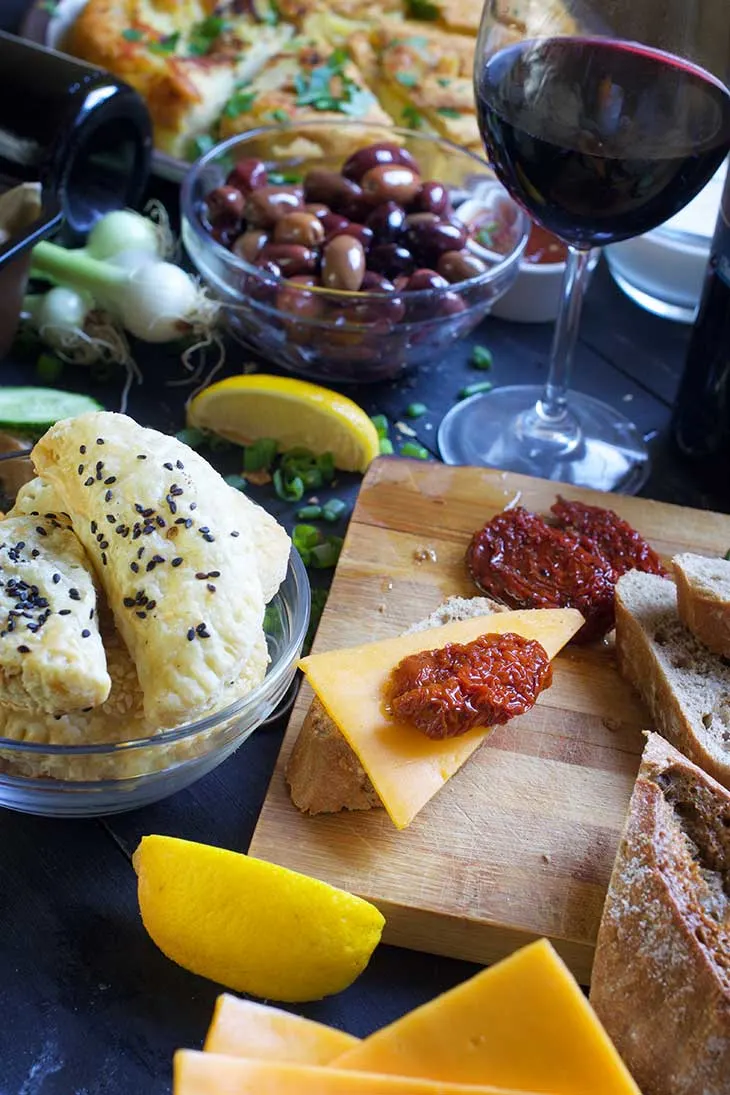 Most popular tapas recipes | Tapas ideas
Some classical Spanish tapas include patatas bravas, croquetas, tortilla, calamares, sundried tomatoes, Pimientos de Padrón (fried green peppers), gambas, fried cheese, empanadas, marinated olives and more.
Some characteristics of tapas foods are the flavors and spices, among which some of the most common ones are garlic, paprika, spicy sauces, salt, pepper and, of course, olive oil. In the tapas ideas below, you'll also find links to some gourmet vegetarian tapas recipes.
Patatas bravas is a very popular Spanish potato dish served with spicy tomato sauce and white garlic sauce.
Croquetas are breadcrumbed fried rolls made with potatoes, cheese and even different types of meats.
You may have heard about the famous Spanish potato tortilla – a Spanish omelet made with eggs, potatoes and sometimes onion, chives, and garlic that is usually served cold as an appetizer.
Calamares are fried calamari, usually served together with a creamy sauce and Pimientos de Padrón are a special type of small green peppers, fried and delicious. Gambas are prawns sauteed in different sauces such as garlic or peppercorn sauce (salsa negra).
Empanadas are a Spanish type of pastry with different fillings such as meat, seafood or veggies.
How to make a vegan tapas | Vegetarian Spanish food
I decided to make a vegan tapas, so I veganized some of the most popular tapas recipes, like patatas bravas, croquetas, empanadas, tortilla and more. Make sure you click on the links above and in the ingredients list below to discover the full Spanish starters tapas recipes. If you want to add even more Spanish tapas recipes, check out this list of Spanish recipes.
I also recommended some complementary ingredients, like vegan sauces, to complete the tapas menu. The vegan tapas dishes suggestions are below.
Hope these vegan Spanish recipes and tapas ideas will inspire you to create an amazing vegan tapas party for your friends and family! Enjoy!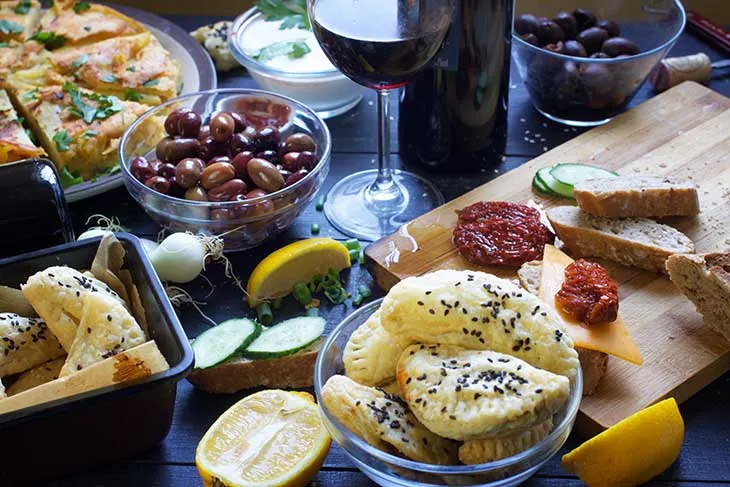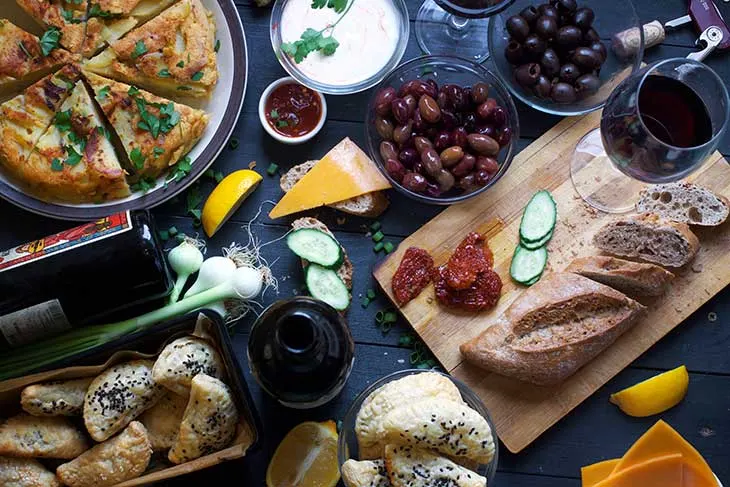 Here's how you can make a vegan tapas party! Discover what are some of the best tapas recipes you can make, what drinks are best suited for a Spanish tapas and how to serve them!
Ingredients
black olives, marinated with hot chili and garlic
Kalamata olives, marinated with fresh rosemary
garlic, marinated in olive oil and herbs
sundried tomatoes
mushroom empanadas, click for the recipe
chickpea Spanish tortilla, click for the recipe
Other ingredients for the tapas table:
Lemon
vegan yogurt dip
tomato chili dip
sliced bread
sliced vegan cheese
fresh veggies: green onions and sliced cucumbers
Wines for the tapas:
Sherri and Rioja
Instructions
Check out the recipes in the links mentioned in the post or above, in the ingredients.
Assemble the tapas table using the rest of the suggested foods and ingredients.
The Rioja wine goes well with Spanish food. It is also called winter wine, so it goes well with heavy tapas, like empanadas, cheese and tortilla.
Sherri wine goes perfectly with olives, tomatoes, fresh veggies, and bread.