Make these delicious vegan empanadas and enjoy an authentic Spanish meal! They're perfect as appetizers, for tapas and parties. Check out the recipe below.
Any country in the world has its own type of traditional pastry and Spain is no exception.'Empanadas' is a traditional Spanish type of pastry that's either fried or baked. In Spanish, 'empanada' means the action of wrapping something in bread and then cooking it and serving it like this.
Some traditional Spanish empanada fillings are cheese, meat and seafood, but there are many ingredients that can be used to create vegan empanadas.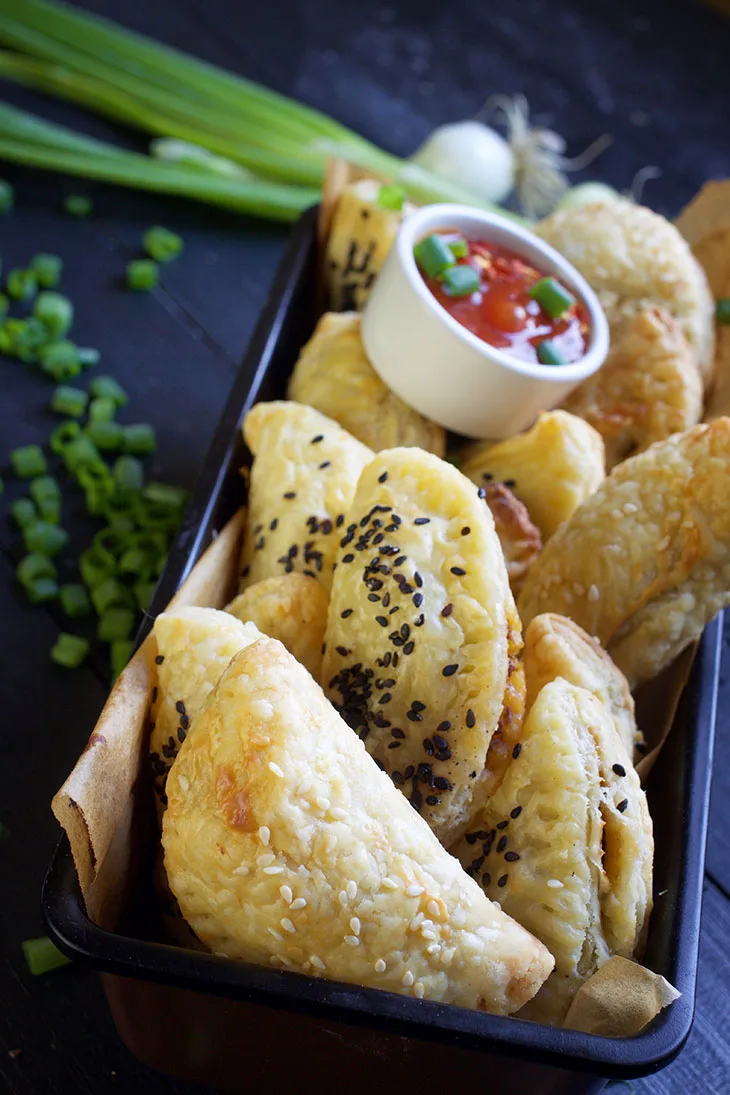 Empanadas are very popular appetizers found in Spain, originating from the region of Galicia. This type of dish is usually served at tapas, before the main course, paired with a glass of wine or beer.
Besides being popular in Spain, you can also find empanadas in Argentina, Chile, Italy, Philippines and even in the U.S. and other countries around the world, and there's a good reason for this – they're so delicious!
If you'll ever travel to Spain, you will see that the majority of restaurants serve this bread pastry – empanadas – and many of them have adapted the original recipe, turning it into a staple dish that they consider to be very special.
The bread crust is usually soft and tender and will melt in your mouth, revealing the delicious stuffing. You can serve this small portioned appetizer together with a sauce, such as a tomato sauce, for a better taste and an authentic Spanish culinary experience.
Beef is one of the most popular empanada stuffings, but other types of meat, cheese or beans are used as well. I adapted this recipe using vegan puff pastry and a delicious veggie stuffing made with mushrooms, olives, onion, and spices. One of the best things about this recipe is that it's super easy to make – I'm sure anyone can make it, regardless of their cooking experience!
Of course, in case you don't like one of the ingredients I used in this recipe, you can replace it with your own favorite. You can even add tofu for extra protein, broccoli, bell peppers, beans or any other vegetable that you like.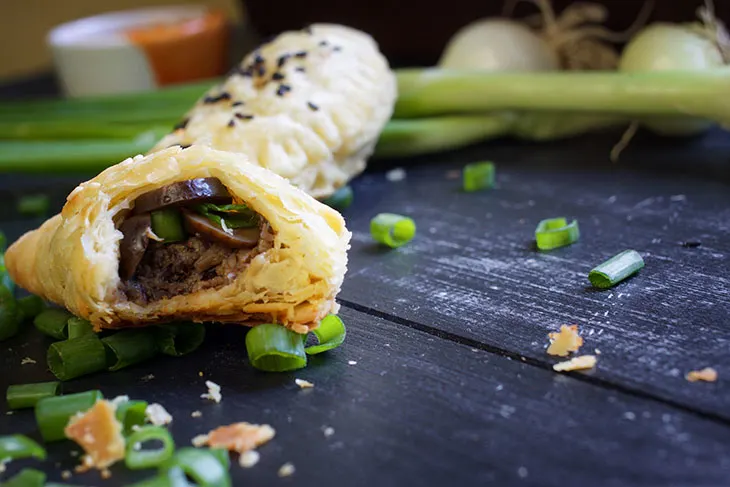 I didn't want to make empanada dough from scratch, so I cheated by using vegan puff pastry. If you're lazy like me, do this. It's just as good and so much easier to cook. Otherwise, try this recipe. Caitlin makes a great empanadas dough that's vegan. 🙂
If you want to add some Spanish flavors into your meals, then you must learn how to make these vegan empanadas that you can serve at your next tapas party together with your friends. These vegan empanadas can even be served as a main course too, as they are very filling and delicious. Enjoy!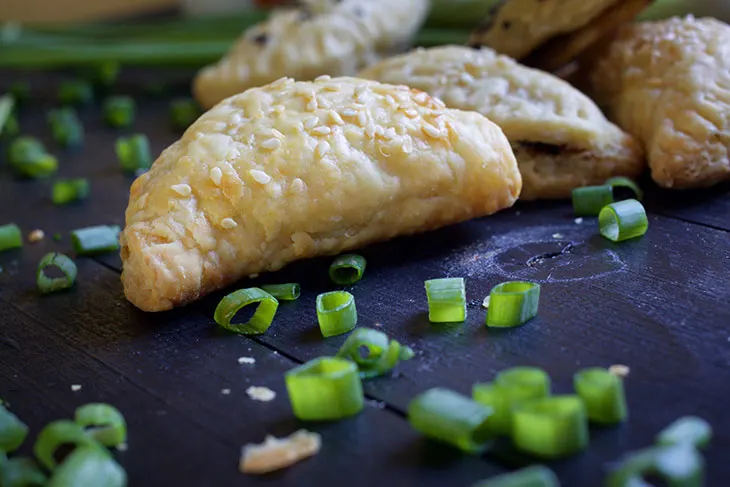 Yield: 16+ vegan empanadas
Vegan Empanadas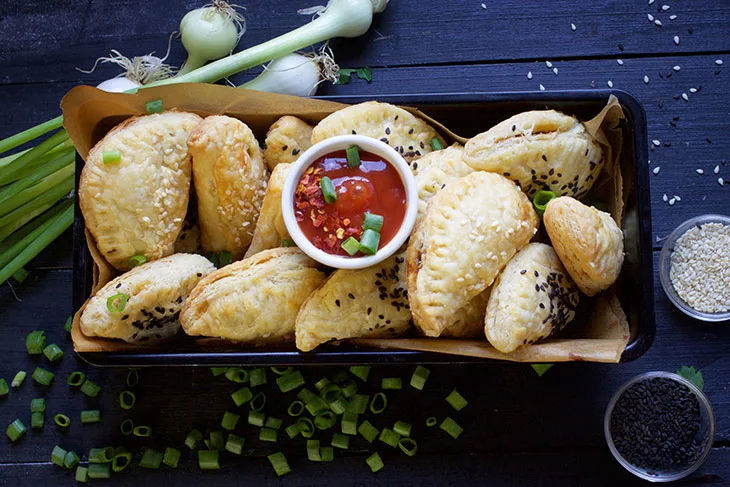 Make these delicious vegan empanadas and enjoy an authentic Spanish meal! They're perfect as appetizers, for tapas and parties. Check out the recipe below.
Ingredients
2 sheets vegan puff pastry
500g (2 cups) button mushrooms, finely chopped
1 large onion, finely chopped
180g (1 cup) pitted olives, sliced
2 Tbsp green onions, chopped
1 tsp smoked paprika
1 tsp dry oregano
1 Tbsp olive oil
salt and pepper to taste
1 Tbsp sesame seeds
1 Tbsp black sesame seeds
50g (⅓ cup) homemade tomato dipping sauce, for serving
3 Tbsp green onion, chopped (for serving)
Instructions
Heat a skillet over medium heat.
Add the olive oil. When hot, add the finely chopped onion and saute for about a minute.
Add chopped mushrooms and let them cook. Add paprika, oregano and cook uncovered, stirring occasionally, until all the mushroom liquid is gone - about 10 minutes. Add salt and pepper to taste, green onion and sliced olives. Mic to combine and remove from heat.
Preheat the oven to 200C.
Line a baking tray with parchment paper. Set aside.
Roll the dough on a clean surface. Using a circle pastry cutter, cut the pastry into circle shapes.
To assemble the vegan empanadas, spoon about 1 tbsp of mushroom mixture on every pastry circle.
Fold the dough over the filling so that the edges touch. Using a fork, seal the dough over the filling by pressing down along the edge of the semi-circle and place on parchment paper. Repeat with remaining dough and filling.
Brush the vegan empanadas with some olive oil, top with sesame seeds and bake for 25-30 minutes until the edges are golden.
Serve with a tomato sauce and fresh greens.
Nutrition Information
Yield
16
Amount Per Serving
Calories

94
Total Fat

7.5g
Carbohydrates

5.6g
Protein

1g