This creamy spring onion soup has a lovely, vibrant green color and subtle onion flavor. It's ready in just 25 minutes!
As a food blogger, I'm always on the lookout for new and exciting recipes to share with my readers. And today, I've got a recipe that's perfect for springtime: Creamy spring onion soup! This recipe is full of fresh and vibrant flavors, perfect for brightening up any meal.
The star of this soup is, of course, the spring onions. These tender green onions are bursting with flavor and add a unique depth to the soup. Combined with sweet onions and potatoes, the soup is perfectly balanced and creamy. It's perfect for those chilly spring evenings when you want something comforting, but also light and fresh.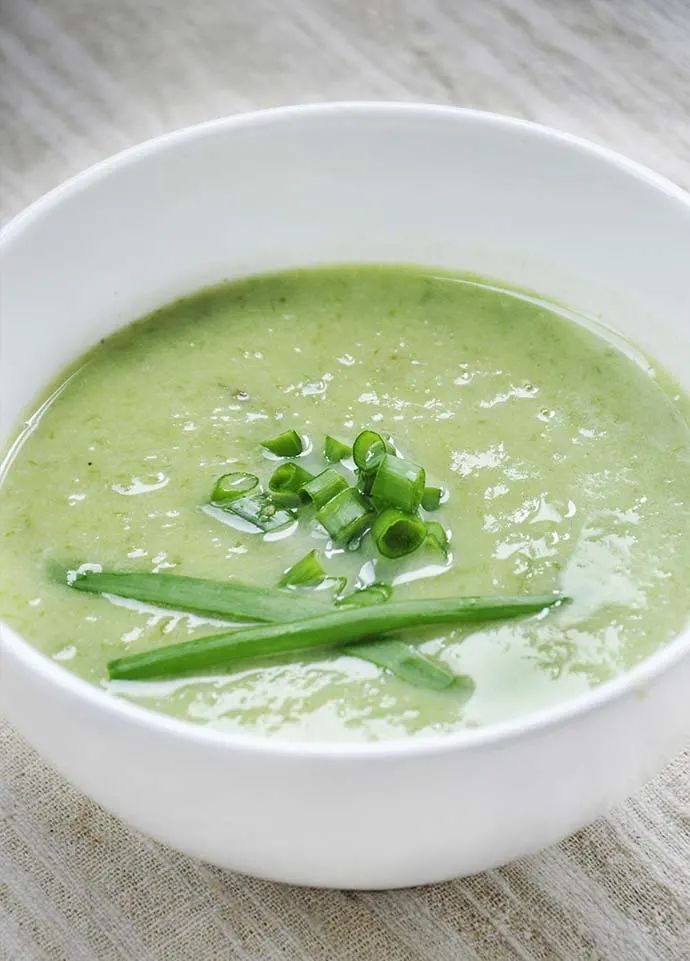 I am absolutely crazy about onions and I've never eaten onion soup, can you believe it?! Yesterday I went to Costin's parents' house and came back with about 10kilos of delicious cherries, some huge bunches of parsley and dill, lots of leafy greens and a bag full of extra-large scallions. I had no idea what to do with so many of them.
Baked scallions were out of the question because I ate this almost every day for the last couple of weeks, and eating them in salads will take forever! Then the idea hit me! What about a creamy spring onion soup! And that's what I made.
It was delicious! You know that I love creamy soups, so this recipe is just perfect for me! 🙂 It's really easy to make, like most other creamy soup recipes. You can use either butter or olive oil for this.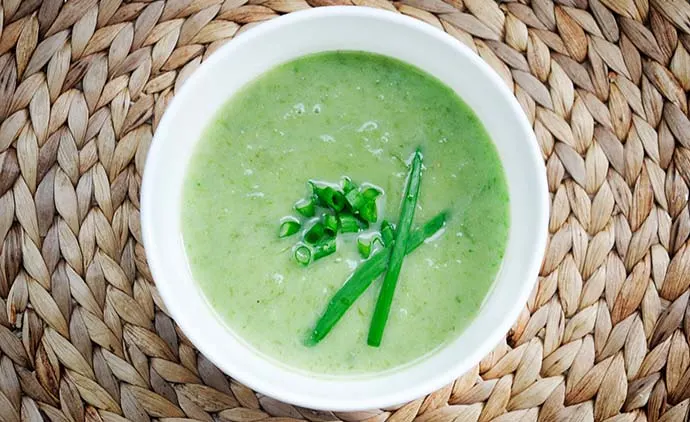 To make the soup, start by sautéing the onions in butter or olive oil until they're tender and fragrant. Then, add in the fresh thyme, ground coriander, and a pinch of sea salt and white pepper for a burst of flavor. Boil with potatoes. Once everything is cooked through and fragrant, add in some water or broth and let the soup simmer for about 20 minutes.
After simmering, it's time to blend the soup to creamy perfection. I recommend using an immersion blender, which makes it easy to blend the soup right in the pot. Once everything is blended and creamy, you'll be left with a beautiful and fragrant soup that's ready to be served.
Garnish the soup with some additional chopped spring onions or fresh herbs, and you've got a dish that's sure to impress. Serve it up with some fresh bread or a salad, and you've got a delicious and satisfying meal that's perfect for any occasion.
Overall, this creamy spring onion soup is a must-try for any foodie. It's a delicious and unique recipe that's perfect for celebrating the flavors of spring. So why not give it a try and see for yourself how delicious it can be? Hope you'll like my creamy spring onion soup recipe! Enjoy!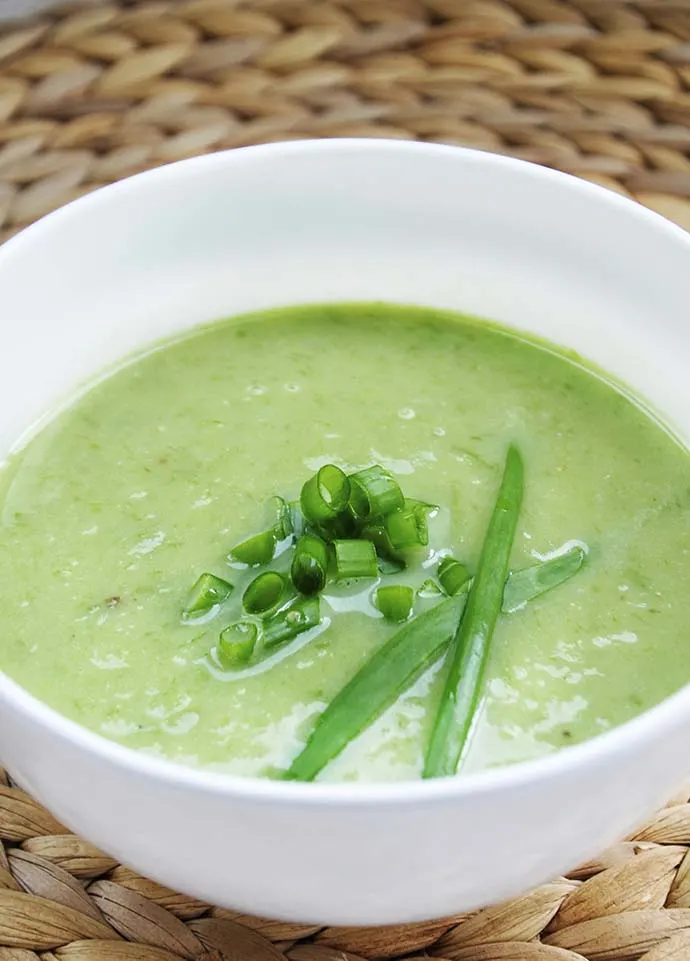 Yield: 4
Spring Onion Soup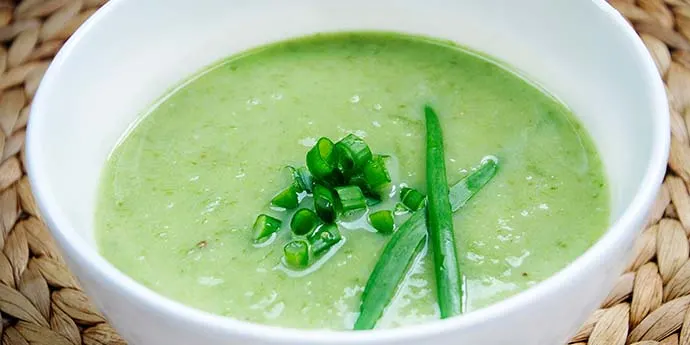 This creamy spring onion soup has a lovely, vibrant green color and subtle onion flavor. It's ready in just 25 minutes!
Ingredients
8 spring onions, chopped
1 onion, chopped
2 medium potatoes, peeled and cubed
2 Tbsps butter (or 2-3 Tbsps olive oil)
sea salt, to taste
½ tsp ground white pepper
⅓ tsp ground coriander
fresh thyme
Instructions
Boil potatoes in a small pot. Add water just enough to cover them.
In a separate pot, add butter/olive oil and let it melt/heat over low heat.
Add chopped spring onions and onion. Stir continuously until all spring onions are cooked. Be careful not to burn them! This will take up to 10-15 minutes.
In case they start to stick, add a little bit of water or veggie stock.
When potatoes are boiled, add them to the pot where you cooked the scallions, water included.
Stir and add salt, pepper and ground coriander.
Remove from heat.
Using an immersion blender, start blending all veggies until the soup gets a creamy consistency.
If needed, add more water to reach the desired consistency.
Serve with fresh thyme and drizzle with olive oil.
Nutrition Information
Yield
4
Serving Size
1
Amount Per Serving
Calories

153
Total Fat

6g
Saturated Fat

4g
Trans Fat

0g
Unsaturated Fat

2g
Cholesterol

15mg
Sodium

205mg
Carbohydrates

23g
Fiber

3g
Sugar

3g
Protein

3g
I strive to keep the information as accurate as possible but make no warranties regarding its accuracy. I encourage you to make your own calculations using your preferred nutrition calculator.