This is a gluten-free chocolate cake recipe, topped with fresh berries and pineapple slices and covered in a delicious, chocolate frosting!
Long time no see! I missed you and I missed writing on the blog. I've had (and still have) some very busy couple of weeks and I didn't have time to write on the blog anymore.
I have such big plans for this summer! I hope I'll be able to do everything I planned. I will learn so many new things. I'll focus more on developing my web design skills and also I will improve Gourmandelle with some new ideas! I have some surprises planned for you too! 😀 Learning is so much fun when you do the things you love!
You should try this gluten-free chocolate cake recipe!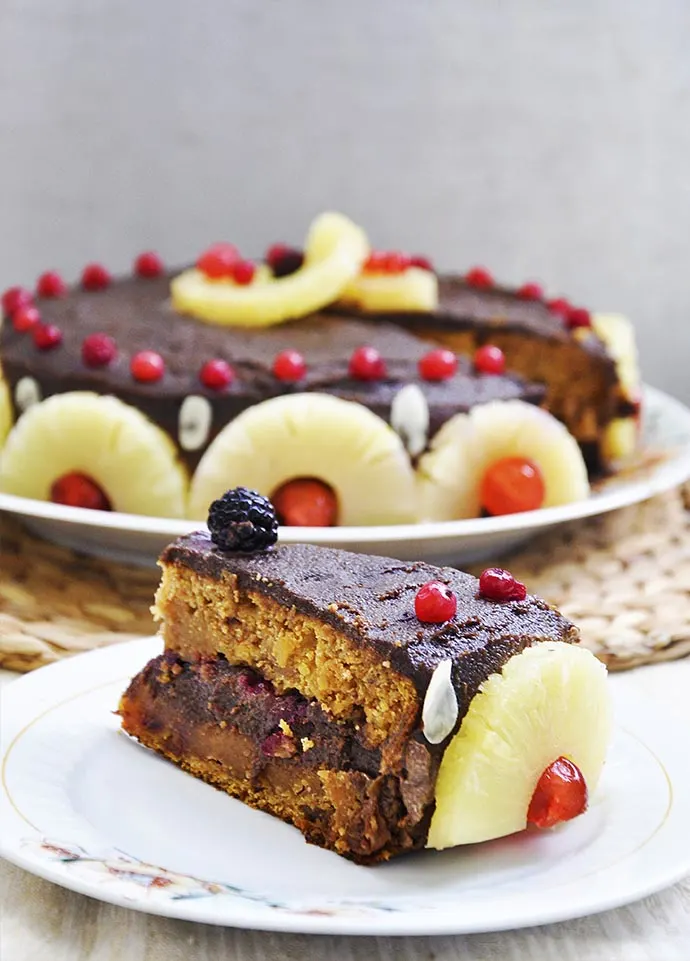 Anyway, today I'll give you this wonderful gluten-free chocolate cake recipe I made for my dad's birthday…in May! Yes, I didn't have time to write it down, but here it is now! Do you remember my gluten-free vanilla cake? This one is the chocolate version, for all of you chocolate lovers out there! Don't worry, it's healthy! The frosting is made of banana and carob powder and it actually doesn't contain any chocolate at all! The taste though resembles chocolate 100%!
This time, this gluten-free chocolate cake is sugar-free too! Yes, I made it! I used coconut sugar instead of caster sugar. It's not vegan, though, as I used eggs. Didn't have the courage to try a gluten-free cake crust recipe without eggs yet. Will do soon!
So, here it is! Enjoy this easy, delicious gluten-free chocolate cake recipe!
P.S. I found this dark chocolate peanut butter GF cake on Pinterest and it looks crazy good!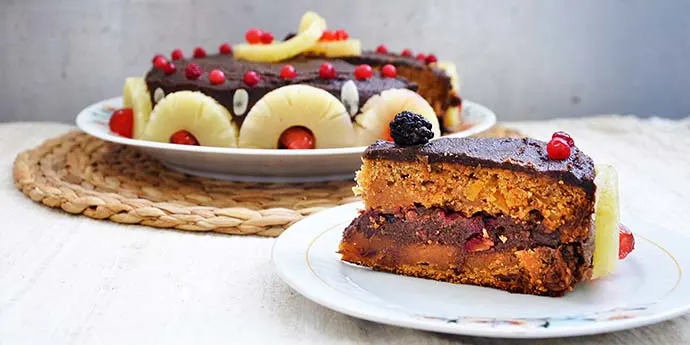 Yield: 1 gluten-free chocolate cake (25x25cm)
Gluten-Free Chocolate Cake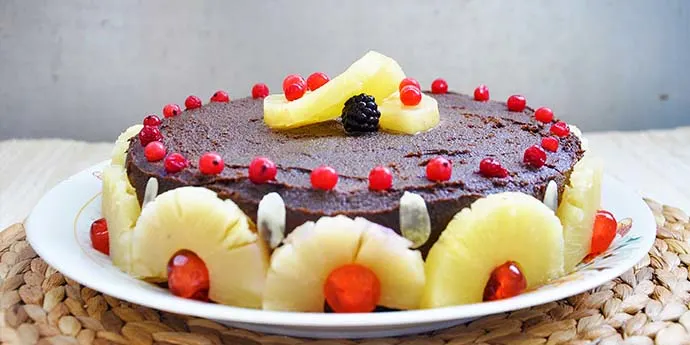 This is an amazing gluten-free chocolate cake recipe, topped with fresh berries and pineapple slices and covered in a delicious, sweet banana-carob cream frosting!
Total Time
1 hour
10 minutes
Ingredients
200g (7 oz) Schar gluten-free flour
1 tsp baking powder
4 eggs
100g (½ cup) coconut sugar, or regular sugar if you don't have coconut sugar
120ml (½ cup) grapeseed oil + more for greasing the tray
½ tsp vanilla extract
a pinch of sea salt
Frosting
6 ripe bananas, sliced
2 Tbsps psyllium husks
2 Tbsps carob powder
2 tsps vanilla extract
2 tsps rum extract
4-5 Tbsps honey, or other healthy sweetener of choice
Syrup and other ingredients
1 Tbsp honey
120ml (½ glass) water
fruits: 1 canned sliced pineapple, 150g (1 cup) mixed berries
a few Tbsps of almond flakes, optional
a few Tbsps of raw chocolate flakes, optional
Instructions
Pre-heat oven at 356F/180C.
Grease the sweet bread tray with some oil. The sizes of my tray are approx. 10cm x 30cm.
Separate egg yolks from the egg whites.
Whisk egg whites until foamy. Add sea salt.
Whisk egg yolks with coconut/caster sugar, oil, vanilla extract and baking powder. Slowly add flour and incorporate. Add foamy egg white. Mix using a spatula.
Pour the composition in the greased tray.
Put it in the oven and let it bake for 45-50 minutes.
Frosting:
Add all ingredients in your food processor and process until smooth and creamy. Do not use water!
Syrup:
Combine honey with water.
Assembly:
Slice cake crust in two. It may have a small bump on the top, so slice that too. The layers should be smooth and straight.
Put one cake layer on a cake platter. Slowly pour syrup evenly on top of it. Use half the quantity.
Add some frosting. Spread evenly. Add some pineapple slices and most of the berries. Save some for decorating.
Cover with the other cake layer. Add syrup all over it, like you did before.
Spread the frosting all over the cake, on top and on sides. Use a blunt knife to spread it evenly.
Decorate with berries and pineapple on top and almond flakes/raw chocolate flakes on the sides.
Nutrition Information
Yield
12
Amount Per Serving
Calories

331
Total Fat

10.4g
Carbohydrates

57g
Protein

2.3g