Tired of the basic hummus recipe? Try this basil pesto hummus recipe with a lovely, light green color and amazing taste! This is a perfect summer appetizer, vegan and delicious!
I'm so tired. I feel like all the stress and fatigue has accumulated and now I need to sleep for a whole week non-stop just to get over it and feel energized as I did before. I have two more exams and I'll finally get a small vacation starting July. Can't wait.
I plan on doing so many things this summer after I finish with my exams. I sometimes panic that I won't be able to do everything I want to. I have some free time between exams, but all I want to do is lay in the bed and do nothing all day. That's why from 11st to 20th July I will RELAX! After that, I'll start working my ass off to make my dreams come true :).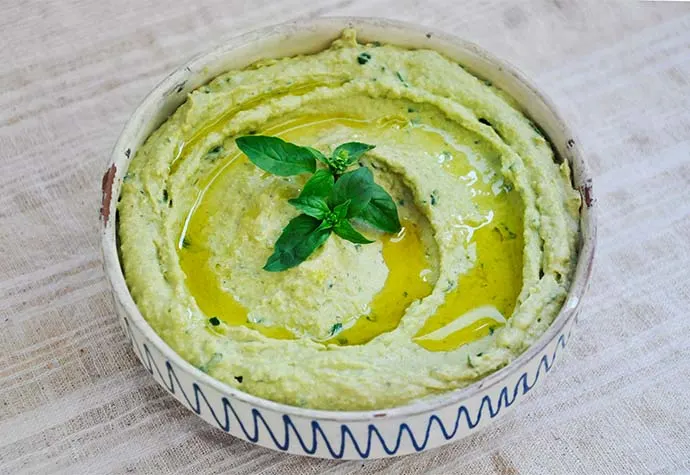 That being said, I hope you'll now understand why I have been neglecting you. We all have our stressful moments :). To make it up to you, I made a new hummus recipe and this time I experimented with basil pesto! What a great combination! This basil pesto hummus is one of the best hummus recipes I have tried so far. I really liked the roasted red bell pepper hummus and wild garlic hummus recipes, but because I am absolutely crazy about basil, I think this is my best hummus recipe so far!
If you're looking for a light, flavorful summer hummus recipe, this basil pesto hummus is the one for you! Plus, it's vegan, healthy and ready super-fast! What are you waiting for? 😀
P.S. You can make this basil pesto hummus using white beans too! I found this great recipe made by Tori on her blog.
P.S. I LOVE Lebanese cuisine. If you love it too, check out Ottolenghi: The Cookbook. His recipes are truly inspiring!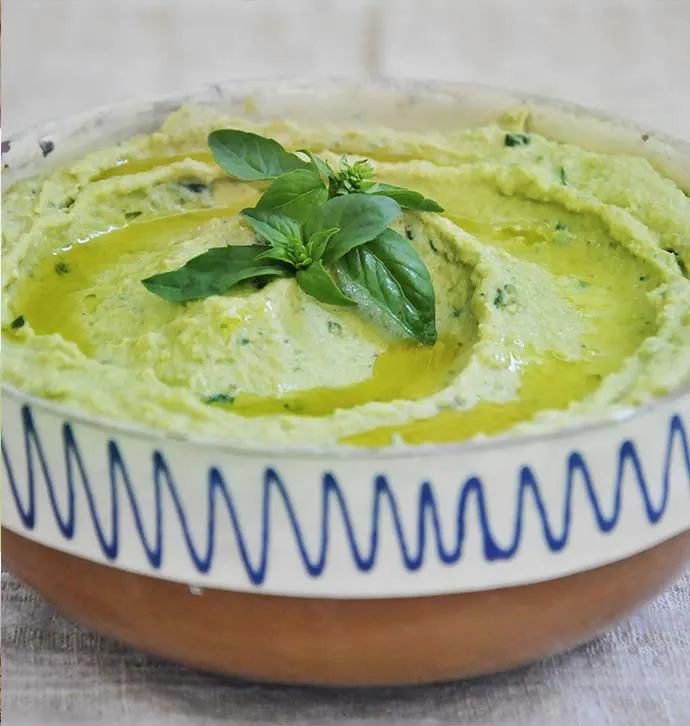 Yield: 6 servings
Basil Pesto Hummus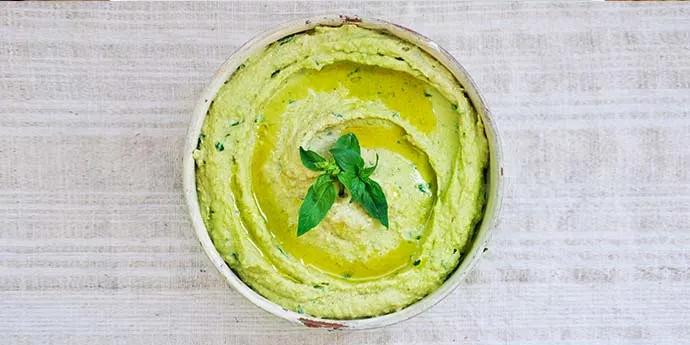 This basil pesto hummus recipe has a lovely, light green color and amazing taste!
Ingredients
1 can (800g | 28oz) chickpeas/garbanzo beans, rinsed and drained
5 Tbsps chopped fresh basil leaves
2 Tbsps vegan basil pesto, optional, but recommended - you can buy it or make it yourself, recipe below
half a lemon's juice
2 Tbsps tahini paste
2-3 garlic cloves, mashed
2-3 Tbsps extra virgin olive oil
sea salt, to taste
Vegan Basil Pesto:
150g (1 cup) pine nuts, or other nuts, such as almonds, cashews or walnuts
40g (2 cups) fresh basil
5 garlic cloves
20g (⅓ cup) nutritional yeast
extra virgin olive oil, as needed
sea salt and pepper, to taste
Instructions
How to make raw vegan basil pesto:
You can either use a mortar and pestle or a food processor to make the pesto. For smaller quantities, such as this one, I recommend using a mortar and pestle.
Toast the nuts for a minute or two.
Add the nuts in the mortar and mash them. Add the other ingredients, except olive oil, and mash them too until they have a paste-like consistency.
Add olive oil, until the texture is just right.
Basil Pesto Hummus:
Put all ingredients in your food processor.
Process on high speed for 5 minutes until hummus is extra-smooth.
Add a little bit of ice-cold water in order to make it as smooth as you want.
Serve and drizzle with olive oil.
Nutrition Information
Yield
6
Amount Per Serving
Calories

382
Total Fat

31.8g
Carbohydrates

12g
Protein

12g