Here's how you can make the delicious Spanish potato tortilla, completely egg-free and vegan! Check out the step by step recipe and enjoy a scrumptious meal perfect for lunch, brunch, or a fancy breakfast.
Love, love, love this vegan potato tortilla recipe! It came out perfectly and it's such a delicious Spanish recipe perfect for special Sunday breakfast or a brunch. Plus, it's so easy to make: mix, pour, fry – no special cooking skills needed, anyone can make this. 🙂
This vegan potato tortilla recipe is quite similar to the Italian frittata, both of them are a kind of omelets. I made a potato frittata in the past, so check it out if you want to give it a try.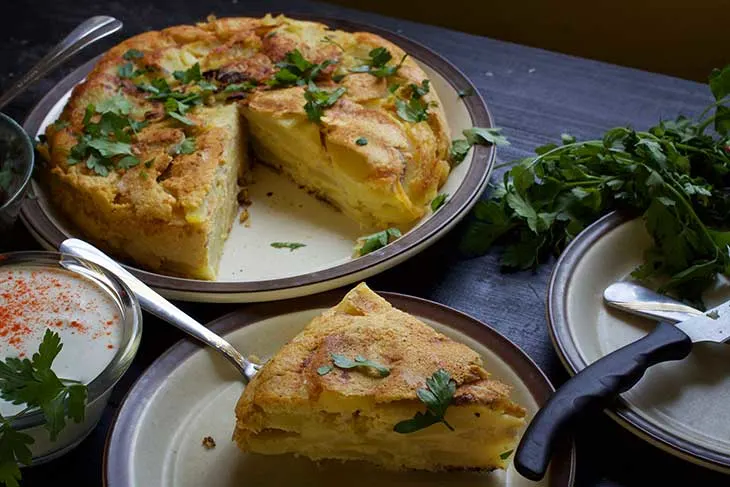 The classic Spanish tortilla (tortilla española) is a Spanish omelet made with eggs, potatoes and sometimes onion, chives, and garlic. This potato tortilla is them fried in some oil and usually served cold as an appetizer. However, I prefer it warm, so I served it right away with some herbs and vegan cream on top.
While doing my research for awesome recipes to try as part of this month's Spanish cuisine challenge, I found out that this potato tortilla is different and completely unrelated to the maize or wheat Mexican tortilla, which are those thin flatbreads we all know. So don't mix them up like I did. 🙂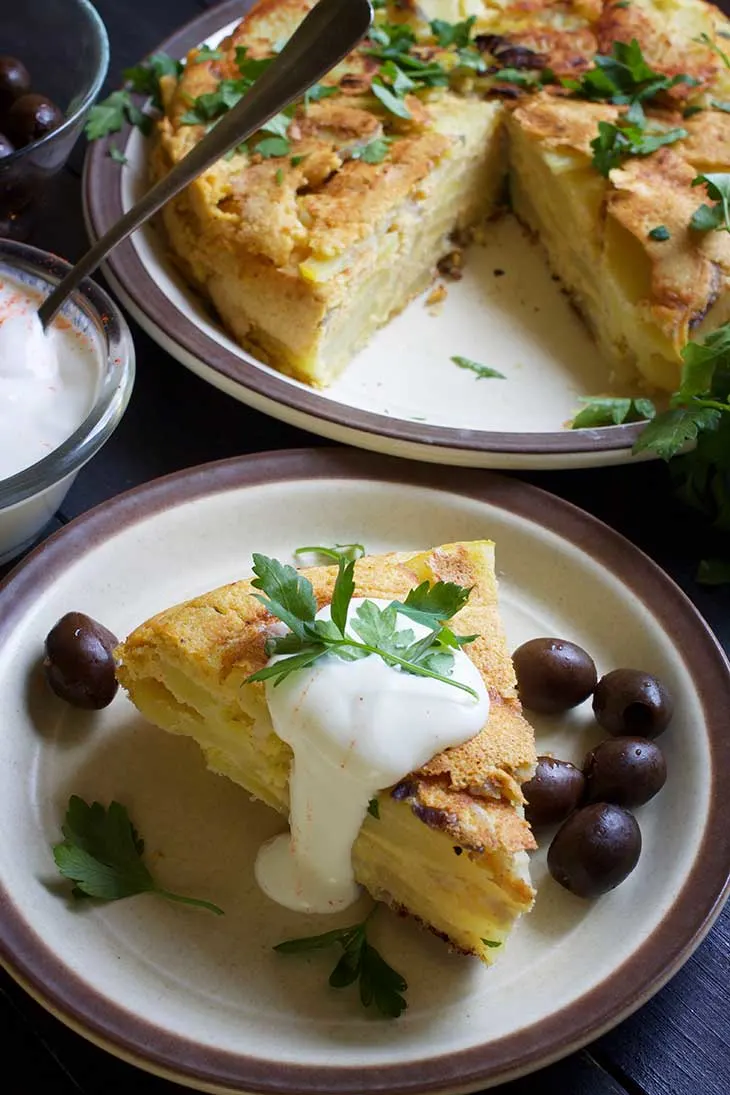 Spanish potato tortillas are not all the same. There are many different variations of the traditional tortilla de patatas recipe. Some versions add green peppers, courgettes, eggplants and even mushrooms in the tortilla. There's also a potato tortilla version with red peppers and peas, which is called tortilla paisana – the peasant's tortilla. So feel free to experiment and add your own favorite veggies to this mix.
As I mentioned above, the authentic Spanish potato tortilla is made with eggs. To make it vegan I used the amazing chickpea flour which is often used to mimic omelets. It binds everything together and I think it tastes even better than eggs!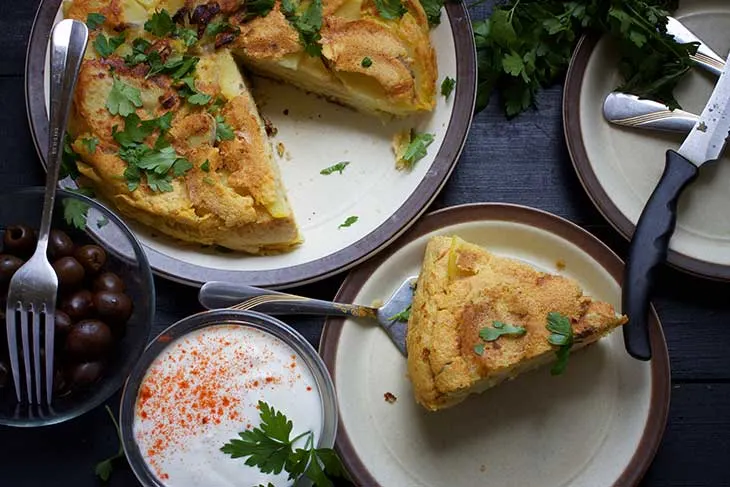 This vegan potato tortilla recipe is also naturally gluten-free and allergy-friendly, so it's perfect for those of you with food intolerances or food allergies. If you have special dietary needs and feel like it's a burden to find suitable recipes for you, check out my meal planner app! It will surely help you!
Hope you'll like this vegan potato tortilla as much as I did. I was so busy this month so I'm a bit behind with the Spanish recipes, but I have about 5 more to show you and I'll post them soon on the blog. In June is all about the Greek cuisine, so stay tuned! 🙂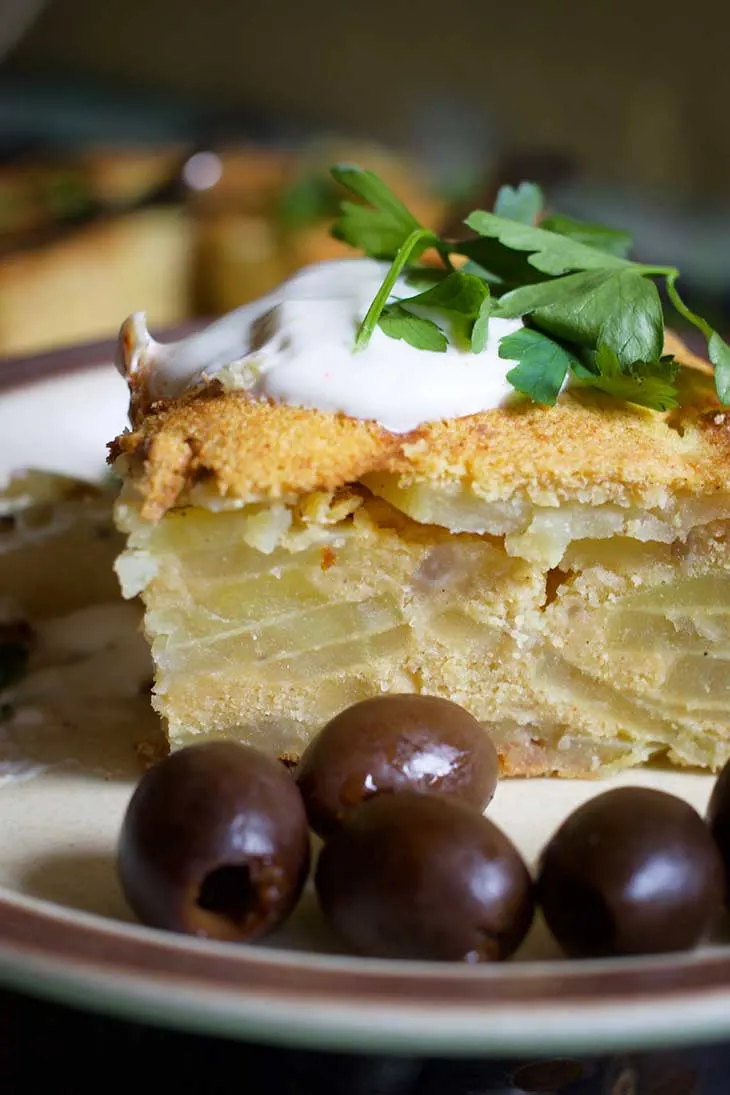 Yield: 4
Vegan Potato Tortilla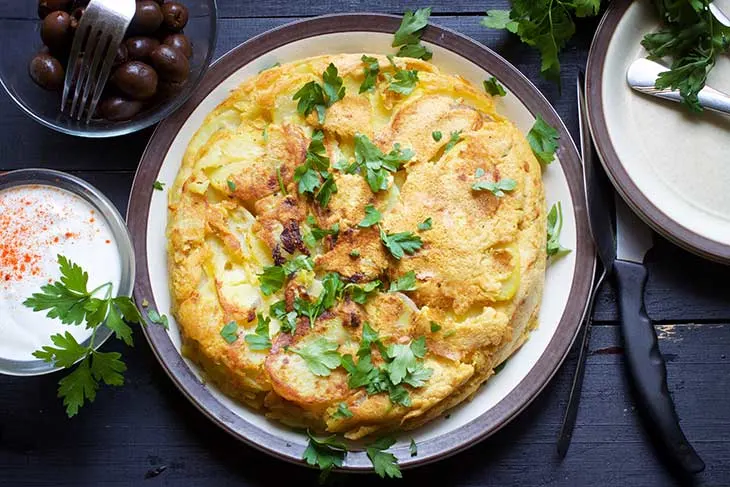 Here's how you can make the delicious Spanish potato tortilla, completely egg-free and vegan! Check out the step by step recipe and enjoy a scrumptious meal perfect for lunch, brunch, or a fancy breakfast.
Ingredients
For the 'egg' mixture:
120g (1 cup) chickpea flour
240ml (1 cup) water or unsweetened soy milk
1 tsp olive oil
1 tsp sea salt
½ tsp white pepper, ground
½ tsp sweet paprika
1 tsp garlic powder
For the filling:
4 large potatoes, peeled and sliced
1 onion, sliced
750ml (3 cups) water
2 Tbsp olive oil
Instructions
First, let's make the filling.
Heat 1 tablespoon of olive oil in a skillet, over medium heat.
When hot, add the sliced onion and saute for a minute, until translucent.
Add the sliced potatoes and stir. Let them cook for about 2 minutes, stirring gently. Add water and let them boil for about 10 minutes or until the potatoes are tender. When tender, drain the water and let them cool.
Meanwhile, prepare the 'egg' mixture:
Using a food processor or a blender, mix all the "egg" ingredients until they're well incorporated, smooth and sticky, for about 2 minutes.
In a large bowl, combine the 'egg' mixture with the cooled potato and onion slices. Stir gently to incorporate.
Heat a non-stick large skillet over medium heat. Add the olive oil. When hot, pour the tortilla mixture into the skillet, put a lid on it and let it cook about 15 minutes or until edges are golden.
Flip it on the other side and cook for 5 more minutes so it gets golden and crispy on both sides. You can flip it using a large plate and a spatula. Be careful not to burn yourself. Serve with some vegan cream and fresh chopped parsley.
Nutrition Information
Yield
4
Amount Per Serving
Calories

336
Total Fat

10.3g
Carbohydrates

47.4g
Protein

13.4g