Here's one of the easiest and most flavorful autumn recipes ever: cheesy baked butternut squash. Vegan, delicious, healthy and super easy to make!
If you love autumn as much as I do, you're certainly familiar with this delicious snack: baked pumpkin. More specifically, baked butternut squash.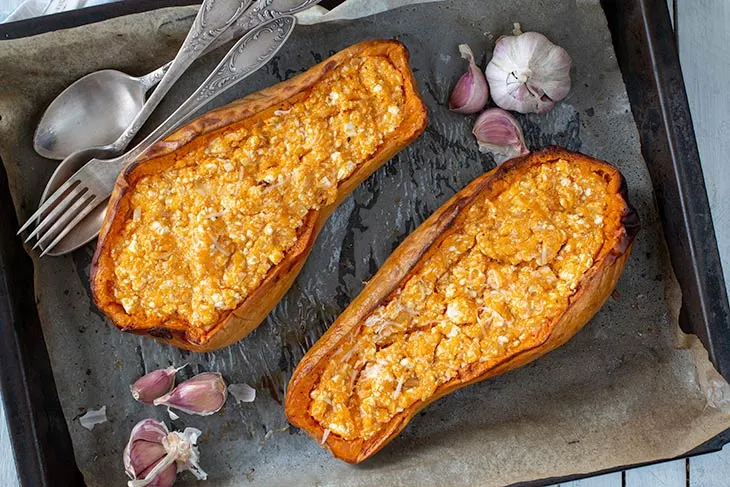 Here in Romania, butternut squash is called dovleac placintar, which literally refers to the type of sweeter pumpkin used when baking pies. Because butternut squash is so sweet and creamy in texture, it makes for a wonderful snack on its own, but can also be added to various meals which I'm going to talk about in a bit.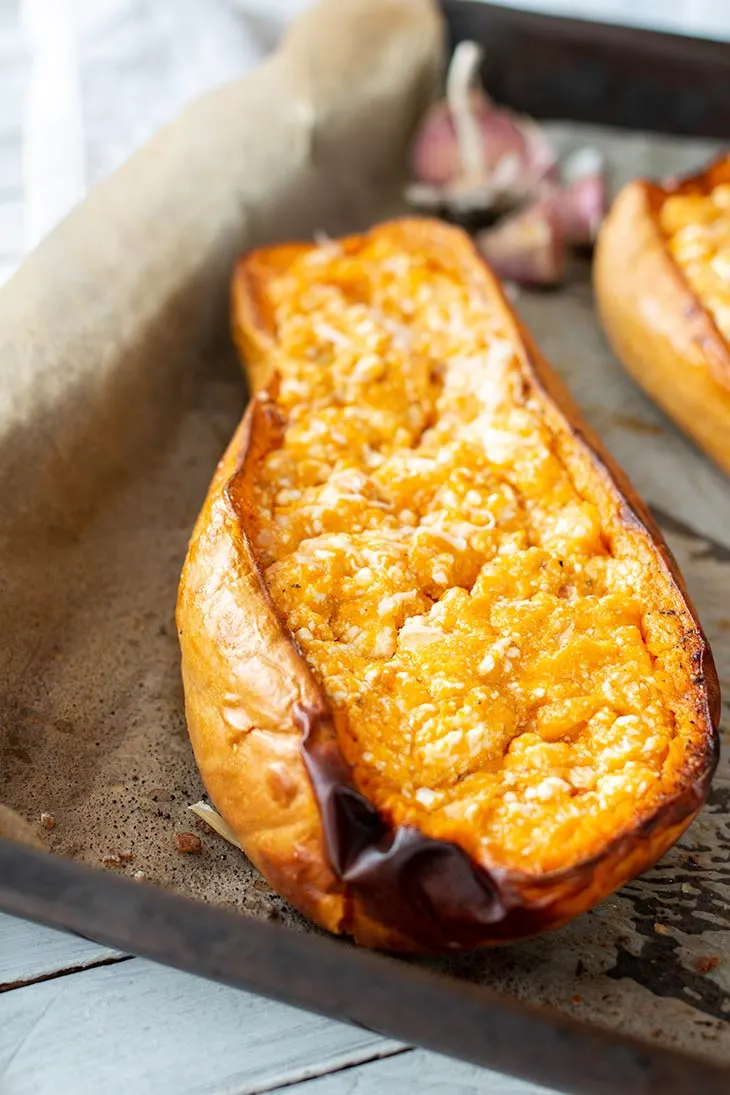 Butternut squash is a type of winter squash that grows on a vine. Its taste is highly similar to that of a pumpkin, which is why you can substitute the two in almost any recipe you can think of. Although its name suggests it should be eaten raw, squash coming from the Narragansett word askutasquash, eating this type of fruit uncooked is fairly uncommon.
Once roasted, it also becomes sweeter and tastier, which allows for it to be used in a variety of dishes, ranging from dessert to savory. Its seeds are also edible, either raw or roasted, and they're incredibly nutritious, too. They can also be pressed into an oil that can then be used for cooking or salads. So, all in all, a super versatile fruit.
Speaking of fruit, I think I should mention that here in Romania, it's viewed more like a fruit than a vegetable, and for good reason: biologically speaking, butternut squash is, indeed, a fruit. However, from what I've noticed in the rest of the world, it's more commonly used as a vegetable.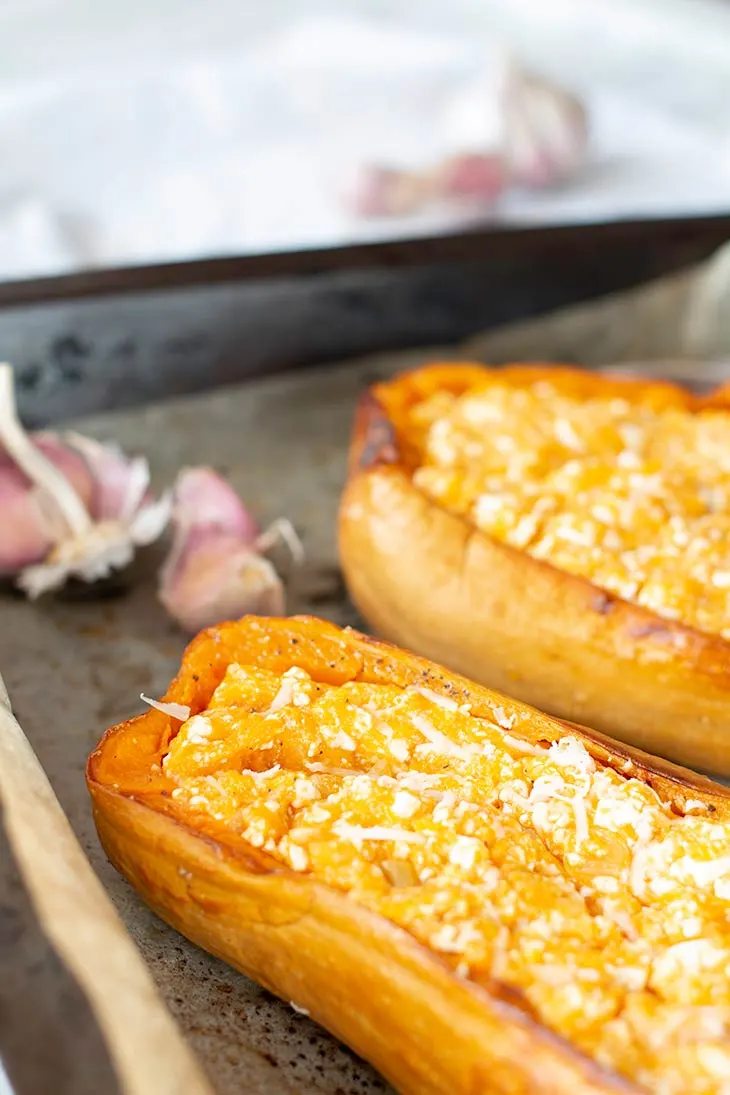 Be it a fruit or a veggie, two things can be said with certainty: butternut squash is delicious and super nutritious. It packs a punch of vitamins, minerals, fiber, and antioxidants, making it a great addition to anyone's diet. It's full of vitamin A, providing more than 450% of the recommended amount in only half a cup of cooked produce. As with all orangey vegetables, it's also rich in beta-carotene, and, as with all vegetables, it's abundant in other vitamins, such as C and E.
Moreover, butternut squash is high in important minerals such as magnesium, potassium, and manganese, which play hugely important roles in our bone health. It had also been shown to be super effective at protecting against heart disease, thanks to its high antioxidant content. It's important that our diet is full of antioxidant food, as they may protect against mental decline! 🙂
So I think you can see for yourself why adding butternut squash to your diet is an excellent idea. One easy way to do this is by baking a huge tray of cheesy baked butternut squash at the end of the week, or whenever you have the time, then saving it for the days ahead.
I sometimes like preparing a huge stack, then freezing it so I always have it on hand, because it freezes super well. Baked butternut squash is a versatile ingredient that you can then pair with a wide array of foods, from sweet to spicy. Just to give you a few ideas: you can eat it as is, as a snack or side dish.
You can top salads with it for a boost of fiber and deliciousness (I always like mixing fresh and baked veggies in my salads; they make for varied texture, which is always a plus). You can puree it and make sauces and soups.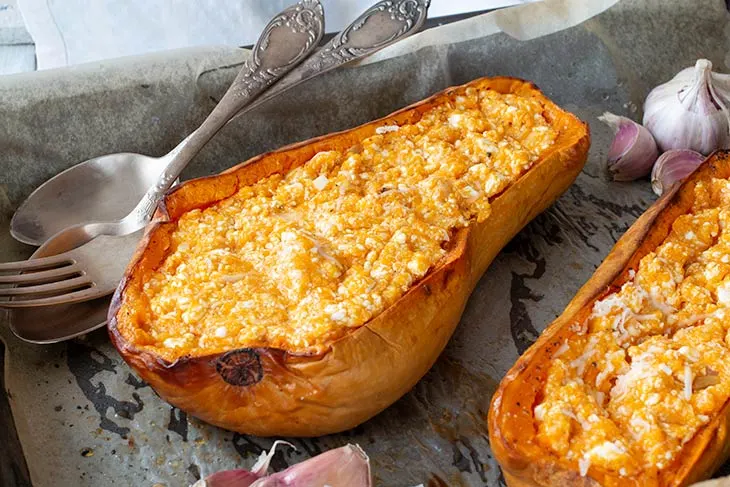 Here's an idea: For a more decadent dessert, you can cook it in half, caramelize it, then sprinkle it with brown sugar. Add a generous dollop of whipped cream and cinnamon and I promise you won't even miss that unhealthy chocolate bar at 4 in the afternoon. You can even bake cubes to caramelized perfection, then add it on top of porridges or overnight oats. Drizzle a bit of honey or agave on top… perfection. Or save some cooked pieces and add them to morning smoothies.
You probably got the idea by now. Butternut squash is a super healthy and versatile ingredient – probably more versatile than you are used to. I think we should use this delicious fruit/vegetable/whatever it might be to its full potential, while it's in season, it's affordable and we can find it everywhere! 🙂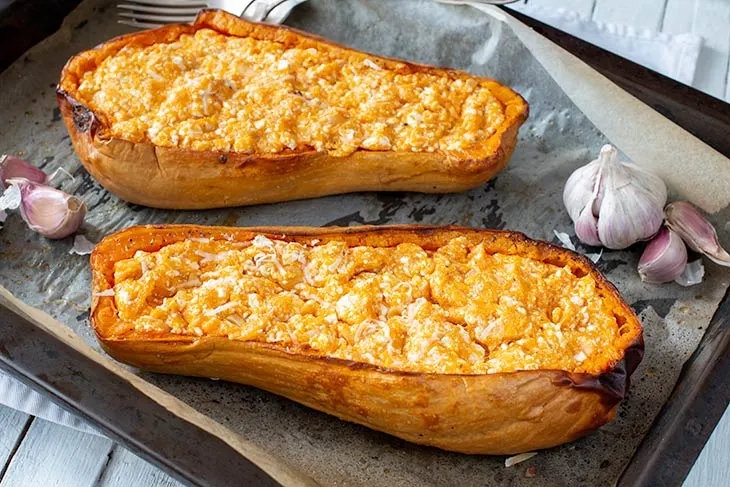 I hope you'll try baking some butternut squash this week. And if you can think of another creative and fun way to use it in cooking, don't hesitate to share it with me!
Yield: 6
Cheesy Baked Butternut Squash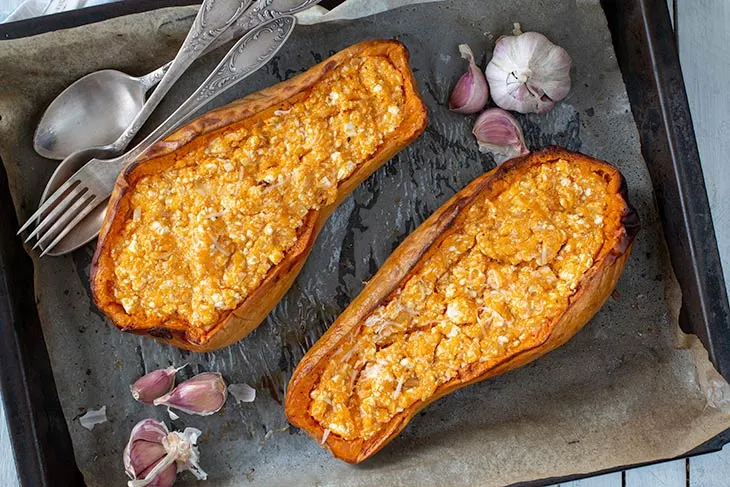 Here's one of the easiest and most flavorful autumn recipes ever: cheesy baked butternut squash. Vegan, delicious, healthy and super easy to make!
Total Time
1 hour
10 minutes
Ingredients
1 medium butternut squash
300g (10 oz) smoked tofu, crumbled
2 Tbsp nutritional yeast
3 garlic cloves, minced
2 Tbsp olive oil
Optional - grated vegan cheese
Salt
Pepper
Instructions
Cut the butternut squash in half length-wise and clean the seeds.
Brush with oil, season with salt and pepper, and bake uncovered for 40-45 minutes at 180 degrees C. If the edges are starting to burn, cover with aluminum foil.
In a bowl, mix the tofu crumbles with nutritional yeast and minced garlic.
Scoop the pulp out of the baked butternut squash and add it to the mix.
Mix well to combine, adjust the seasoning.
Add the mixture back into the butternut squash, spread some grated vegan cheese on top, and bake for an additional 10-15 minutes.
Nutrition Information
Yield
6
Amount Per Serving
Calories

119
Total Fat

8g
Saturated Fat

1g
Trans Fat

0g
Unsaturated Fat

6g
Cholesterol

0mg
Sodium

135mg
Carbohydrates

7g
Fiber

2g
Sugar

2g
Protein

7g
I strive to keep the information as accurate as possible but make no warranties regarding its accuracy. I encourage you to make your own calculations using your preferred nutrition calculator.