Do you love Chinese cuisine? I have a surprise for you today – the BEST recipe for vegan Kung Pao Chick'n on the entire internet! Simple, healthy, and guilt-free!
If you've been following my blog for a while, you might already know that I'm a big lover of Chinese cuisine. A BIG one! And of the whole Asian cuisine whatsoever, regardless if we're talking about authentic ramen or some Thai curry. But what I want to share with you today is… out of this world. Yes, I'm talking about a vegan Kung Pao Chick'n!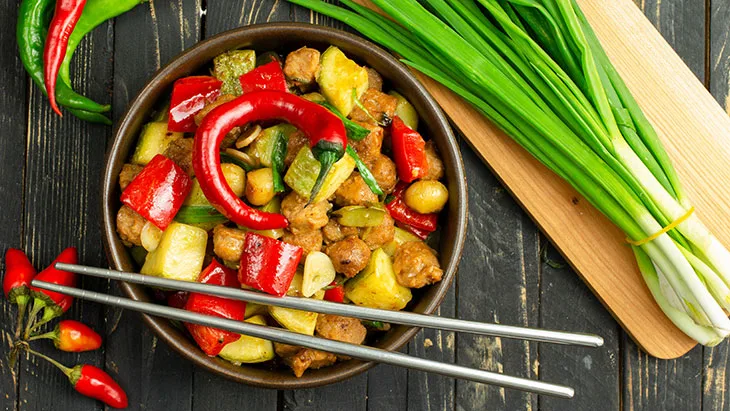 But first, let's find out what IS a traditional Kung Pao Chicken. Let's see. Kung Pao is an authentic Chinese dish, "born" in the Sichuan province. And just like most dishes coming from Sichuan (including the sauce, of course), it surely IS spicy. This dish is usually made with chicken and it's a unique combination of flavors: spicy, sour, sweet, salty – a real explosion, my friends! Something you've never tasted before.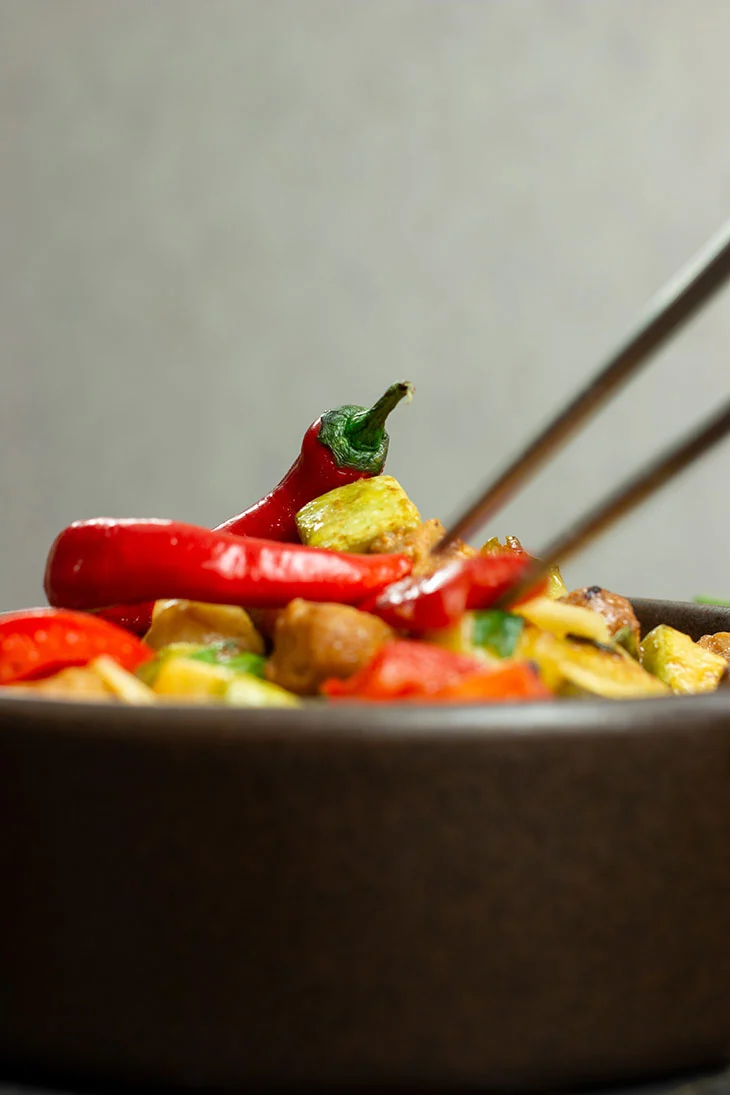 The traditional recipe contains spicy peppers and some peanuts to counterbalance all that intense flavor. Other than this and the chicken, you can play around with the ingredients as you please.
For this vegan recipe, I chose textured soy protein (also known as TSP) as I think its texture and taste perfectly completes the rest of my ingredient list. I also used zucchini, bell peppers, onions, ginger, Macadamia nuts, coconut oil, and, of course, some dried Chinese red peppers. You know I'm all about spices!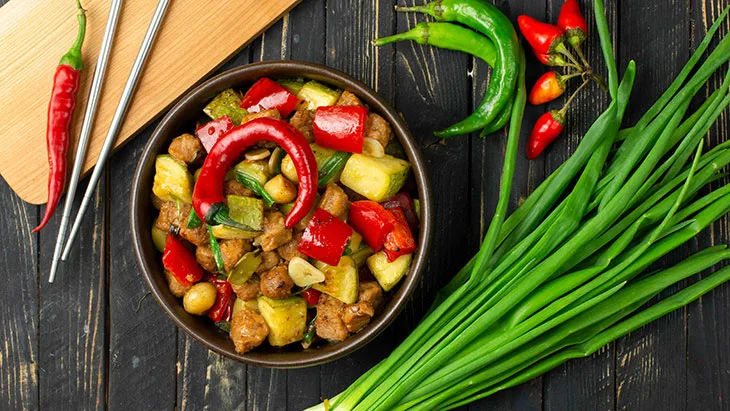 I usually add around half a teaspoon to one entire teaspoon of dried Chinese red pepper powder, but you can add less… or more! 😉 It all depends on how spicy you like your food. I'm all about burning my tongue every time I eat Chinese. Ah, by the way, because it's so easy and delicious, I really believe that this vegan Kung Pao Chick'n is 10 times better than ordering some takeaway.
First of all, the homemade version is fresh. You can use 100% healthy and high-quality ingredients, so you'll know that the end result will be yummy. You can fully control how spicy the final dish will be. And it's also fun to make, why not? And did I forget to mention it's also waaayyy cheaper to make the homemade version than to order some takeaway Kung Pao? Yes, sir, plenty of advantages here!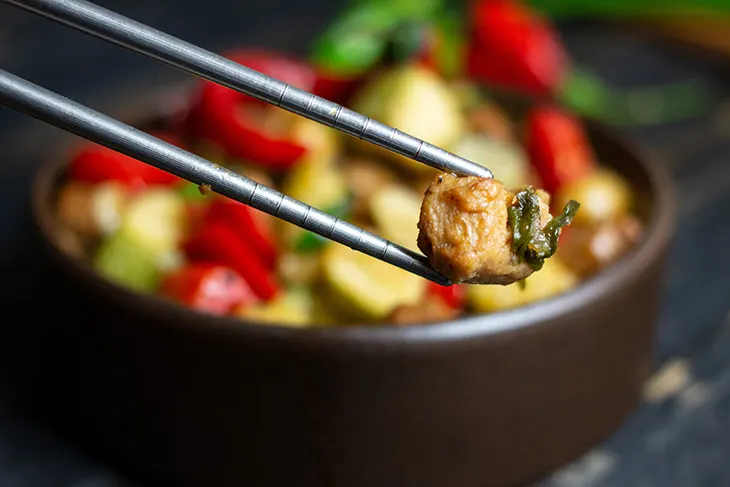 One of the best things about this vegan Kung Pao Chick'n is that it's ready in no time and, if you prepare it for dinner, chances are you'll have some pretty delicious leftovers perfect for the next day's lunch. But that's only if you won't go back for seconds after you take the first bite! It's THAT incredible!
By the way, you can also call this dish Kung Pao TSP, as this is pretty much what it is. But let's face it: vegan Kung Pao Chick'n sounds 100 times better. Because it has no meat, adding TSP (textured soy protein) to the ingredients list is a great way to substitute the proteins in this dish.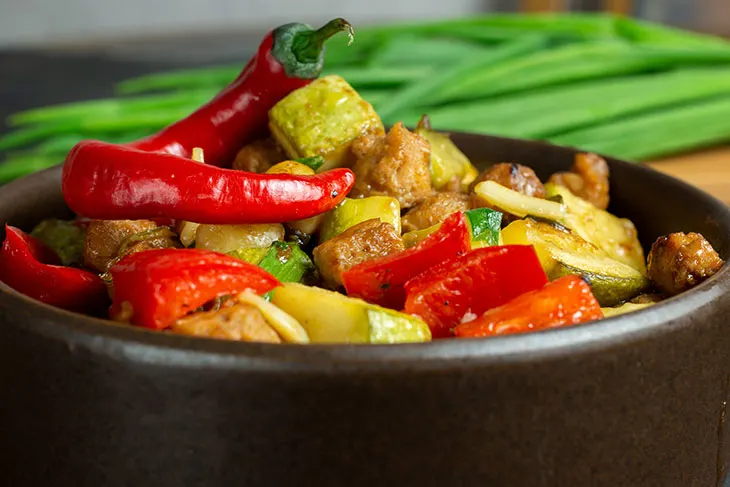 Plus, it's extremely tasty if you use the right spices to combine it with. I used sesame oil, soy sauce (or tamari if you want the gluten-free version), minced ginger, garlic , chilies, and some balsamic vinegar. A match made in heaven!
In all honesty, this sauce ended up ah-mazing! The only thing I would maybe replace is the Chinese red pepper. And I would replace it with some real Sichuan peppercorn, of course. Just to have a taste of the real deal! But this one comes pretty close, I must admit it. And, anyway, if you completely hate spicy food, you may even omit it from this dish altogether. Who am I to judge?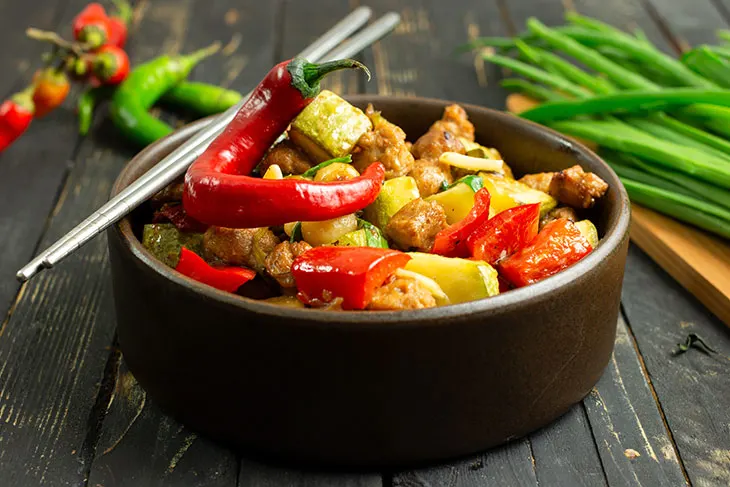 PRO TIP: In case you don't have any textured soy protein around or if you simply hate anything related to soy, you can also use chickpeas in order to make this dish. They're rich in protein and they work wonderfully with this spice combo.
Okay, enough talking. I'm pretty sure I already convinced you that this vegan Kung Pao Chick'n recipe is worth trying – at least once in your lifetime. It's a healthy, delicious, and high-protein meal that's ready in a bit more than half an hour – so totally doable as a mid-week dinner.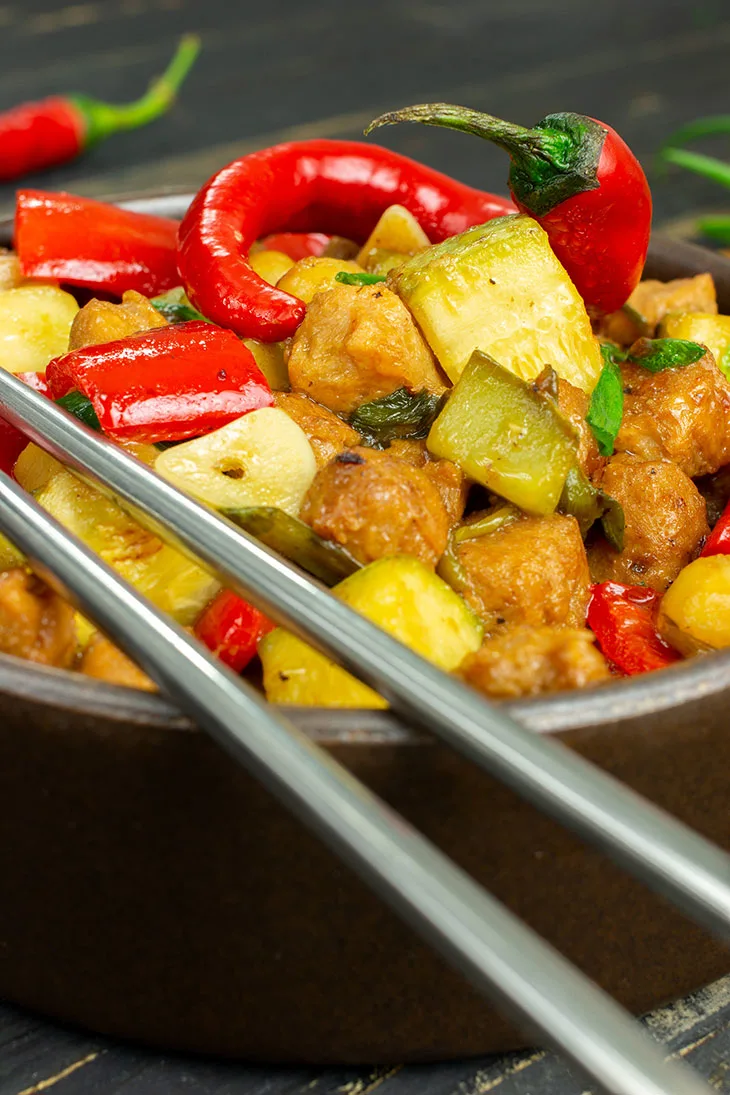 So what are you waiting for? Grab your textured soy protein and the rest of the ingredients and let's get cooking. If you decide to try this amazing Chinese dish, make sure to come back and let me know how it goes, I'm so curious if you liked it as much as I did!
Yield: 4
Vegan Kung Pao Chick'n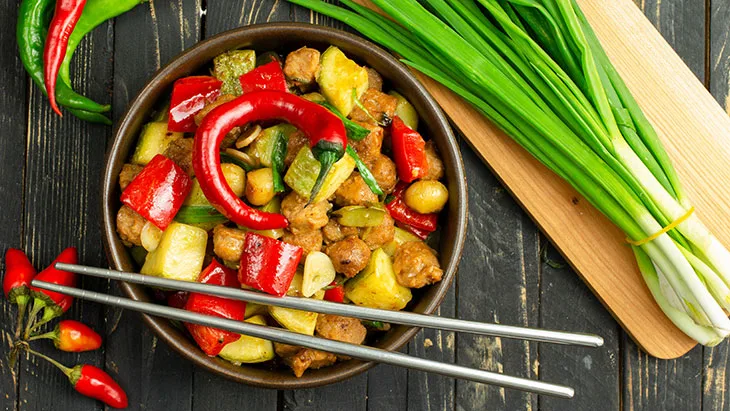 Do you love Chinese cuisine? I have a surprise for you today – the BEST recipe for vegan Kung Pao Chick'n on the entire internet! Simple, healthy, and guilt-free!
Ingredients
100g (1 cup) textured soy protein, cubes
1 medium zucchini, cut into cubes
1 large bell pepper, cut into cubes
2 green onions, sliced
½ tsp (or 1 full tsp) dried Chinese red pepper, depending on how spicy you like it
3 garlic cloves, thinly sliced
1 tsp minced ginger
20g (2 Tbsp) Macadamia nuts
¼ tsp tapioca flour
2 Tbsp coconut oil
1 Tbsp balsamic vinegar
1 Tbsp chili garlic sauce
1 Tbsp sesame oil
3 Tbsp soy sauce or tamari
Salt
Instructions
In a pot, bring some water to a boil, add the soy cubes and cook for 10-15 minutes.
Drain well, then transfer to a bowl.
Add the soy sauce and 1 Tbsp of coconut oil. Mix to combine and set aside for 30 minutes.
In a pan, add 1 Tbsp of coconut oil and sautee the garlic, ginger, and Chinese red pepper over medium heat.
When they develop some color, add the marinated soy cubes and cook for 1 more minute.
Add zucchini, bell pepper, half of your green onion, Macadamia nuts, balsamic vinegar, sesame oil, and chili garlic sauce.
Stir and cook for 5-7 minutes.
Add the tapioca flour and stir until it thickens.
Season with salt, if needed.
Sprinkle the remaining green onion on top when serving.
Nutrition Information
Yield
4
Amount Per Serving
Calories

187
Total Fat

14g
Saturated Fat

7g
Trans Fat

0g
Unsaturated Fat

6g
Cholesterol

0mg
Sodium

1203mg
Carbohydrates

8g
Fiber

2g
Sugar

4g
Protein

9g
I strive to keep the information as accurate as possible but make no warranties regarding its accuracy. I encourage you to make your own calculations using your preferred nutrition calculator.