Picture this: soft biscuits made with 100% vegan ingredients, bursting with cheesy, garlic flavors. Here's how to make the best gluten-free vegan garlic cheesy biscuits!
If you love soft, puffy biscuits that are anything but boring, get ready for one of the best recipes you'll try this month! 🙂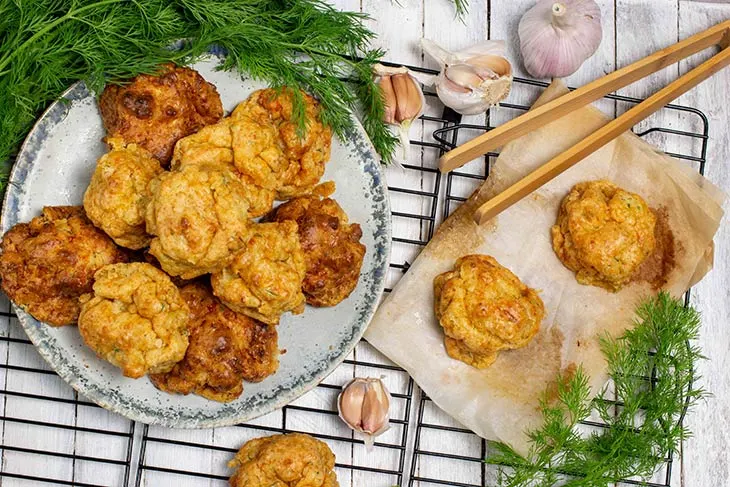 These garlic cheesy biscuits are the definition of comfort and they're made with healthy ingredients. Best of all? They don't contain any gluten either, so they're perfect for coeliacs or those with gluten sensitivity.
Ever since the cold season started, I simply love it when the evening comes and I've already ticked off most of my to-do list. Once I'm done, I take my soft blanket, cuddle up on my sofa with my cat, and enjoy a cup of hot tea and some biscuits.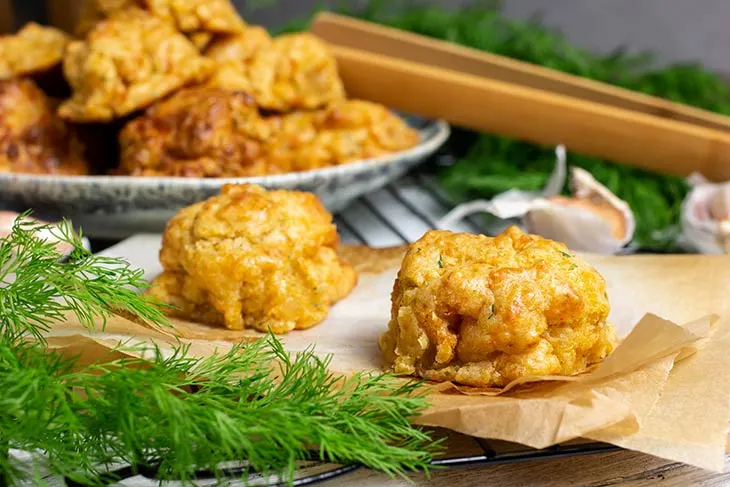 I surely love sweet biscuits and I've made so many in the past that I've shared with you here on the blog. These vegan scones and these almond cookies are just some quick examples. But did you know that not all biscuits have to be sweet?
No, sir, savory biscuits are just as good – and sometimes even better! It only depends on your personal preferences and cravings. And these vegan garlic cheesy biscuits are the best example I can offer you today. They're my latest obsession, honestly – I think I already made them three times this week.
Call me insane, but I just love knowing that I have a fresh batch of these biscuits nearby whenever I need a quick snack in-between meals. And nothing can keep me from baking these once every two days because, well, they're super easy to put together. You only need some carefully chosen ingredients and a big bowl. Mix everything and you're good to go!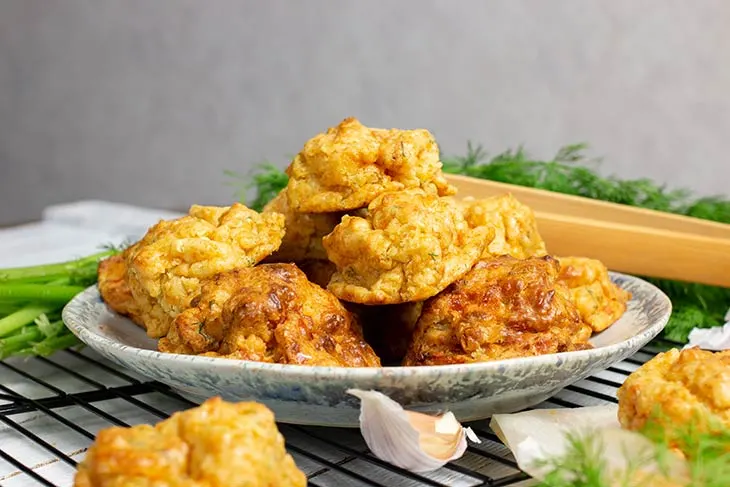 Except for the fact that they melt in your mouth and they're super delicious, these biscuits are very versatile as well. The main flavors are, of course, (vegan) cheese and garlic, but you can throw some other condiments or herbs in there if you wish. I, for once, chose to keep things simple and classy with just some smoked paprika, cloves, and Italian seasoning.
You can vary the shaping technique as well. For example, you can just put the batter in the baking pan with a spoon and you'll end up with what they call "drop biscuits". Or you can use a special shape and you'll have pretty, perfect biscuits at the end.
I don't care for perfection when it comes to my food in general, so I formed my biscuits quickly, with no hassle, using a spoon. And guess what? They ended up just great like this! 😉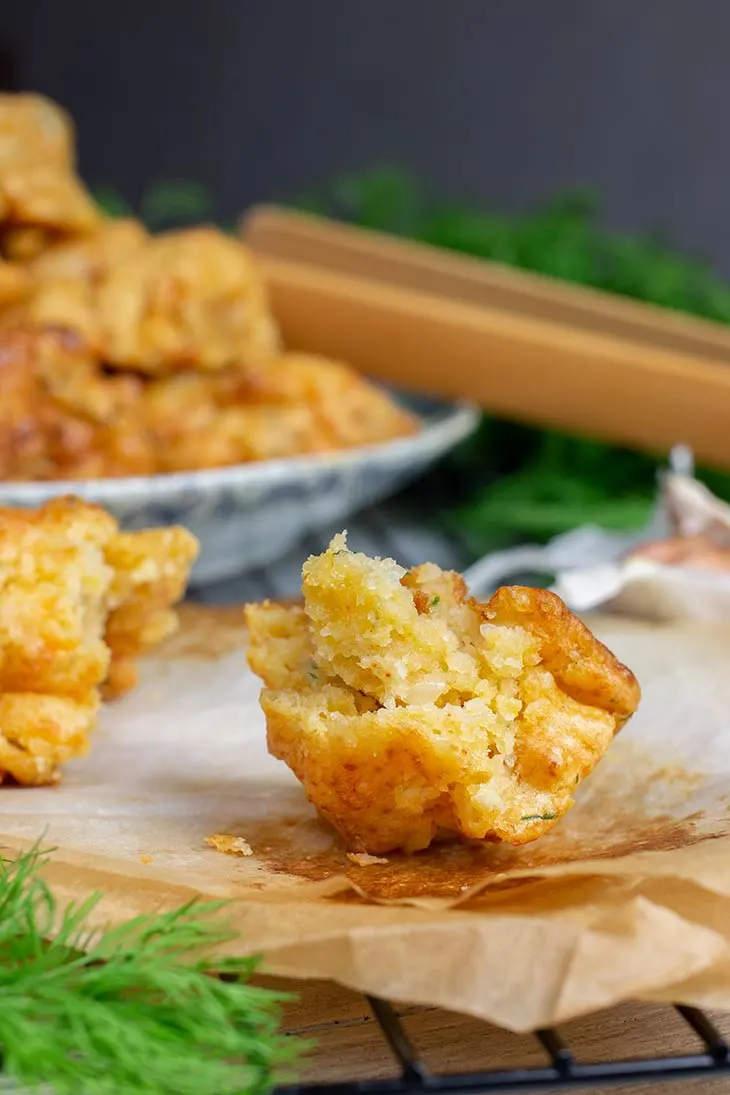 And they're so cheesy, you won't even believe it! 'But how can they be cheesy if they're vegan?' – you might ask. To which I answer: shredded vegan cheese, my friends! It's just as flavorful and delicious as regular cheese, only healthier and cruelty-free.
In order to make this recipe gluten-free and diet-friendly for almost anyone on the planet, I decided to use coconut flour instead of the regular one. It's flavorful, it's gluten-free and it works wonderfully in this recipe. What's not to love here?
Now let's talk about serving these vegan garlic cheesy biscuits for a bit. You can, of course, serve these biscuits as they are, maybe as an appetizer or a super-portable snack that you can take with you to work or to school. But who am I kidding? Nobody's going anywhere these days, so we'll all just eat these on the couch, hopefully together with a loved one, while watching good ol' Netflix.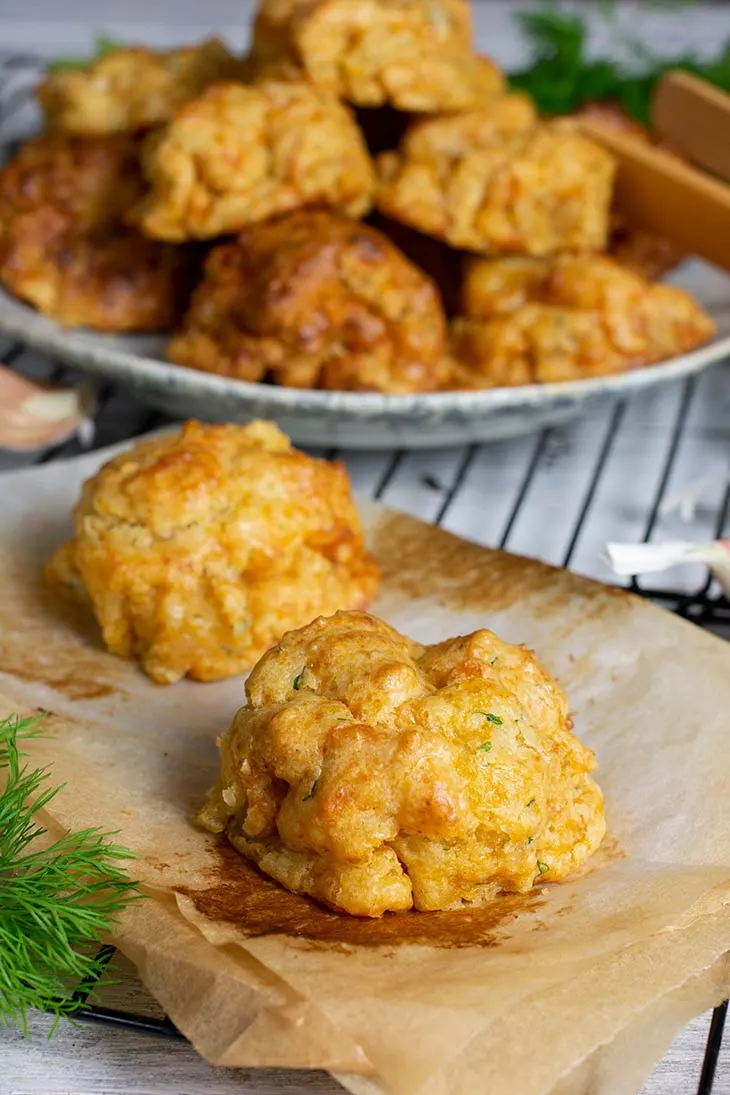 If this sounds too boring for you, no worries, I have some more suggestions up my sleeve. You can serve these vegan garlic cheesy biscuits with a cream soup as well – such as this spicy pumpkin soup or this cream of broccoli soup. You can serve them with a protein-rich salad for extra taste. You can even have them for breakfast. After all, why not?
In short, you can replace bread with these cookies at any time of the day. Advantages: they're more flavorful than bread and they're definitely easier to make.
Regardless of how you choose to consume these vegan garlic cheesy biscuits, one thing's for sure: they're yummy, they're healthy and they're extremely easy to make.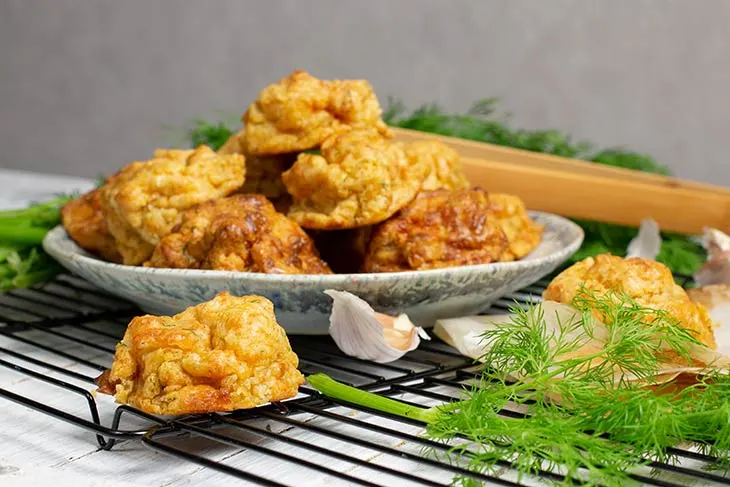 And if you don't believe me, just head over to the kitchen and try them yourself. I'm sure you'll end up with the best vegan garlic cheesy biscuits you ever tasted!
Yield: 12
Gluten-Free Vegan Garlic Cheesy Biscuits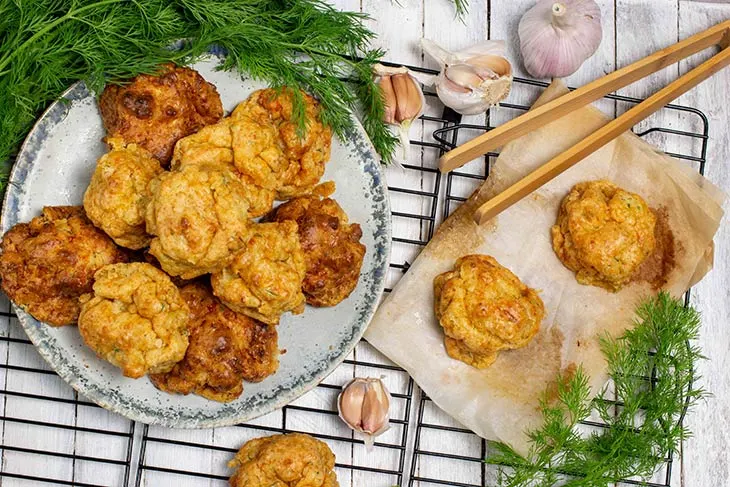 Picture this: soft biscuits made with 100% vegan ingredients, bursting with cheesy, garlic flavors. Here's how to make the best gluten-free vegan garlic cheesy biscuits!
Ingredients
180g (1 ⅔ cups) coconut flour
100g (½ cups) shredded vegan cheese
2 garlic cloves, minced
¼ tsp salt
½ tsp baking powder
¼ tsp smoked paprika
1 tsp dry Italian seasoning
1 Tbsp dill, chopped
3 Tbsp vegan sour cream
5 Tbsp cold vegan butter
Instructions
In a mixing bowl, combine the coconut flour, baking powder, salt, Italian seasoning, smoked paprika.
Cut the butter into small cubes and integrate it into the flour mixture using your fingers. Make sure to work fast so the butter doesn't melt.
Add garlic and mix well.
Add the cheese and sour cream, and fold it in. Don't over mix.
Form the biscuits and bake at 180 degrees C for 10-12 minutes.
Nutrition Information
Yield
12
Amount Per Serving
Calories

95
Total Fat

6g
Saturated Fat

4g
Trans Fat

0g
Unsaturated Fat

2g
Cholesterol

13mg
Sodium

127mg
Carbohydrates

9g
Fiber

0g
Sugar

1g
Protein

2g
I strive to keep the information as accurate as possible but make no warranties regarding its accuracy. I encourage you to make your own calculations using your preferred nutrition calculator.