Going to a barbecue or picnic with your friends and family? Make these vegan corndogs and surprise them with a delicious, meat-free alternative of the popular American corndogs recipe!
American cuisine is widely known for its often unhealthy dishes and for the fact that it stereotypically reflects the fast food culture. However, with its numerous delicious dishes, American food is world-famous and adopted by people everywhere around the world. Its roots are in the complex history of the country and the layering of cultural influences from native Americans and colonials.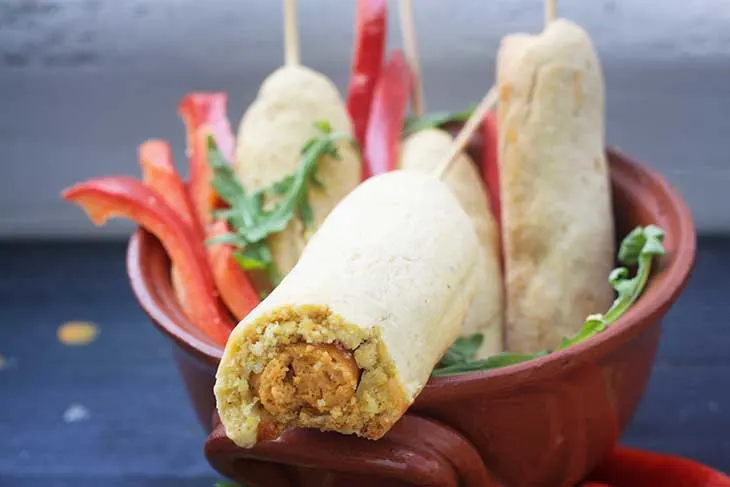 One of the long-time favorite dishes in America is the corndog. Corndogs are one of the most iconic and extremely loved American street foods that both intrigue and delight the rest of the world. The corndog is basically a sausage that is deep fried after being coated in a thick cornmeal batter. After frying, it becomes crispy on the outside but stays fluffy on the inside. Sounds delicious, right? Corndogs are a nostalgic reminder of the old childhood fairs and amusement parks and they have become a real staple of the American cuisine.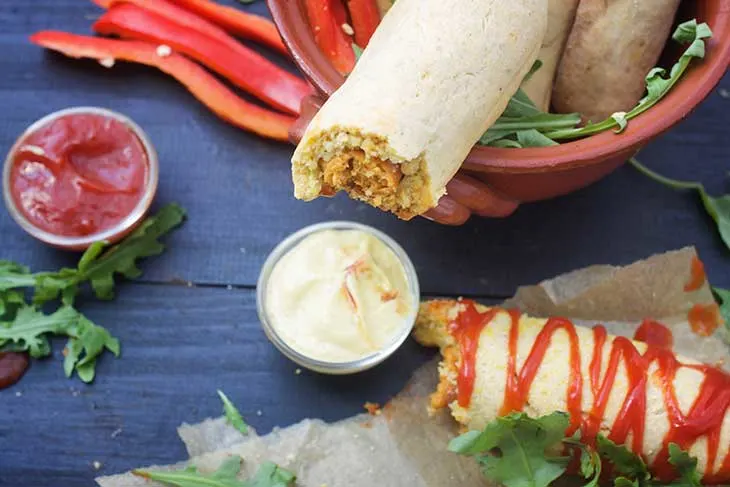 The origin of the corndog is debatable, but it seems like brothers Neil and Carl Fletcher first made and sold corndogs at the Texas State Fair around 1938. Their aim was to sell hot dogs faster by dipping them in a fluffy batter and deep-frying them – I mean who could resist something like this, put on a stick?!
Corndogs are known under many names depending on the region or state they're found in: cozy dogs, pogo, pluto pups, dagwood dog, dippy dog, corny dog – but by whichever name you decide to call them, you can't say you've tried American cuisine until you haven't tried an authentic corndog!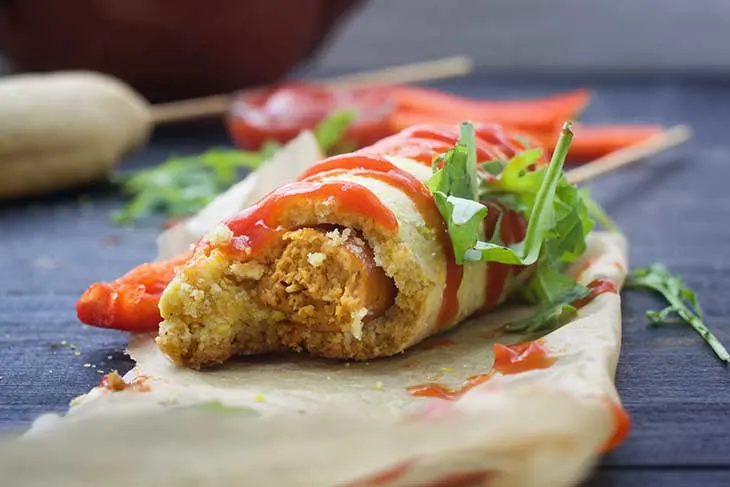 Soon, corndogs became a regular dish on drive-in fast-foods, American diners or street vendors' menus. Nowadays they can be easily found in the frozen food section in supermarkets across North America and all you need to do is microwave them and serve! Of course, the frozen version lacks the unique texture and deliciousness of fresh, authentic corndogs.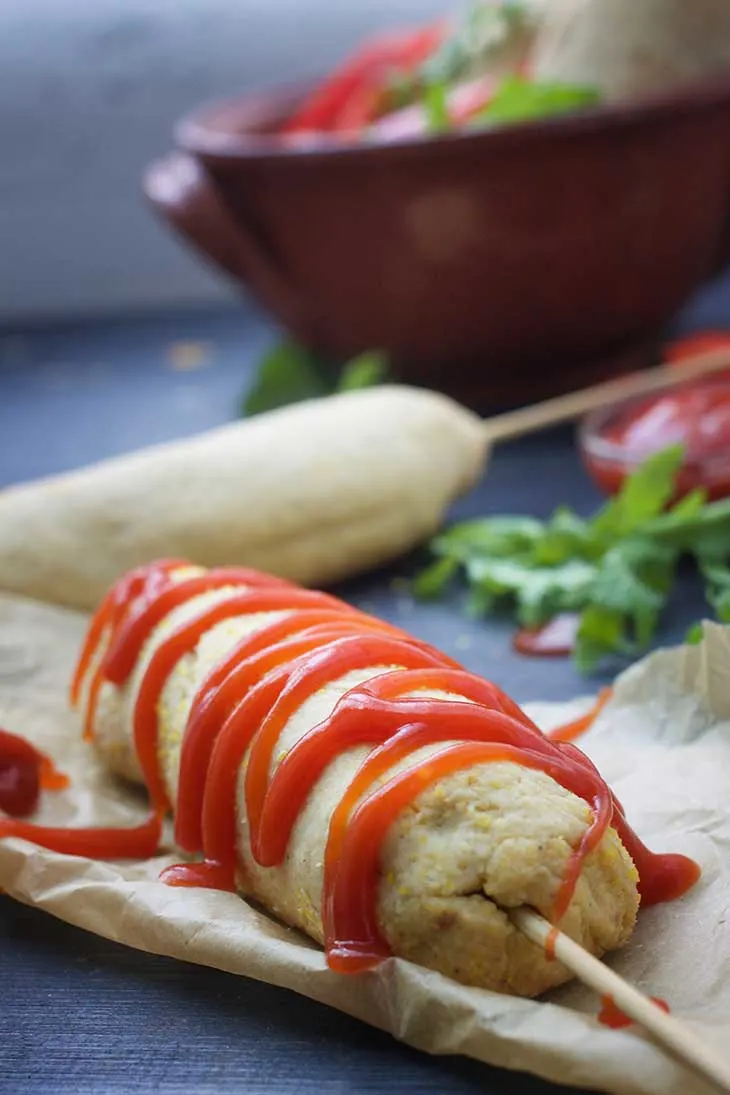 As with most American Dishes, there are many variations of corndogs in all the different states or regions in the United States. Naturally, there is even a cheesy variation of the corndog. In this recipe, the sausages are wrapped or filled with cheese before coating them in the batter. You can also find corn dogs made with bratwursts (known as "corn brats"), or with pork or turkey sausages.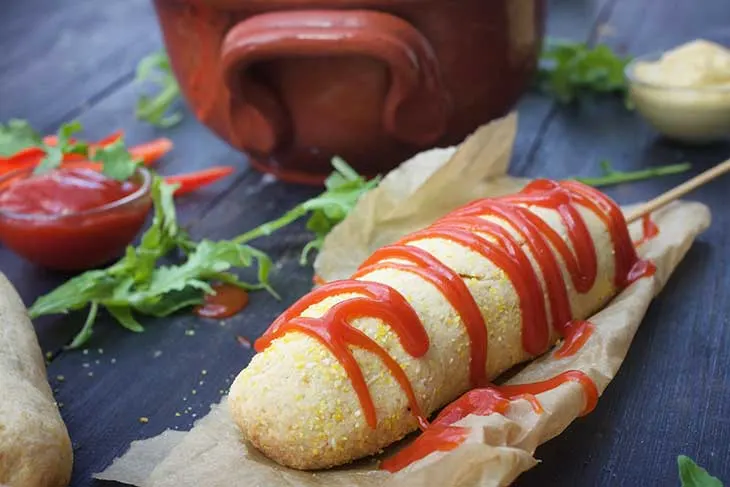 Mini corndogs are a children's favorite in some restaurants that have soon become an actual finger food, also called "corn puppies" or "corndog nuggets". These are easy and fun to eat if you dip them in various sauces like ketchup or mustard. Americans love their corndogs so much, they even invented a breakfast version made with pancake batter instead of cornmeal and they called it "pancake on a stick".
And because you know I'm not a fan of fast food dishes, I decided to transform the classic corndog recipe into its vegan version, using veggie dogs and a delicious vegan batter! 🙂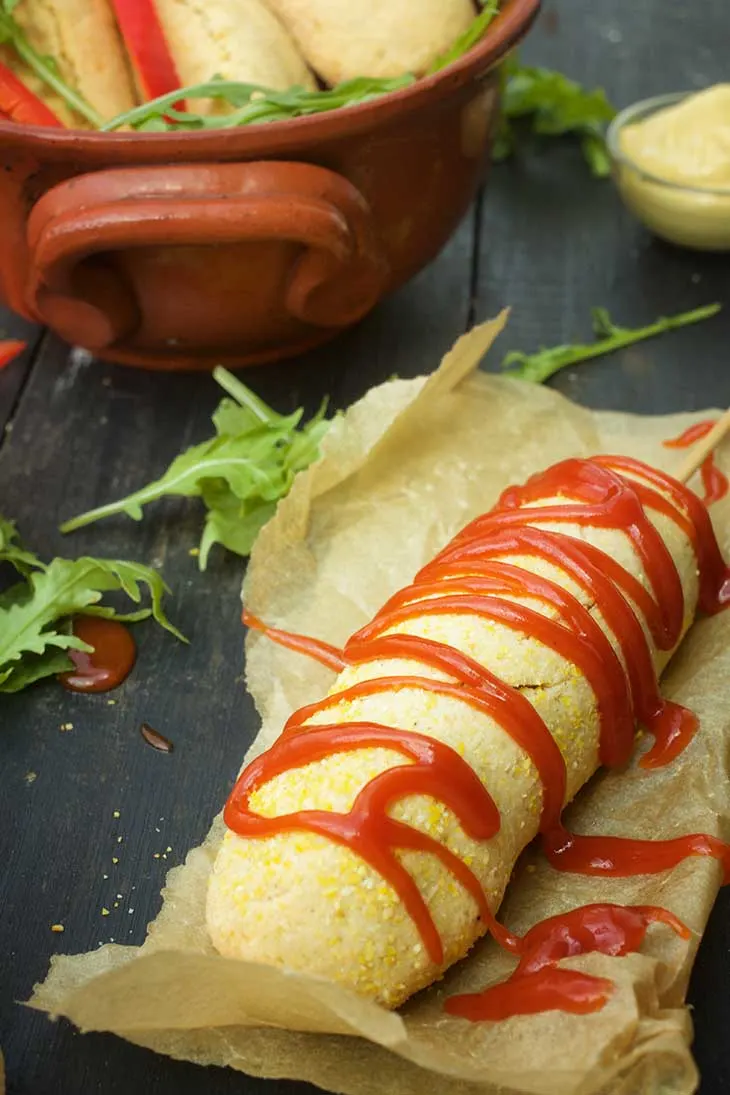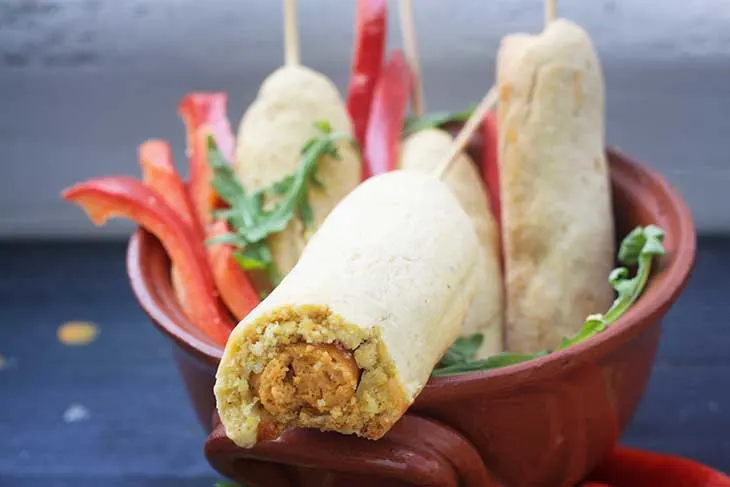 Going to a barbecue or picnic with your friends and family? Make these vegan corndogs and surprise them with a delicious, meat-free alternative of the popular American corndogs recipe!
Total Time
2 hours
40 minutes
Ingredients
90g (¾ cup) flour
90g (¾ cup) cornmeal
1 tsp baking powder
½ tsp salt
½ tsp powder
5 Tbsp vegan butter, softened
½ Tsp white pepper
1 Tbsp nutritional yeast flakes
60g (¼ cup) coconut milk
2 Tbsp coconut sugar
6 vegan veggie dogs
6 wooden sticks or skewers
mustard and ketchup for dipping
Instructions
Preheat oven to 200C.
Line a baking sheet with the parchment paper.
In a large bowl, combine the flour, cornmeal, sugar, baking powder, salt, white pepper, nutritional yeast and garlic powder.
Add the softened vegan butter, coconut milk, and mix together until it forms a soft dough.
Refrigerate up to 2 hours, so you can easily work with it.
Place the dough on a clean, lightly floured surface and roll the dough into a 3mm sheet. Cut the dough with a knife in 6 equal squares, so you can wrap a veggie dog with each one of them.
Skewer the veggie dogs then wrap them in the dough.
Fix the dough around the veggie dogs so it looks fully covered.
Layer the vegan corndogs on the prepared baking sheet.
Bake them for 15 to 20 minutes until the bottoms are nicely browned. Serve with crunchy veggies, ketchup or mustard.
Nutrition Information
Yield
6
Amount Per Serving
Calories

324
Total Fat

8g
Carbohydrates

41.8g
Protein

21.2g