Mojito lovers, you're gonna want to hear this: here's how to make the ultimate dark rum spiced mojito. It's basically a mojito cocktail with delicious autumn-winter flavors. And you're not ready for it!
I'm absolutely convinced that each and every one of you reading this already knows what a mojito is. If not, let me refresh your memory: a mojito is a classic Cuban cocktail made of white rum, lime juice, soda, mint, and sugar. It's one of the best summer drinks and it works well both during the day (while you're sunbathing on the beach, for example) and during the evening (while you're dancing the night way in a nightclub).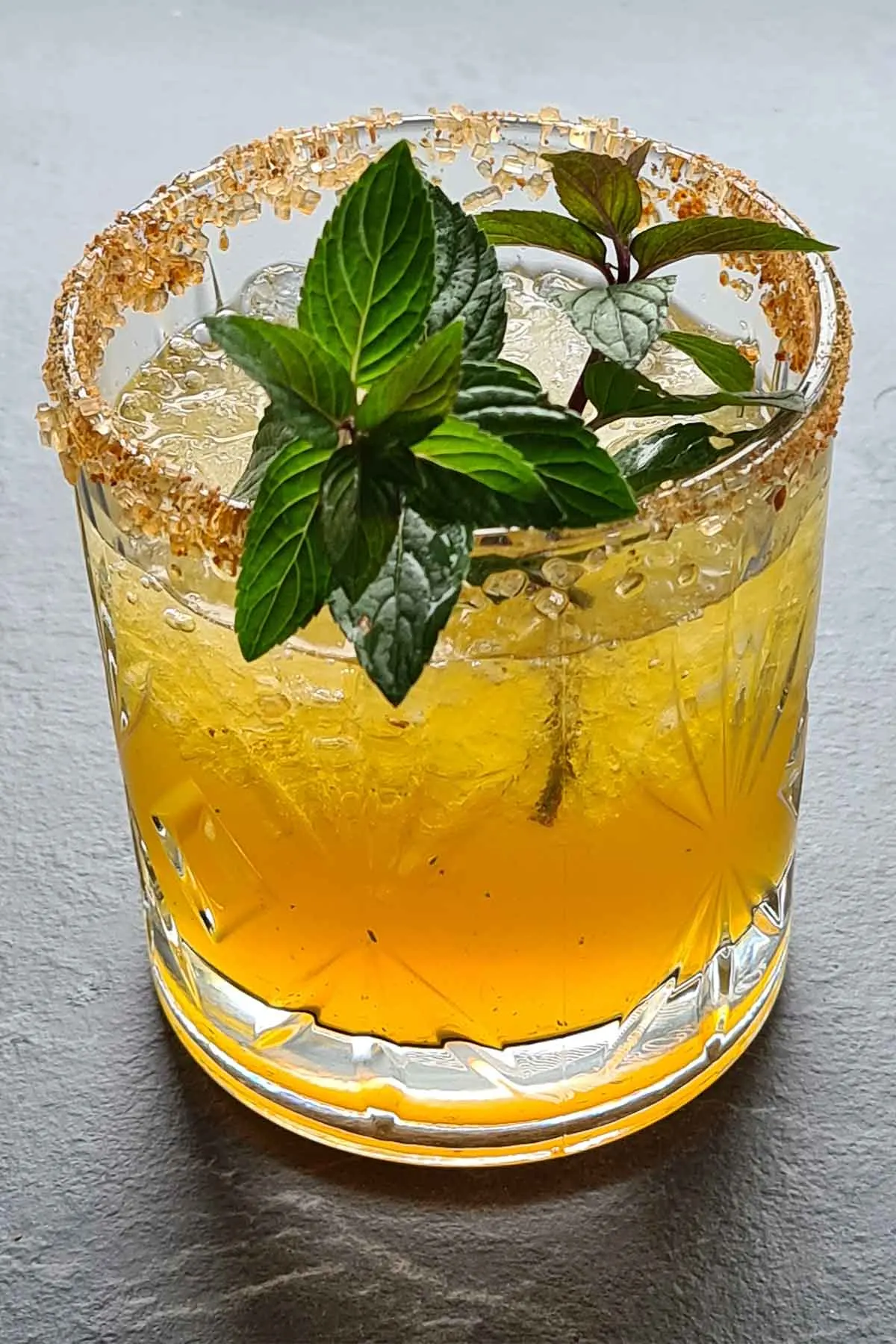 This dark rum spiced mojito is my version of an autumn-winter mojito. Because yes, it was needed! 🙂 And it's one of the best alcoholic things I tried lately.
In order to create this, I kept all the classic mojito ingredients such as rum, sparkling water, mint, and sugar but I made some changes that take this classic summer drink to a whole new level. I replaced the classic white rum with some spiced rum and, instead of the fresh lime, I added some classic winter spices – nutmeg, cloves, cinnamon, and a little bit of 'Winter Spice' syrup. Now you can't tell me this entire combo doesn't scream "winter holidays"!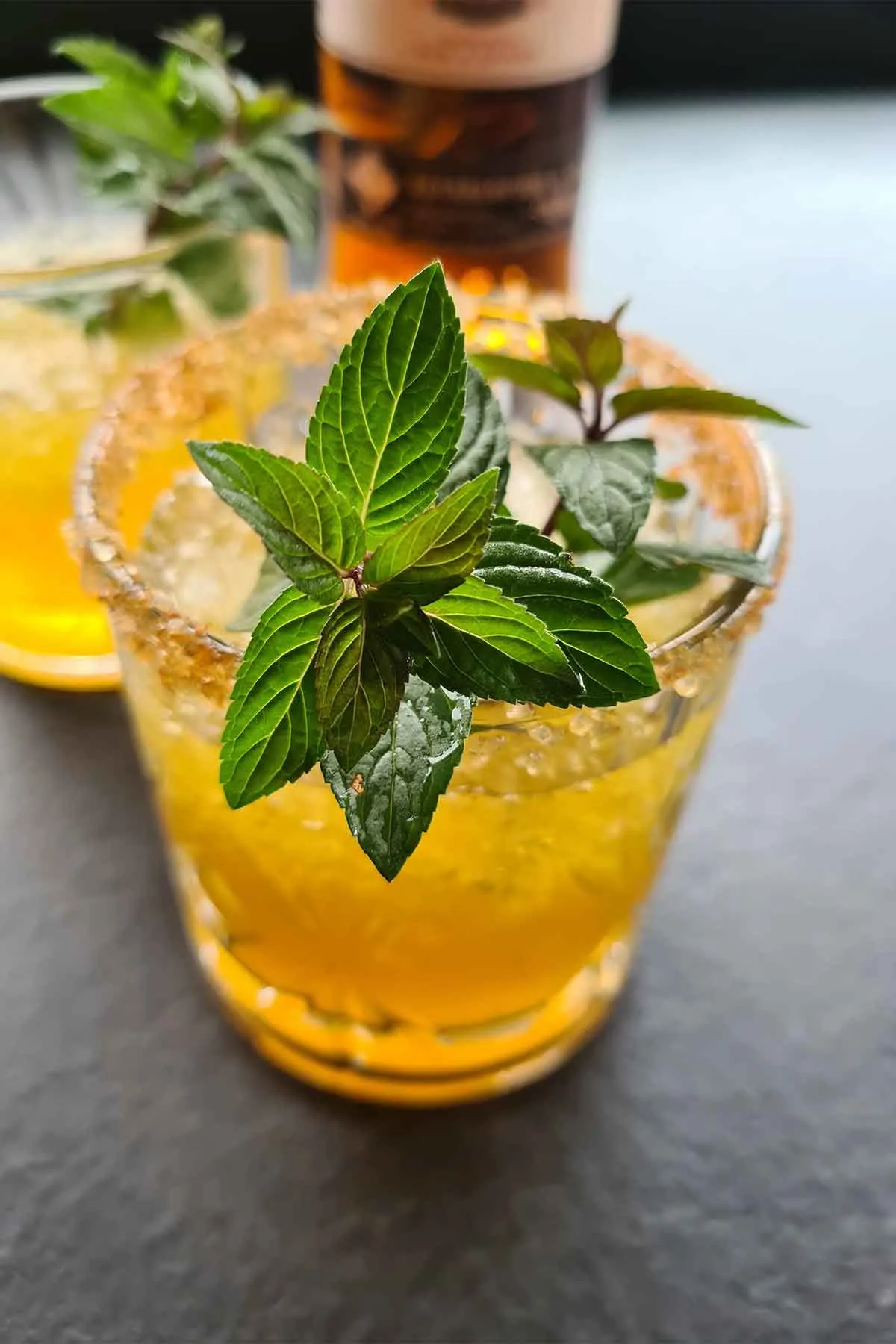 You can think of this cocktail as a mix of classic mojito and gingerbread cookies. It's part of my winter cocktail series that I recommend you try this season and I really think it will be a hit if you serve it at the Christmas table!
The traditional Mojito cocktail recipe was born in Havana, Cuba and it was made of "burning water" (rum) and a mix of tropical ingredients that I also mentioned above. Because yes, the mojito is known as a tropical cocktail!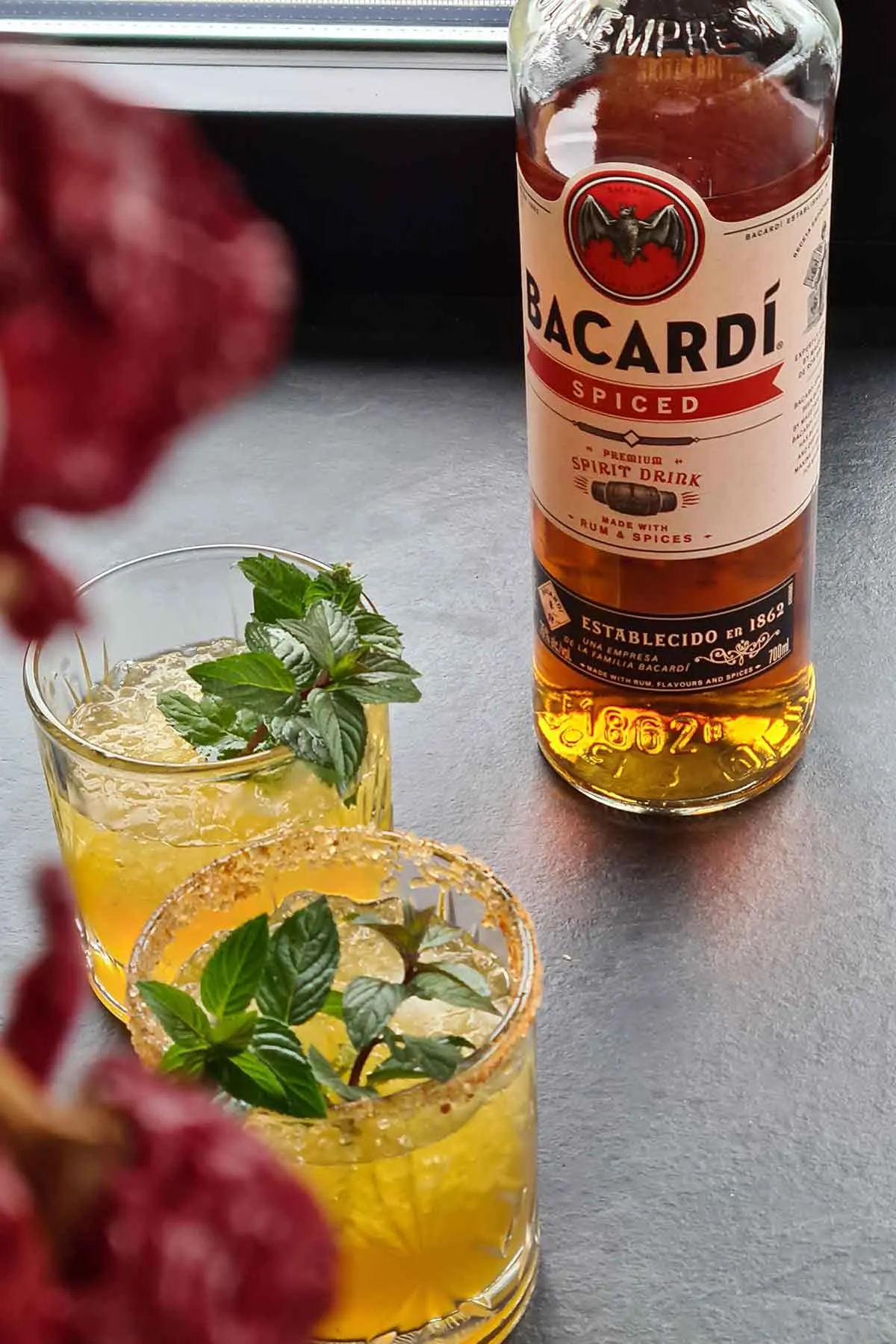 Its name is still up for debate, though. There are two theories out there: the first one states that "mojito" comes from "mojo", a traditional Cuban seasoning made from lime. The second one states that it comes from "mojadito", which means "a little wet" in Spanish. Regardless of the real version of the story, I'm so happy this amazing cocktail exists and that I got to transform it into a winter feast today!
And if we're talking about history, did you know that the first mojito was made in 1586? Well, historians can't know exactly, but it's around that year that people started making and loving mojitos. In fact, this drink was considered to be a medicinal drink that would cure various illnesses.
The first written/published recipe for mojito appears much later, in 1927, in a Spanish recipe book called El Arte de Hacer un Cocktail y Algo Mas.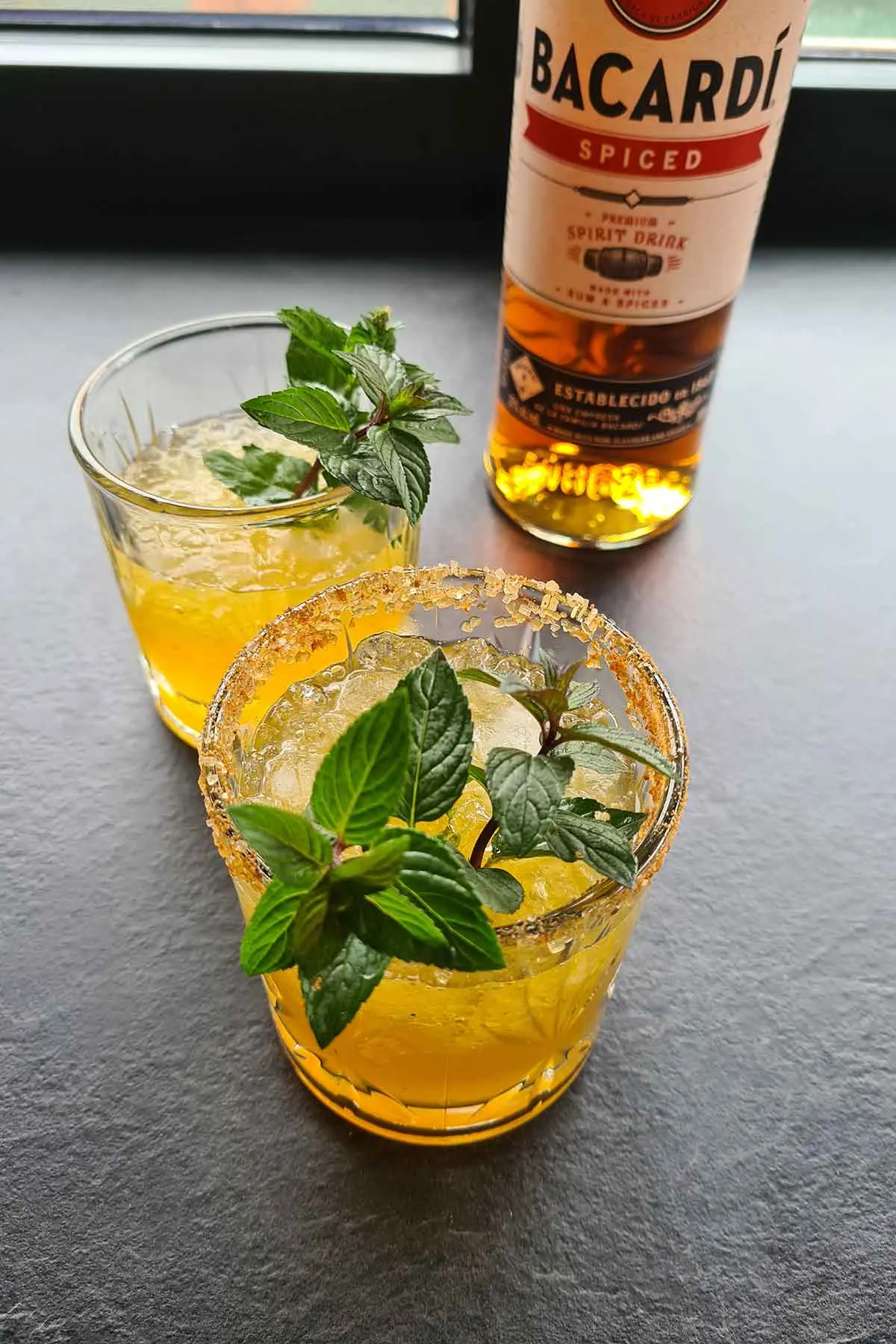 I think this dark rum spiced mojito will be the main attraction at your Christmas party. Just imagine: all your loved ones gathered around the table, surrounded by heaps of good food and glasses full of dark rum spiced mojito. Cheering, laughing, and telling stories. For me, this sounds like an ideal scenario and that's exactly what I want to organize for this year: a Christmas gathering with all my friends and family. And we all know that family conversations are best fueled with some good alcohol, right? :))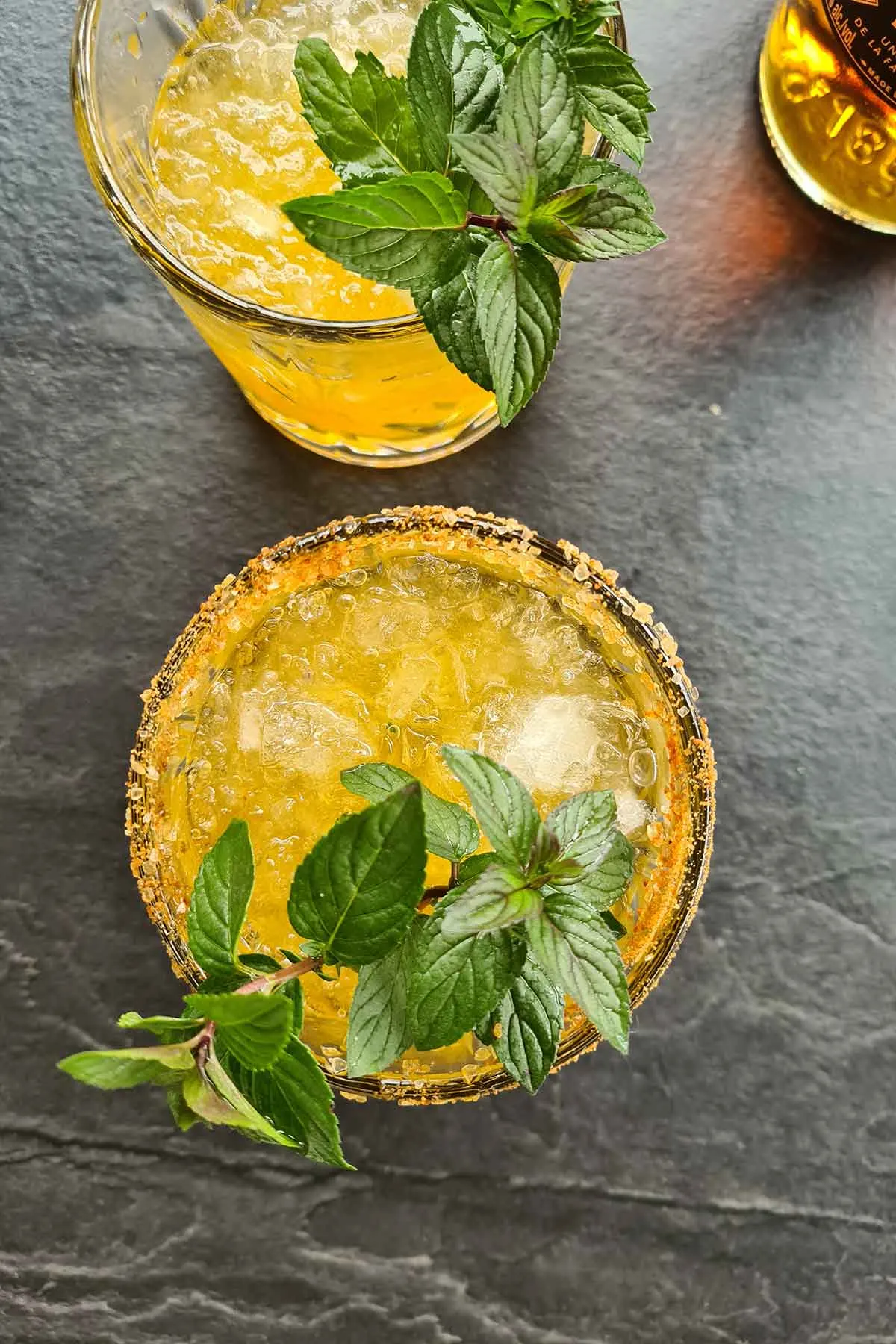 I could go on and on talking about how amazing and intense this dark mojito is… but what for? You have to taste it to understand the wonderful mix of flavors that is encapsulated here!
I hope you'll try this wintery, Christmassy recipe soon and share it with your family and friends. And talking about sharing… I wouldn't mind if you shared your impressions and ideas with me as well. Let me know if you liked this dark rum spiced mojito or if you disliked it, what would you change, etc. You know I love hearing from you!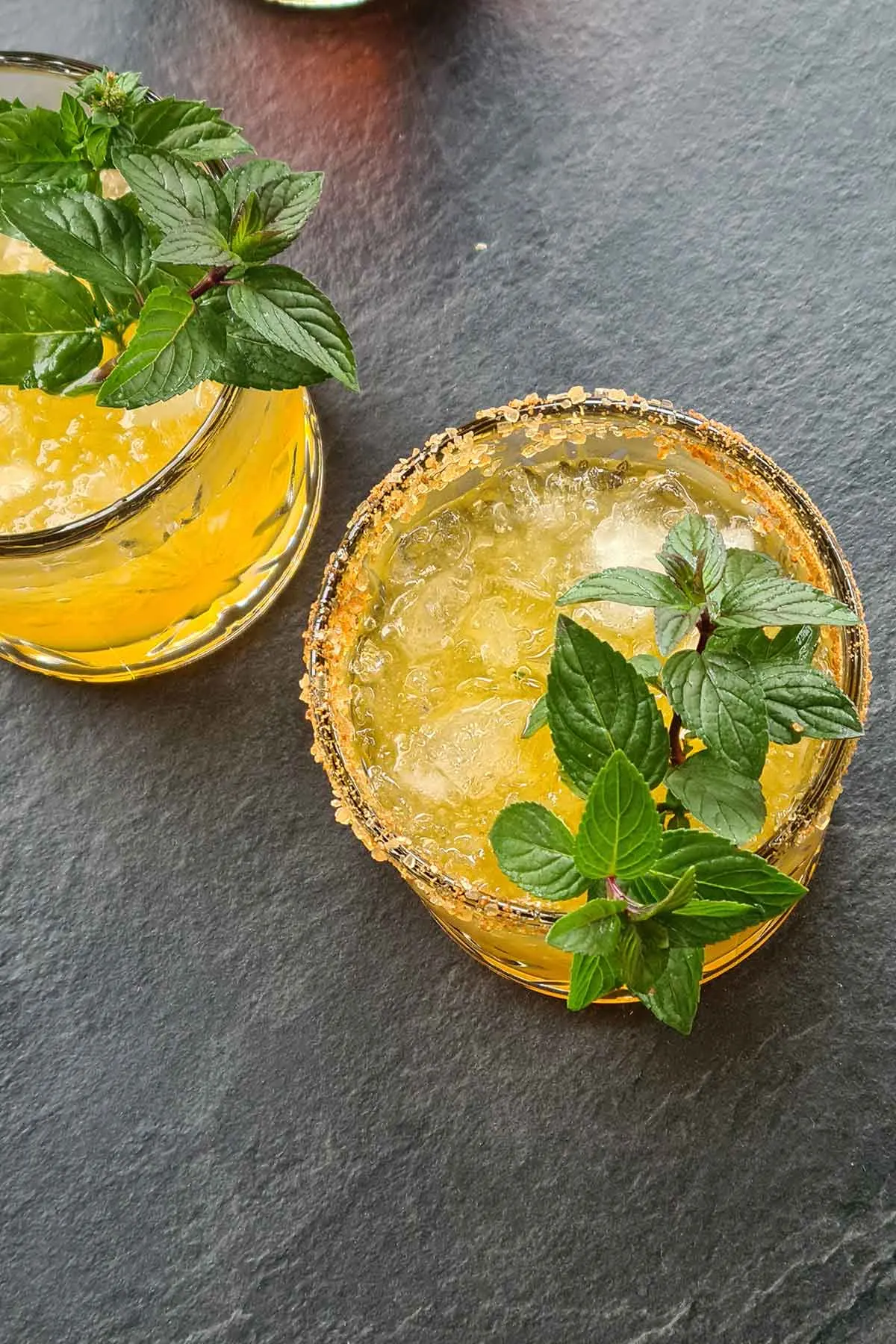 Happy holidays! 🙂
Yield: 1
Dark Rum Spiced Mojito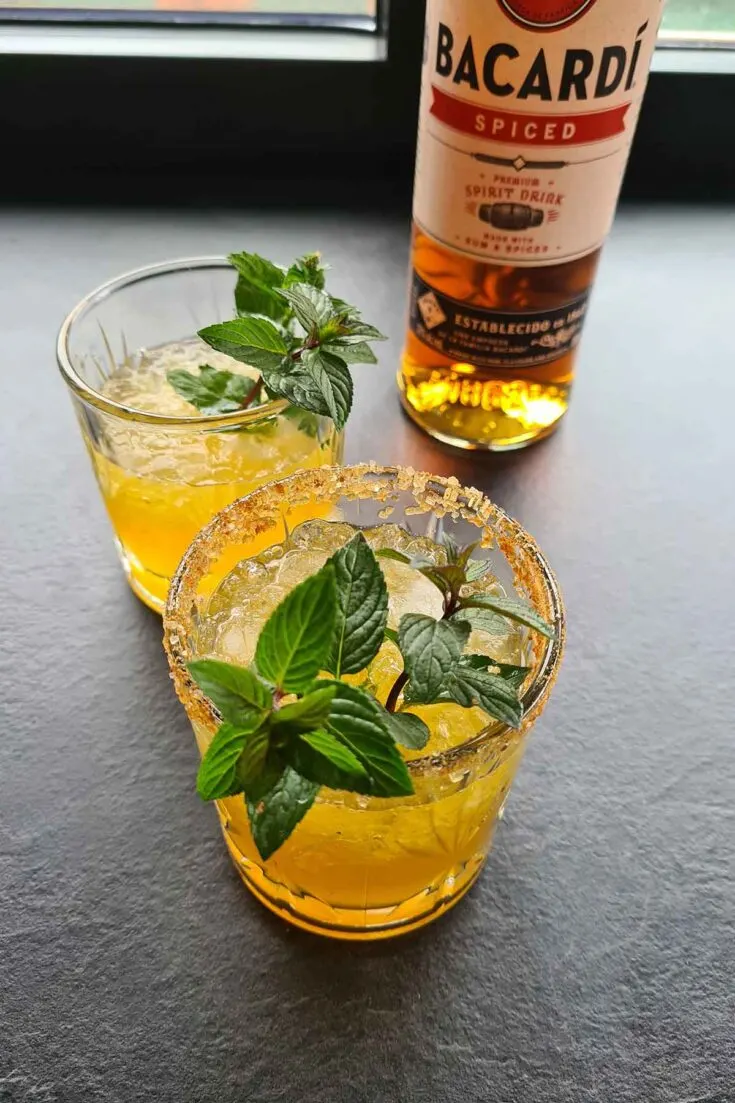 Mojito lovers, you're gonna want to hear this: here's how to make the ultimate dark rum spiced mojito. It's basically a mojito cocktail with delicious autumn-winter flavors. And you're not ready for it!
Ingredients
60ml (2 oz) Bacardi Spiced rum
a pinch of nutmeg
a pinch of ground cloves
a pinch of ground cinnamon
some brown sugar
crushed ice
15ml (½ oz) Monin Winter Spice syrup
sparkling water
fresh mint
Instructions
In a small saucer, mix the nutmeg, cloves, and cinnamon with 1-2 tablespoons of brown sugar.

Wet the rim of the glass and dip it into the spiced sugar and coat it evenly.

Fill the glass with crushed ice.

In a shaker, add the spiced rum, syrup, and some fresh mint leaves. Gently muddle the leaves. Add 2-3 cubes of ice and shake. Pour using a strainer, over the crushed ice in the glass.

Top with sparkling water and decorate with fresh mint.