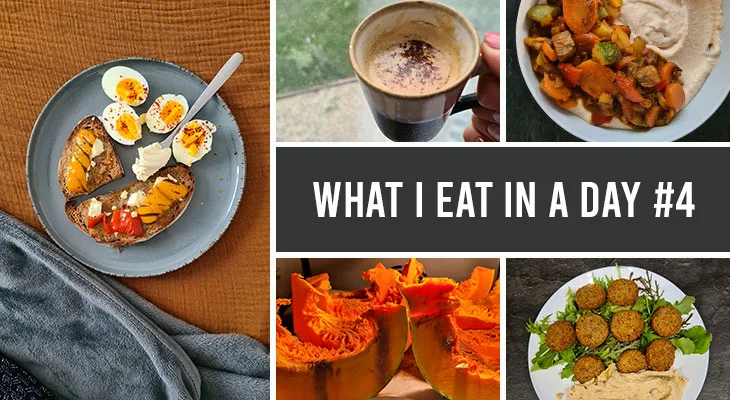 Discover the entire series of posts "What I eat in a day" here .
Breakfast
I started my day right with a cup of coffee with a dash of salted caramel syrup and some ground cinnamon on top. The holidays are almost here and I'm starting to get in the mood for winter spices, which is why I try to add them to my daily foods and drinks whenever I can. This morning's coffee is the perfect example. And I guess you may already know that the salted caramel syrup is one of my latest obsessions!
And now for the serious part: I served two pieces of sourdough bread on which I spread some homemade (and homegrown) garlic confit and toasted them in the oven for a couple of minutes. I then added some goat cheese and store-bought grilled peppers, plus two hard-boiled eggs with lots of chili flakes on top. For some creamy texture, I also ate a dollop of Almette cheese.
This breakfast is simple, super delicious, and a great choice that will keep you full until lunchtime.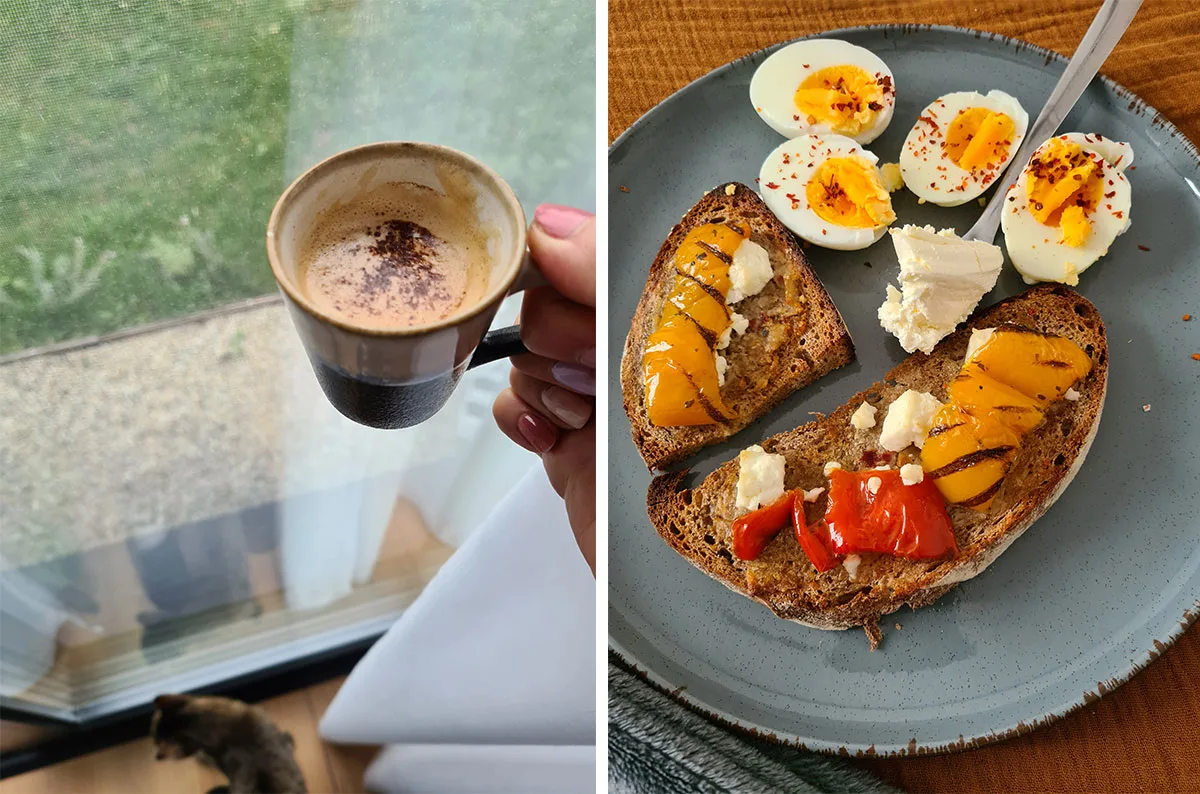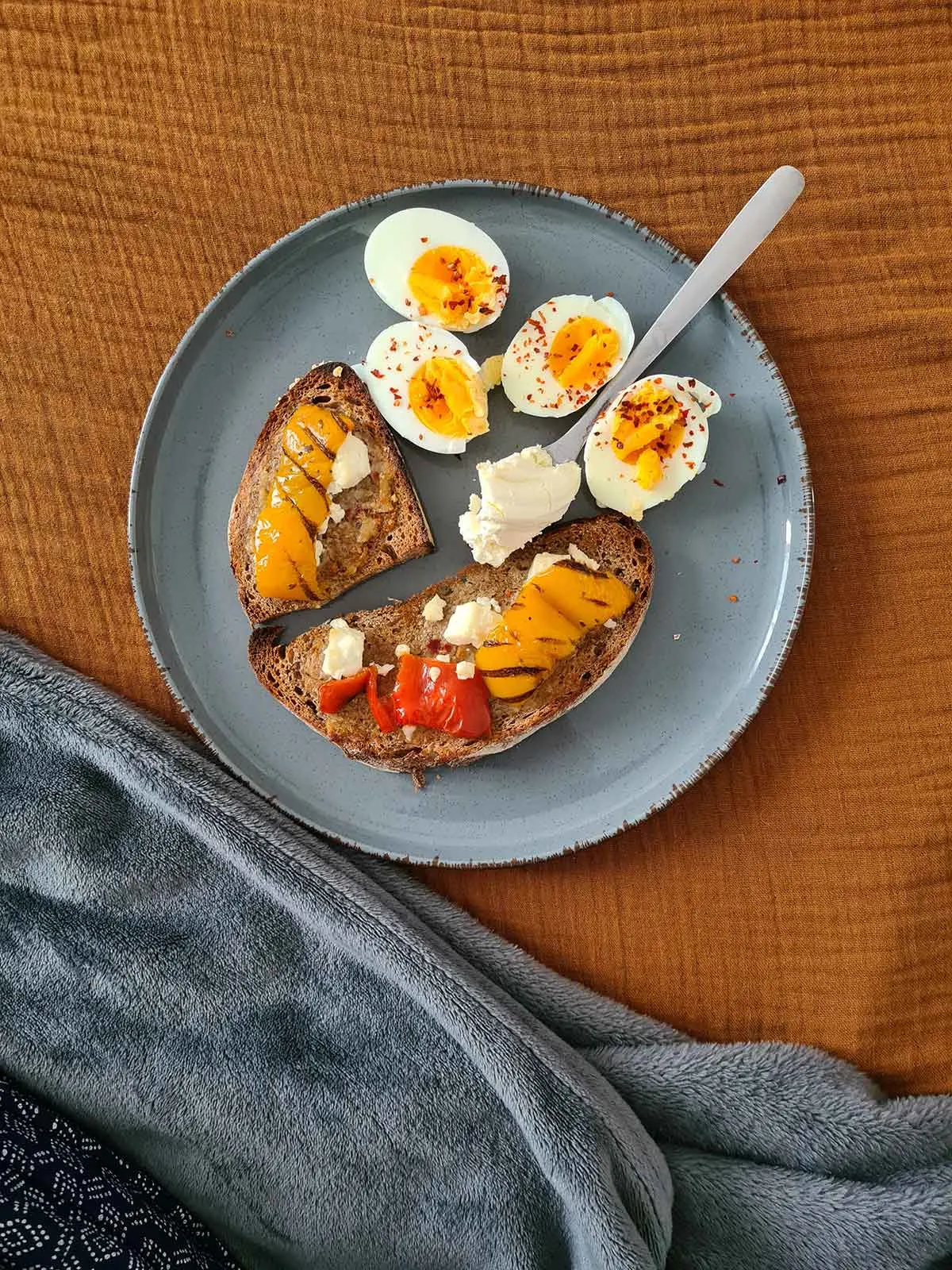 Snack
Fruit snacks are always welcome in my diet! I recently received a beautiful Romanian heirloom pumpkin (the Tudor variety) from our neighbor. I decided today was the perfect day to put it to good use, so I washed it, cut it into wedges, and scooped out the seeds. I will let the seeds dry for a couple of days and then roast them in the oven – a yummy snack for those Netflix evenings!
I baked the pumpkin wedges with some cinnamon and ate one wedge with some honey drizzled on top.
The rest I scooped out and mashed in the food processor. I will save some in the fridge for one week of daily pumpkin-spiced lattes in the morning – you can find my pumpkin spice latte recipe right here! The rest I will put in a ziplock bag and freeze for later use when I'll crave a pumpkin pie.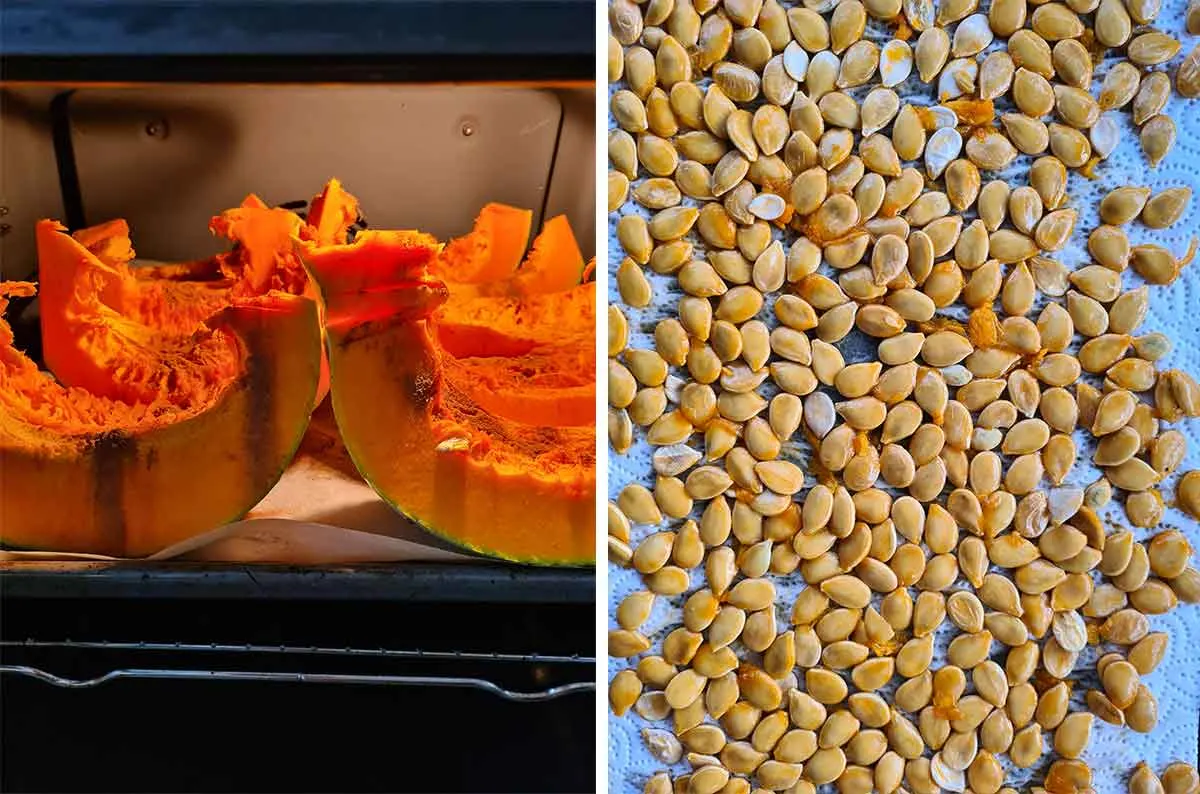 Lunch
For lunch, I wanted something light, flavorful and protein-rich. And I had just the perfect solution! I recently discovered the amazing Naturli falafels! This is by far my favorite brand when it comes to frozen veg goodies, such as burgers, schnitzels, veggie balls, nuggets, and now… falafels!
I've tried various store-bought frozen falafels before and they were tasteless and dry. At one point, I even began to think I'll never find the perfect frozen falafel, so I tried to make peace with the thought that I have to make my own homemade version forever. Well, this is not the case with the Naturli falafels. They are perfect, even baked! I put one bag in the oven and baked it for 20 minutes or so.
In the meantime, I went into the garden and chopped some mizuna and arugula. I like to eat these leaves with everything, just as they are, no dressings, no spices, just pure greens. Call me crazy, but I really think their taste is perfectly balanced and not plain at all!
I really love these two greens. Mizuna is also known as 'Japanese mustard greens', Konya, or spider mustard. Its taste is mildly bitter and a bit spicy too. These two together make the perfect salad for me.
I planted both of them in a garden bed and, ever since I covered them with a DIY polycarbonate greenhouse, they started growing like crazy! So crazy that I can barely handle eating them all! I didn't plant them in rows, I just threw the seeds all over the place, then I covered them with a thin layer of soil. Now I have a uniform mass of leaves and, when I'm craving some, I cut them instead of pulling them out of the ground – this way I'll have my leafy greens all winter long!
By the way, in case you don't have a garden, you can also plant these two greens on your balcony, in large planters and they'll grow pretty quickly.
Now back to my lunch. I also made an awesome hummus from canned chickpeas. You can find my recipes here:
Also, if you have the time, you can try my homemade falafel recipes, I have different types on my blog, from the classic falafels to more unusual ones like Pink Falafels, Quinoa Falafel, Falafel in a Pan or Mini Falafel Bites.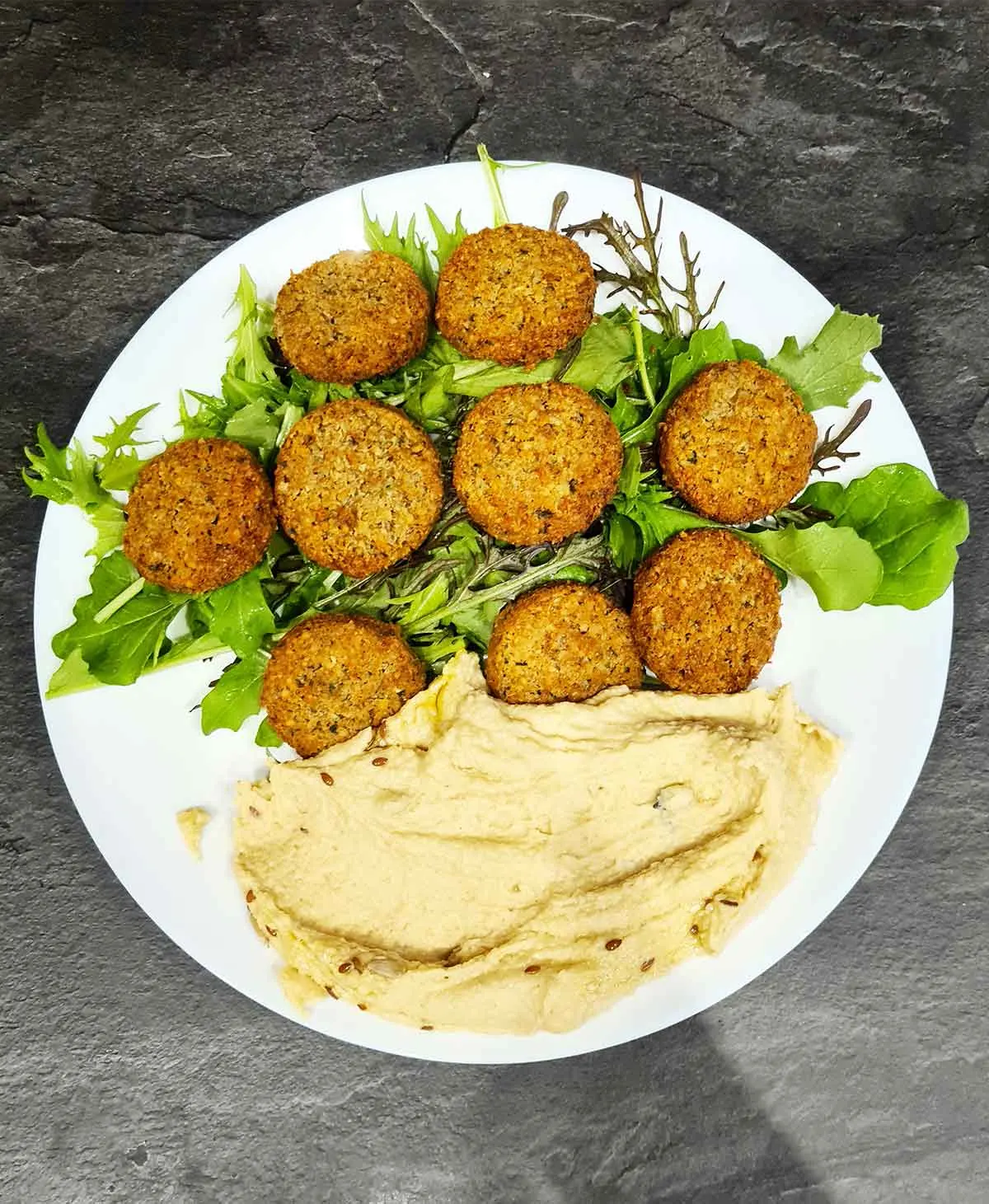 Dinner
You know I love making the best out of the food I cook, which is why for dinner I ate some of the leftover hummus. This time I decided to spice things up, so I made some mixed oriental-spiced veggies. I love the Carrefour Oriental Vegetables mix. It's cheap, delicious, and already spiced. Just sautee it for 15 minutes and you're done. One of the easiest dinners in the world and so great for this time of the year! 🙂