Bored of the classic falafel? Get ready for a splash of pink! These pink falafels made with beetroot are super healthy, super delicious, and super gorgeous as well!
Falafels are one of my favorite foods in the entire world. In the past, I've made several different versions including the classic vegan falafel, mini falafels, falafel in a pan, falafel wraps, and even falafel made of quinoa. So I think it's pretty clear that my love for these tiny bits of heaven is true! 🙂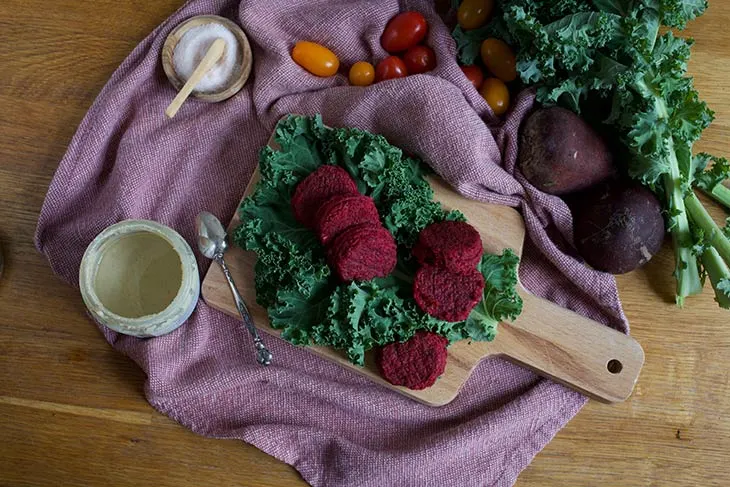 But, believe it or not, I didn't think about making beetroot falafels before. I tried this recipe some weeks ago and I just fell in love with the result. The color, the taste, the nutritional benefits… I love everything about these beetroot falafels or, how I like to call them, pink falafels! 🙂 This recipe for healthy, vegan pink falafels combines two of my lifelong loves: falafel and beetroot!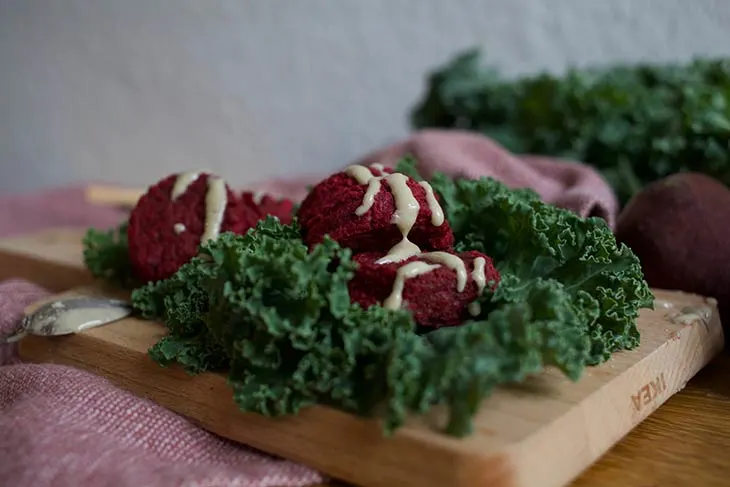 I guess you know by now that falafel is a famous Middle Eastern street food. It's traditionally made of chickpeas (or even fava beans) and several yummy spices and herbs, such as parsley, which gives the superb green color. But talking about color… falafels don't only need to be brownish-green. No, sir! Pink is a totally legit color for a falafel! 😉
The main star of today's recipe will be, of course, the beetroot. And because of this superb root vegetable, the falafels are easily transformed from a plain, sometimes boring food into one of the most gorgeous things that landed on your table!
The beetroot will be roasted to preserve as much of that amazing earthy, sweet flavor as possible. You can also boil it, but it won't be exactly the same. So I recommend spending a bit more time with the roasting if you want the best possible result for these pink falafels.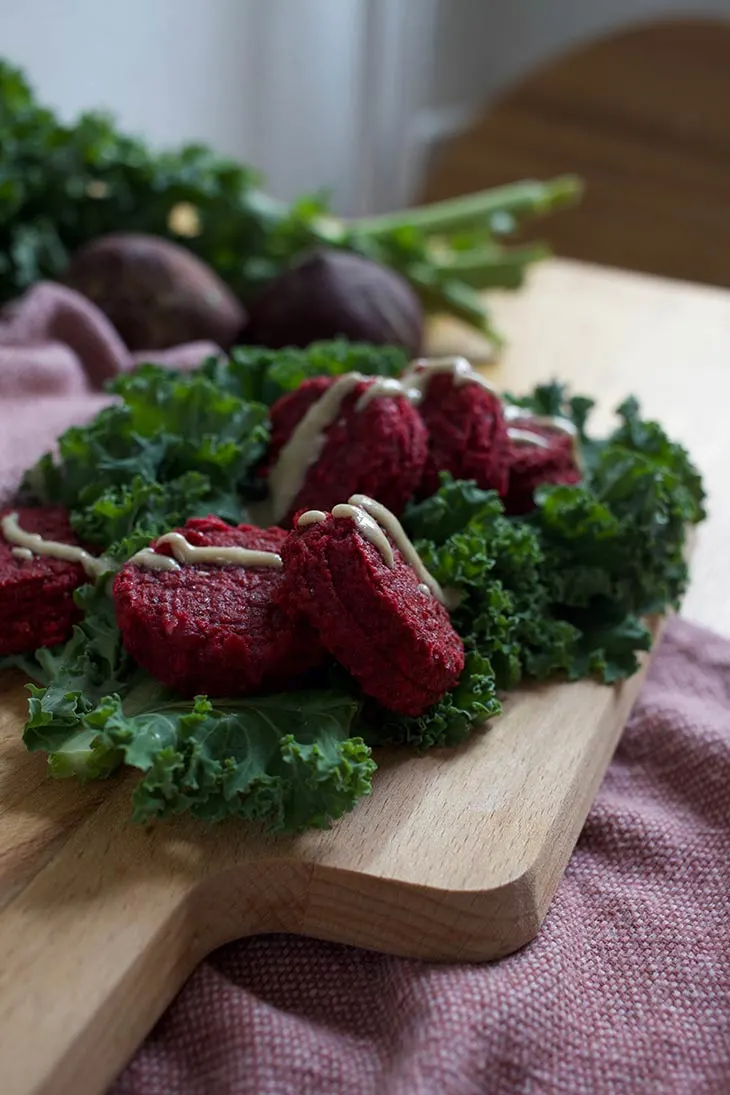 One of the best things about falafel is that it's extremely easy to put together. You just need a powerful blender and 10 minutes of your time. And your meal will be ready in no time! And because I like to keep things simple and straight (you know that, ironically, I hate spending hours in the kitchen!), I'm going to tell you right from the start: even though these pink falafels include an extra step because of the beetroot, they're still quick to make and perfect for those days when you don't have a lot of time on your hands!
And I have some useful advice for you as well! Don't use more beetroot than I recommend, otherwise your composition will become soggy and the texture will change completely. If your mix doesn't stay together or if it's too mushy, try adding some flour (white flour or chickpea flour, ideally). For a healthier result, I recommend baking the falafels. If you're in a rush, you can fry them in a pan instead. Extra crunch guaranteed!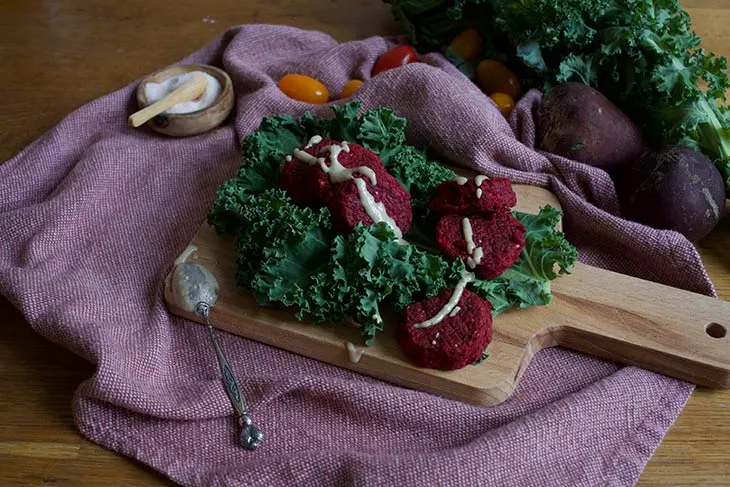 Oh, and another little tip: make sure you use some rubber gloves when you cube the baked beetroot. Unless you want your hands to be completely pink, of course! 😉 If you don't mind that, then you can do this step with your bare hands.
You can serve falafels in countless different ways. You can make a sandwich, you can put it in a wrap or you can serve it with some tahini sauce or a side salad. The possibilities are endless! 🙂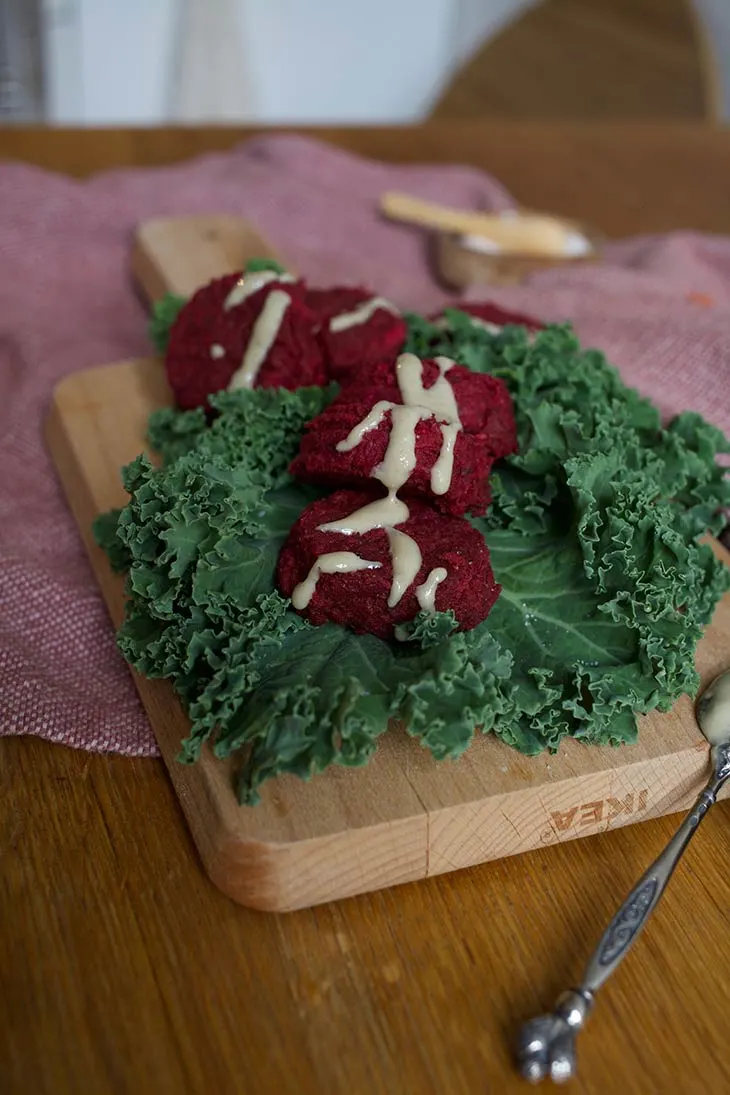 I personally love serving these pink falafels with some greens, fresh veggies, and a yummy tahini sauce. Why? Because I like to keep things classy, of course! Falafels and tahini are a match made in heaven, my friends! Sometimes, when I want to spice things up a bit, I like to make a quick sauce with tahini and lemon juice and just enough water to make it a bit runny. Drizzle it on top of your falafels and greens and you're good to go!
And if you want to make things even more fun, here's a cute idea: you can combine my recipe for mini falafels with this one and make mini pink falafels! They'll be like tiny bits of goodness. Like little pink pearls. Like one of the best things you ever tasted!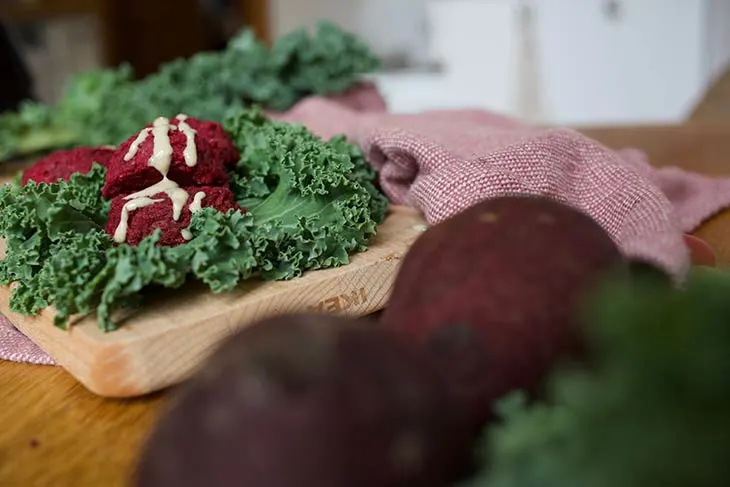 If you want to prepare a bigger meal, you can make a huge platter with yummy things such as roasted vegetables, maybe a tabbouleh salad or some creamy cucumber salad, some crunchy wraps, and the tahini sauce I was talking about earlier. Get ready for a feast!
And that's all I had to say about these delicious pink falafels. If you're not convinced yet, just look at the pictures! The color of these falafels is simply superb and it's guaranteed to make everyone at the table smile. And the taste? You won't believe it until you try making these yourself!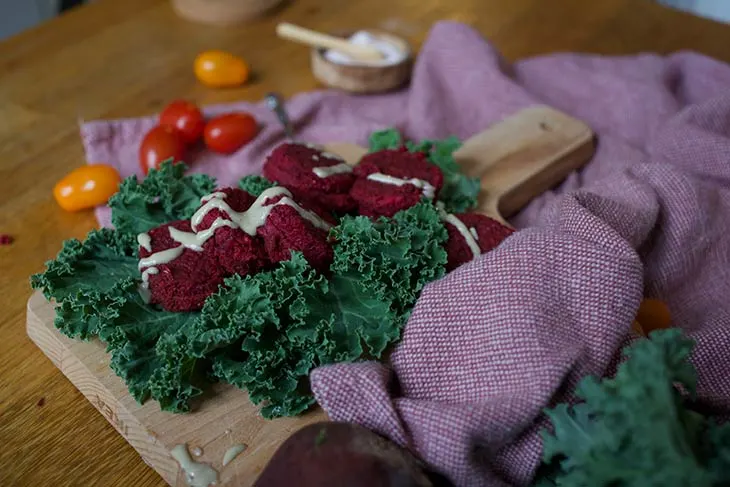 That being said, let's go to the kitchen! I hope you'll love this recipe for pink falafels as much as I did. Happy cooking!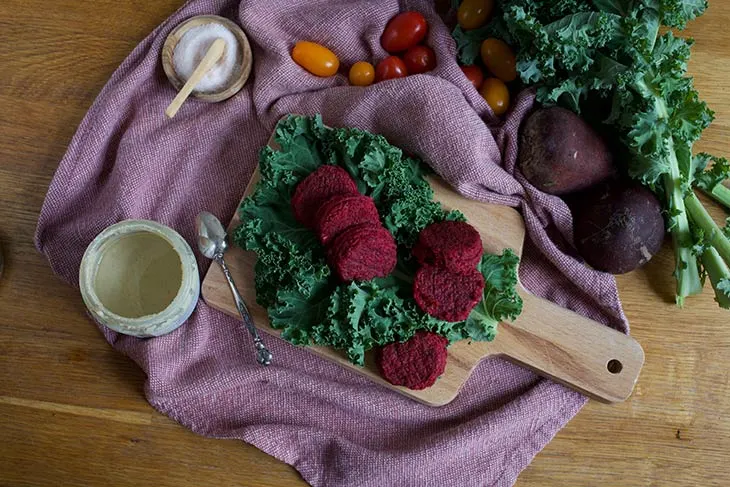 Bored of the classic falafel? Get ready for a splash of pink! These pink falafels made with beetroot are super healthy, super delicious, and super gorgeous as well!
Cook Time
1 hour
20 minutes
Total Time
1 hour
30 minutes
Ingredients
1 medium beetroot
1 garlic head
1 can (400g | 14 oz) chickpeas, drained
6 Tbsps parsley, finely chopped
1 tsp ground cumin
1 small onion, chopped
1 tsp sea salt
1 tsp ground pepper
For serving:
Tahini sauce
Favorite salad leaves
Fresh veggies
Instructions
Preheat oven to 250C.
Rinse the beetroot, tap dry.
Wrap the beetroot into aluminum foil and bake it until easy insert fork. About an hour.
Let it cool, peel, cut into large cubes, and set aside.
In a food processor, add the cubed beetroot and all the rest of the ingredients.
Pulse until well-combined.
To form the falafel, scoop a Tbsp of the mixture into your hands and press to shape small patties.
Place patties on a baking tray and bake in a preheated oven for about 20 minutes.
Serve with greens, fresh veggies, and tahini sauce.
Nutrition Information
Yield
6
Amount Per Serving
Calories

45
Total Fat

2g
Saturated Fat

0g
Trans Fat

0g
Unsaturated Fat

1g
Cholesterol

0mg
Sodium

411mg
Carbohydrates

7g
Fiber

2g
Sugar

2g
Protein

2g
I strive to keep the information as accurate as possible but make no warranties regarding its accuracy. I encourage you to make your own calculations using your preferred nutrition calculator.