Are you craving a refreshing, creamy, and delicious dish? Are you in the mood for a light lunch? Then you should try this vegan creamy cucumber salad!
Hey there, dear vegan friends!
Either if you are here because you want to try to incorporate more whole foods and plant-based alternatives into your diet or you want to find the perfect recipe for today's lunch, I hope you will find the inspiration that you need! 🙂
Today I want to show you how to make a creamy cucumber salad. This vegan and low carb recipe is perfect for lunch or a light dinner. It is refreshing and easy, just in time for the warmer days that are coming! Cucumbers are an all-time favorite choice on most of the vegan's grocery lists.
Let me share with you some interesting information I have found about cucumbers, shall I? Cucumber has its origins in Ancient India. Since then, it spread through Ancient Greece, Rome, Europe, New World, China, and eventually become the fourth most widely cultivated vegetable in the world.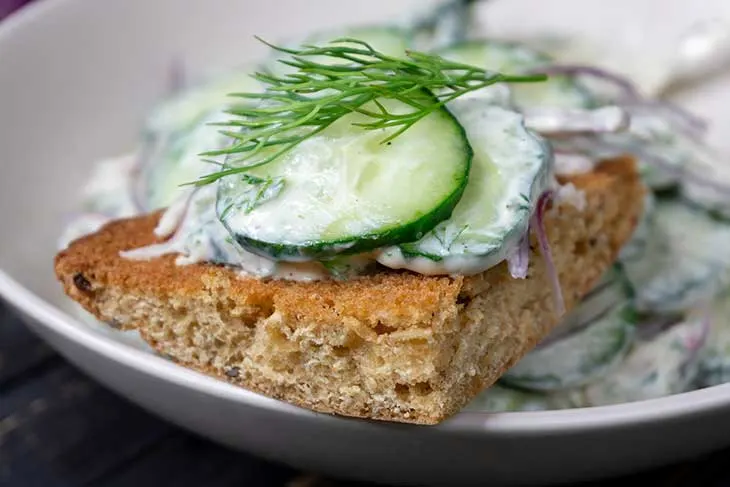 In the Roman Empire, cucumbers were consumed by both the nobility and lower classes. In Itay, they were popular because of their variety and tastes.
Besides their culinary use, cucumbers were added to medicinal remedies, treating everything from bad eyesight, scorpion bites, and even fertility problems. Emperor Tiberius (14 – 16 AD), for example, demanded to eat cucumbers daily for an entire year. In the summertime, special gardens were tended just for his vegetables, and in wintertime, cucumbers were grown on moveable bed frames, that were exposed to sunlight or even artificially illuminated with the help of mirrors. Talking about technology! 😉
After the fall of the Roman Empire, cucumbers receded from popularity for long amounts of time until resurfaced on the court of Charlemagne in the 8th and 9th centuries and eventually arrived in England in the 14th century. Unfortunately, in that period, they were not well welcomed, but cucumbers returned in the mid-17th century and managed to take hold.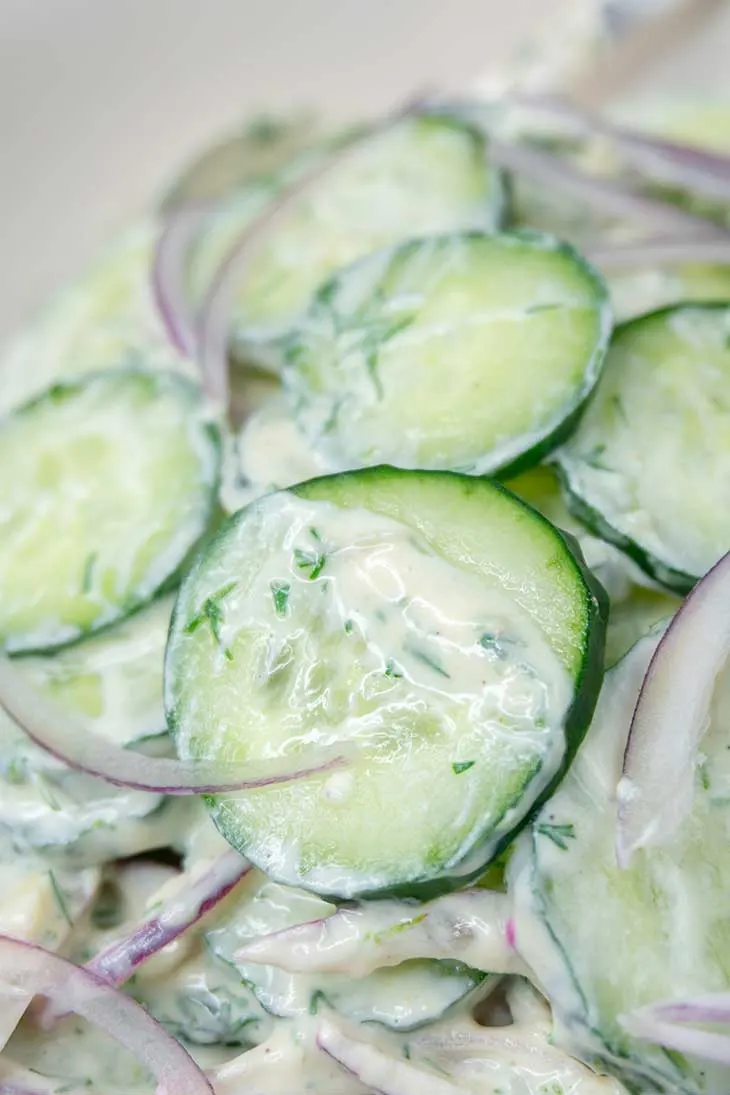 Did you know that cucumbers are made of up to 95% water and contain ascorbic acid and caffeic acid which prevent water retention? Due to their high water content, cucumbers boost your body's hydration and flush out toxins. Because they are loaded with antioxidants, they can protect you from seasonal infections.
Cucumber juice also contains magnesium which can help prevent high and low blood pressure. It does wonders for your heart health as they contain lariciresinol, secoisolariciresinol, and pinoresinothree lignans (plant hormones) that help reduce the risk of cardiovascular disease, notes the book 'Healing Foods' by DK Publishing.
Cucumbers are an excellent source of silica – the beauty mineral. Drinking cucumber juice gives you healthy and rejuvenated skin from within. So it's a winning situation! 🙂
Researchers have now identified 73 different phenolic compounds in cucumbers that are likely to provide us with antioxidant and anti-inflammatory benefits! The research on cucumber phytonutrients focuses on three specific categories: flavonoids, lignans, and terpenoids.
Some even say it is the healthiest food there is because its seeds contain a wide variety of phytonutrients. It contains vitamin K and the mineral molybdenum, B vitamin, pantothenic acid, vitamin C, vitamin B1, biotin, in the vitamin category and copper, magnesium, manganese, phosphorus, and potassium in the mineral category.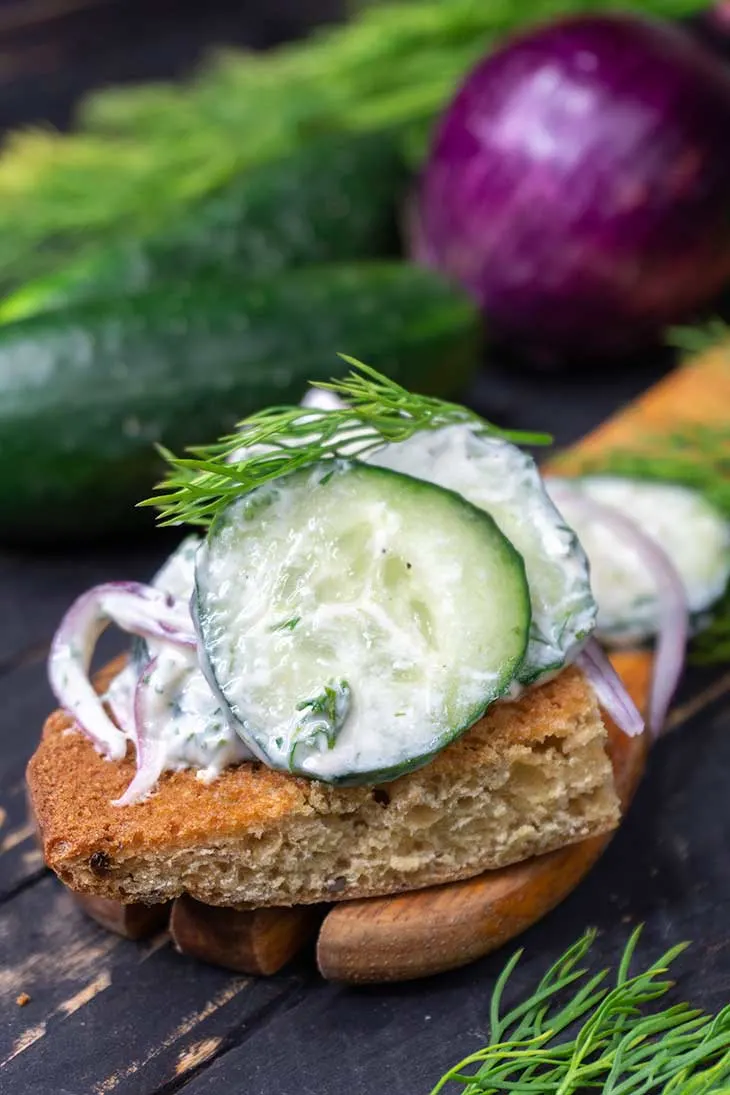 In today's creamy cucumber salad, the juicy cucumber is combined with red onion, dill, vegan sour cream, honey, mustard, and some vinegar. This salad can be one of those side dishes that you can serve with everything. It is great for sandwiches, salads and it adds a nice crunch to anything it is combined with. It is also suitable for a wide variety of dietary considerations, including vegan, low carb, keto, paleo, and gluten-free, and is so extremely quick and easy to make that even kids can do it.
I will explain the step-by-step procedure for this recipe down below, but it's actually super-duper simple:
Cut the cucumbers and the red onion using the Julienne technique, then add them with some salt in a bowl.
Let sit for 15-30 minutes. Discard the liquid that collects.
Mix the dill, vegan sour cream, mustard, honey, and add some vinegar.
Mix everything well.
That's pretty much it!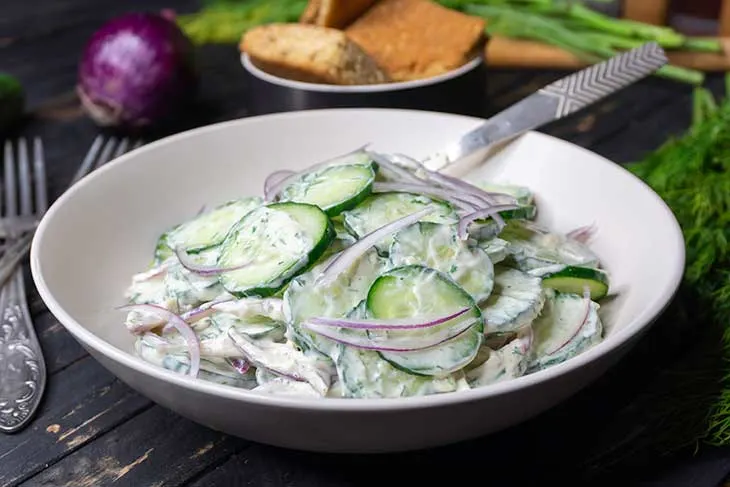 Let me know what you think of this creamy vegan cucumber salad in the comments below! Bon appetit! 🙂
---
Personalized meal plans and workout videos | Get your customized meal plan today! [x_button shape="square" size="mini" float="none" target="blank" href="https://shop.gourmandelle.com/?utm_source=mainsite&utm_medium=site&utm_campaign=inpost" info="none" info_place="top" info_trigger="hover"]I WANT A MEAL PLAN![/x_button]
---
Yield: 2
Creamy Cucumber Salad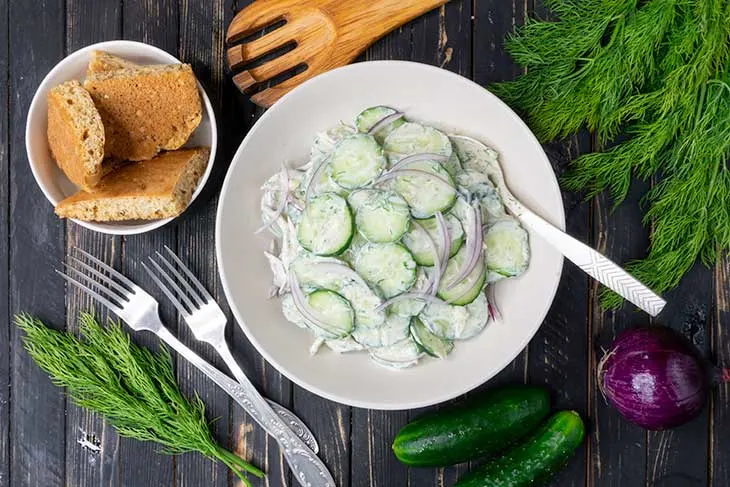 Are you craving a refreshing, creamy, and delicious dish? Are you in the mood for a light lunch? Then you should try this vegan creamy cucumber salad!
Ingredients
5 medium cucumbers, sliced
½ red onion, julienne
2 garlic cloves, minced
3 Tbsp vegan yogurt, unsweetened or goat milk yogurt
1 Tbsp white vinegar
2 tsp Dijon mustard
1 tsp honey or maple syrup
2 Tbsp fresh dill, finely chopped
Salt
Pepper
Instructions
In a small bowl, mix the yogurt, vinegar, mustard, honey, dill, and garlic.
Mix well and season with salt and pepper.
Pour over your sliced cucumber and onion.
Nutrition Information
Yield
2
Amount Per Serving
Calories

128
Total Fat

1.5g
Carbohydrates

23.5g
Protein

5g
I strive to keep the information as accurate as possible but make no warranties regarding its accuracy. I encourage you to make your own calculations using your preferred nutrition calculator.