Did anybody say pizza? Yes, sir! And what can be easier than a quick skillet pizza, all vegan and full of delicious veggies! Give it a try, you won't regret it!
When it comes to pizza, I'm pretty sure we all love it. That's because it is so versatile, right? I mean, how can you go wrong with crust + anything you like? You can make it vegan, you can make it vegetarian, you can add meat… the possibilities are endless!
But, more often than not, we do not make pizza at home because it seems like too much of a headache. So we call that amazing pizza place downtown. Easy, right?
Might be, but let me tell you – making pizza is an amazing experience that is going to make you feel really good. And once you've done it, I think it's safe to say you're going to want to make it again.
The downside to this story is that making great pizza involves, more often than not, a pizza stone that we don't all have. And even if we opt for the easier modification, you'll still be going to need a hot oven. Which, at times, might seem like too much of a struggle. So here comes into play this delicious skillet pizza.
If you're not familiar with the notion, let me introduce you to this absolute beauty.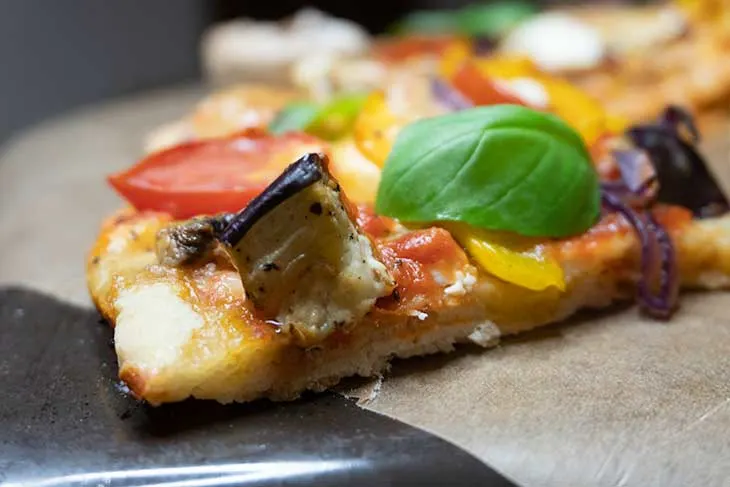 It's exactly what it sounds like: pizza, but cooked on a skillet. This method is incredibly simple, as it does not involve a hot oven and a steamy kitchen. It's done in under 30 minutes, which, in my book, is the equivalent of "easy dinner". It's incredibly versatile (as is any pizza, might I add!)
I found that you can get the best results by using a cast-iron skillet, but if you don't have one, you can surely experiment with what you have at home. What's so amazing about skillet pizzas, besides the easiness factor, is the crust, which gets super crispy and amazing.
What you first need to do is work on your pizza dough, as you would with classical pizza. You can always use some premade dough, but the best option would be the homemade one. I know it may sound intimidating, but it's actually pretty easy and you won't need many ingredients. You just need a bit of patience, and then, when you'll learn to make it, it will become second nature.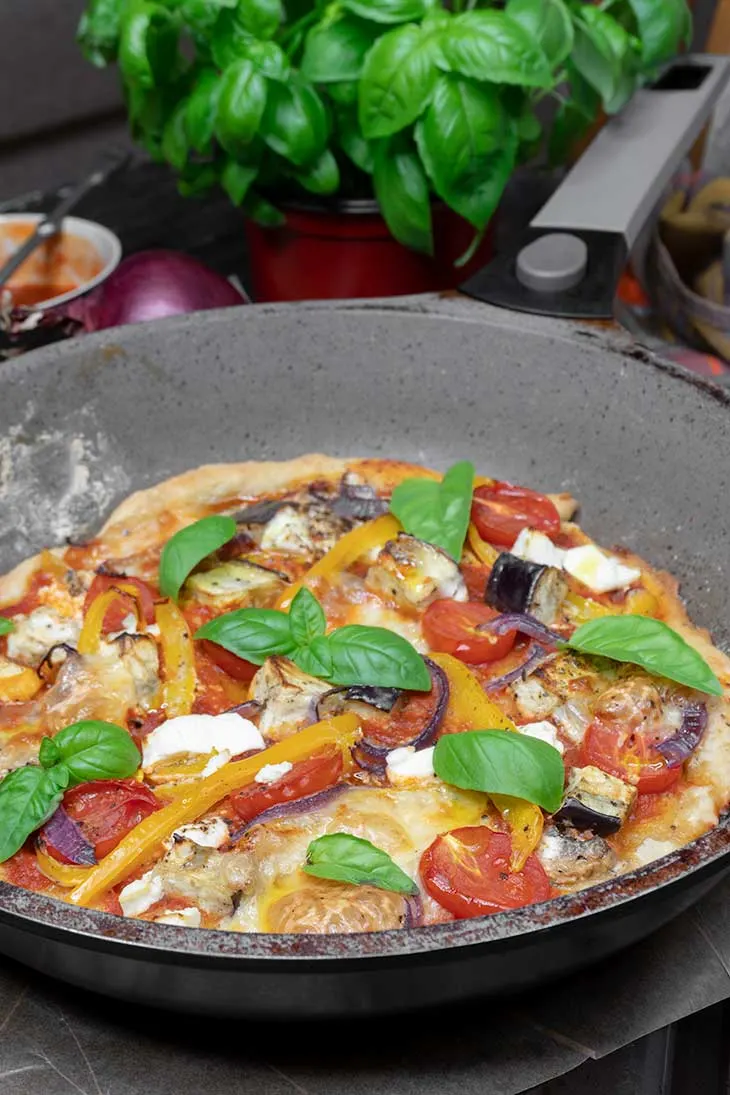 What I found works best is having all of your toppings close at hand. This means, precut olives, already shredded cheese and so on.
As with any pizza, you can definitely use the toppings of your choice. The possibilities are unlimited. But just so you have some suggestions: mushroom, onions, cheese (or vegan cheese!), bell peppers, jalapenos, arugula… and of course, any type of mock meat that can imitate ham or prosciutto.
Mix these up any way you want and you'll surely get a very delicious pizza. You can even add pineapple if that's your thing – no judgment here! 🙂
This skillet pizza is everything I love about cooking: it's fast, efficient, nutritious, and delicious. Because who says pizza should only be comfort food?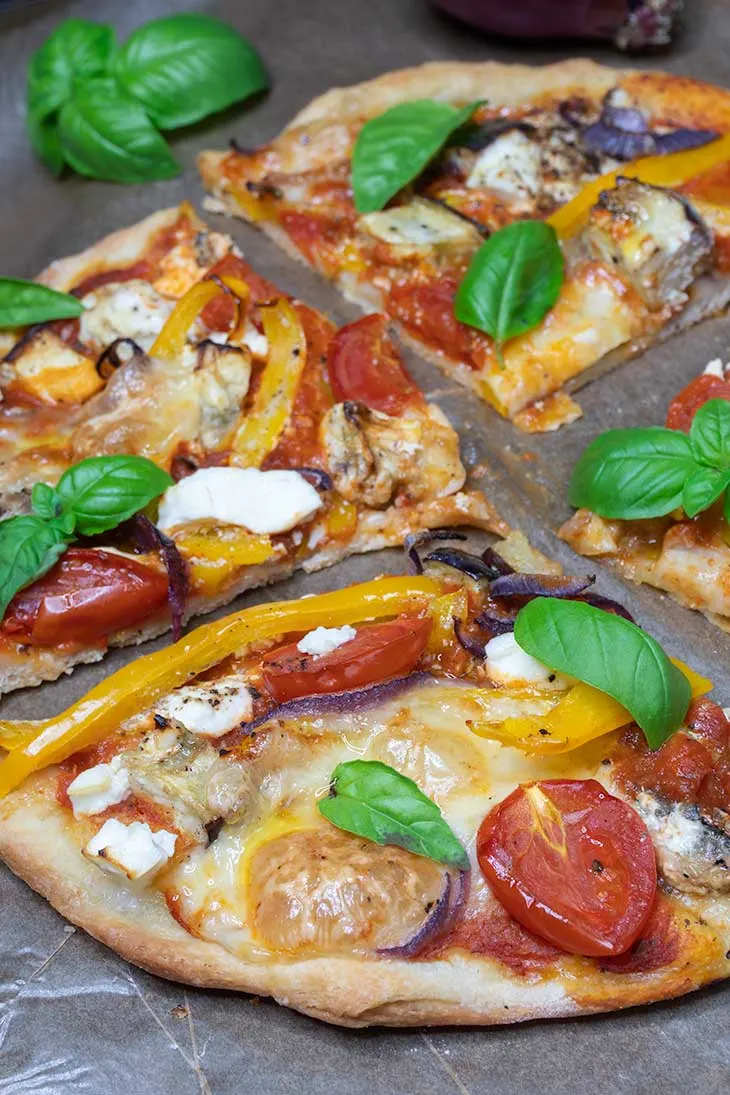 Let me tell you otherwise: pizza can be a nutritious meal if you just make sure to balance it out properly. You can use a whole wheat dough instead of the regular white one, for example – for extra fiber and nutrients.
Or, if you don't have that, you can simply go high on the vegetable game and add plenty. Or, the third option, have your pizza in any way you like it, be it 4 types of cheese and marinara, and add a crunchy salad or fresh vegetables on the side. It's all about balance, folks! No food is unhealthy if eaten in moderation. Food is delicious and should be enjoyed and cherished. It is the same with this skillet pizza.
I think this is one of the best foods to put together when coming home after a long day and you don't know what to eat, or don't have a lot of time on your hands. It's perfect for one or two persons if you feel like sharing it, and I very much doubt someone – anyone – will find anything to object. It's crispier than normal pizza, which I actually like very much. Every mouthful feels satiating and satisfying! 🙂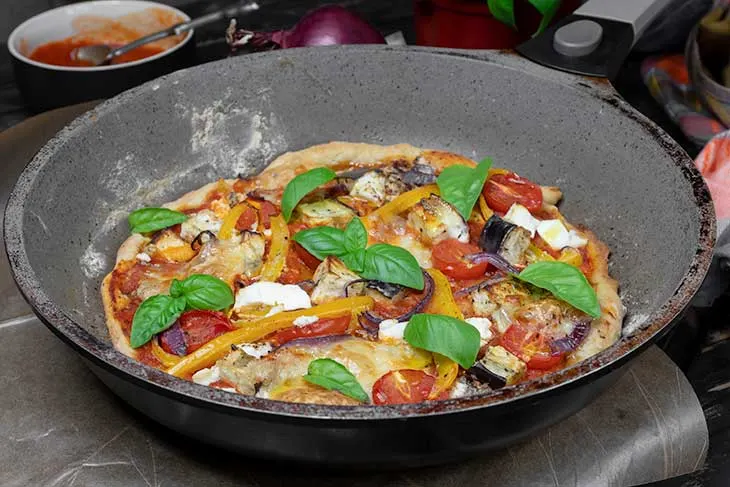 I hope you're going to try this pizza recipe out on your next movie night, apartment date or regular evening after work. And, as always, tell me if you enjoyed it!
---
Personalized meal plans and workout videos | Get your customized meal plan today! [x_button shape="square" size="mini" float="none" target="blank" href="https://shop.gourmandelle.com/?utm_source=mainsite&utm_medium=site&utm_campaign=inpost" info="none" info_place="top" info_trigger="hover"]I WANT A MEAL PLAN![/x_button]
---
Yield: 1
Quick & Easy Skillet Pizza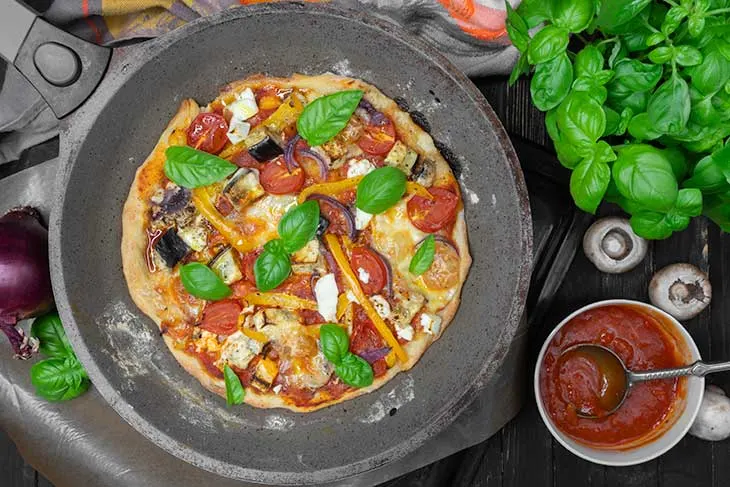 Did anybody say pizza? Yes, sir! And what can be easier than a quick skillet pizza, all vegan and full of delicious veggies! Give it a try, you won't regret it!
Ingredients
1 fist-sized ball of pizza dough - I used store-bought
3 Tbsp pizza sauce or tomato sauce
Vegan mozzarella - you can use my recipe or buy it from the store
¼ onion, sliced
1 mushroom, sliced
¼ bell pepper, sliced
2-4 cherry tomatoes, halved
Fresh basil
Extra virgin olive oil
Salt
Pepper
Instructions
Grease a non-stick pan with some oil.
Place the pizza dough in a skillet and form the pizza with your fingers.
Tip: water or oil your hands so you can spread it easily.
Cover with pizza sauce, vegan mozzarella and sliced veggies.
Season with salt and pepper.
Cover the pan with a see-through lid.
Place it on the stove, at a minimum flame.
Don't remove the lid until it is ready.
You can see through it when it's cooked. If you maintain the flame at a minimum, it won't burn on the bottom. It will cook to perfection.
Let it slowly cook like this for about 15 minutes.
Drizzle with extra virgin olive oil and add fresh basil.
Nutrition Information
Yield
1
Amount Per Serving
Calories

622
Total Fat

39g
Carbohydrates

57g
Protein

11g
I strive to keep the information as accurate as possible but make no warranties regarding its accuracy. I encourage you to make your own calculations using your preferred nutrition calculator.