What is the one thing that goes really well with mornings and bagels? That's right, today we're going to learn how to prepare vegan cream cheese with probiotics! Give it a try!
For a long time, I was convinced that going vegan would mean completely cutting out all the milk-associated products: cheese, cream, yogurt, milk, etc. Although I figured I could live without them, since they are mostly side-dishes that just add a little flavor and spark to my food, I was still a little bit disappointed.
But then something magical happened – I discovered cultured bacteria! And it all became possible with the use of probiotics! Fresh yogurt dessert, delicious sour cream dips, smooth and filling cream cheese, I was all of a sudden in vegan heaven! 🙂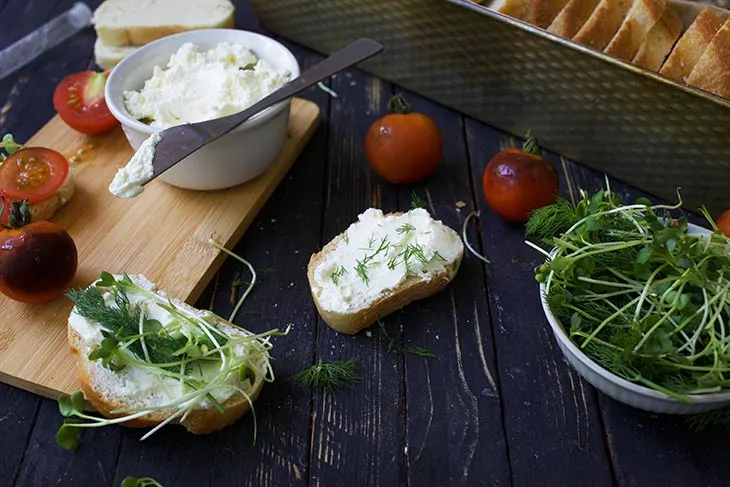 And today I am going to show you the best ever recipe for vegan cream cheese, so you too can enjoy a healthy and delicious breakfast or a sweet cheesecake as a dessert. The recipe that I am going to show you works wonders as a replacement for cream cheese in all kinds of recipes.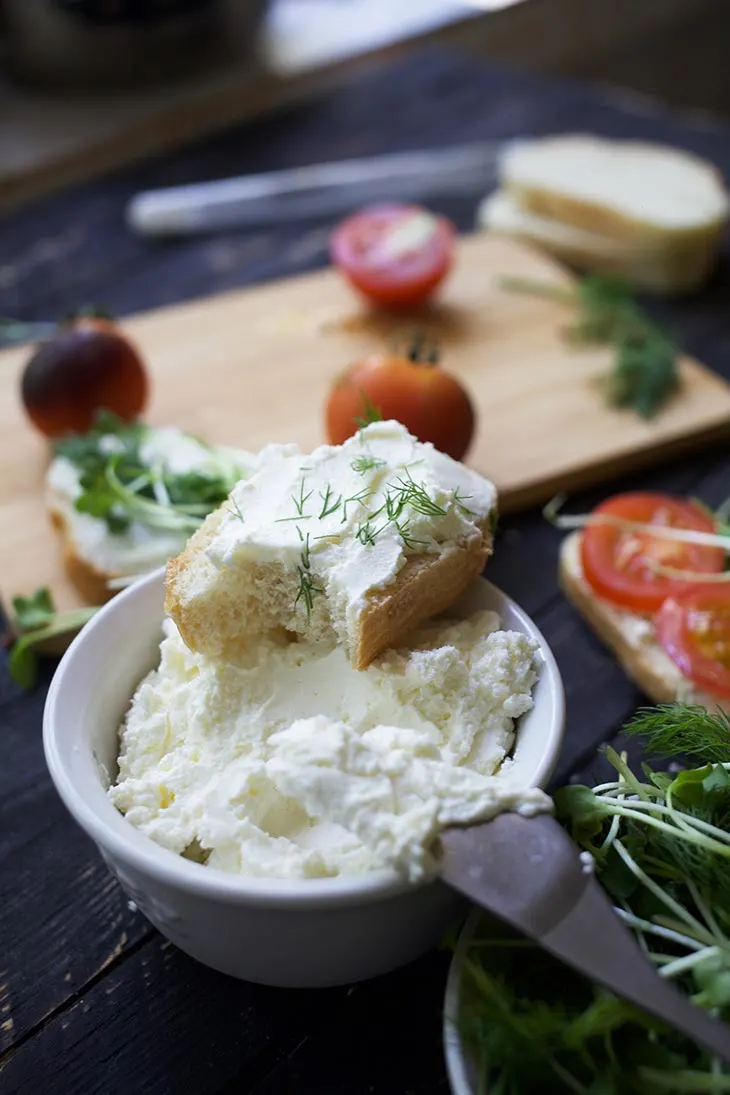 So, by using this cream cheese you will not only be able to enjoy a breakfast cream cheese bagel, for example, but you will also be able to prepare your fully vegan cheesecake, a classic spinach dip or maybe some delicious carrot cake. The possibilities are endless, and it's all thanks to this beautiful and simple recipe! 🙂 Are you ready to find out more?
As I mentioned earlier, the recipe today features cultured bacteria. This means we are going to use probiotics capsules for our cream cheese! But what exactly are these probiotics, you may wonder? Well, it's the thing that makes all the magic happen for diary products. Thankfully, they work just as well with vegan substitutes, since almost all foods have the ability to grow bacteria.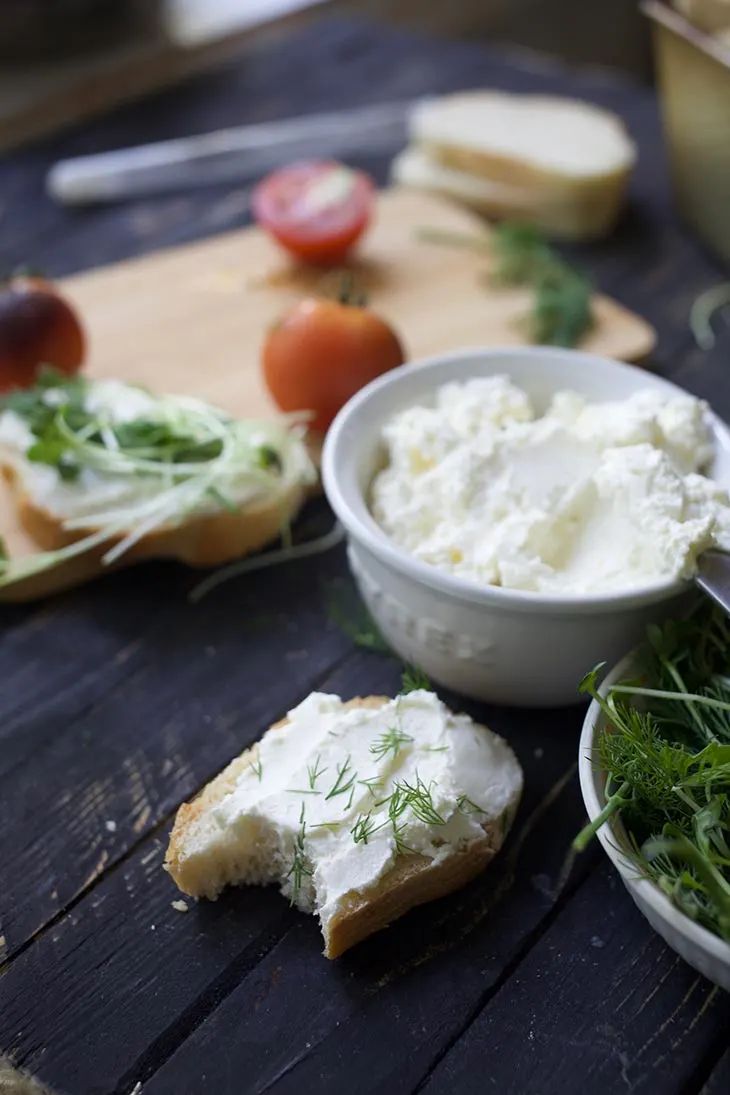 Probiotics are live bacteria that are healthy and beneficial for our bodies, most importantly for our digestive system. When we say "bacteria", we usually think about some kind of dirty things that get into our bodies if we don't wash our hands properly and then go on to cause diseases. Nevertheless, our bodies contain many types of bacteria, both good and bad.
Probiotics are considered the "good" or "helpful" kind of bacteria because they help with keeping your gut healthy. We all know about the health benefits of yogurt, for example. We know it's good for our digestive system, helping and preventing many kinds of digestive affections. All these effects are actually thanks to the probiotics it contains!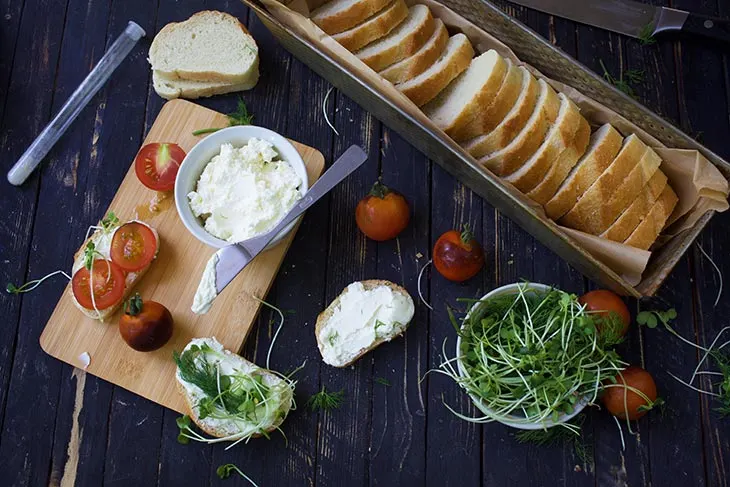 So if you decide to use my recipe for preparing the delicious cream cheese, you will get all the above-mentioned health benefits! And it doesn't stop here: the main ingredient of the vegan cream cheese is a Macadamia nuts paste and that is, of course, extremely healthy! Nut cream cheese has more fiber, while also containing no cholesterol (unlike regular cream cheese which contains some amounts of cholesterol).
There is one catch though: you have to make sure that the probiotics you choose are actually vegan. There are probiotics capsules that are labeled as "non-dairy", meaning that they don't contain any dairy products. But they can be grown on milk-based elements, so it is safer to look for probiotics capsules labeled as "vegan" – just to be sure!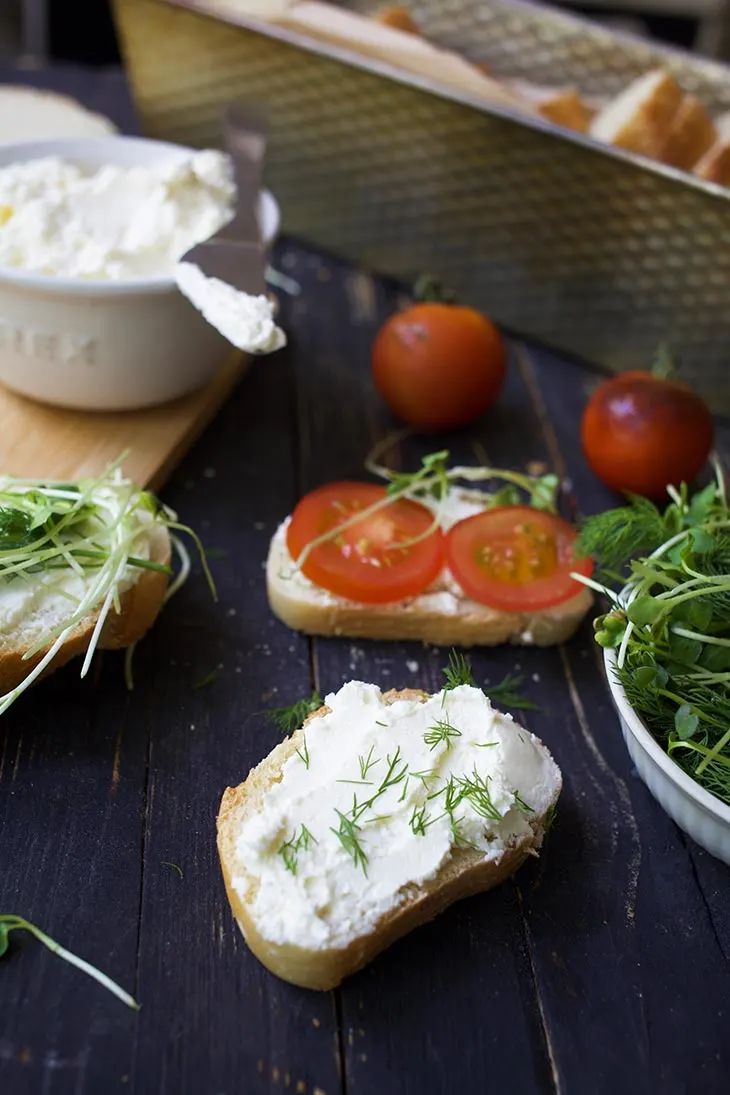 And trust me when I say that the process of making this cream cheese is extremely easy! 🙂 You don't really have to be an experienced cook to master this recipe. But you may want to prepare it a day in advance – the probiotics need 24 hours to grow into a culture, the assembling of this recipe is a matter of minutes. So you are basically one day away from a delicious, smooth and delicate cream cheese!
I must confess that I wasn't sure of this until I have tried it – and it is just SO good! I had some non-vegan friends try it, and they were all amazed by how delicious a vegan dairy substitute can be.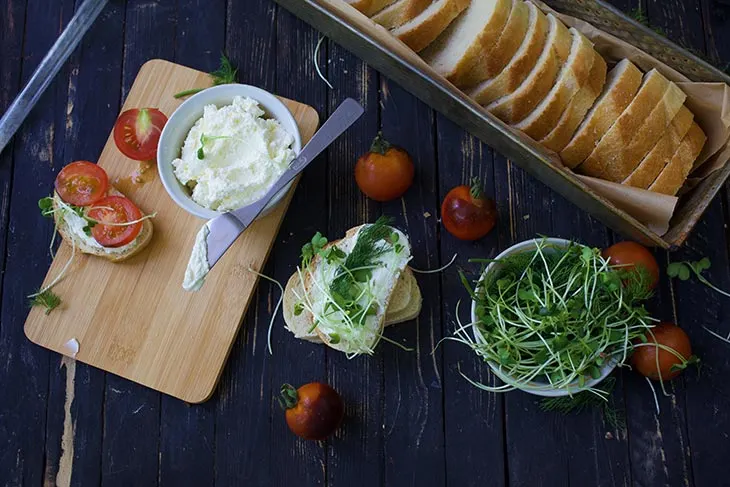 So enough introduction, it's time to get to work. Gather all the ingredients, put on your favorite music and start culturing some bacteria. Much tastier than it sounds, the result will make you so proud of yourself and the time well spent in the kitchen! Bon appetit!
Yield: 6
Vegan Cream Cheese - cultured / with probiotics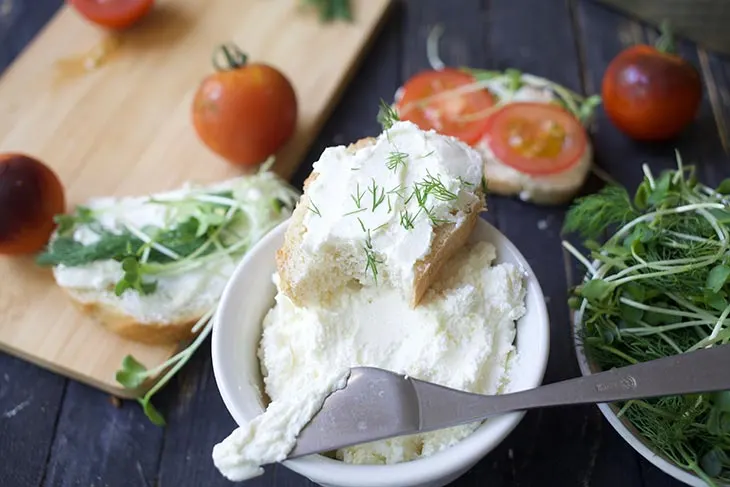 What is the one thing that goes really well with mornings and bagels? That's right, today we're going to learn how to prepare vegan cream cheese with probiotics! Give it a try!
Ingredients
300g (2 cups) Macadamia nuts, soaked overnight
100ml (¼ - ½ cup) coconut milk to blend
1 tsp probiotic powder - from probiotic capsules
½ tsp sea salt
2 tsp lemon juice
2 tsp nutritional yeast
Instructions
Soak the Macadamia nuts overnight.
Discard the water and add the nuts to the food processor.
Blend until smooth. Use coconut milk or water to get a creamy texture while blending.
Transfer the mixture to a bowl and add the probiotic powder. Use a non-metallic hand mixture to incorporate.
Cover with a kitchen towel and let sit for about 48 hours at room temperature.
Once it's done, add sea salt, lemon juice, and nutritional yeast and mix again until fluffy.
You can refrigerate it before use.
Nutrition Information
Yield
6
Amount Per Serving
Calories

331
Total Fat

34g
Carbohydrates

7g
Fiber

4g
Sugar

3g