Do you love pizza? Here's an awesome variation for the classic pizza – Turkish pide – which you'll surely enjoy. It's made vegan too!
Are you a fan of the Turkish cuisine? I love it! Today I decided to try a world-famous recipe – Turkish pide, which is very similar to the popular pizza we all know.
Pide is a soft and slightly raised or elevated flatbread that is baked from the wheat flour. A similar kind of flatbread is found in several regions, including Western Asia, Balkan, Mediterranean, Balkan and Middle Eastern regions. They are more or less similar in taste and flavor, but known by different names and even made in varying shapes and sizes.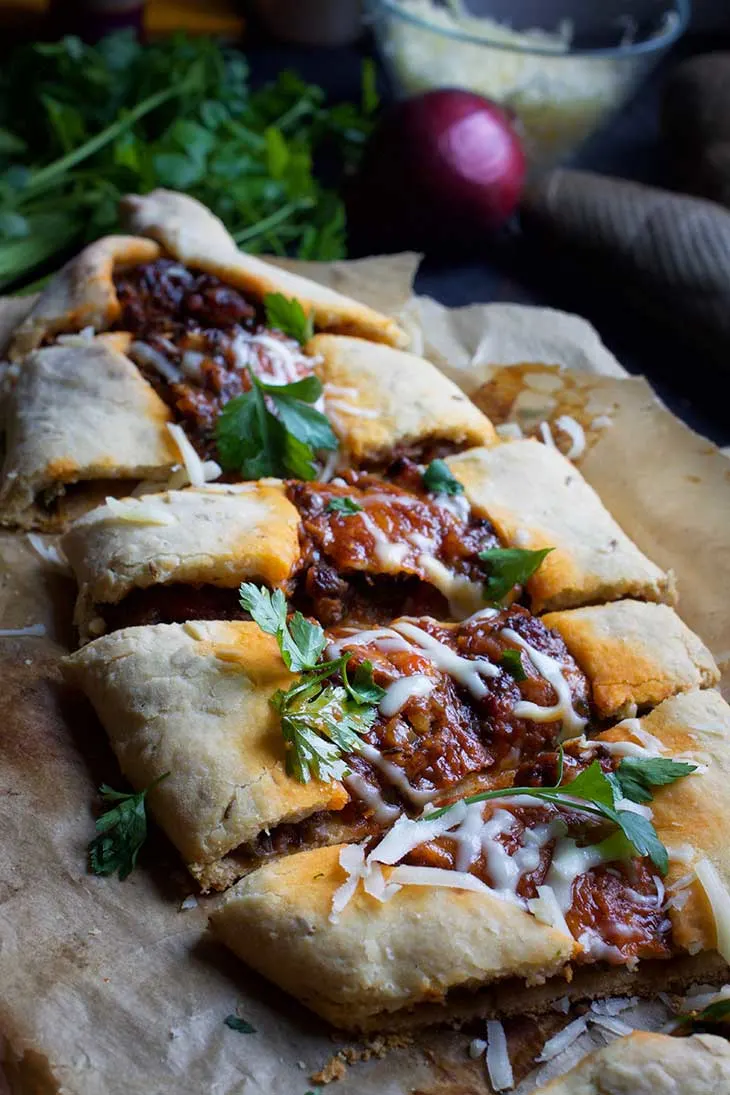 There are three different styles of Turkish Pide, based on the baking method, toppings, and shapes:
The flatbread, which is very similar to the Arab and Greek versions.
The second variant is like a pizza style dish which consists of the filling on the top of the dough before it is baked. It is often given a boat shape. This is the one I tested today.
Finally the Ramazan pide style, which has a weaved pattern crust.
The first type of pide, the flatbread is used mostly for the various types of kebabs. The second style is the pizza pide, topped with meat, vegetables, spices, and herbs along with cheese on the top. The third style is a weave pattern crust, elevated flatbread seasoned with sesame seeds on the top.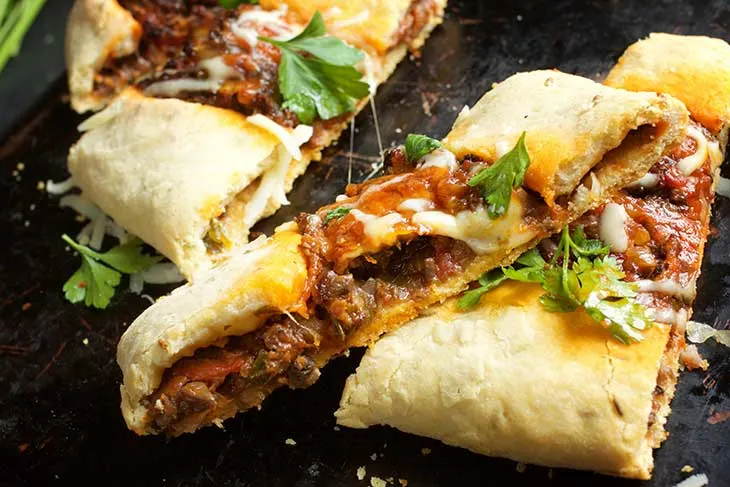 It is believed that the concept of pide or pita bread originated in Mesopotamia around 2500 BC. Since ancient times, this recipe was highly popular and one of the main food items among the Middle Eastern nations.
Originally, Turkish Pide is stuffed with a mixture of ground meat, veggies and spices, but I made the vegan, healthier version, using mushrooms. I loved it! Give it a try and don't forget to drop me a comment and send me your feedback! 🙂
Yield: 2 pide
Turkish Pide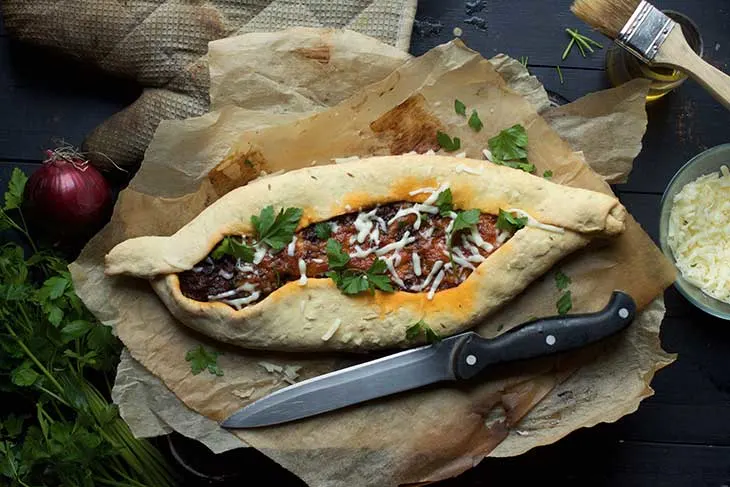 Do you love pizza? Here's an awesome variation for the classic pizza - Turkish pide - which you'll surely enjoy.
Total Time
1 hour
25 minutes
Ingredients
For the dough:
350g (2 ½ cups) all-purpose flour + more for dusting
4 tsp instant dried yeast (2x14g packs)
1 tsp sugar
250ml (1 cup) lukewarm water
2 Tbsp olive oil + extra olive oil for brushing
1 tsp salt
For the filling:
1 Tbsp olive oil
1 onion, diced
4 cloves garlic, peeled and minced
500g (2 cups) button mushrooms, finely chopped
2 tomatoes, peeled and diced
1 Tbsp tomato paste
1 small red chili, finely chopped - optional
2 tsp smoked paprika
1 tsp ground cumin
salt and ground black pepper, to taste
parsley, chopped
75g (⅓ cup) vegan mozzarella - I used store-bought, but you can try my recipe too, link in the ingredient
Instructions
Preheat the oven to 180C/350F.
Add the yeast and sugar into a bowl. Pour in the lukewarm water and let them dissolve, mixing with your fingers, not with a metallic spoon. Set aside.
Combine the flour and salt in a large bowl. Make a hole in the middle and pour the olive oil and half of the yeast mixture.
Start mixing with your hands. Add the rest of the yeast water and start kneading.
Knead for 5 minutes, until you get a soft, elastic dough. If it's too sticky, add one more tablespoon of olive oil and a little bit of flour.
Place it in a bowl, brush with some oil and cover the bowl with a plastic wrap. Let it rise in a warm place - about one hour. It will double in size.
Meanwhile, make the filling.
Heat the oil in a large pan. Saute the garlic and onion for 2 minutes, then add the rest of the ingredients. Saute for 10 more minutes. Let it cool and wait for the dough to rise.
Once the dough is ready, place it on a lightly floured work surface. Start kneading it for one more minute and divide it into two balls.
Roll each ball in an oval shape - about 40cm long and half as that in width. It should be half a centimeter thick. Repeat for the other ball.
Line an oven tray with baking paper and place them on it.
Spread the filling over them, making sure you leave a 2cm border. Fold the sides, giving it a boat shape. Make it pointy also, so it will look authentic.
Brush the pide with some olive oil and bake them for 30 minutes, until they turn golden.
Nutrition Information
Yield
4
Amount Per Serving
Calories

482
Total Fat

19.2g
Carbohydrates

64.7g
Protein

12.4g