Did you ever think about making your own vegan mayonnaise at home? It's so easy and quick, you wouldn't believe it! Here's my recipe for vegan mayonnaise!
If you miss the old fashioned cheat meal full of sandwiches with dressings, how about adapting it to your diet and even make it healthy?
You may not have thought about it but, as a vegan, mayonnaise can also be enjoyed in so many ways. For example, you'll be likely to begin making more homemade vegan dressings for your favorite salads and you'll need vegan mayonnaise for some classic sandwiches.
This homemade egg-free vegan mayonnaise recipe is made with lemon juice, soy milk, some oil, Dijon mustard and a bit of salt, as well as pepper.
Soy is a high source of essential fatty acids, fiber, multivitamins, abundant proteins, and minerals. These nutrients play a crucial role in providing you with energy and maintaining your body healthy! 🙂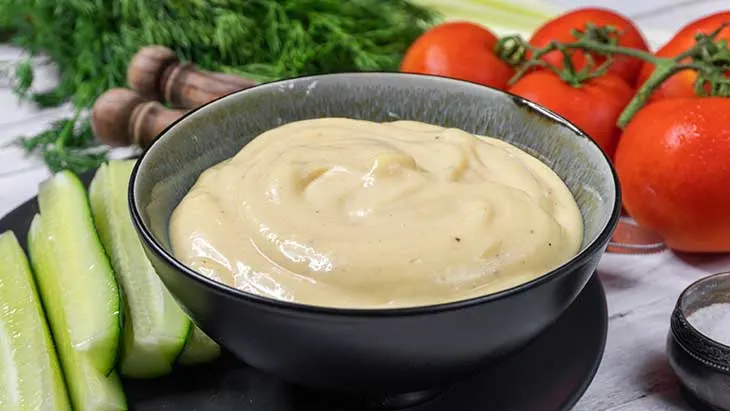 Soybean is originated from India. In the 1870s soybeans increased in popularity with farmers who began to plant them as forage for their livestock. The plants flourished in the hot, humid summers. Soy milk or soybean milk is a traditional staple in Asia, especially in China, Taiwan, Hong Kong, Malaysia, and Singapore. The Chinese invented soy milk thousands of years ago, and from soy milk, they also created tofu and tofu skin.
Fun fact: Henry Ford is known for producing automobiles but did you know that he once made a car with plastic bodywork made from soybeans? Ford owned a large research facility where he came to the lab one day with a bag of soybeans. He dumped them out on the floor and told the scientists, "You guys are supposed to be smart. You ought to be able to do something with them."
In time, the scientists in Ford's lab made a strong enough plastic for the gearshift knobs, horn buttons, window frames, accelerator pedals, light-switch assemblies, and ignition-coil casings. They also fashioned the exterior of an automobile from "soybean plastic." By 1935 Ford was using one bushel of soybeans for every car he manufactured! 🙂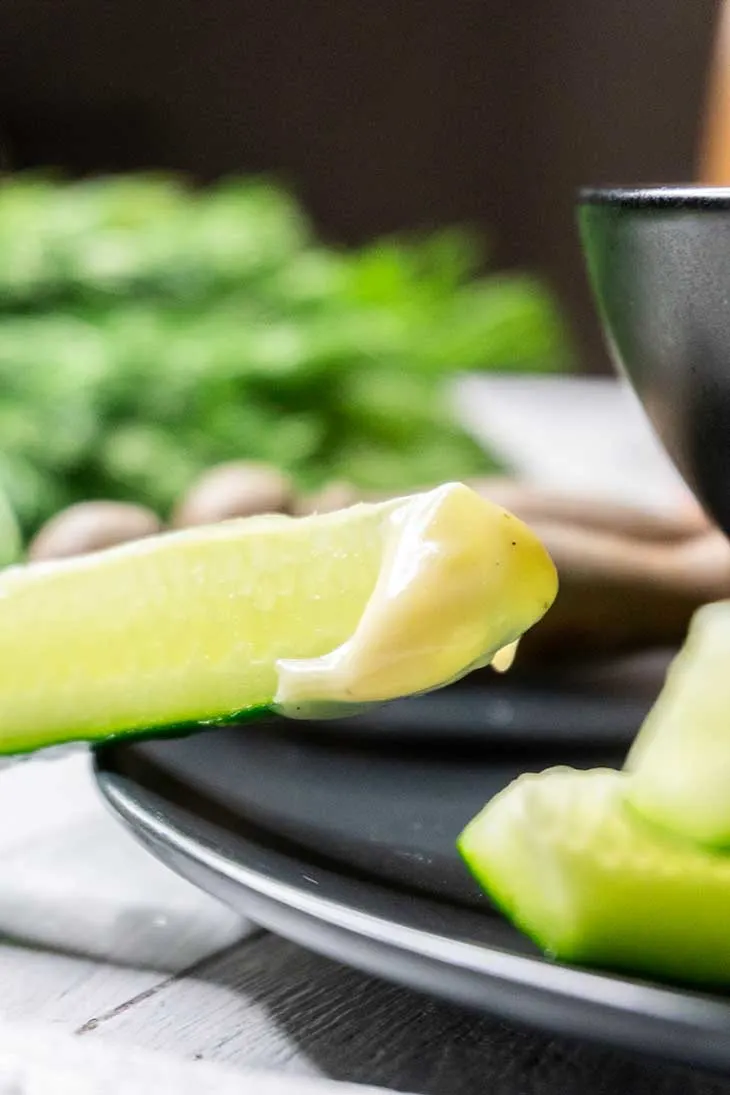 Soy milk contains less sugar than other plant-based kinds of milk. If we refer to animal milk, twelve grams of sugar present per cup of cow's milk compared to soy milk has just 7 grams of sugar in its content. Soy milk is also filled with high fiber. Fiber is the part of fruits, vegetables, and grains that is not broken down by your body. Fiber can also help lower your cholesterol level, control blood sugar in people with diabetes, and relieve constipation. Fiber plays a crucial role in keeping your stomach full for longer and boosting your body to lose weight. To ensure that your body is healthy, the doctors recommend for adults an intake of 25 to 35 grams of fiber each day.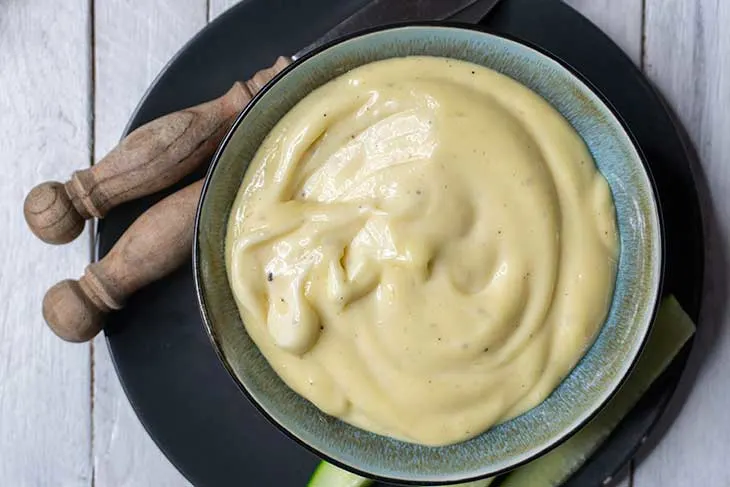 Now, let's make this delicious creamy dressing, shall we? 🙂
For the vegan mayonnaise to have the same texture as egg one, you need a blender to combine everything smooth. And it cannot get easier than this recipe, trust me!
Of course, just like with every other recipe out there, make sure to taste the vegan mayonnaise before seasoning it with salt and pepper and add extra lemon juice, if desired.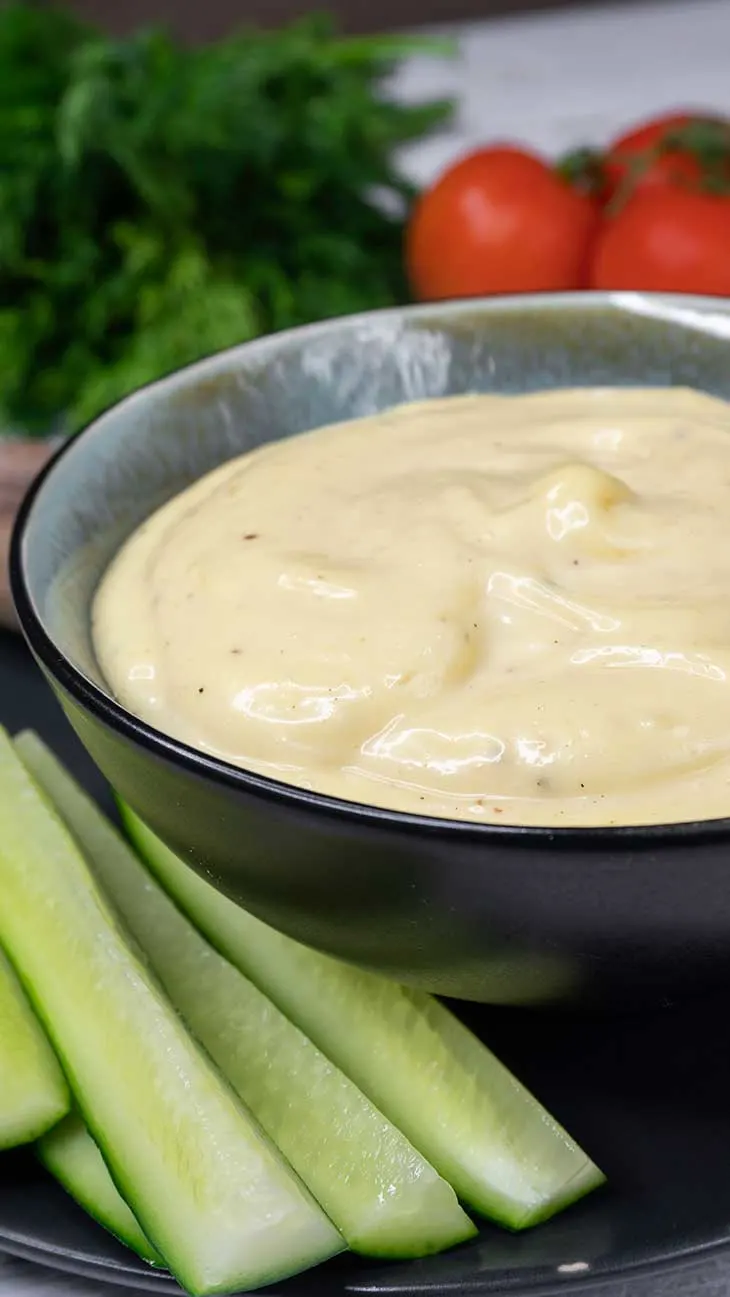 I can't wait to hear what you think about this quick vegan mayonnaise, one of my favorite plant-based dressing! I am very curious about what you combine it with. Let me know in the comments below!
---
Personalized meal plans and workout videos | Get your customized meal plan today! [x_button shape="square" size="mini" float="none" target="blank" href="https://shop.gourmandelle.com/?utm_source=mainsite&utm_medium=site&utm_campaign=inpost" info="none" info_place="top" info_trigger="hover"]I WANT A MEAL PLAN![/x_button]
---
Yield: 4
How to make vegan mayonnaise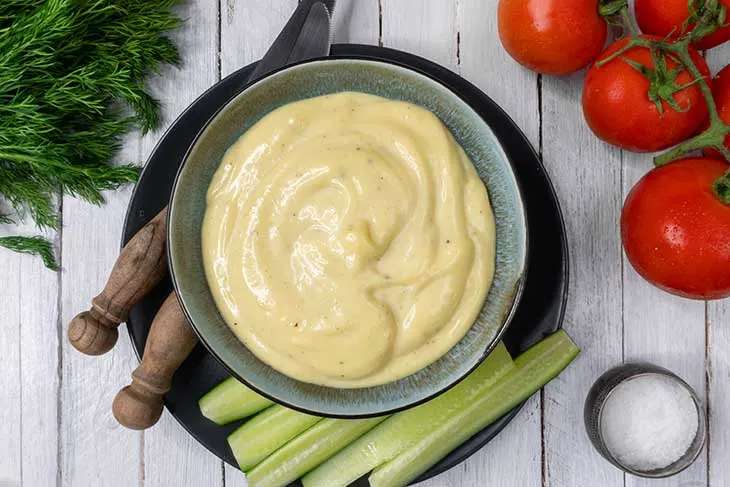 Did you ever think about making your own vegan mayonnaise at home? It's so easy and quick, you wouldn't believe it! Here's my recipe for vegan mayonnaise!
Ingredients
240ml (1 cup) sunflower oil
120ml (½ cup) soy milk
1 Tbsp Dijon mustard
1 Tbsp lemon juice, more if desired
salt & pepper
Instructions
Add all the ingredients (besides the salt and pepper) to a blender and blend until combined and smooth.
Taste before seasoning with salt and pepper and extra lemon juice, if desired.
Nutrition Information
Yield
4
Amount Per Serving
Calories

464
Total Fat

50.4g
Carbohydrates

1.7g
Protein

0.7g
I strive to keep the information as accurate as possible but make no warranties regarding its accuracy. I encourage you to make your own calculations using your preferred nutrition calculator.