Make this popular spanakorizo – Greek spinach rice recipe – and enjoy a comforting rice recipe that's both delicious and nutritious! Give it a try!
Rice is a staple ingredient for vegans, so today I decided to make the popular Greek spinach rice recipe – spanakorizo – to give you more ideas for vegan rice recipes that are not boring.
Spanakorizo is a traditional Greek recipe that you can find everywhere throughout Greece. Its popularity is due to the fact that it uses simple, low-cost ingredients that you can find easily and it's also quite delicious!
Spanakorizo is basically cooked rice combined with spinach and lots of fresh herbs, such as dill, onion and, of course, olive oil! It is usually served with lemon, the famous Greek feta cheese and even a fried or poached egg on top.
Spanakorizo is a very old Greek recipe, which dates ever since rice started to be cultivated on the Greek lands, in the times of Alexander the Great. Of course, the recipe suffered some transformations over time and even in different regions of the country you will find slightly different techniques or ingredients used, but the core of the recipe remains the same: just combine rice with spinach and herbs and you're in for a treat!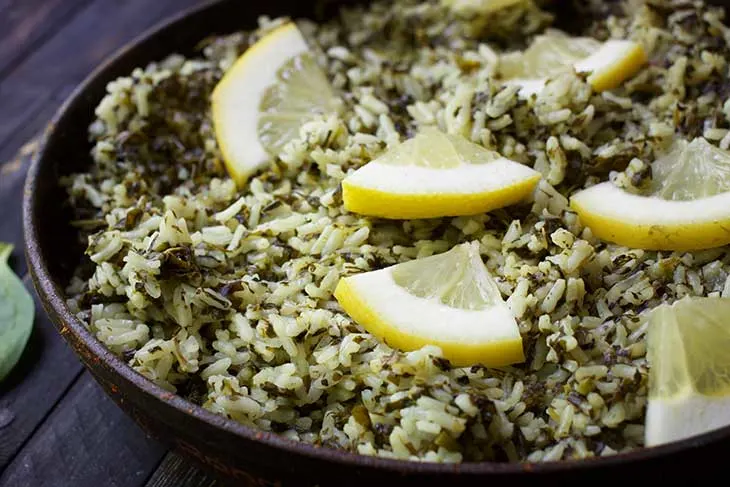 The authentic Greek spinach rice recipe has a creamy texture and it is usually served with a drizzle of extra-virgin olive oil on top before serving it – this will make it even healthier and more delicious!
If you want to achieve the best results, you have to use medium grain rice, as this type of rice is smooth, not that sticky and it cooks fast, making it the perfect rice for spanakorizo.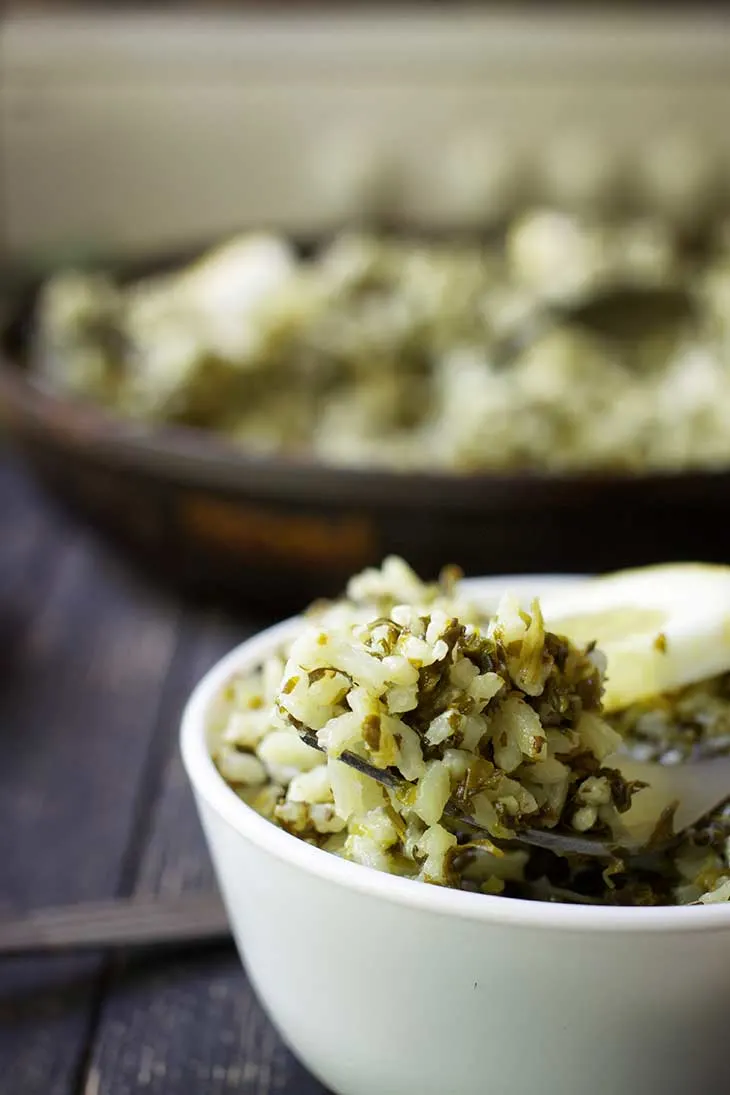 Spanakorizo is usually served as a main course, either for lunch or for dinner, but you can also eat it as a side dish together with some vegan patties or any other dish you prefer. If you ever go to Greece, you will see that there are even different variations of this recipe, such as "white Spanakorizo" and "red Spanakorizo" (which is made with tomatoes too).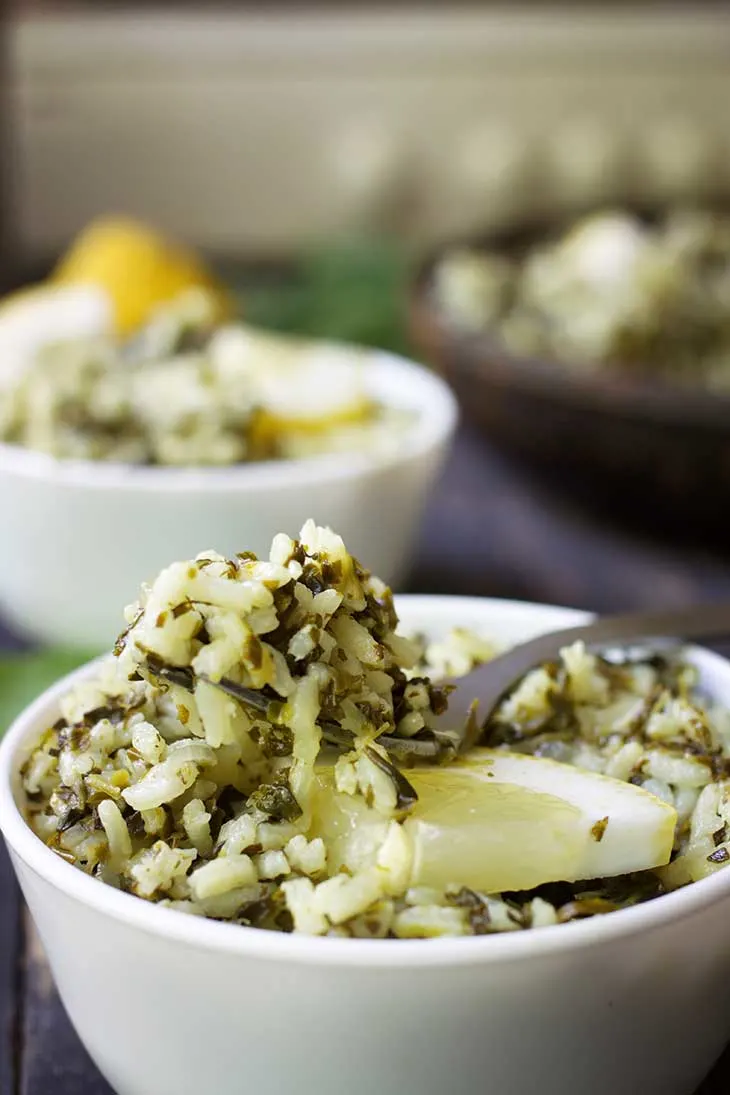 You can serve it cold or warm, but whichever way to choose to consume it, I'm sure you will be impressed by the results! I chose to boil the rice in some veggie broth in order to enrich its taste. The vegan butter will give the perfect creamy texture to this recipe and will transform it into an exquisite dish.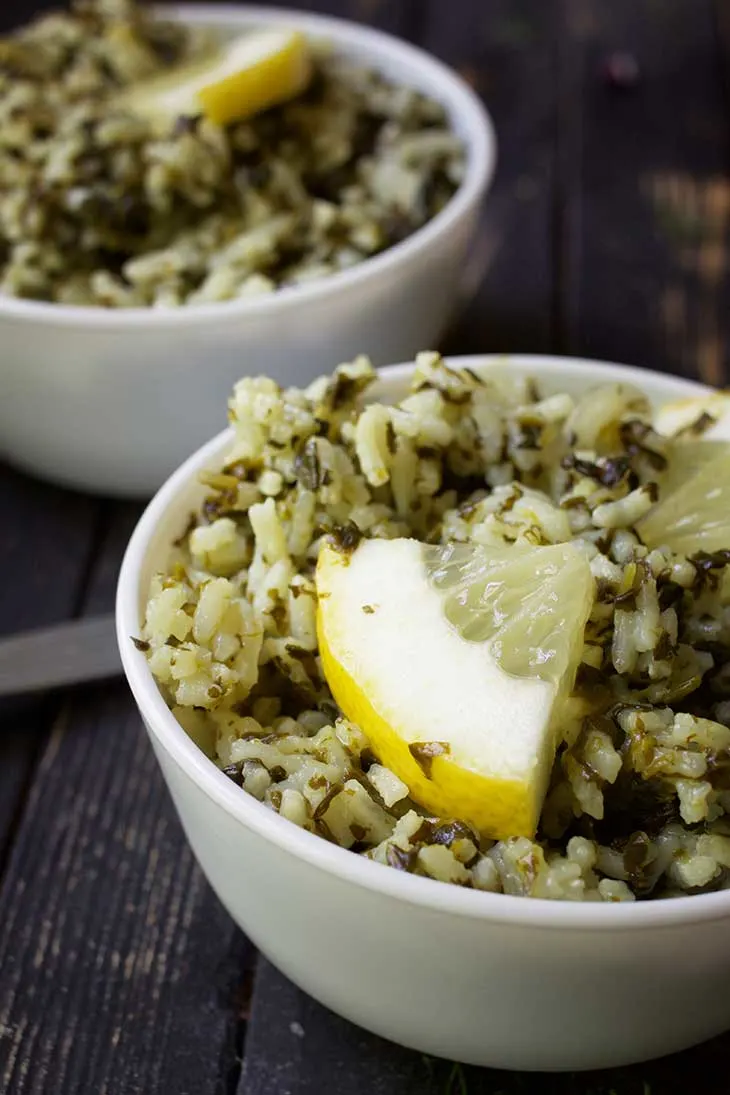 One of the best advantages of this recipe is that you can make a big batch whenever you're craving it and in case you have any leftovers, you can use them to make stuffed vegetables such as stuffed peppers or stuffed onions. So simple and versatile!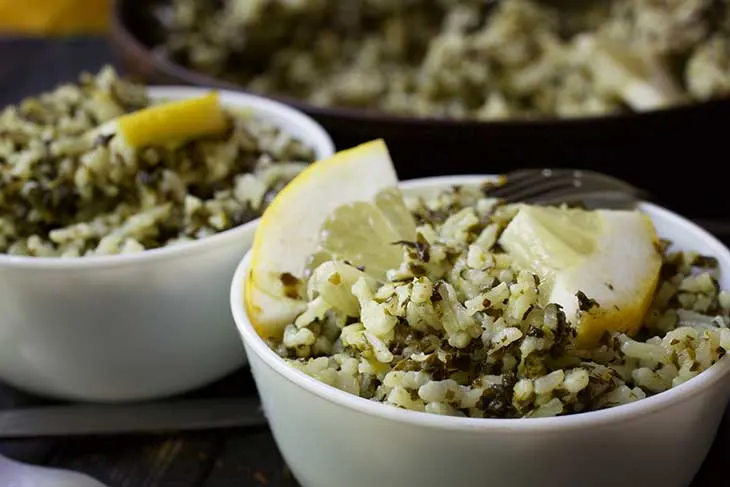 Yield: 6
Spanakorizo - Greek Spinach Rice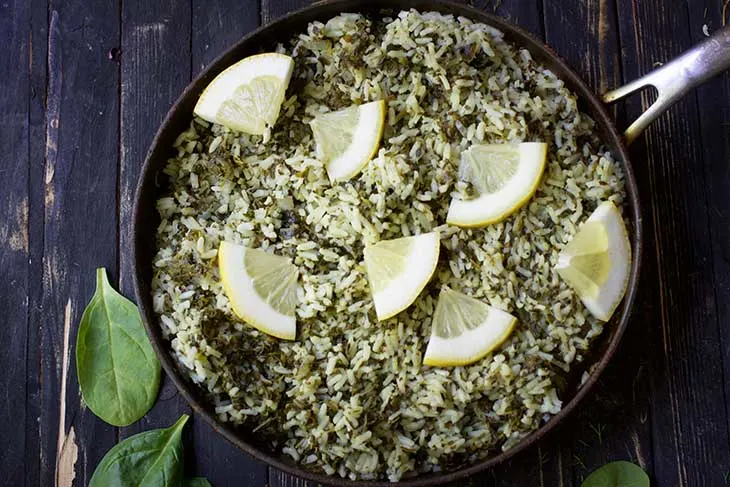 Make this popular spanakorizo - Greek spinach rice recipe - and enjoy a comforting rice recipe that's both delicious and nutritious! Give it a try!
Ingredients
300g (2 cups) frozen spinach
60ml (¼ cup) olive oil
2 spring onions, chopped
2 cloves garlic, thinly sliced
¼ cup fresh chopped dill
2 Tbsp fresh chopped mint
1 Tbsp dried thyme
200g (1 cup) risotto rice
120ml (½ cup) white wine
750ml (3 cups) water
250ml (1 cup) homemade veggie broth
3 Tbsp fresh lemon juice
1 lemon, sliced (for serving)
1 Tbsp vegan butter
1 ½ tsp salt
1 tsp fresh ground black pepper
Instructions
Place a large saucepan over high heat. Add olive oil, the chopped onion, garlic, thyme and mix to combine.
Turn the heat to medium and cook for about 2 minutes. Add spinach. Saute for about 7 minutes until soft.
Add chopped dill and mint. Stir to combine
Add rice and saute for a few more minutes. Add the wine and let it evaporate.
Then, add the water, veggie broth and lemon juice.
Cook for 15-20 minutes, stirring every 3 minutes so that it doesn't stick to the bottom of the pan. Add more liquid if needed
Remove from heat and add some vegan butter.
Serve with some lemon slices and extra greens on top.
Nutrition Information
Yield
6
Amount Per Serving
Calories

245
Total Fat

10.3g
Carbohydrates

33g
Protein

4.9g